Have you ever been in the mood for pasta but didn't want the same old marinara or heavy cream sauce. Something different than meat or seafood in the dish but without sacrificing the protein. Do you know where this is going? My yummy, delicious, amazingly simple pasta with fried chickpeas, tomatoes, olives and capers.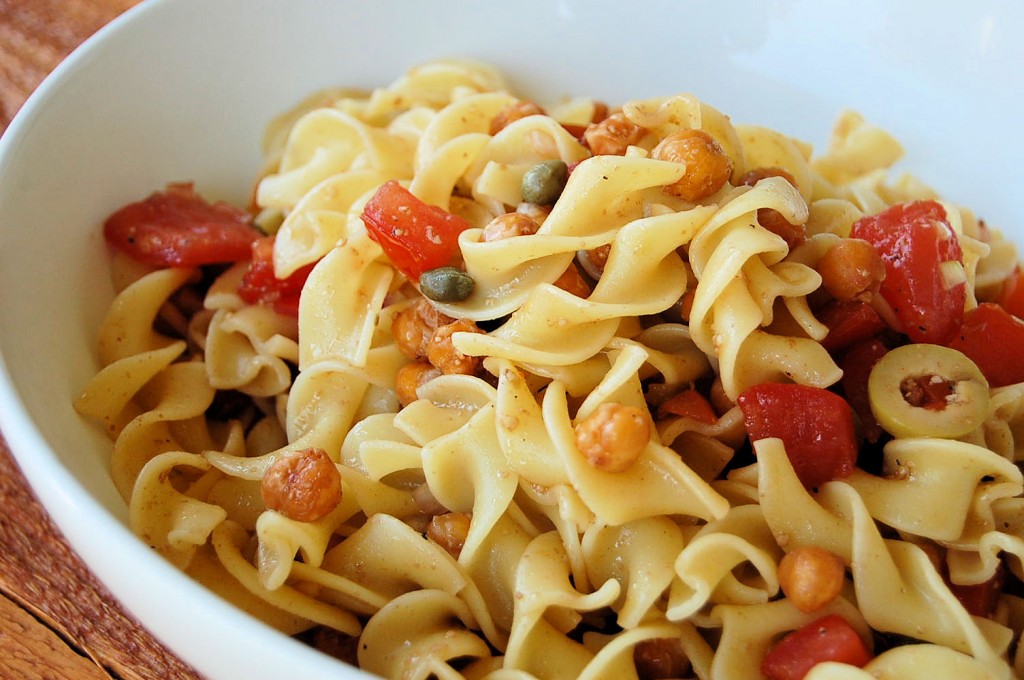 A quick, easy, go to pasta dish that is unbelievably delicious. Salty capers and olives pair so well against the sweet cherry tomatoes and crispy chickpeas. The sauce is a blend of parmesan cheese, aged balsamic from Devo Olive Oil, mustard and a some extras. Full of flavor this pasta takes less than 30 minutes to put together. The star of the show is the fried chickpeas. No they aren't hard to do! No you don't need oil or a fryer!  Just coat them in a spicy mixture of olive oil and spices and send them on their way to the oven to bake for 10-15 minutes. They also make a out of this world healthy snack for you and the kids. Last week I coated them with a cinnamon and sugar mixture and my son couldn't get enough!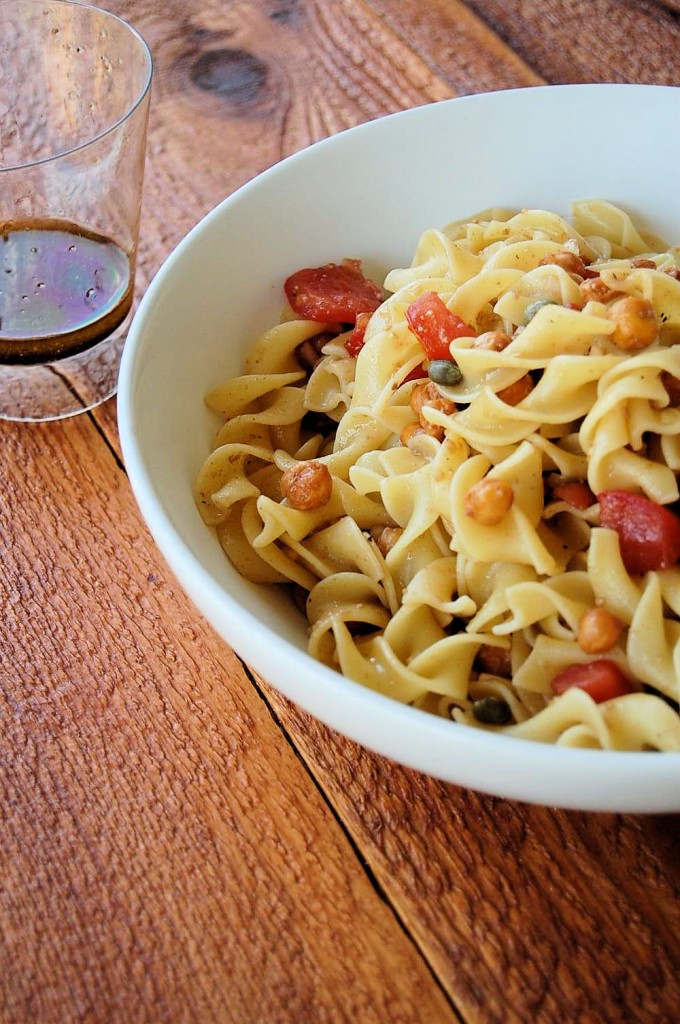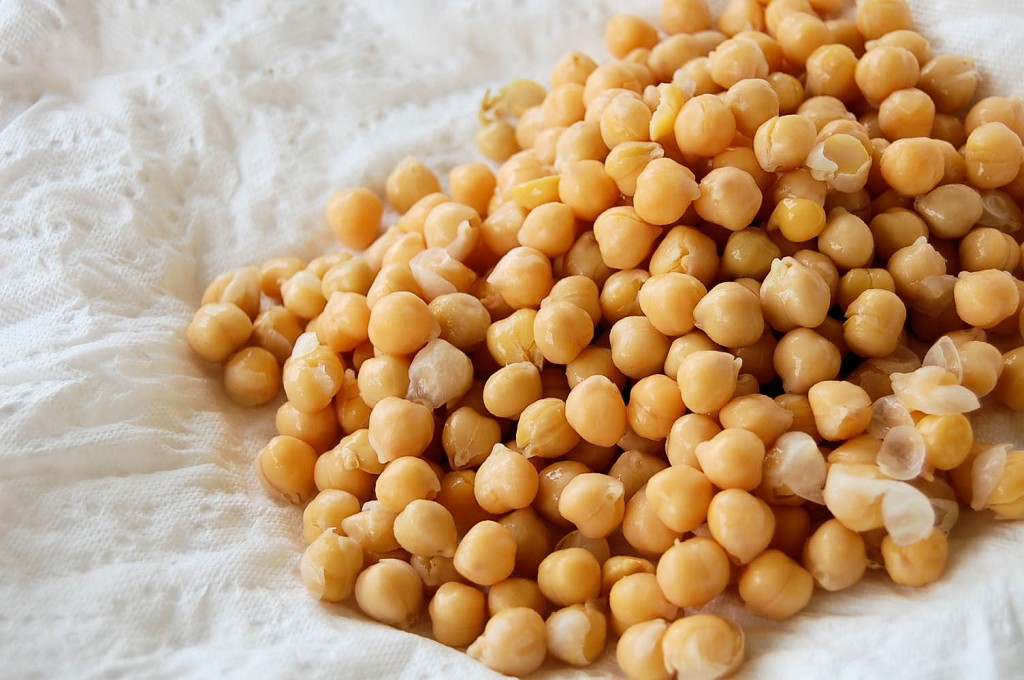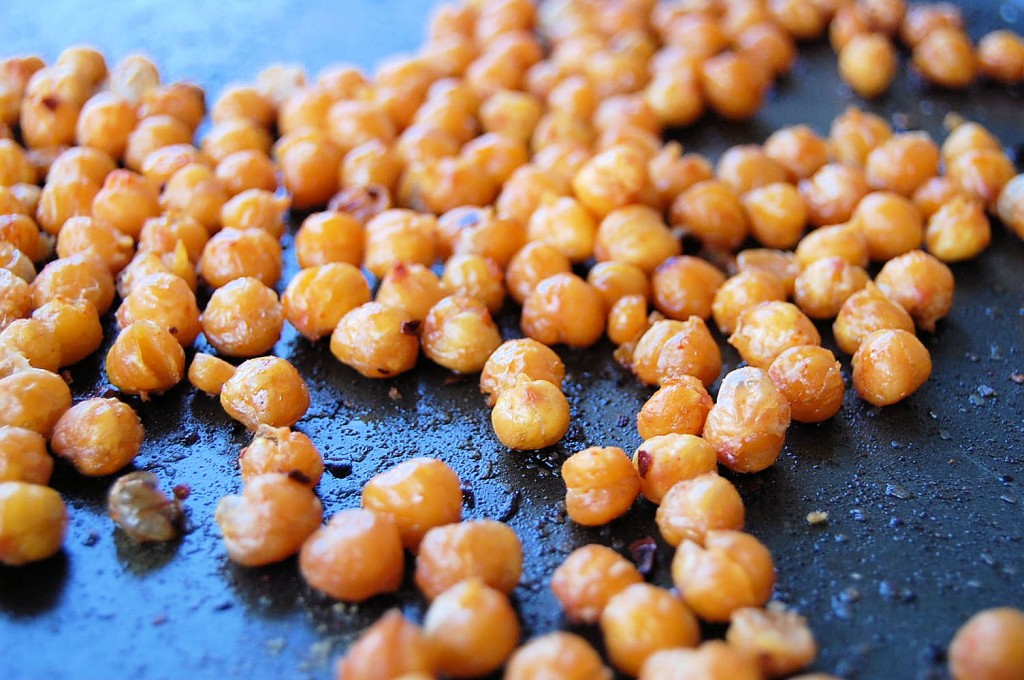 Pasta doesn't have to be heavy and rich. With the right ingredients it can actually be healthy and yet still delicious. The sauce is too simple to even be called a sauce. I sauteed some garlic in a little olive oil then whisk that together with a touch of Dijon mustard, parmesan cheese, a little more olive oil and aged balsamic vinegar. Intriguing, delicious and simple, this pasta dish is a great way to celebrate Spring.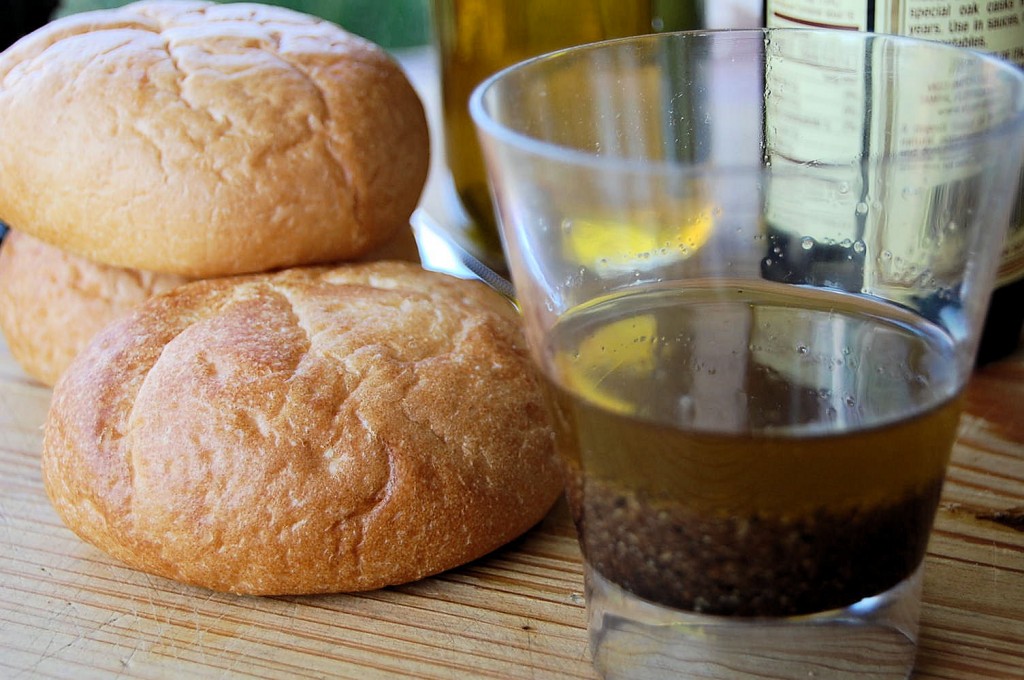 The parmesan balsamic sauce is being served in serve ware by Restaurant Ware. Check the site out- they are amazing!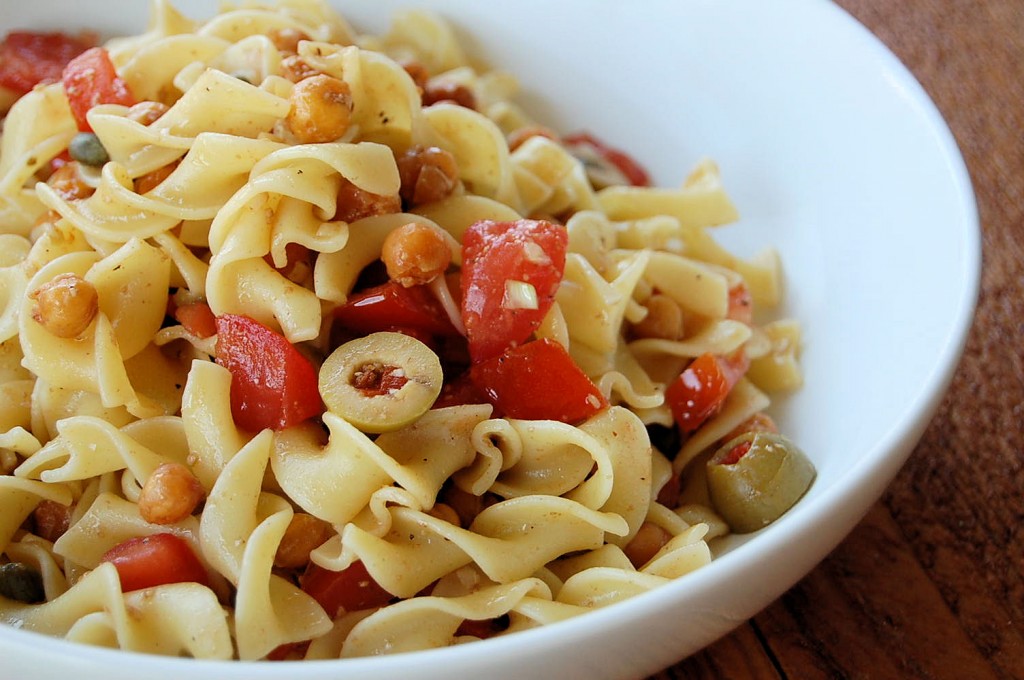 Pasta with Fried Chickpeas, Tomatoes, Olives and Capers
Ingredients
1 pound of pasta (your choice)
¼ cup capers, drained
¼ cup manzanilla olives, sliced
6-8 cherry tomatoes, halved
1 can chickpeas, drained
½ tsp salt and pepper each
½ tsp paprika
For the Sauce:
2 cloves garlic, minced
¼ cup grated parmesan cheese
¼ cup Devo Aged Balsamic Vinegar
1 tsp dijon mustad
½ cup extra virgin olive oil
½ tsp salt and pepper each
Instructions
Boil pasta according to package directions. Meanwhile, drain the chickpeas on a paper towel and place on a baking sheet. Drizzle with 2 TBSP olive oil, ½ tsp salt and pepper each, ½ tsp paprika. Toss well and bake at 400 for 10-12 minutes.
Saute the garlic in 2 TBSP of olive oil for 3-5 minutes until tender and toasted. Remove from heat and transfer to a glass bowl or jar. Whisk in the remaining olive oil, balsamic vinegar, mustard and salt and pepper.
Mix together the drained pasta with the capers, olives, tomatoes, fried chickpeas and balsamic parmesan sauce. Serve warm or at room temperature.