Bread Pudding is an all time classic spring and summer dessert! Nothing finishes off a delicious dinner meal than a warm intoxicating bowl of sheer goodness/a.k.a. bread pudding. While there are many variations of bread pudding floating around the web: chocolate, fruit-filled, even savory twists using vegetables, I opted to use a can of good old Dulce de Leche and a sprinkling of dark chocolate chips to create a spectacular mouth defying dessert.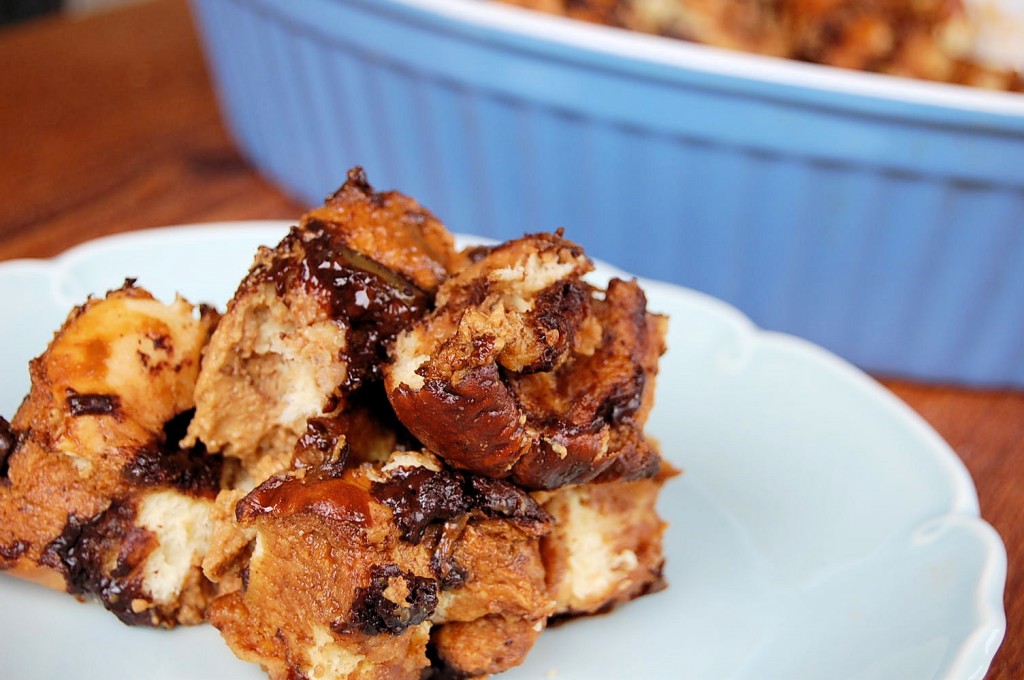 As I sat down to write this post the other day I got through with the first paragraph and then just went blank. Blank as in what else can I say? I mean, I wanted bread pudding, I wanted a different type of bread pudding and I had a can of Dulce de Leche just sitting in my pantry. That's it! End of story! No funny explanation or creative story behind the recipe. Simply put I felt like bread pudding!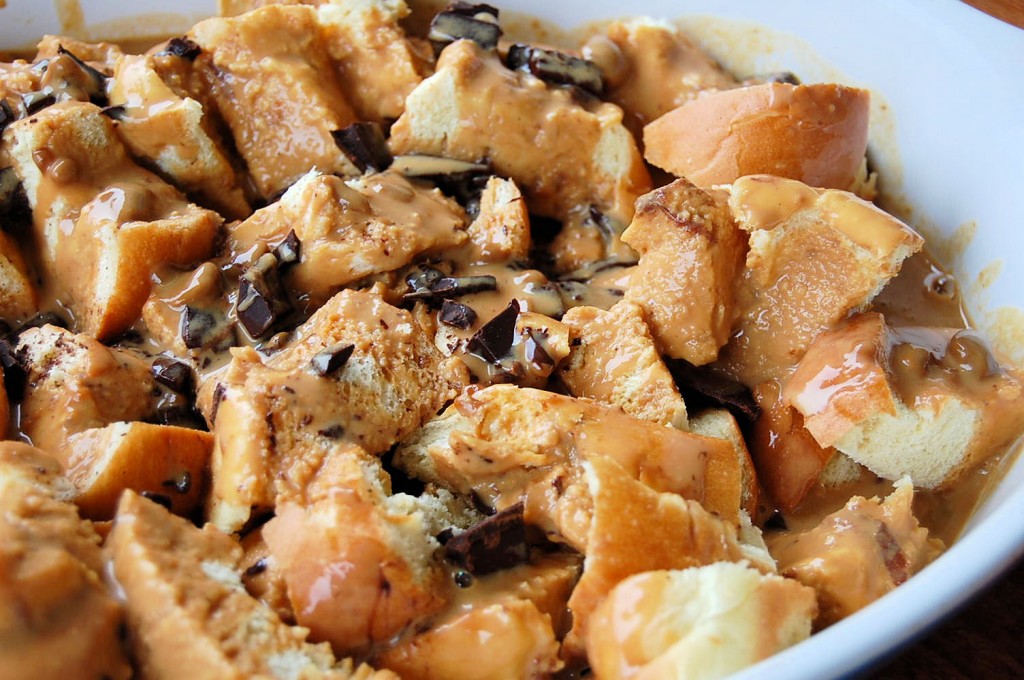 I hope you don't mind the lack of words in today's post. I can say all the right things about this incredible dessert but no words will truly be able to explain just how amazing this tastes. The dark chocolate with pinches of salt adds a nice contrast against the overly sweet Dulce de Leche. It's a simple dessert that tastes complicated. Tips to remember: The bread in the bread pudding needs to be generally stale or dried out a bit so it can better absorb the custard mixture.  Make sure to cut the crusts off the bread so your just left with the chewy middle and always, always give it plenty of time in the refrigerator so all the flavors and ingredients can marry!
On another note: Statements in Fashion did a spotlight on Kitchen Belleicious for Twitter Tuesday. If you get a chance I know Collette would love for you to stop by! Thank you all for your continued kind words and prayers for sweet Connor! We love ya'll!
Dulce de Leche and Chocolate Bread Pudding
Ingredients
1 can dulce de leche
3 TBSP butter or margarine, softened plus more for spreading o the bread
1 loaf of rich egg bread (such as challah), cut into 1-inch-thick slices
2½ cups whole milk
3 large eggs
¼ cup brown sugar
1 tsp cinnamon
1 tablespoon vanilla extract
¾ teaspoon salt
3 ounces dark chocolate, coarsely chopped
Instructions
Grease shallow 3-quart ceramic baking dish. In microwave-safe small bowl, reserve 2 tablespoons dulce de leche; cover and refrigerate.
Lightly butter both sides of all bread slices. In 12-in. skillet, cook bread slices on medium-high 1 to 2 minutes per side or until golden brown and toasted. Cool on wire rack. In same skillet, combine milk, butter and remaining dulce de leche. Heat on medium-high 6 to 8 minutes or until bubbles form around edge of pan, stirring occasionally.
Meanwhile, in large bowl, with wire whisk, combine eggs, brown sugar, cinnamon, vanilla, and salt. Continue whisking and add ½ cup hot milk mixture in slow, steady stream. Whisk in remaining milk mixture.
Cut toasted bread slices into 1-in. cubes; arrange in single layer in prepared baking dish. Sprinkle with even layer of chocolate. Pour egg mixture over bread and chocolate. Let stand at least 30 minutes or overnight.
Preheat oven to 350°F. Bake 25 to 30 minutes or until just set and dark golden brown on top. Cool bread pudding in pan on wire rack 20 minutes. Microwave reserved dulce de leche on High 20 seconds to warm. Drizzle over bread pudding to serve.