Before I begin this post I just want to thank each of everyone of you who were continually praying for my son Connor over this past week. I truly believe it was your prayers and the Lord's healing power that brought us so quickly out of NICU, to a normal room and back home in a matter of days.
Note: I am not superwoman- I wrote this post before all this happened with my son!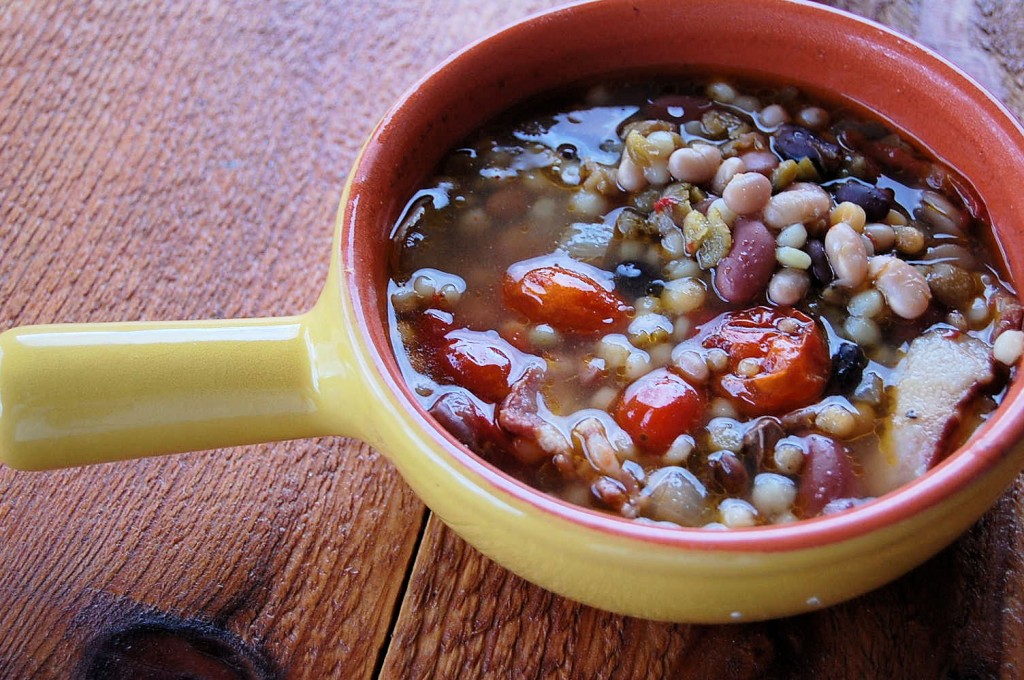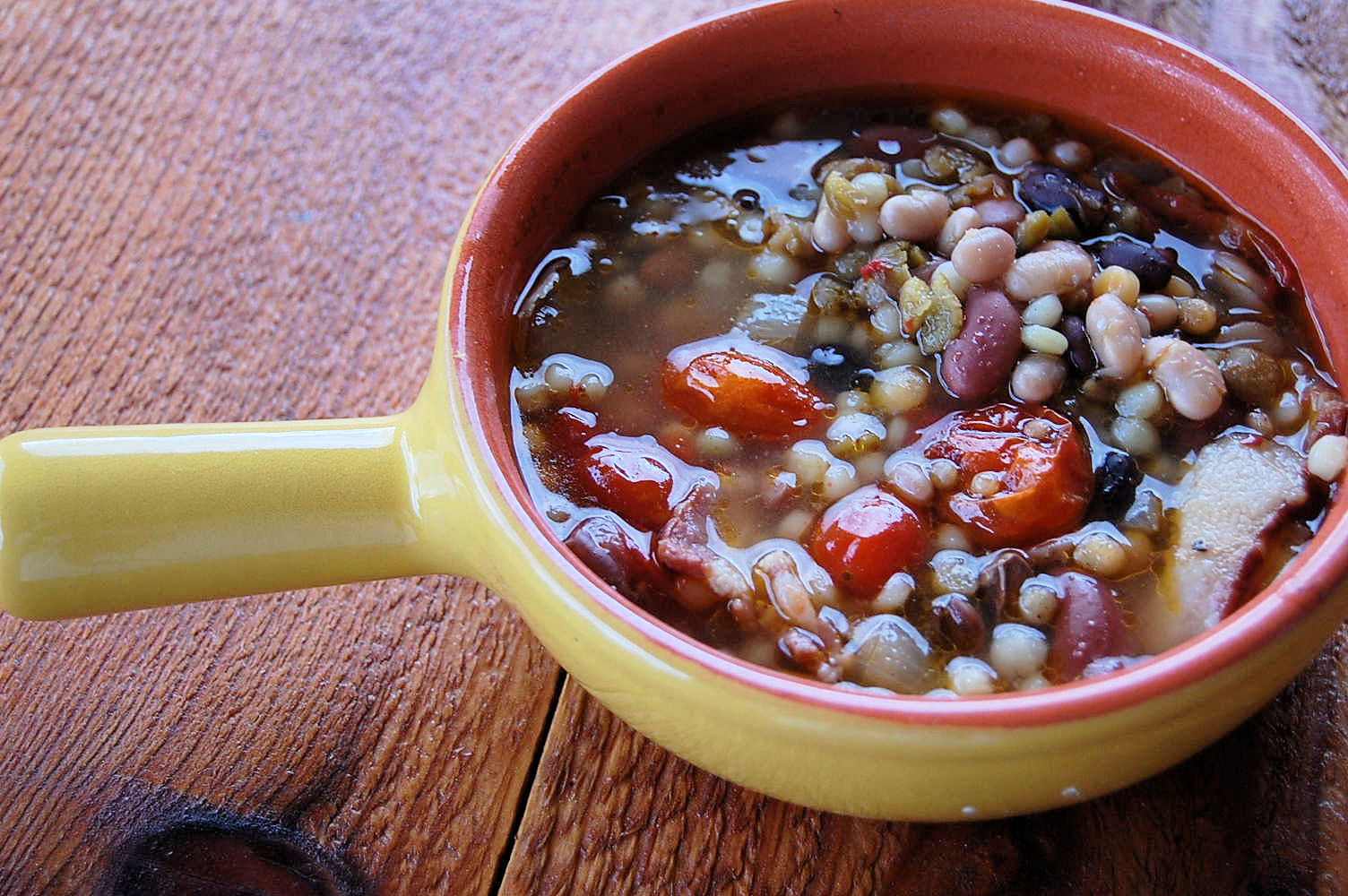 Now on to some yummy food! Before spring officially arrived I had to make one last pot of good old fashioned comforting warm soup. I had a mountain of dried beans just sitting in my pantry from a grocery shopping trip back in December when I was still pregnant where I vaguely remember throwing anything and everything into my grocery cart like a squirrel storing up for the winter. One look at the beautiful colors of the 7 varieties of beans and I was driven into a 7 Bean Frenzy!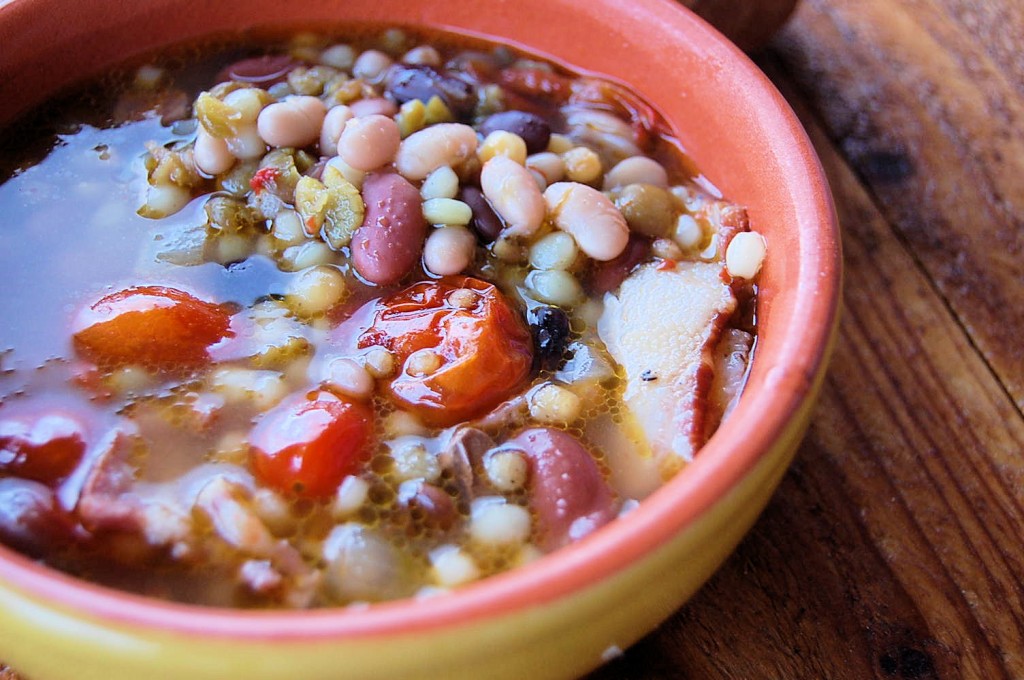 7 Bean Soup is something that brings me back to my childhood but like most of my dishes I wanted to add a modern twist to the old classic. I highly recommend Peppered Bacon! It was the highlight of the soup alongside the roasted tomatoes,onions and garlic. This soup hits all the right spots. A touch of cumin and chili powder add a nice smokey flavor and the longer it sits the better it gets. Perfect for a slow cooker and the busy mom but so incredible diverse in flavors that it has a slight sophistication that would wow any dinner guests. 7 Bean Soup usually has ham in it not bacon-right? Well, this is true and I did add ham but in the process of tearing up my kitchen inside and out looking for the ham -that  I just knew I had- I found the peppered bacon and decided to add it to the magical soup just in case the ham was truly missing. I am so glad I did!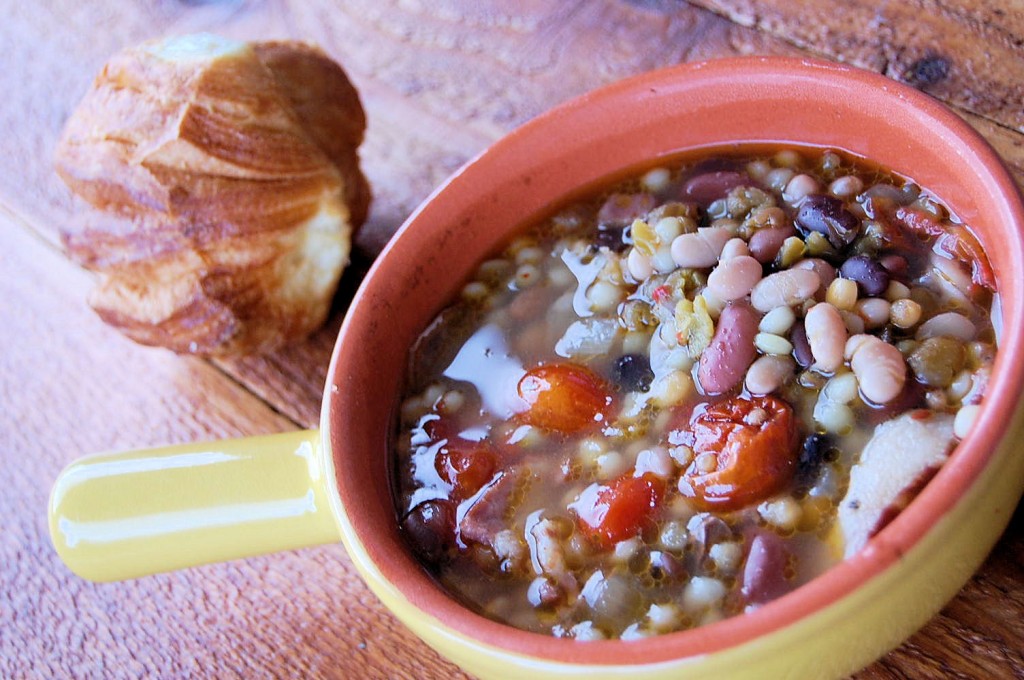 My favorite part about the soup is the roasted cherry tomatoes. I roasted them just until they were wilted and had that char flavor on the outside but still in tact (meaning hadn't split open). A bite of soup with a cherry tomato that literally bursts into your mouth is just phenomenal and adds a nice freshness against the smoky flavor of the soup.
Roasted Tomato Seven Bean Soup
Ingredients
1 pound smoked ham, cut into ¾-inch cubes
6 strips of peppered bacon, chopped (I did large chunks)
4 quarts beef broth
¾ cup dried red kidney beans
¾ cup dried navy beans
½ cup dried pinto beans
½ cup dried baby lima beans
½ cup black beans, canned, drained
½ cup pearl couscous
⅓ cup Worcestershire sauce
1 bay leaf
1 teaspoon ground thyme
1 tsp roasted ground cumin
1 tsp cajun seasoning
1 tsp salt and pepper each
1 tsp chili powder
½ tsp red pepper flakes
Hot pepper sauce, to taste
Roasted Tomatoes, Onions and Garlic ( toss with the olive oil and roast in oven at 400 for 10-15 minutes)
½ cup chopped onions
1 cup cherry tomatoes
2 cloves garlic, minced
2 TBSP olive oil
Instructions
Combine ham, bacon, beef broth and beans in crock pot or dutch oven. Turn slow cooker on high and add in the remaining ingredients. Cook for 6-8 hours on high. 30 minutes before time to serve the soup, add in the pearl couscous. If you are not using a slow cooker then bring the soup to a boil then reduce heat to medium low and cook for 2-3 hours. The longer it cooks the better it gets!