Don't be fooled by my long list of sweet and savory dishes that are extremely easy on the eyes but not so much on the hips! I can cook healthy too! We women are always looking after our figure whether it be watching our calories, carbs or following a strict diet plan. I am southern true and true and although I don't shy away from butter and sugar I do know how to eat sensibly and watch my weight.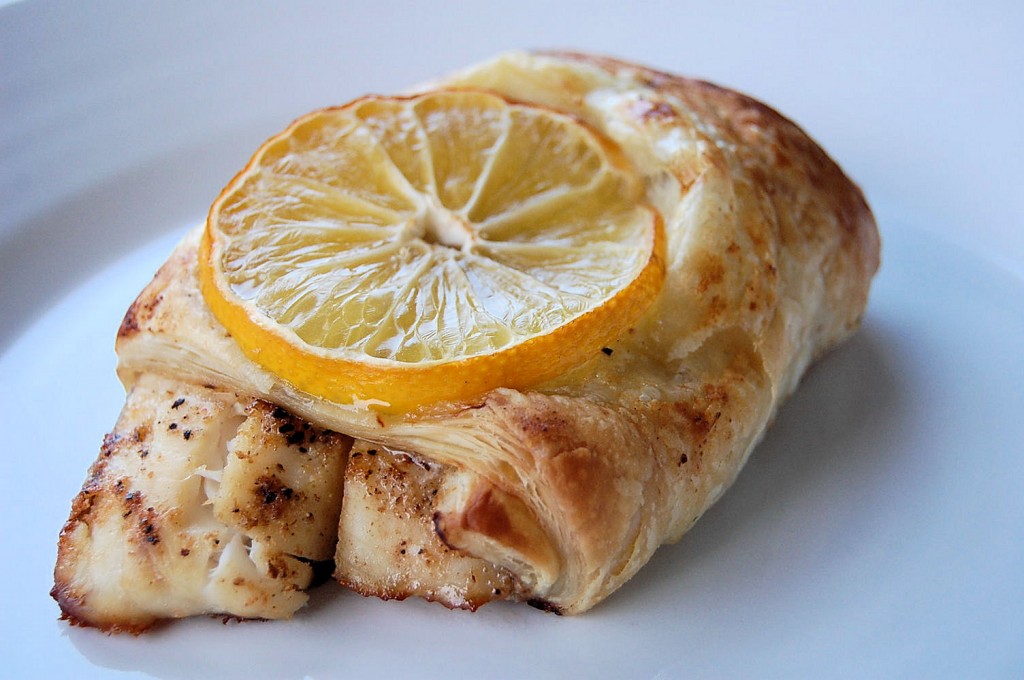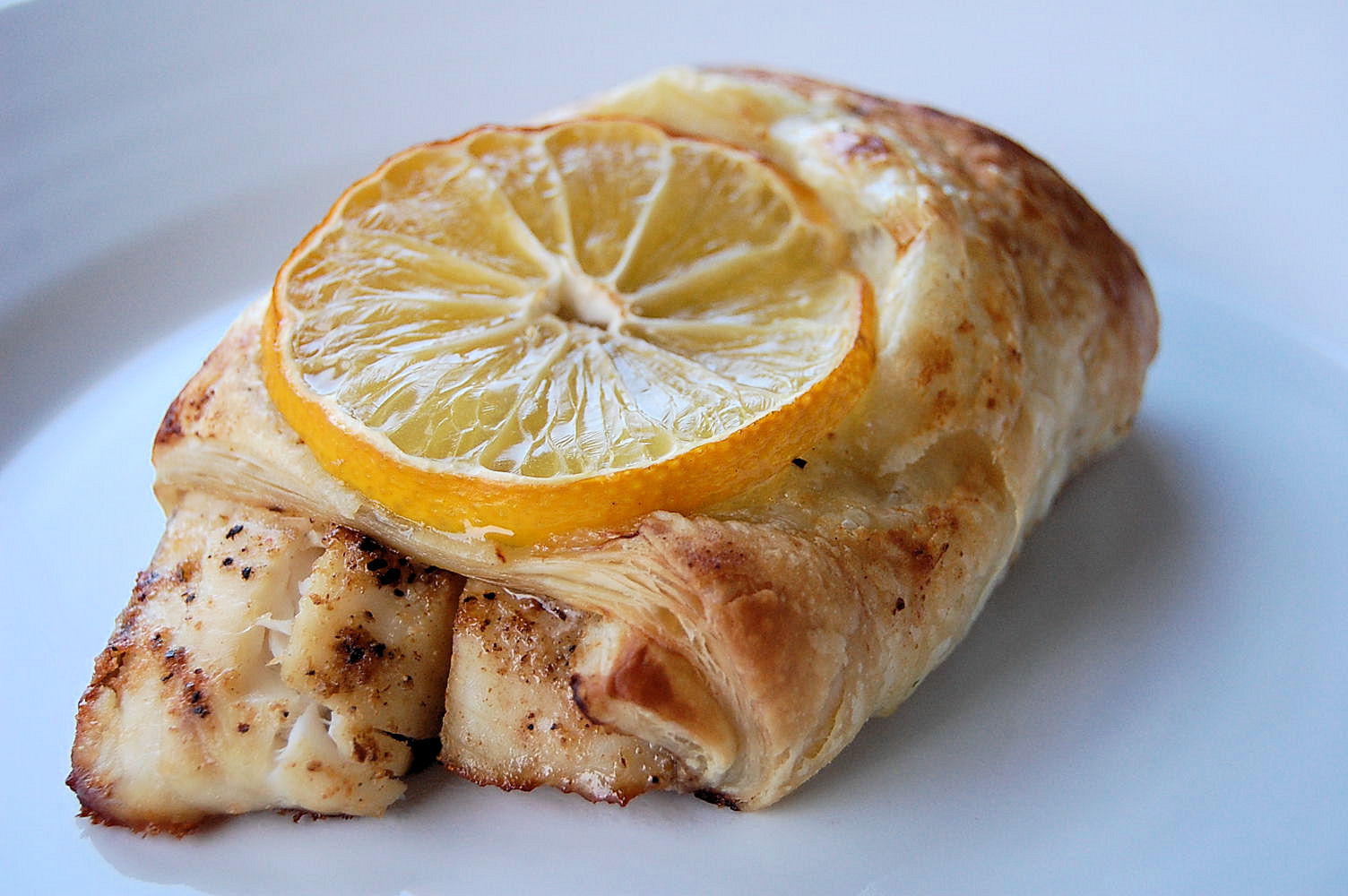 Healthy yet FLAVORFUL is the word of the day. I was recently contacted to take part in the Saucy Mama Skinny Mommy Mustard contest. Our mission if we so chose was to create a diet friendly dish based on one of the amazing Saucy Mama mustard's. When my shipment of Saucy Mama goodies arrived I took one whiff of the Tarragon and Lemon mustard and I knew this was the one. The one mustard that was going to propel me into stardom. The mustard that would land me a Food Network Show, an agent and a cookbook. The one mustard that was going to change my life! Okay, so I am exgaretting a little or a lot. It is however the one mustard that everyone should have in their pantry. It has the perfect combination of tart and nuttiness from the herbs and lemon and it pairs so well with seafood.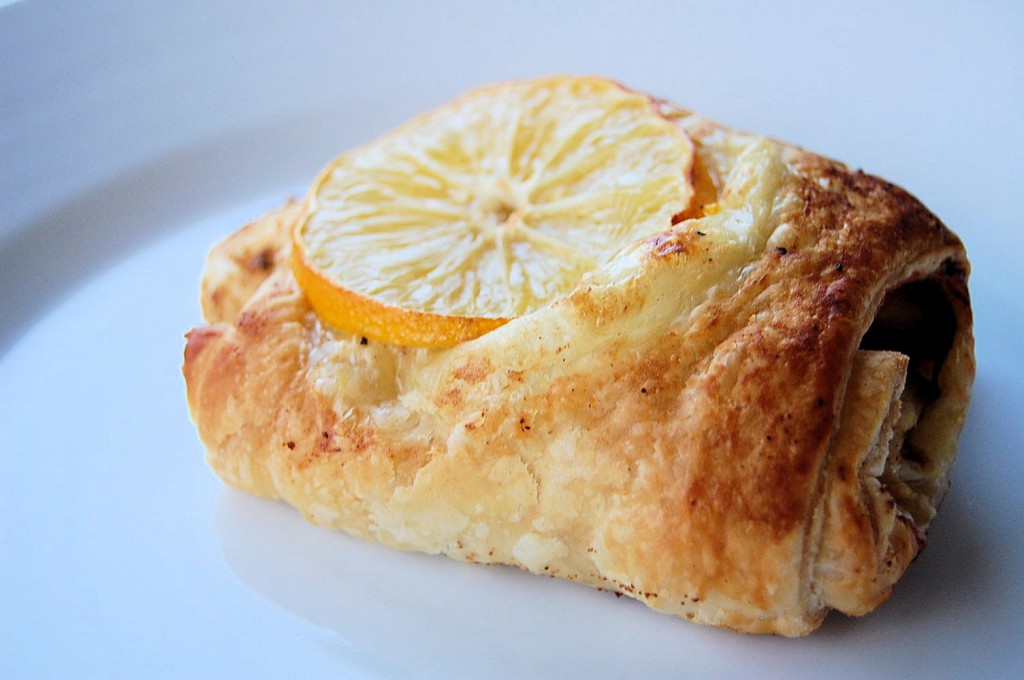 As I mentioned before, the contest is to create a diet friendly dish using a Saucy Mama mustard sauce. I knew I wanted to do a dish associated with the South Beach Diet. I think this diet plan is amazing and so easily adaptable to any lifestyle. I also knew I wanted to do something different than the other contestants. I figured people would use it in a batter or vinaigrette of some kind and of course mustard is meant to be in dishes like pasta salad, crab cakes and BBQ but the question is would they use it with fish-not fried fish but-baked.
So all this leads me to my Saucy Mama Tarragon and Lemon Fish en Croute. I have to say regardless if I win the contest or not I am just so happy to have a new healthy and amazingly delicious dish in my recipe arsenal. It is hands down the best thing in the world. A marinade mixture of mustard, white wine, horseradish, almond oil and my secret ingredient- a touch of jalapeno juice for a little heat. The puff pastry that wraps itself so nicely around the fish gives that extra little crispy/crunch factor that you might miss from fried fish. Healthy yet Delicious!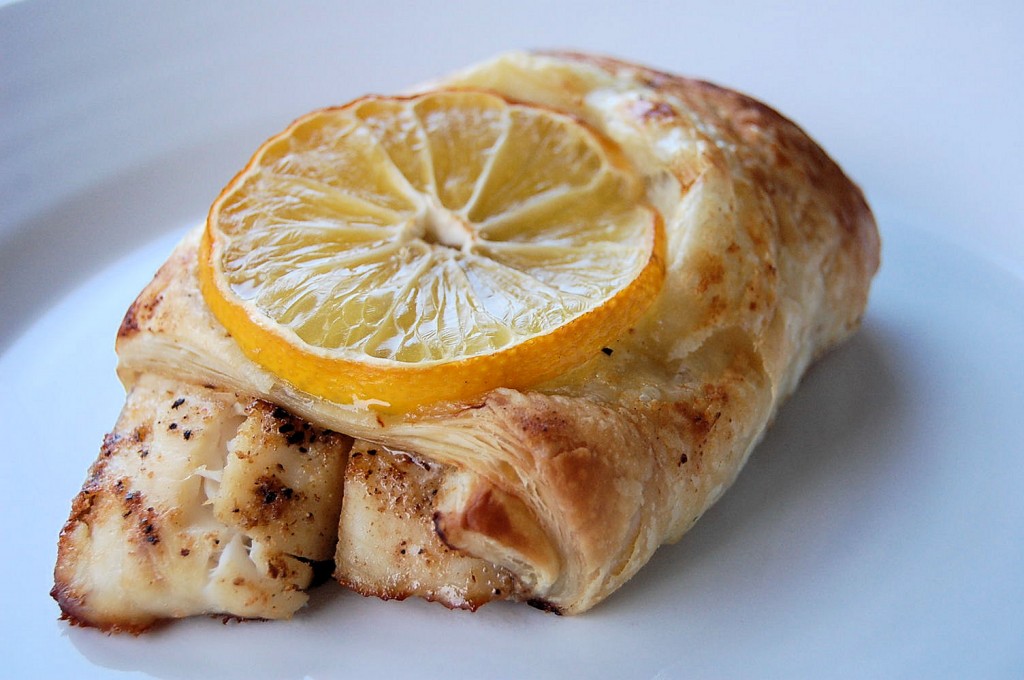 Please do me a HUGE MONSTER FAVOR and stop by the Skinny Mommy Contest on their Facebook page and vote for my Tarragon and Lemon Fish en Croute. You can vote one time each day. I never enter contests like this before and I would love the opportunity to win and share this dish with everyone. I am so proud of it and I hope you will be just as excited once you give it a try as well! Thanks ahead of time for your votes! It means more than you know!
Oh and if you like what you see say tuned for Friday when I have my very first Saucy Mama mustard giveaway! Yep, you guys get to get on the mustard bandwagon toooo! Only entry is to comment! YEAH!
Saucy Mama Tarragon and Lemon Fish en Croute
Ingredients
1 package of frozen puff pastry
6 fillets of firm white fish such as red snapper, cod, halibut
2 egg yolks plus 1 TBSP milk, slightly beaten
1 TBSP almond oil
Marinade:
5 TBSP Tarragon Lemon Saucy Mama Mustard
3 TBSP lemon juice
3 TBSP almond oil ( I use Devo)
½ tsp jalapeno juice
1 tsp brown sugar
2 TBSP dry white wine
¼ tsp horseradish
¼ tsp salt
1 tsp freshly cracked black pepper
1 tsp paprika
½ tsp garlic powder
6 basil leaves (optional)
Instructions
Combine all marinade ingredients in a large glass bowl or large Ziploc bag. Place the fish in the marinade, toss to coat each fish evenly and cover. Allow to marinate in the refrigerator for at least 3 hours or longer.
30 minutes per to baking allow the puff pastry sheets to come to room temperature. As you set the pastry out go ahead and break each sheet into 3 pieces for a total of 6 puff pastry strips. You will notice when you remove the pastry from the box that it is already folded into 3 parts so this should be fairly easy to break apart. Once thawed and ready to bake remove the fish from the refrigerator.
Pat off excess marinade from each fillet (this is important as if you leave too much marinade on the fish the puff pastry will be soggy) and place in the center of each puff pastry strip. Lay one basil leaf on top of the fish and enclose the puff pastry around it. Sealing it with your fingers at the seam by pinching it together. Mix together the egg wash and almond oil and brush the tops of the puff pastry. Bake at 425 for 15 minutes-20 minutes until the puff pastry is nice and golden brown. Optional: With 5 minutes remaining in the baking time place a nice juicy slice of lemon on top of each puff pastry.