I saw the contestant Mary Beth last summer from the show The Next Food Network Star make her version of Shepherd's Pie on the Rachel Ray show and I was immediately blown away by the elegant look of the dish and the extra steps she took to bring it up another notch. She wasn't my pick for the winner but I do give her props for the recipe.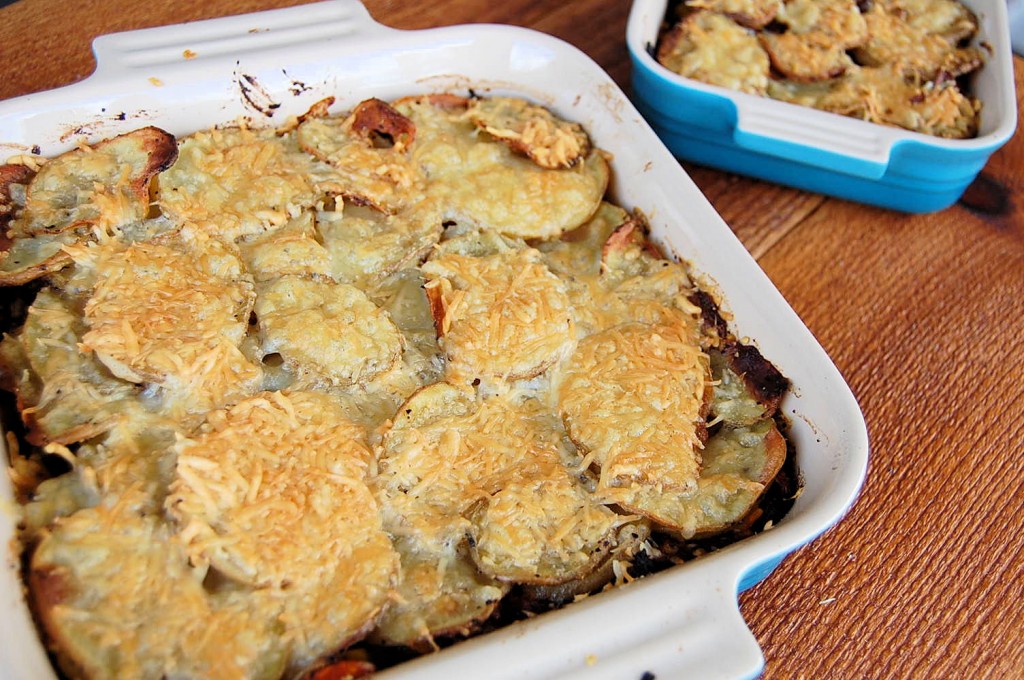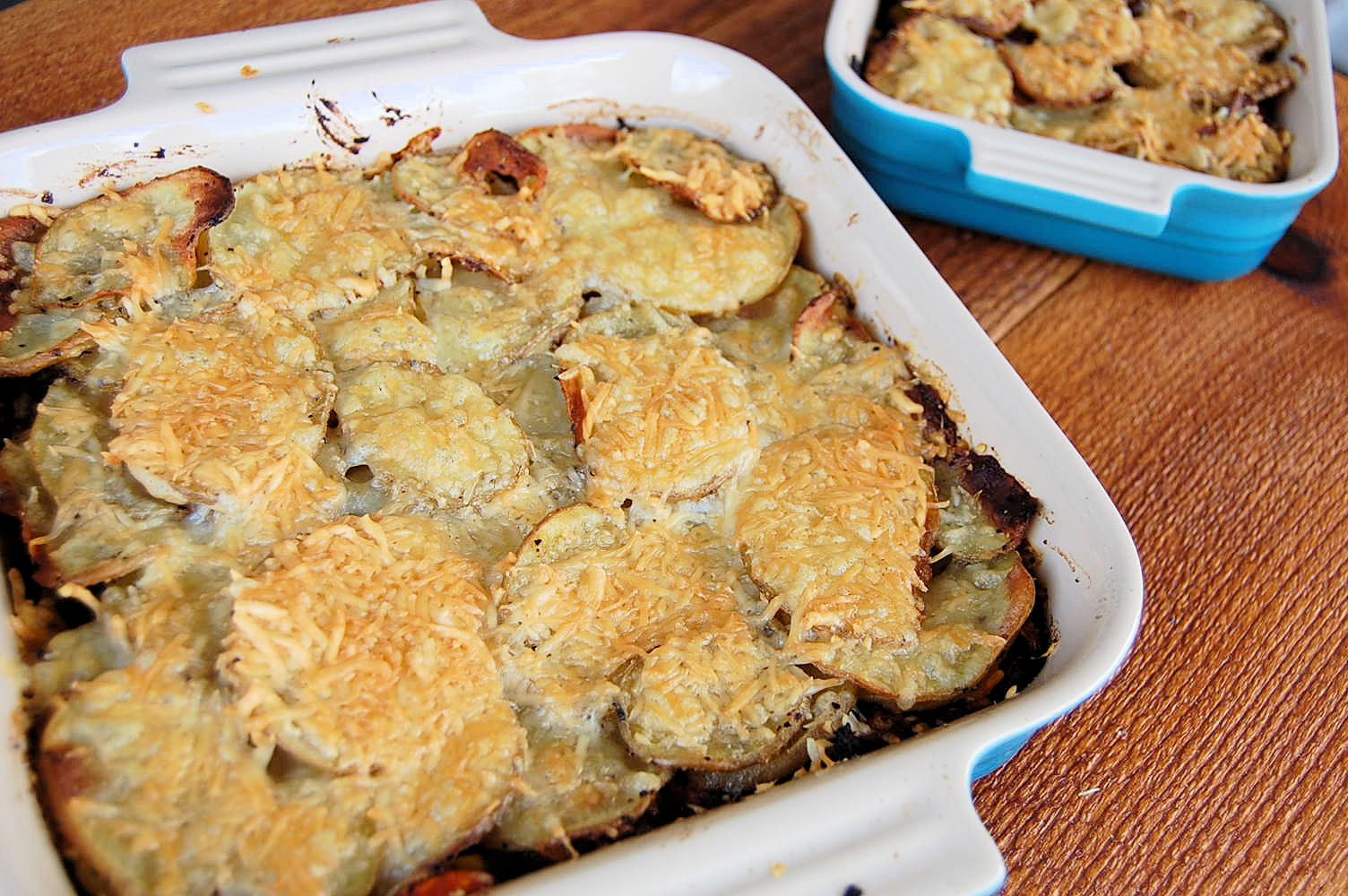 Believe it or not I have never had a shepherd's pie in my LIFE (until last week of course). If you remember, I have mentioned how I was absolutely horrified of mashed potatoes when I was younger and the thought of a large casserole pan topped with those creamy potatoes just took my fear to a whole new level. I am older now and thankfully my tastes have changed allowing me to not only eat potatoes but LOVE them. However, although I like mashed potatoes now I wanted to follow in the steps of Mary Beth and do something different with the topping for the pie. A crispy cheesy topping of thinly sliced potatoes is considered "different" right?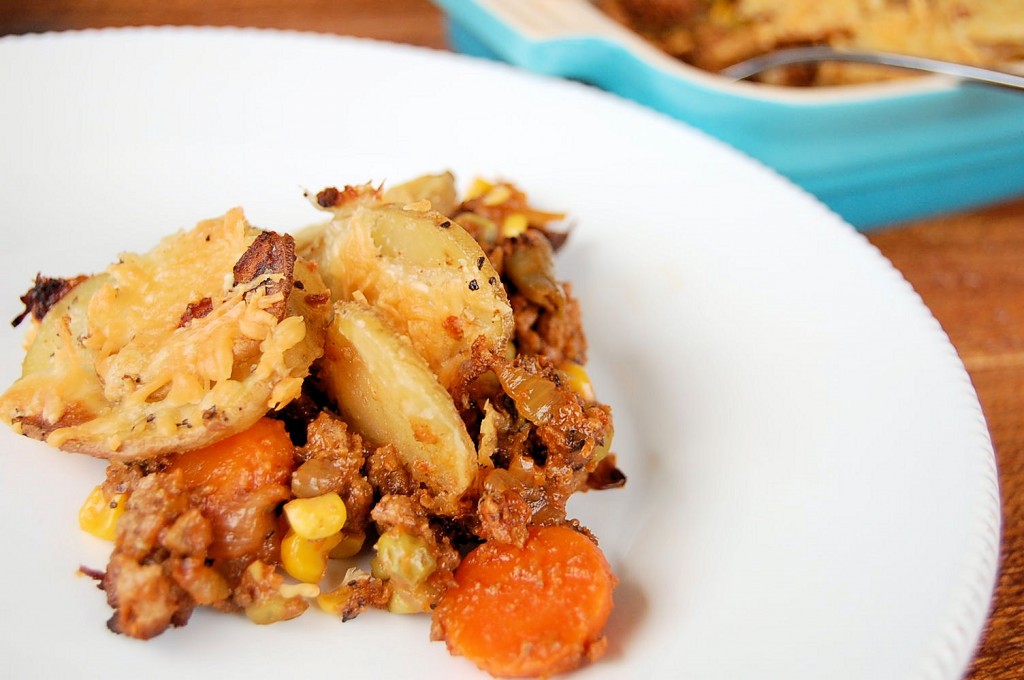 A mixture of beef cooked with onions and prosciutto, corn and tomatoes gave the dish that extra flavor and the gravy was utterly delicious. The gravy simply could not be any easier than if you used store-bought. Beef broth, flour and a dash of my secret ingredient (beer) gives the filling just the right touch. It's a gravy to end all gravy's!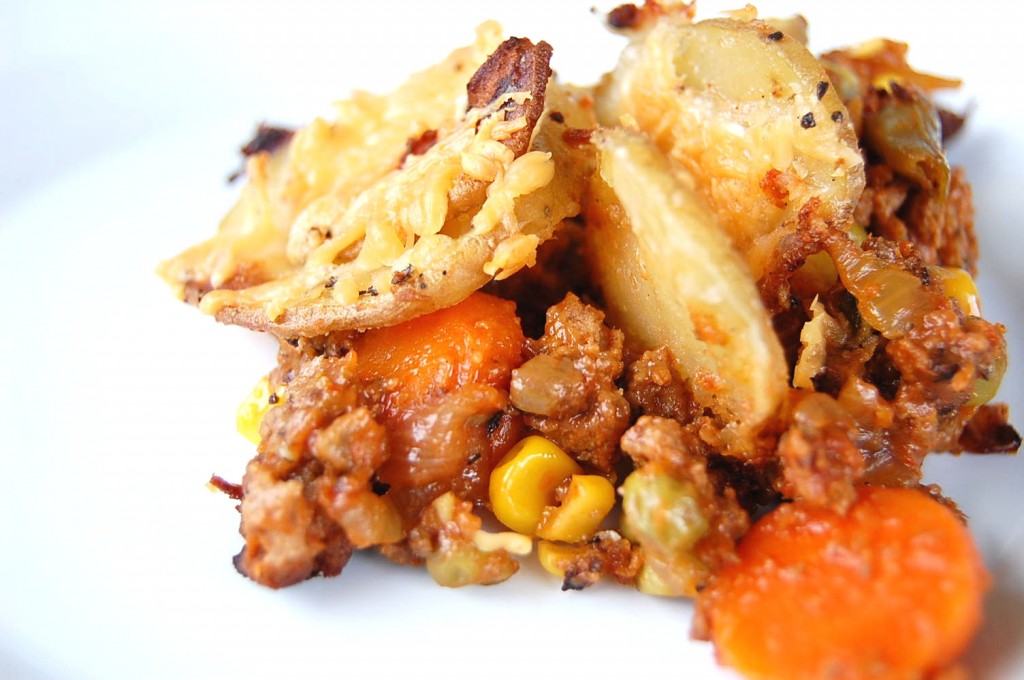 So if your kids have a mashed potato phobia like I once did then this easy one pot meal with the crispy topping is perfect for them!
Crispy Shepherd's Pie
Ingredients
1 pound of yukon potatoes, thinly sliced
Salt and freshly ground black pepper
1 tablespoon extra-virgin olive oil, 1 turn of the pan
1¾ pounds ground beef
¼ pound of prosciutto
1 carrot, peeled and chopped
1 onion, chopped
2 tablespoons butter
2 tablespoons all-purpose flour
1 cup beef stock
2 teaspoons Worcestershire
½ cup frozen peas
1 teaspoon sweet paprika
2 tablespoons parsley
¼ cup shredded cheese (cheese of your choice)
Instructions
Preheat a large skillet over medium high heat. Add oil to pan with beef, prosciutto and onions. Season meat with salt and pepper. Brown and crumble meat for 3 or 4 minutes. Add chopped carrot and peas. Cook veggies with meat 5 minutes, stirring frequently. In a second small skillet over medium heat cook butter and flour together 2 minutes. Whisk in broth and Worcestershire sauce. Thicken gravy 1 minute. Add gravy to meat and vegetables.
Place the meat mixture in the bottom of a greased 9x13 casserole pan. Toss the sliced potatoes with salt, pepper and a dash of olive oil. Arrange evenly on top of the meat mixture in 3 different layers. Sprinkle with the shredded cheese. Bake at 350 for 15 minutes then increase temperature to 400 and bake another 15 minutes until the potatoes are nice and golden, crispy brown.