Happy February to you all! Can you believe January has come and gone! Thankfully we haven't had that harsh of a winter yet and I am just itching for spring to get here especially with dishes like the one I am about to share with you. It's sinful yet light and refreshing! Irresistible!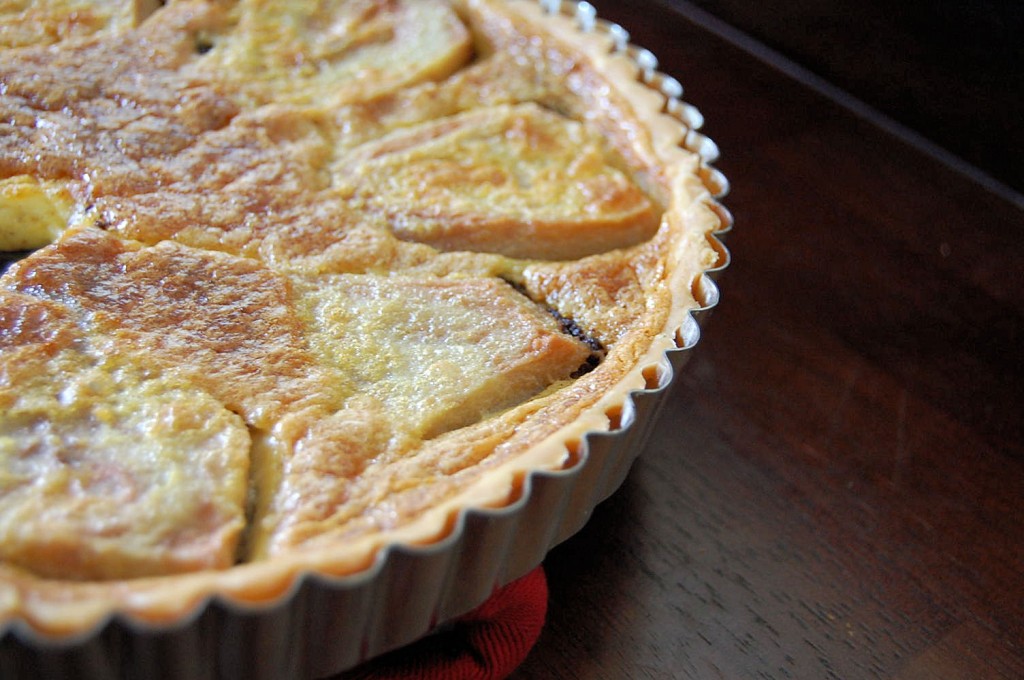 I am pleased to announce that I joined my friend Reem  from Simply Reem to particpate in a foodblog hop. It is a wonderful group of amazing food bloggers who every month choose an ingredient and make a dish around it.It gets my creative juices flowing and I just love a challenge.Can you guess what this months ingredient is? Yep! Chocolate! You can't do the month of February without chocolate now can you.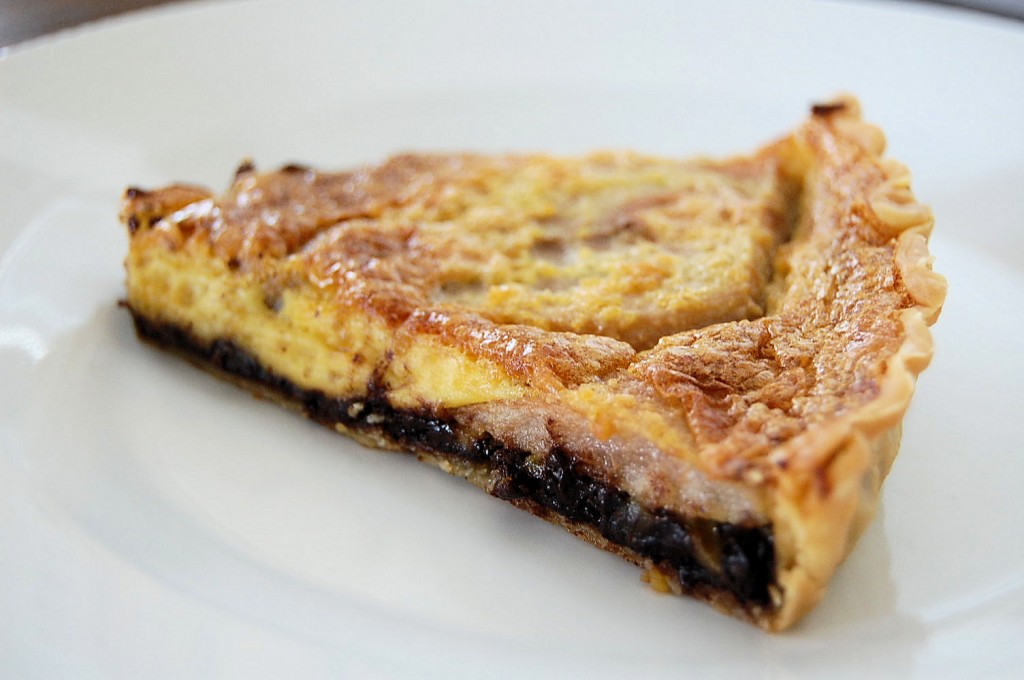 I wanted to do something really different so I thought a nice mix of chocolate and fruit would be perfect. I thought of strawberries but that is classic, then oranges but I'm not a huge orange fan and of course I could do cherries but that's not fun so I decided to go with dainty little pears. They are light, sweet and seriously perfect paired with chocolate. Now, there are a few chocolate and pear tarts out there in google land but you will find that mine is entirely different. Only in mine do you see the bits of chocolate peaking out from the top. Not until you cute a slice of this heaven do you see the chocolate entirely. I didn't want the same tart I have seen before so I decided to do a traditional custard with a layer of chocolate on the bottom so as to maintain a fresh feel with the pears and still give you that surprising hint of chocolate bliss.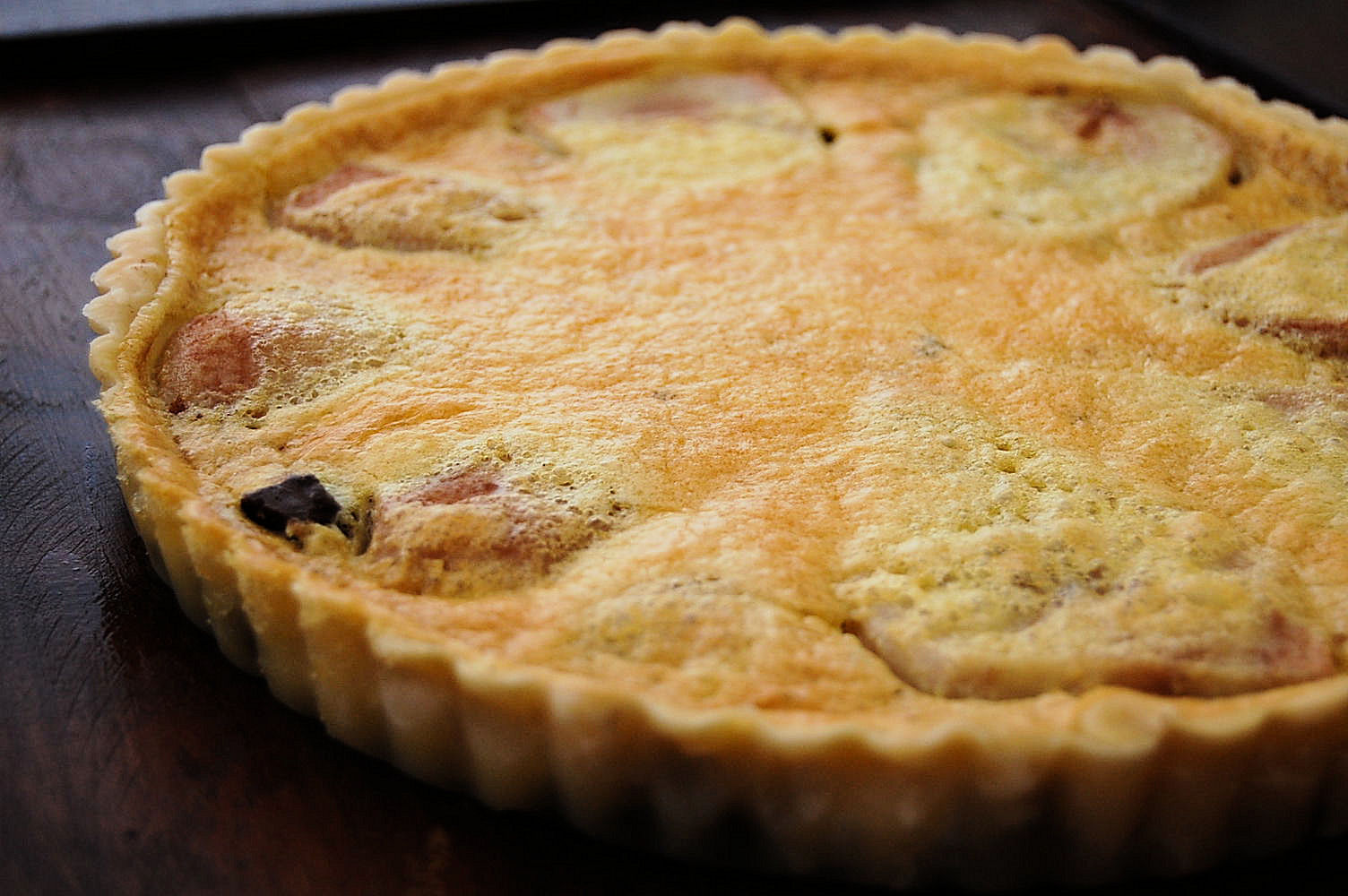 February is #chocolatelove month!
Please join in on the #chocolatelove by linking up any chocolate recipe from the month of February 2012.  Don't forget to link back to this post, so that your readers know to come stop by the #chocolatelove event! The twitter hashtag is #chocolatelove
.
Cohosted by:
A Little Bit of Everything ~ASTIG Vegan ~ Badger Girl Learns to Cook~Baker Street ~ @bakerstreet29~Baking and Cooking, A Tale of Two Loves ~Baking Extravaganza ~BigFatBaker~Bon a croquer ~CafeTerraBlog ~Cake Duchess ~ Cakeballs, Cookies and More~Cooking with Books ~ Creative Cooking Corner ~Easily Good Eats~Elephant Eats~Georgiecakes~Hobby And More~ Java Cupcake~ Mike's Baking ~Mis Pensamientos ~No One Likes Crumbley Cookies~Oh Cake ~ Preheat the Oven~Rico sin Azucar ~ Savoring Every Bite ~ Simply Reem ~ Smart Food and Fit ~Soni's Food for Thought ~ Sprint 2 the Table ~ Teaspoon of Spice ~ That Skinny Chick Can Bake ~The Dusty Baker ~ The More Than Occasional Baker ~The Spicy RD ~The Wimpy Vegetarian ~ Vegan Yack Attack! ~ Vegetarian Mamma ~ You Made That?
If you like this recipe be sure to check out the other #chocolatelove hostesses as well and don't forget to link up your own chocolate dish below! Happy Valentines!
Chocolate and Pear tart
Ingredients
1 pre-made pie crust dough
4 pears, peeled and cut in fourths vertically
6 ounces sweetened dark chocolate and 6 ounces of semi-sweet chocolate
2 eggs
⅓ cup sugar
¾ cup heavy cream
1 tsp coffee liqueur
1 tsp grated orange zest
2 teaspoons of vanilla
2 tablespoons sugar
Instructions
Fit the pie dough to a tart pan or pie tin and pierce the bottom in several dozen places places with the tines of a fork. Cut the chocolate into bite size chunks and place on the bottom of the tart pan. Place the sliced pears on top of the chocolate.
Beat the eggs with the sugar then add in the cream and vanilla, liqueur and zest. Pour over the pears. Sprinkle with a the 2 TBSP of sugar and place in a preheated 400 degree oven for 10 minutes. Reduce temperature to 375 and bake another 30 minutes or until the top is nice and golden and the custard is set.