I realize pears are not still in season but I also realize the convenience of frozen pears. Pears that I stored up in my freezer during the summer because I am that good- I think ahead! No, actually I am not that good- I just forgot to use them before we left out of town for a few days so I just cut them and popped them in a freezer bag. Hey- good things do happen when you are running around crazy because if it wasn't for that out of town trip and last minute save on the pears I would not be giving you the most spectacular cupcakes known to man- my Pear and Banana Cupcakes with Salted Caramel Frosting!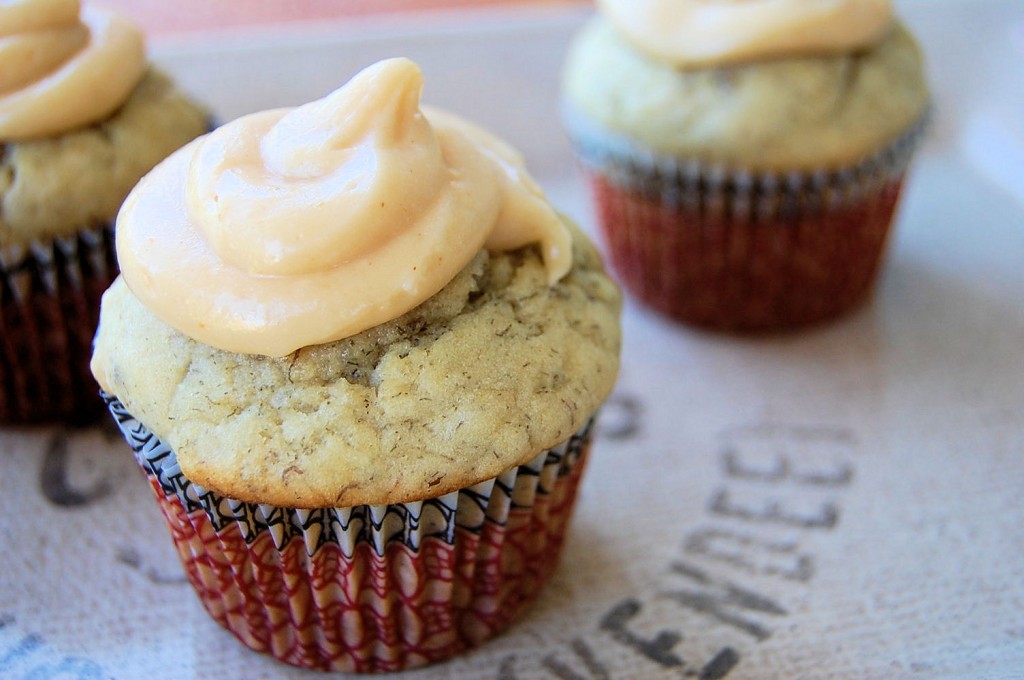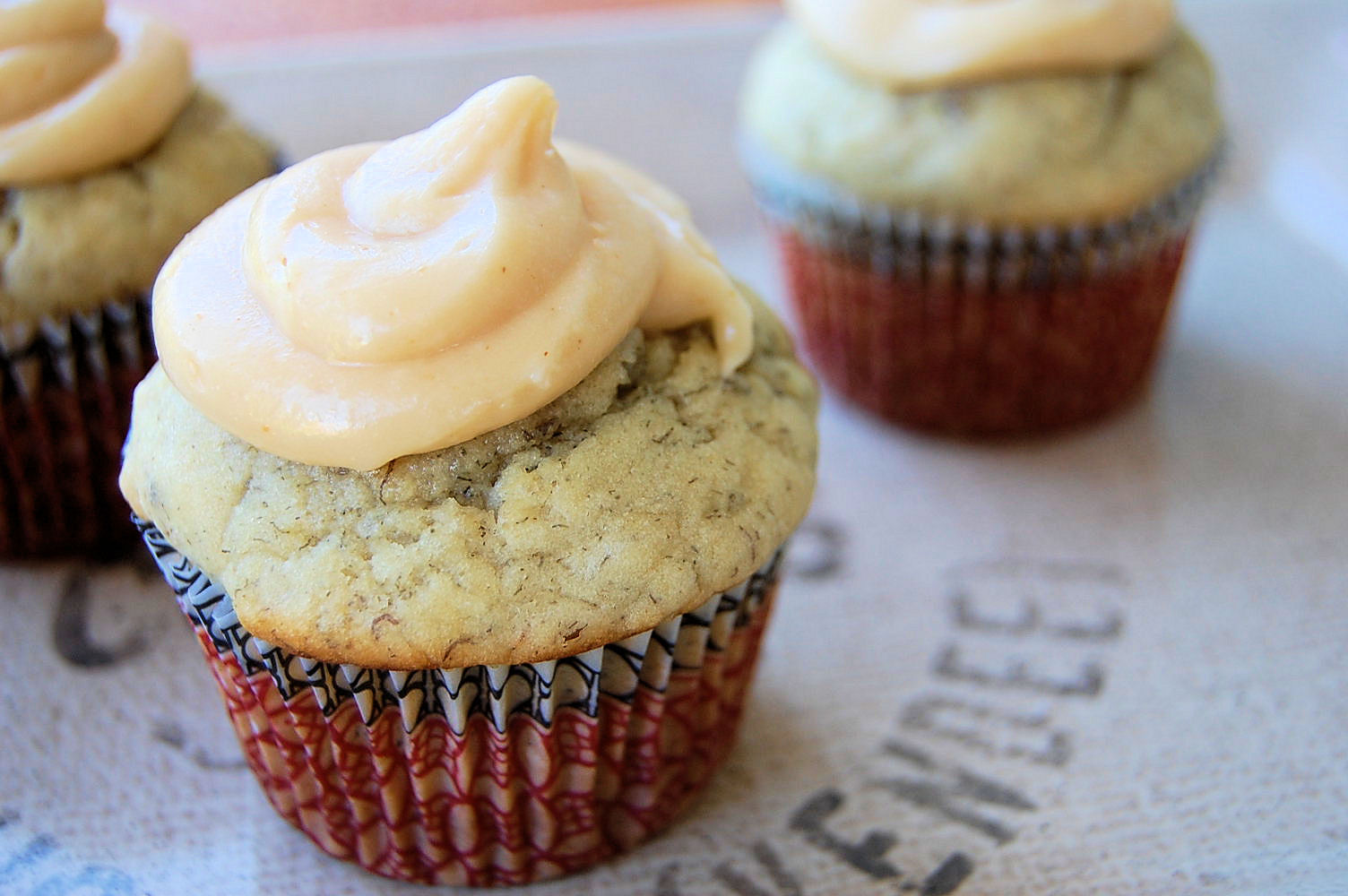 Typically one doesn't see pears and bananas together but I promise this is a winner. I saw a similar recipe in a Southern Living magazine this summer for spiced peach carrot bread but with no peaches or carrots on hand I improvised and used my pears instead! Are you intrigued yet? You should be because this cupcake has such an amazing tantalizing flavor to it. The spices of nutmeg, cinnamon and allspice pair so well with the sweetness of the pears and bananas. It is a refreshing change from the traditional cupcake and the caramel frosting adds a nice nutty flavor. The cupcake is sweet but not overly sweet and perfect for a quick breakfast (hey this mom needs a cupcake sometimes in the morning) or treat. No need to separate ingredients- just throw it all into one big bowl and with some man power stir until just combined.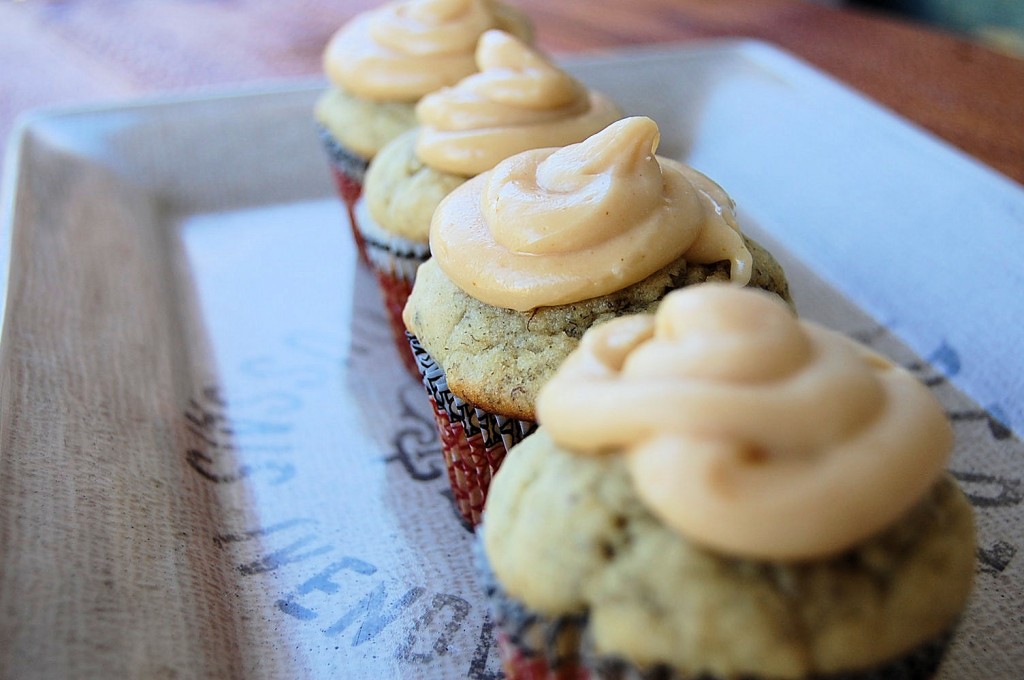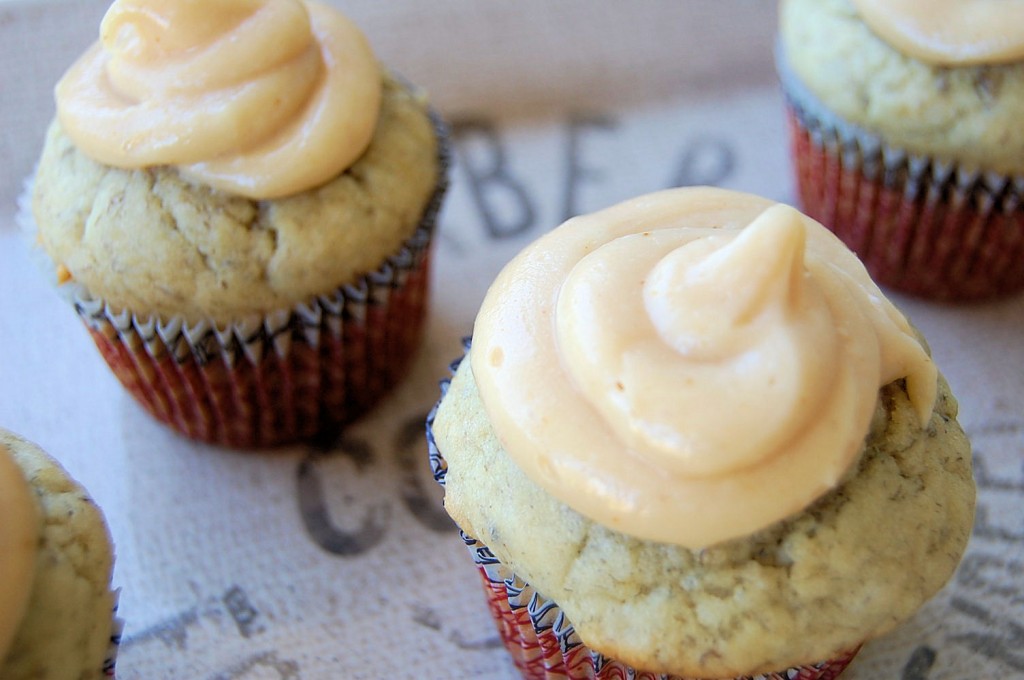 Pear and Banana Cupcakes with Salted Caramel Frosting
Ingredients
2 ripened pears, mashed
2 ripened bananas, mashed
1 cup sugar
¼ cup unsweetened applesauce
¼ cup canola oil
3 eggs
3¼ cups all-purpose flour
3 teaspoons ground cinnamon
1 teaspoon baking soda
1 teaspoon baking powder
1 teaspoon ground cloves
½ teaspoon salt
For the Frosting: (from my kitchenaddiction.com)
1 cup sugar
1 tablespoon water
¼ cup (4 tablespoons, ½ stick) unsalted butter
½ cup half and half (or cream)
1 teaspoon sea salt
½ cup shortening (or softened butter)
3-4 cups powdered sugar
Instructions
Combine the dry ingredients together and set aside. Mix together the remaining ingredients in a large bowl leaving the bananas, pears for last. Stir in the dry ingredients and pour your mixture into individual greased muffin tins. Bake at 350 for 15-20 minutes until nice and golden brown. Top with Caramel Frosting
For the Frosting:
To prepare the caramel, combine the sugar and water in a saucepan. Heat over medium-high heat, stirring with a wooden spoon as the sugar melts. Stop stirring when the sugar starts to boil. Let the sugar boil until it is amber colored (but not too dark!). Remove the saucepan from the heat, and add the butter and the half and half. The caramel will foam up and steam, but that's OK (just keep your face and hands clear and be careful!). Add the sea salt, and whisk vigorously until the caramel comes together. Cool to room temperature.
Transfer the caramel to a large mixing bowl. Add the shortening (or softened butter), and beat on medium speed until light and fluffy. Gradually add the powdered sugar, beating on medium speed, until the icing reaches a spreadable consistency.