Bread
Ham, Cheese and Chipotle Scones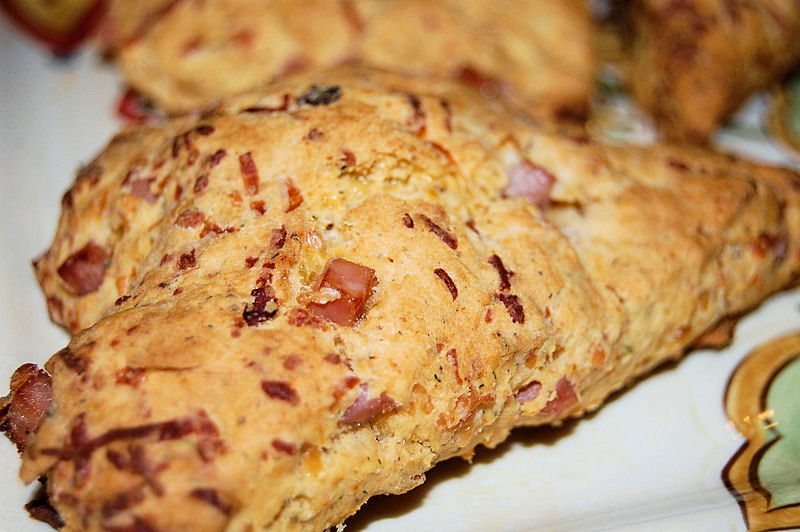 I saw a scone recipe in a magazine I was reading while waiting in line at the grocery store but before I could read any of the ingredients I was not so nicely asked are you ready to check out! So for the first time ever I sadly proceeded to the counter to check out- frantically trying to remember if I read anything that I could use to re-create that dish. What is the dish you ask? It was a savory chipotle scone loaded with goodness only the problem is I don't know what that goodness was, I only know that is looked GOOD!
So with that good looking scone still on my mind I got home eager to get in the kitchen and try to come up with something that at least resembled the picture I saw earlier. I love the taste and smell of chipotle. Its an ingredient most people either love or hate and I am a lover! I know that chipotle pairs great with cheese and what goes better with cheese than ham? Right! Hold On-Wait! I am not telling you the whole truth. When we got home Grant started to watch the cat and the hat and no joking aside the cat said the line about green eggs and ham and that is when the ham part of the scones entered my mind.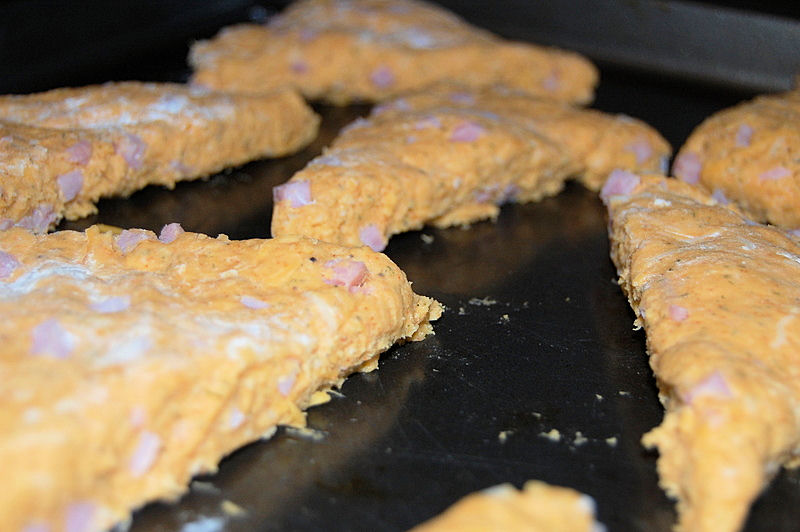 So there you have it. Now you know the whole story behind my Ham Cheese & Chipotle Scones. They are out of this world delicious and a great side to any type of dinner. I made extras and we have the scones with salad, soup and even pasta. They are perfect, easy and best part of all is the kids will love them even as much you do!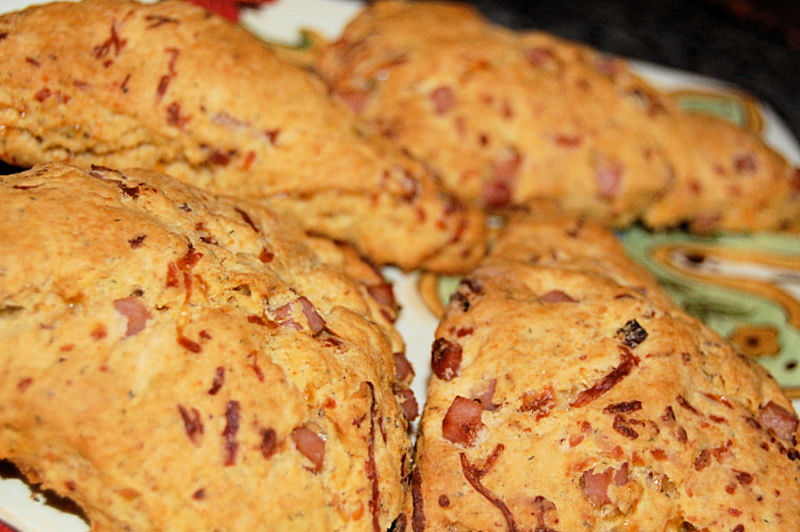 Ham, Cheese and Chipotle Scones
Ingredients
2 cups AP flour
1 TBSP baking powder
3 TBSP sugar
1 tsp salt
¼ tsp pepper
¼ tsp paprika
1 chipotle chili, minced
1 stick cold butter cut into small pieces
¾ cup cheddar cheese
¾ cup chopped ham, drained
½ cup heavy cream
2 eggs
Instructions
Combine flour, baking powder, paprika, sugar, salt, pepper and dill in a large bowl; cut in butter with a pastry blender or use a food processor and pulse on low until the mixture resembles coarse meal. If using a food processor, transfer the flour mixture to a large bowl and stir in cheese, chipotle chili and ham. Combine milk and eggs, stirring with a whisk. Add to flour mixture, stirring just until moist.
Turn dough out onto a lightly floured surface; knead lightly 4 to 5 times with floured hands. Pat dough into an 8-inch circle on a baking sheet coated with cooking spray. Cut dough into 8 wedges. Bake at 400° for 20 minutes or until lightly browned.