Appetizers
Mini Barbecue Pulled Pork Pizza with Potato Pizza Dough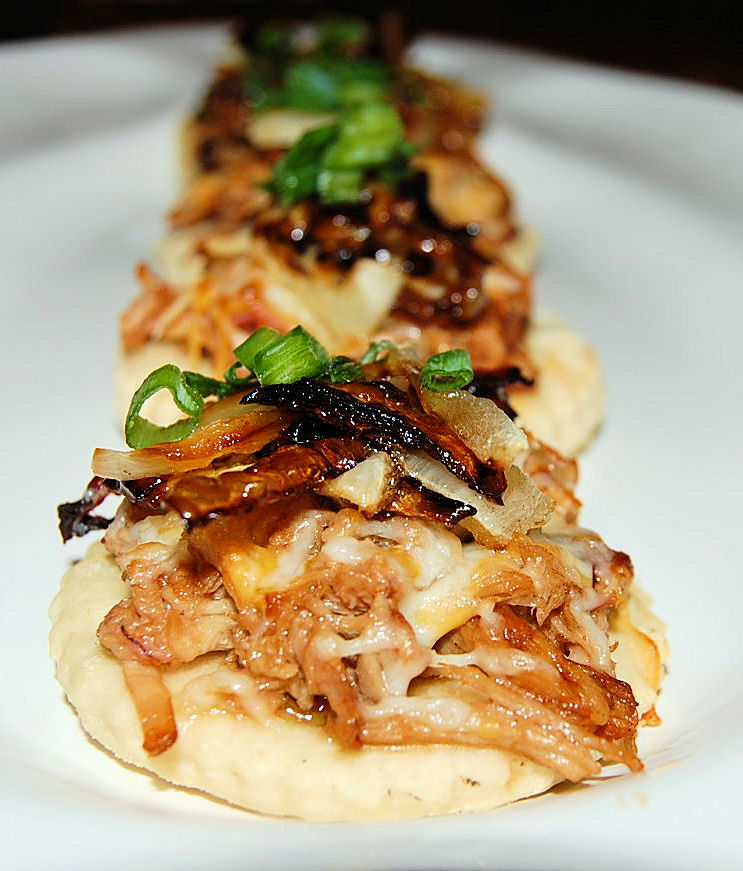 Did you get the last part of that title- Potato Pizza Crust! In fact, did you get that first part too- Pulled Pork! Yes I know, two ingredients you don't normally find in your average pizza but two ingredients that you must incorporate for your next pizza night. Out of  this world irresistible. Its is one of those things you have to taste to believe. The barbecue sauce really does belong on pizza dough and mashed potatoes really are fantastic in your pizza crust. They add a subtle buttery flavor to the dough with a dense, chewy texture.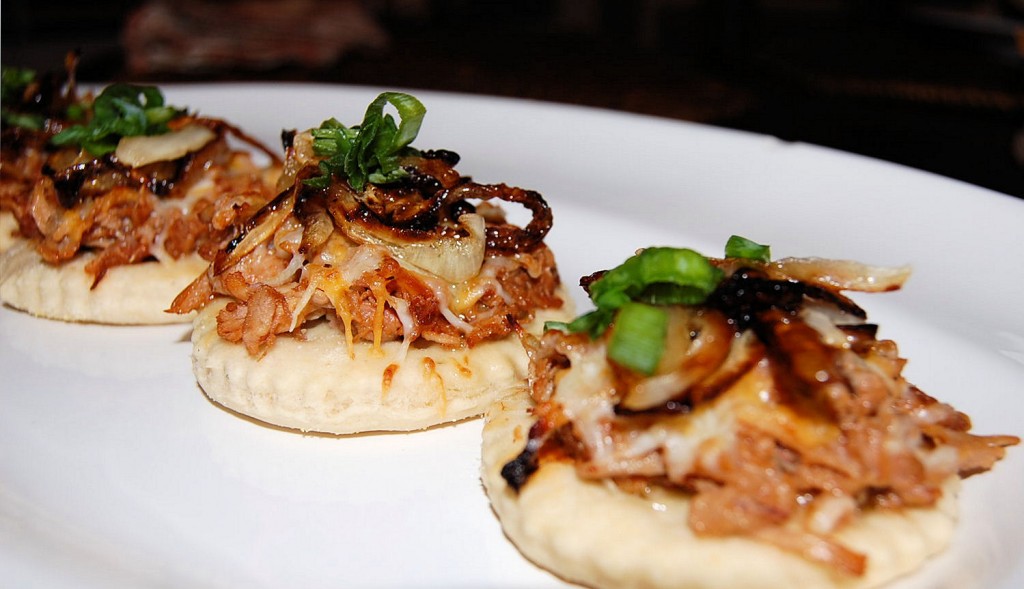 I definitely knocked the idea of pulled pork pizza a few months back when I saw a food critic on the Food Network Show (The Best Thing I Ever Ate) rave on and on about the best pizza she has ever had from a little pizza place that serves barbecue pizza. My husband who is all for barbecue pork looked at me and said that is a must try. Since then I have had it ingrained in my brain to try this clever invention and finally one day last week I took a stab at it.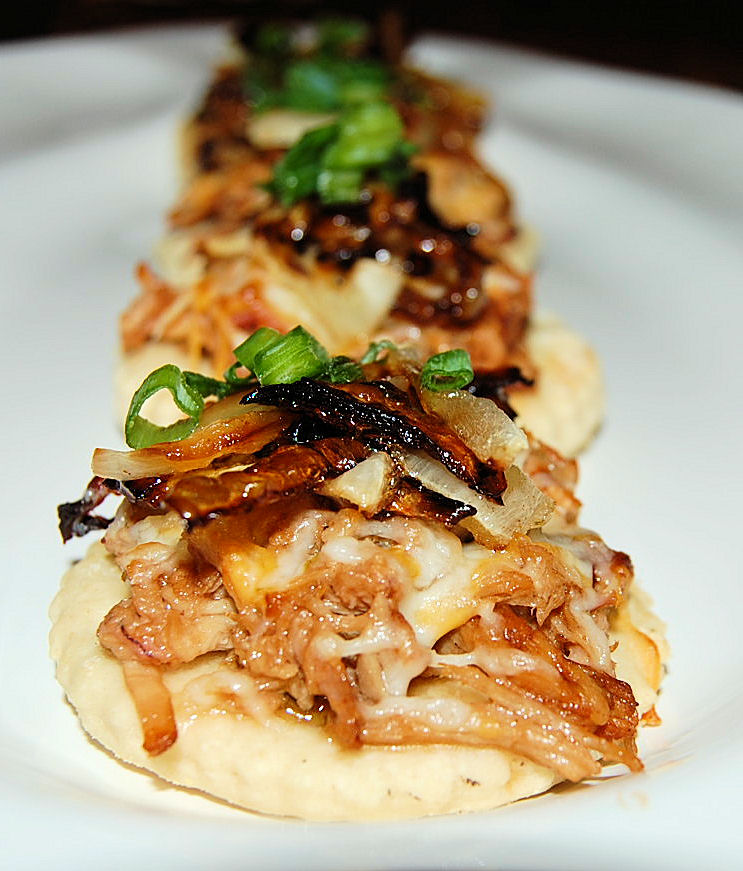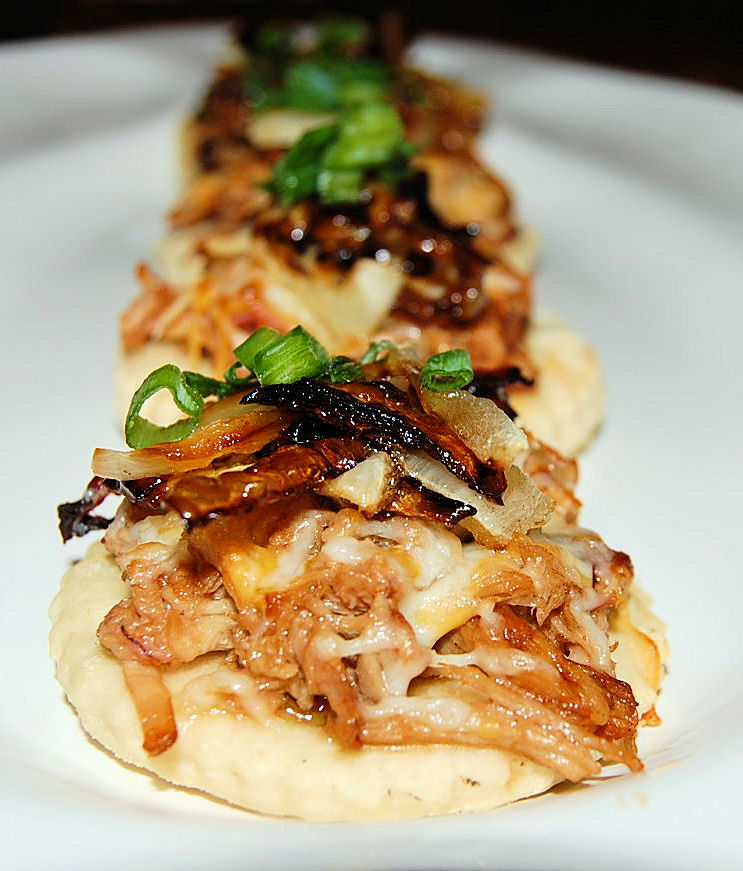 First let me say it is all about the pork. If your pulled pork is not perfectly moist and juicy  and rich than you can just kiss this dish bye bye. Secondly, a pizza stone! You must have a pizza stone. Trying to do this pizza recipe or any other for that matter will just not give you the same results as that of a pizza stone. With this potato pizza dough recipe, you can even make the dough the night before, stick it in the fridge and then bring it out a couple of hours before dinner to come to room temperature and rise. I decided to go for a mini version to see how they would fair as appetizers. Perfection is what they were. The perfect mini appetizer or large pizza dish that is sure to please not just some but everyone!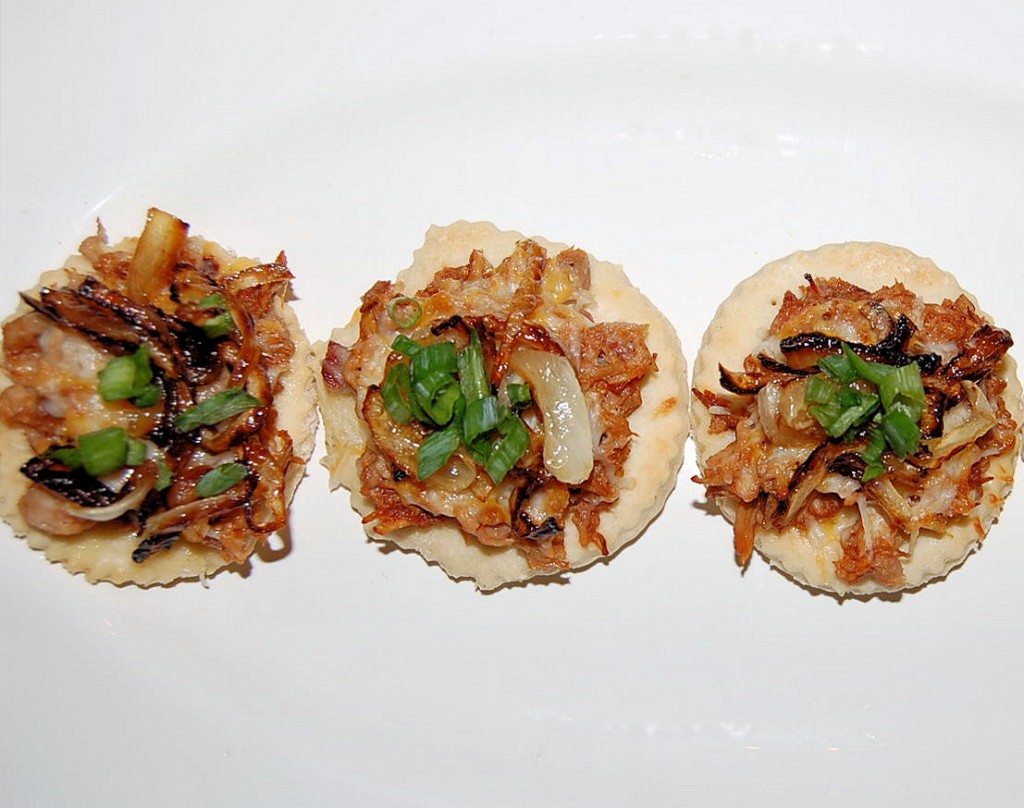 Mini Barbecue Pulled Pork Pizza with Potato Pizza Dough
Ingredients
For the Dough:
½ cup warm water
½ teaspoon sea salt
2½ tsp sugar
1 tsp Devo olive oil
¼ teaspoon instant (rapid) yeast
½ TBSP softened butter
1 TBSP beaten egg
3 TBSP warm water
¾ cup bread flour
4 TBSP mashed potatoes
Barbecue Pork and Topping:
1 clove garlic, whole
¾ cup chopped onion ( I prefer vidalia)
1 large can of beef broth (not stock)
3 lbs of boneless pork ribs
2 cups of bbq sauce ( you may use my recipe below or just use a bottle of your favorite bbq sauce)
BBQ Sauce:
1 can of coca-cola
1 TBSP minced garlic
1 can of tomato paste
3 TBSP butter
¼ cup honey
½ cup Worcestershire sauce
½ cup soy sauce
½ cup cider vinegar
½ cup cajun mustard or spicy brown mustard
1 TBSP chili powder
1 tsp cayenne pepper
1 tsp onion powder
1 tsp garlic powder
1 tsp sea salt
Topping:
1 small onion, sliced
¼ cup diced green onions
3 TBSP butter
½ cup to 1 cup of shredded mozzarella cheese (amount of cheese depends on pizza or appetizer selection)
Instructions
Combine the flour, yeast, and sugar. Then add the salt. Add the butter and mashed potato and mix. The dough should look clumpy. Add the water and egg and using a wooden spoon, mix well until it forms a loose dough. Knead the dough on a lightly floured surface for 1 minutes. Coat the dough with oil and place in a mixing bowl, covered, for 30 minutes-1 hour. Make sure to set it in a well ventilated but warm place.
Now, shape the dough into a ball by tucking the edges under.Let rest for about 15 minutes. Shape the dough into a large circle or rectangle on a pizza stone or baking sheet coated with spray and sprinkled with cornmeal. Rub the dough with the garlic and allow to rest for 30 minutes while you prepare the toppings.
Bake the dough in a 475 degree oven for 5-7 minutes then remove and top with the barbecue pork topping,cheese, caramelized onions and green onions. Bake for another 5-7 minutes or until the crust is a nice golden brown.
For the Onions:
Melt the butter in a small skillet and add in the sliced onions (white not green). Cook over medium heat for 6-8 minutes, stirring ever so often until the onions become tender and get that nice slightly crispy brown outer coating around the edges. Set aside.
For the Pork:
Pour can of beef broth into slow cooker, and add boneless pork ribs. Cook on High heat for 4 hours, or until meat shreds easily. Remove meat, and shred with two forks. Transfer the shredded pork to a dutch oven or large baking dish and stir in the bbq sauce. Bake in the oven at 350 for another 30 minutes!
For the Sauce:
Mix all ingredients in a medium saucepan. Bring to a boil then reduce heat to a simmer and cook for 30 minutes.
Nutrition Information
Serving size:
1 large pizza, 8-10 small appetizer rounds, 4-6 sm