The holidays wouldn't be complete with a steaming cup of hot chocolate loaded down with marshmallows resting beside you as you bask in the glow of the fireplace. Well okay, maybe that sounds too much like a fairy tale to some of us. I myself will be feeding a newborn and chasing a 2 yr old around so I probably won't be basking in the glow of the embers but as God as my witness I will have a steaming hot cup of cocoa during the day.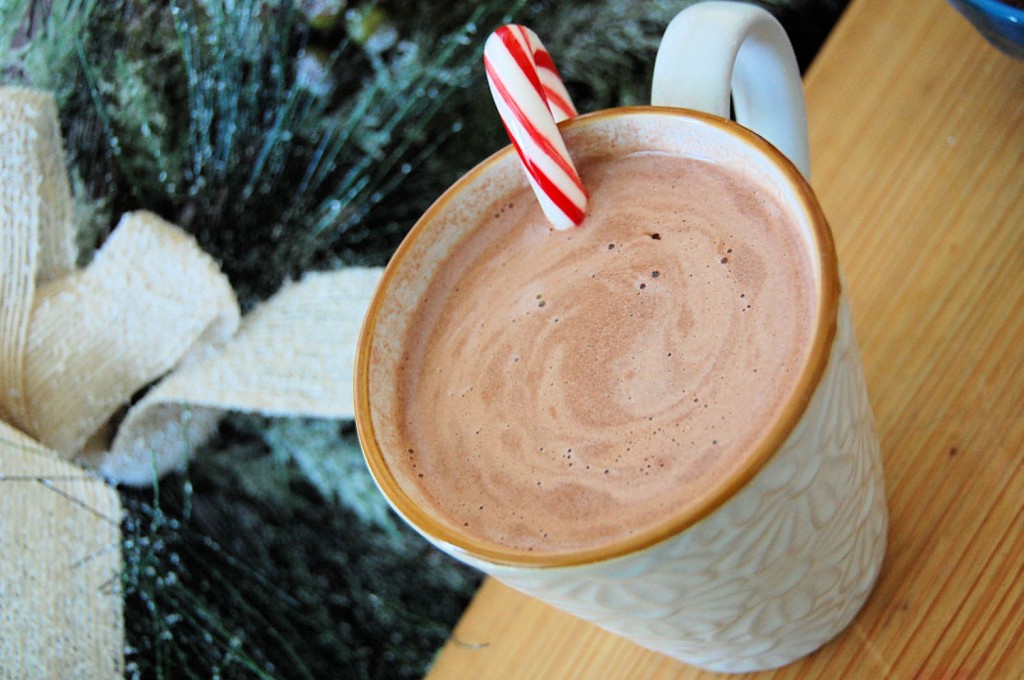 I have always wanted to make my own hot chocolate mix but every time I start to do it I remember how easy it is to just buy the store-bought version. However, I won't be a regular at the grocery store for some time so I figured I would prep ahead of time and make my own hot chocolate mix in preparation for the weeks to come.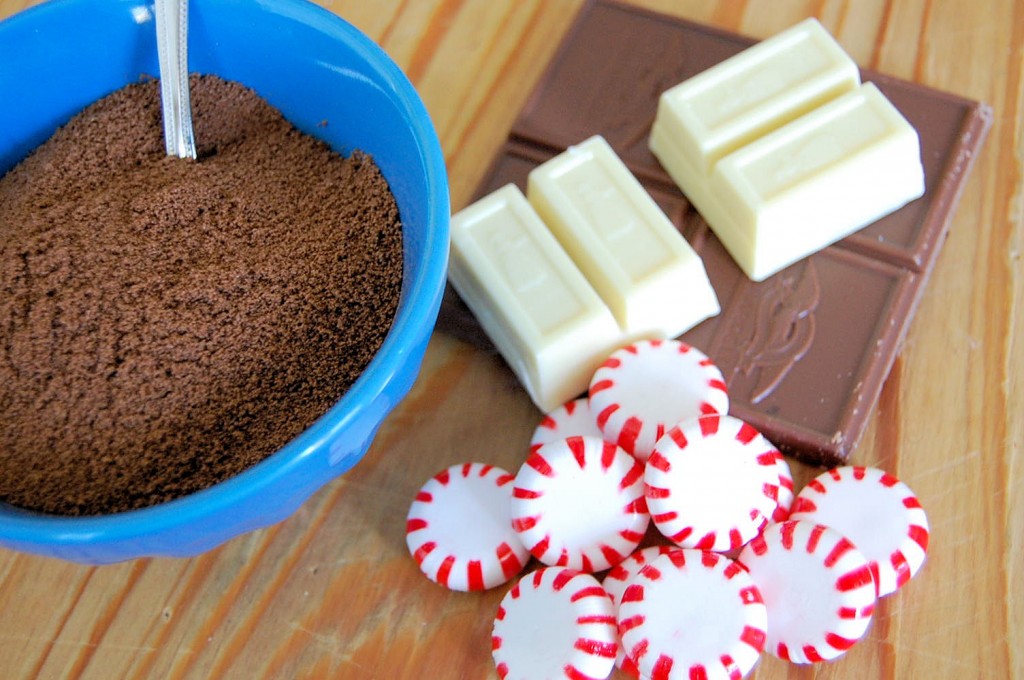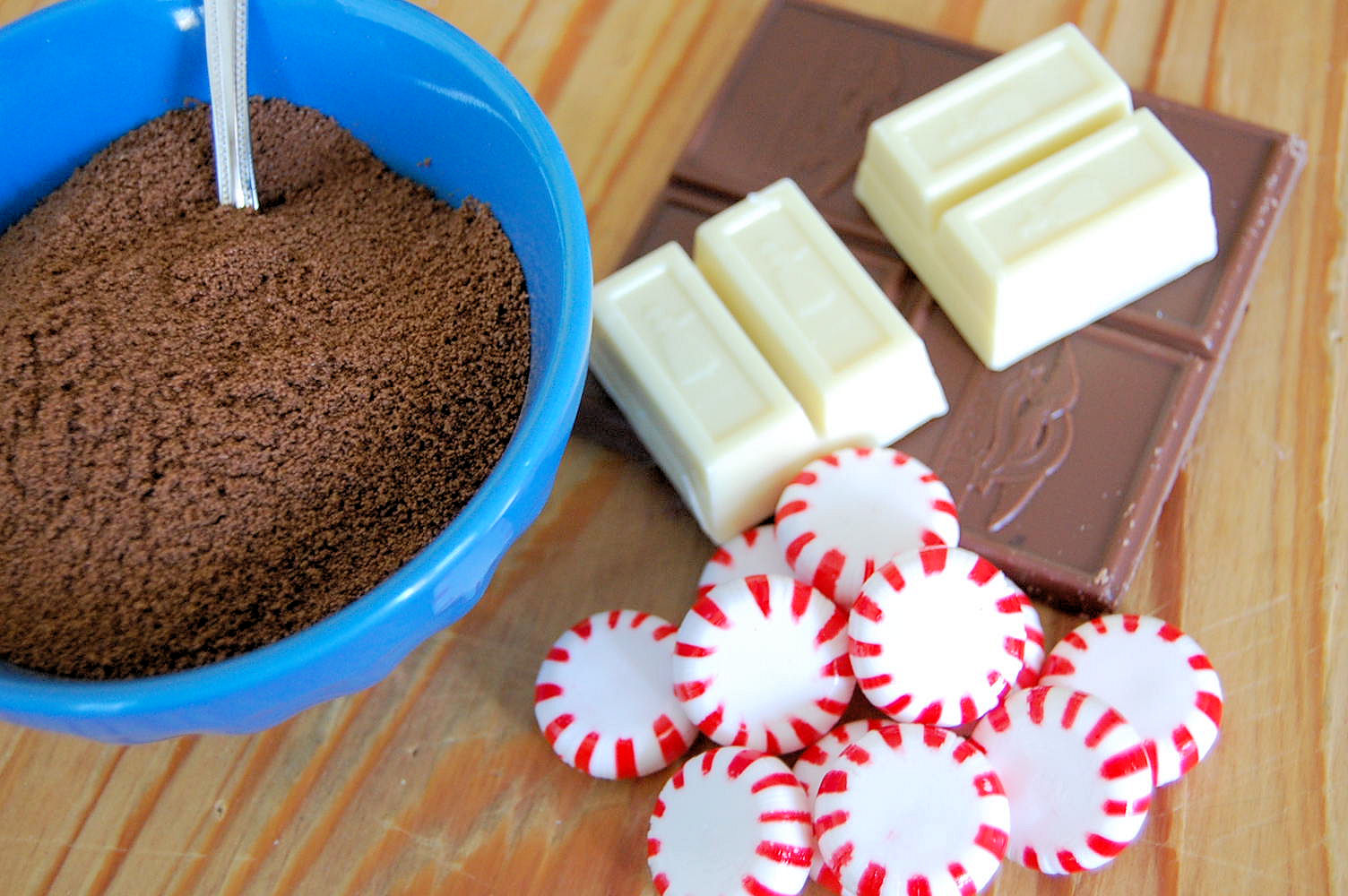 It really is super simple- even more simple than my recipe may make it out to be because like everything I do I tend to go all out. I decided that a simple chocolate mix wouldn't do the trick. This year I needed something powerful, something so chocolatey and sweet and nutty that it would take the place of all the sleepless nights I would be having. Something to look forward to so to speak:) With that said, I decided to use the idea behind David Lebovitz Mexican Hot Chocolate Recipe and add a few touches of my own like white and dark chocolate bites with crushed peppermint. Below is the recipe for the drink itself but if you want to make the hot chocolate mix for now to store for later then just omit the milk of course and zip up the mix in an air-tight bag. It keeps great for up to 2 months.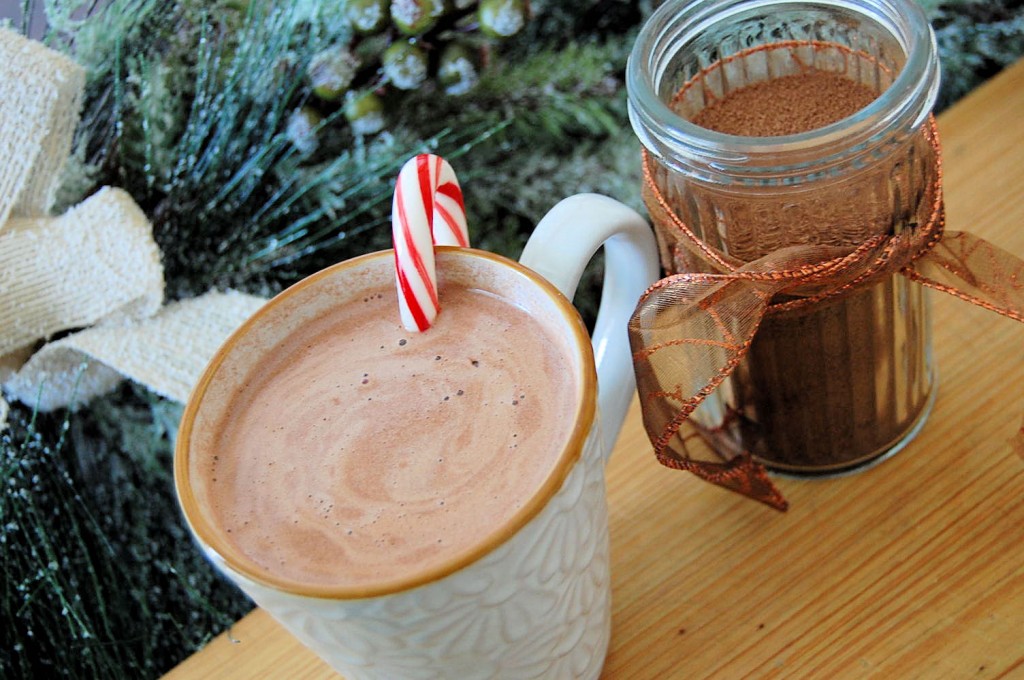 Mexican Hot Chocolate and Best Christmas Gift Ever for your man
Ingredients
2 ounces of Mexican sweet chocolate, ground (use food processor and ground chocolate into tiny bits)
1 ounce of white chocolate, ground (use food processor and ground chocolate into tiny bits)
4 TBSP crushed peppermint candies ( I also grounded this in the food processor)
1½ cup unsweetened cocoa powder (by the good stuff)
2 tsp cornstarch
2 cups powdered sugar
½ tsp ground cinnamon
pinch of cayenne pepper *optional
2½ cups powdered milk (find this in the baking isle)
½ tsp brown sugar
1 tsp salt
Instructions
Combine all ingredients in a mixing bowl and incorporate evenly. To make a drink, fill cup with ⅓ cup of cocoa mixture and pour in 1 cup hot milk. Stir to combine and enjoy! You can also use water if you prefer.
Nutrition Information
Serving size:
10-12 servings
Now on to what is really important in today'st post and that is something I have just been itching to share with you all. As we all know my husband is an avid LSU fan and I wanted to do something for him this Christmas that incorporated LSU in some way. Shirts, jersey's, prints, and collectibles have all been done in the past so I was kinda stumped as to what to get him this year. That is when I googled LSU coolers.  I remembered that a friend of ours had a wooden ice chest with the LSU logo on it and I was immediately excited about the idea of getting him something like this that would last forever. After scouring the internet I found the most amazing site called Cowboy Country Coolers that makes rustic wooden ice chest using gorgeous red cedar.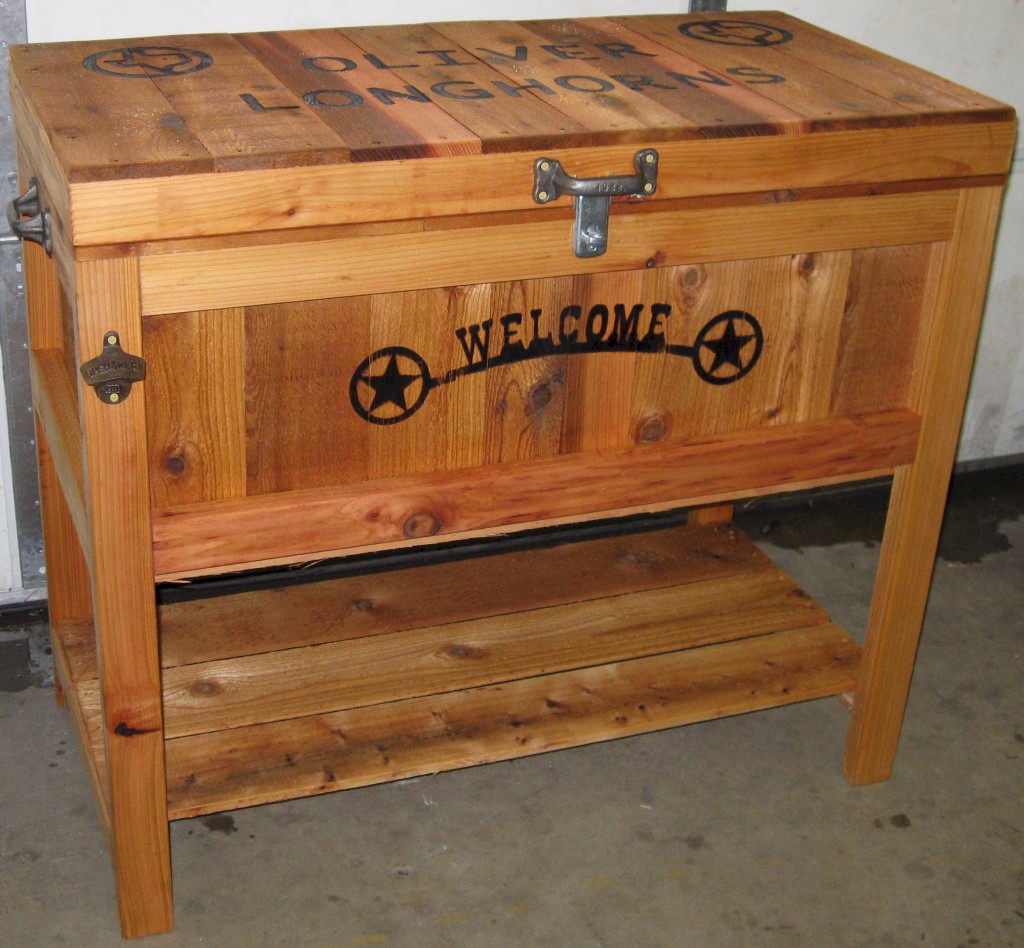 I didn't know how much they cost or how soon I could get one made but all I knew was that I had to have one for my sweet husband. He deserves it after all and plus I was thinking I could really sweeten up to him as I have been in a prego mood for about oh 9 months now:) Anyway, so the coolers are simply stunning and I emailed the owner Craig to find out more information and see if I could get one made. To say that the owner Craig was so sweet and helpful would be an understatement. This man was so kind and engaged in the idea of making the cooler, the design, the timing and outcome that I was humbled to have even found him via the internet- talk about great customer service. He had never done an LSU cooler before so I was his first and he jumped at the chance to do something new and different than his usual designs. The design possibilities and options for his coolers are almost endless so make note of this when you see the coolers- if you are interested but want a different logo or design by all means just let him know and he will make it happen!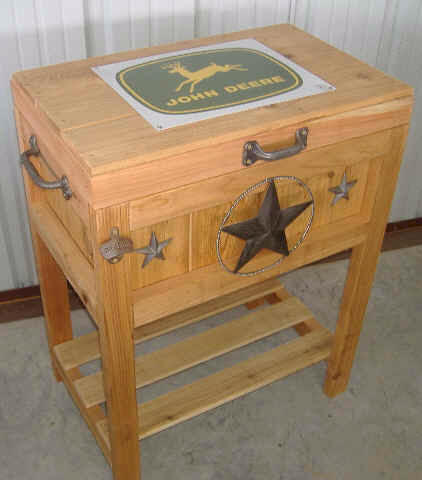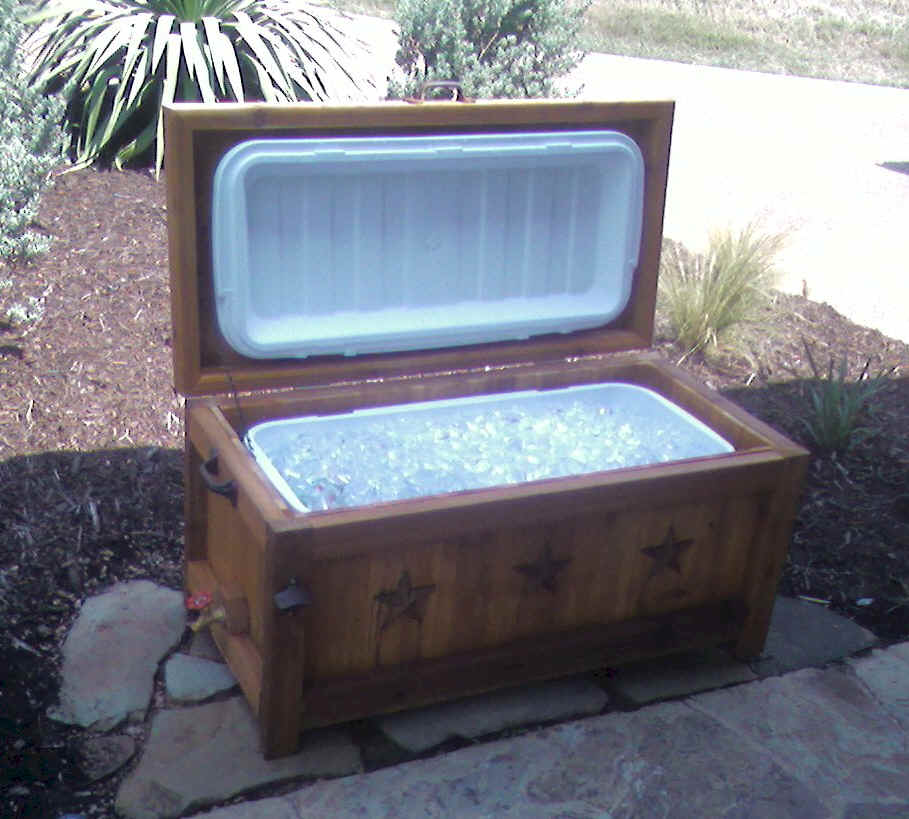 I had actually planned to hide it at my friends house until Christmas but I got soo itchy and excited about showing him that I gave in and presented it to him last weekend. Patrick was estatic over the ice chest. He absolutely loved it and couldn't believe I had even thought to do something like this. Totally surprised and it was all worth it to see the look on his face. He was also throughly impressed with the actual cooler insert. It is a top of the line insulated igloo which according to my husband is "the most durable and best one you can get". According to Cowboy Country Cooler's site it also retains hot and cold longer that any other product on the market. Well, I guess I did a good job huh? I gave myself a pat on the back for a job well done:) How cute is the cooler?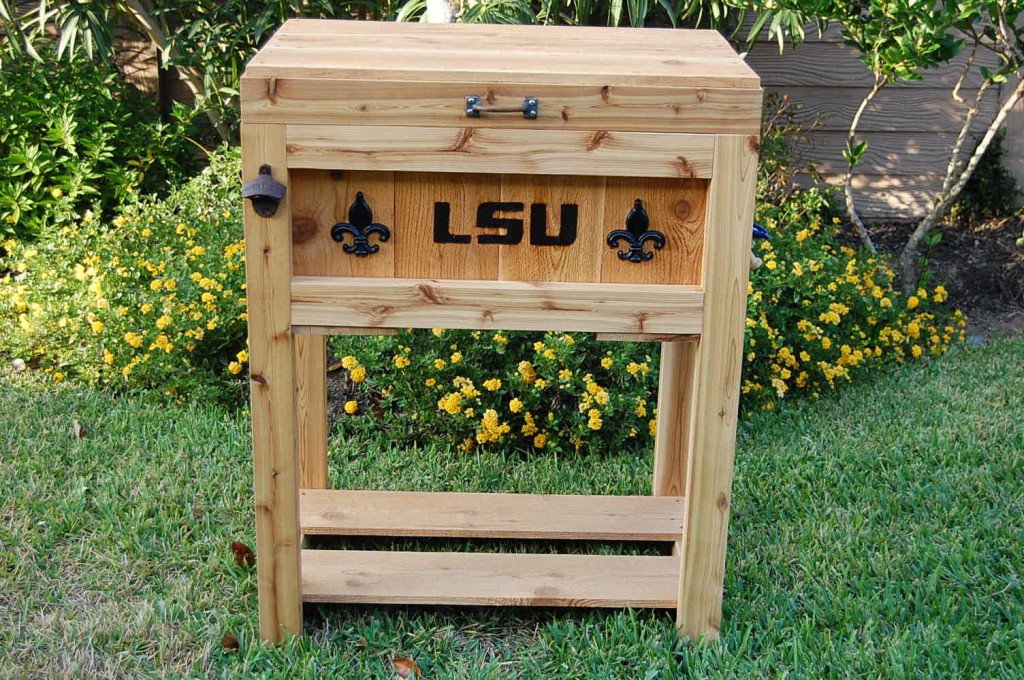 Do you see what I mean girls? Whether your husband has a favorite sports team or not you can always give him an amazing gorgeous wooden ice chest that will last years and years and promises to be the talk of your guests, family and friends. Seriously, put this on your christmas or birthday to do's and make sure to contact Cowboy Country Coolers fast so you can get on the list!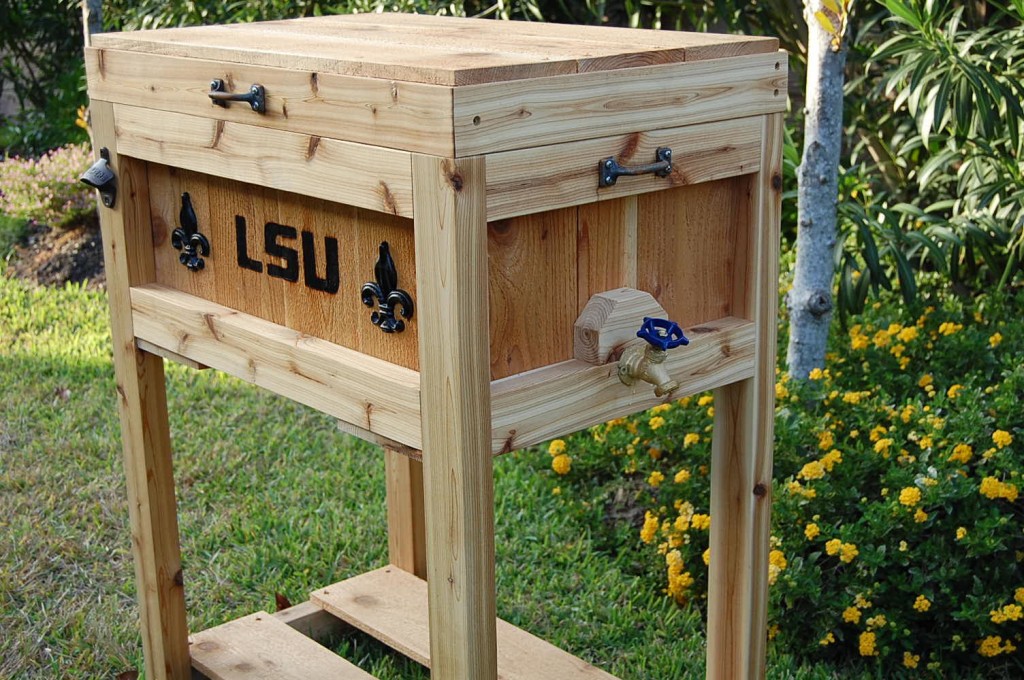 I asked Craig to answer a few question about his business and how he got started so we could get to know a little more about the amazing craftsman behind these coolers.  I always like to know the person behind the business and I hope you all will take a few moments to hear what he has to say!
1)  How did you get started in this business:
I have always loved woodworking – whether it is cabinetmaking or carpentry.  I guess it may be hereditary.  My grandfather spent hours in his wood shop and it was always one of my favorite places and favorite things to do – building stuff with Grandpa.  As I grew older, I acquired more and more of the tools necessary to create my own workshop.  I consider myself a perpetual student always trying to learn different ways to build things and finding different things to build.  I was approached some time back by a good friend who is the original designer and builder of the Cowboy Country Coolers.  He started it as a hobby and over the years it had grown to what it is today.  He is a licensed home inspector in the Dallas area and was becoming overwhelmed with inspections and was not able to give the cooler business the time it needed.  He asked if I was interested in taking over the business.  Something I immediately agreed to.  I had seen his work before and loved the design of the cooler.  I thought it was a perfect pairing of modern technology wrapped in the rustic skin of cedar, cast iron and brass.  We recently relocated the business from Dallas to the middle of Kansas where I am from originally.  We left the fast paced big city and are settling in to the much slower pace of the country life.  We purchased almost 50 acres of what my family and I feel is pure heaven.  Half of our land is woods and creek bed with the remainder of it being farm land.  I think most people would have to laugh seeing where I build coolers at this point.  I have had to make some changes to my workshop by moving it into the end of a small barn I am slowly restoring.  I think in the end though it will make the perfect place to craft Cowboy Country Coolers.
2)  Tell us some basic information about yourself and give us a few fun facts:
I grew up in Kansas. Born into an incredible set of parents and grandparents whom poured their life into my own.  We are blessed to only be 8 miles from my folks now.  My dad helps me almost everyday out on the "ranch."  It is wonderful having him around.
My wife Julie and I have been married almost twenty-one years.  She is my best friend.  I can't imagine what my life would be without her.  We love working together, whether it is building coolers or restoring/rebuilding houses (of which we have done to our last six houses).  Yes, we can even hang wallpaper together 🙂
We have two great kids and while most everyone says their kids are great, I really mean it!  God has blessed us with two of the most easygoing yet servant-hearted kids.  Scott, our son, is a senior in high school this year and our Daughter Erin is a freshman.  While it has taken some time to get used to going to school with 38 in a class instead of 500+, they are loving change.
Fun Facts
Not only do I love to work with wood, I enjoy building with metal just as much.  I have restored cars off and on over the last 30 years.
We moved to Dallas in 2001 so I could attend Dallas Theological Seminary.  I ended up with two degrees: a Master of Theology in Bible Exposition and a Master of Arts in Biblical Counseling.  (I wasn't kidding when I said I was a perpetual student 🙂
I worked as a Substance Abuse Counselor for 4 years in an inpatient treatment facility in Dallas.
I spent the last three years before moving to Kansas as an Associate/Counseling/Administrative Pastor for a small independent Bible church in Ovilla Texas.
My family and I are in the process of starting a ministry on our property that serves pastors and missionaries (among others) who need a place to rest, relax, and get away from the stress and pace of serving full time.  We are going to be building a few cabins in the woods where they can bring their families and be served.
3) What do you like the most about your work?
Probably the thing I like most about my work is seeing or hearing the customer's reaction when they take delivery.  It really drives me to do my very best.  I probably spend more time on each cooler than I should but I see an individual who is wanting something out of the ordinary, yet very functional that makes a statement about who they are.  Most people I sell coolers to are hospitality minded.  They like to entertain.  The coolers I make are crafted to add to the setting.  A setting which is important to them.  When I make a cooler, I make them for an individual in mind.  I "see" the person I talked to on the phone or have been emailing back and forth.  I don't make coolers just to make coolers. I make them one at a time, exactly the way the person wants it.  In a small way, I get to be a part of the celebrations.
4) Where do you hope to see your business going?
When someone asks me where I would like to see my business go, the last thing I want is for it to get too big.  I know that sounds crazy in a world that is driven to be ever expanding and pursue colossal growth.  Yes, I am doing it to help put groceries on the table, but it is much more than that.  If the business got too big, I would lose that connection with the customer I was talking about above.  It would begin to lose the individuality of each cooler.  I would no longer be making it for Joe or Wayne or Rose or Jessica, instead it would become an assembly line where coolers are made to get them out the door.  I know what you may be thinking – It's a COOLER!  However, my feeling is that it is JOE's cooler or JESSICA's cooler – someone who spent time and resources to get something special and I want to do the very best to make it perfect for them.
Where I would like to see it go is adding some diversification.  I would like to the customer a few more options.  Something like patio chests/coolers made as a bench.  Also there are folks out there that like the old fashion footlocker-type chests.  I would also like to begin making cedar planters in the same style (My wife and mother will get the first of these).   I keep seeing things and experimenting with different ideas and designs.  I am always open to new ideas from customers.  It is good to have some challenges from time to time.
It's the last day to enter the Beyora giveaway. A lucky reader can win a set of Rudolph and Friends ornaments with just a simple comment or like on their FB page. I got my set in the other day and I am so amazed and pleased at how beautiful and detailed they are. Win yours today. Click Here!
NOTE: The link for cowboy country coolers is not working at the moment. Please check back or visit Cowboy Country Coolers facebook page for contact info and more details.