Today is SRC day here on Kitchen Belleicious and I have the pleasure of being assigned to Veronica from Veronica's Cornucopia. WOW! Instantly impressed and inspired by the recipes I came across. She has a wonderful sense of humor and mixes recipes with videos, family stories and most importantly her love for the Lord. If you haven't been by for an exciting journey filled with amazing recipes then you have missed out.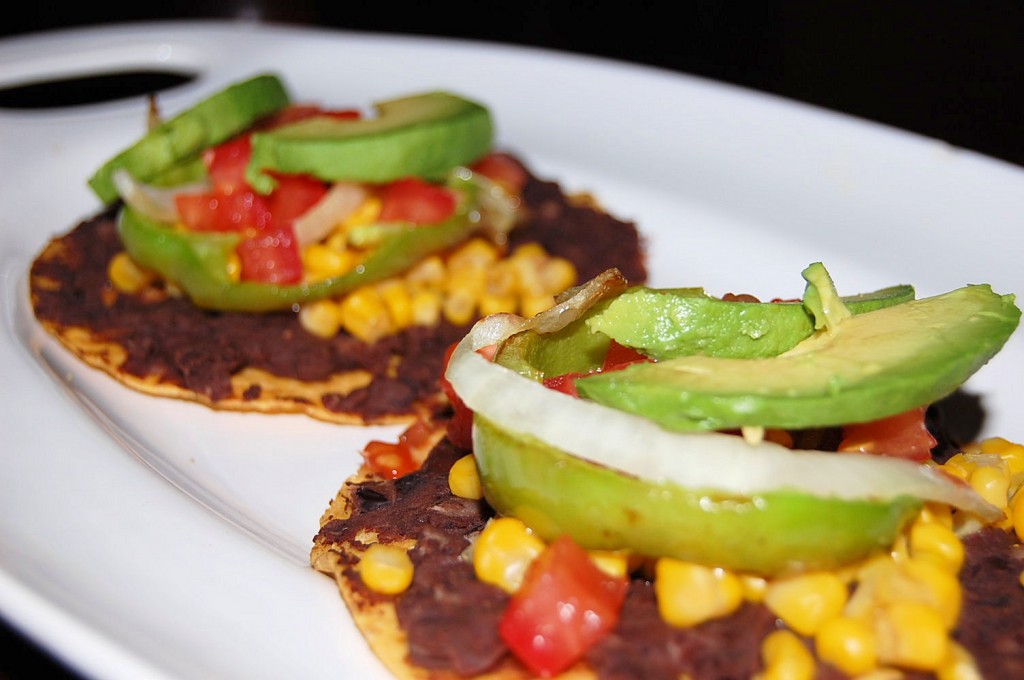 After scouring all and I do mean ALL of her recipes I came across her corn, black bean and avocado tostadas. I was immediately drawn to the idea of a meatless meal but one with a TON of flavor and I knew this was the one. With little time to spare (yes I am a last minute kind of girl) I headed to the store (WAIT- Did I mention the baby is about to pop out any day now?) . There is a slight variation between my recipe and Veronica's as I did decide to up the anty with my own spicy black bean mash and liquid smoked corn. DIVINE! Top this with shredded chicken or beef if you like and you have yourself one fine and EASY meal! What are you waiting for? Get Going!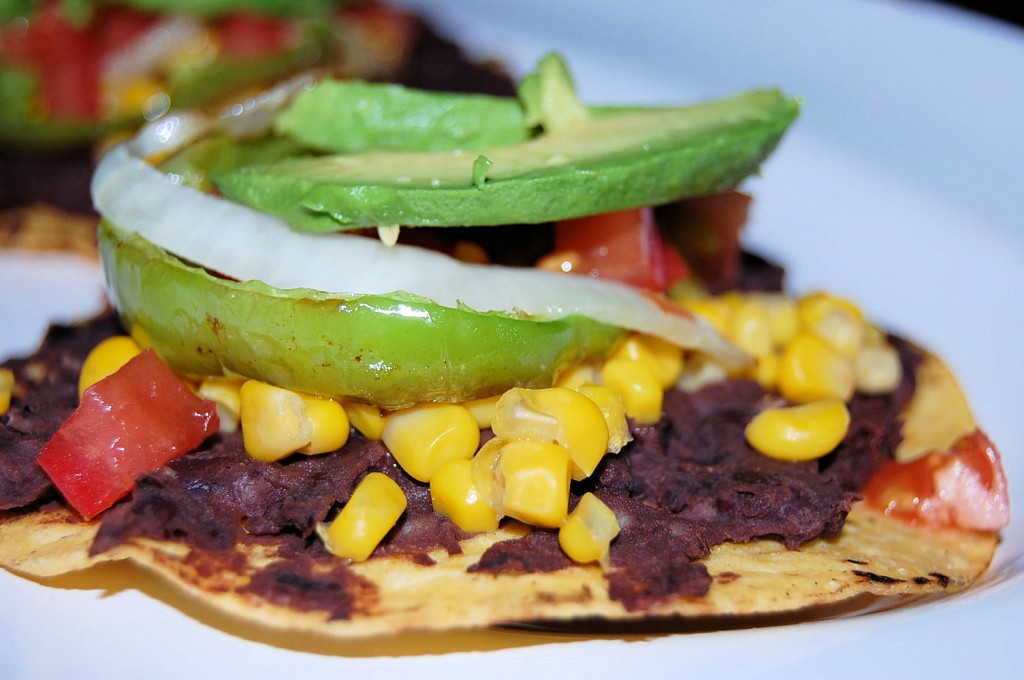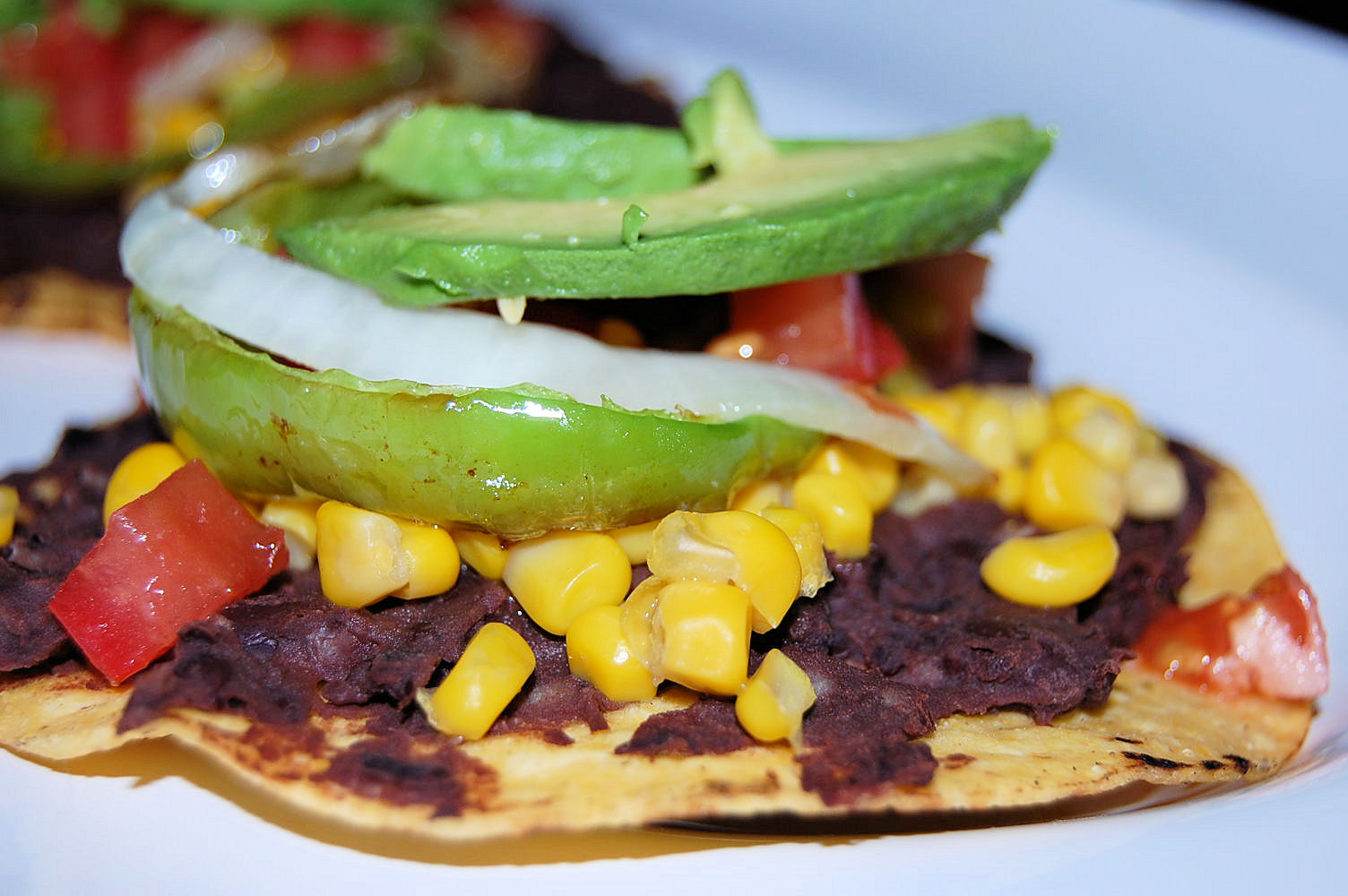 SRC Post Day
Ingredients
2 cups frozen corn kernels
1 bell pepper, sliced into rings
1 onion, sliced into rings
2-3 medium tomatoes, diced
2 limes, juiced
1 tsp salt
8 tostada shells
1 cup refined black beans
½ tsp red pepper flakes
1 tsp of adobe sauce
1 tsp liquid smoke
½ tsp salt and pepper each for the corn
1 tsp cumin
½ tsp chili powder
shredded lettuce and cheese for topping
1 avocado peeled for topping
Instructions
Spray a large nonstick skilled with oil and heat over medium-high head. Add onions and bell peppers and sauté 3 minutes until tender. Set aside. Add corn to a small saucepan and season with liquid smoke, salt and pepper. Cook until heated through and remove from heat.
In a small saucepan add in the beans and heat for 5 minutes. With a potato masher mash the beans until only bite-size pieces remain and it is spreadable. Add in the red pepper flakes, adobe sauce, cumin, chili powder and lime juice. Stir to combine and set aside.
Spread each tostada shell with 2 tablespoons of heated beans and top corn, bell pepper and onion rings, then the tomatoes and lastly the freshly diced tomatoes.
GIVEAWAY TIME!
I am not sure if I did my Christmas obsession justice last year by not explaining to you all just how much I love this holiday. I one of those who start thinking about Christmas in July and Yes I am also one of those who have their presents bought by the time Thanksgiving draws near an end. I get the excitement from my mom and grandmother. It is and has always been a huge tradition in our family to start celebrating Christmas the day after Thanksgiving. As in shopping, baking, and decorating. Not sure if there has been a year yet that our tree and house wasn't all decked out by lunch the next day. We are rather adamant about getting the Christmas decor out and up before you can even think to say Merry Christmas.
All this leads me to the giveaway from the fantastic Beyora. Beyora is an online Christmas decor shop specializing in hard to find collectibles through Ebay and Amazon. From Christmas ornaments to Build A Bear presents for the kids, they have it all with things for kids and adults alike. I personally love the Rudolph Build A Bear for Grant. He would go crazy for it or the little Misfit Train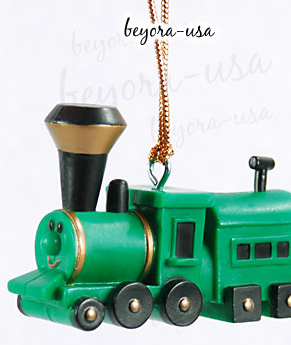 All Rankin/Bass ornaments come with their own stunning burgundy keepsake pouch and they are made of solid durable construction.Decorate for the holidays with the cutest decor and one of a kind items you won't be able to find elsewhere. You can register to receive the latest deals and search for collectibles you have always wanted but never been able to find. Below are just a few of the products.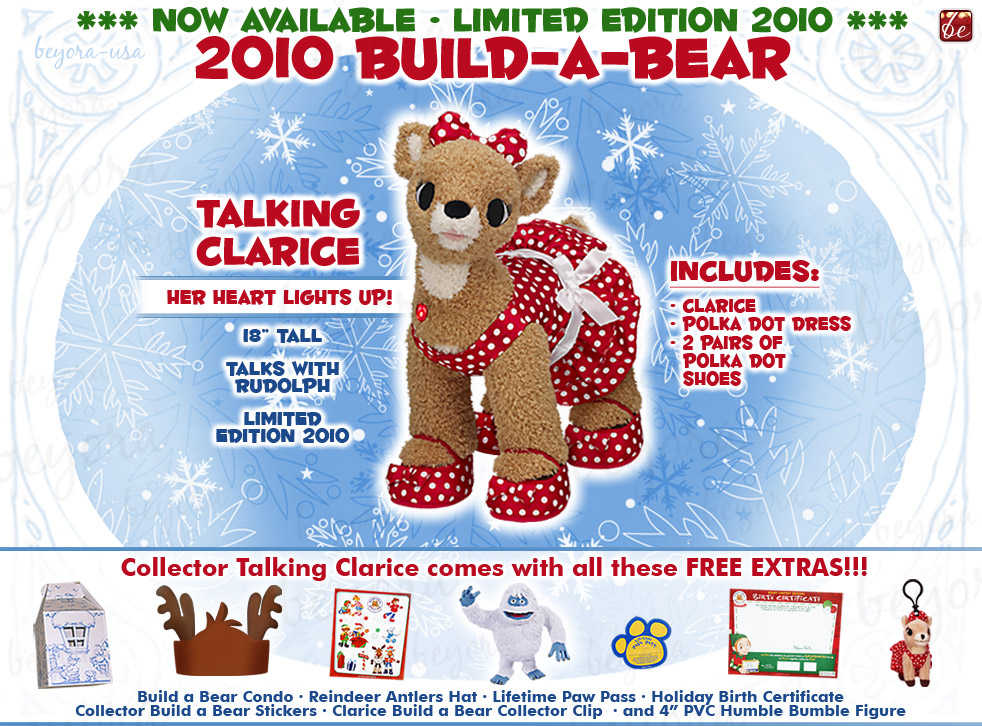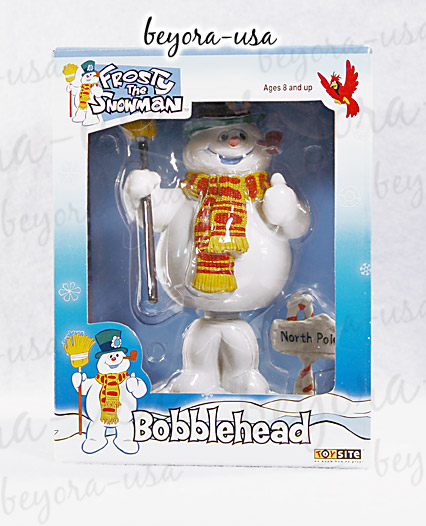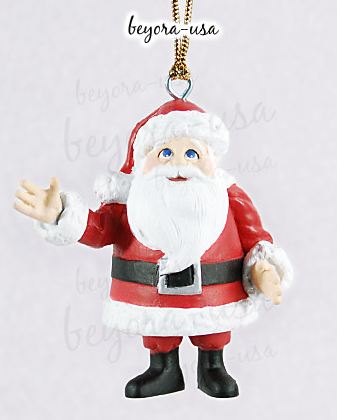 Beyora even has- Dare I say– collectible Barbie dolls that you have to see to believe. I am not going to bore you with the details but let's just say I was slightly barbie obsessed when I was a little girl. Make this a Christmas to remember with collectibles that will last a lifetime. Explore the store and you're sure to discover all things Christmas!
Beyora has so graciously offered one lucky reader a set of Rudolph & Friends ornaments for you to use this Christmas season. Character names include character names Sam the Snowman, Mrs Claus, Santa Claus, Clarice, Misfit Doll, Yukon Cornelius, Charlie-in-the-Box, Hermey the Elf, and Rudolph. The giveaway rules are below and the contest ends November 28th! Winner will be contacted via email. Good Luck!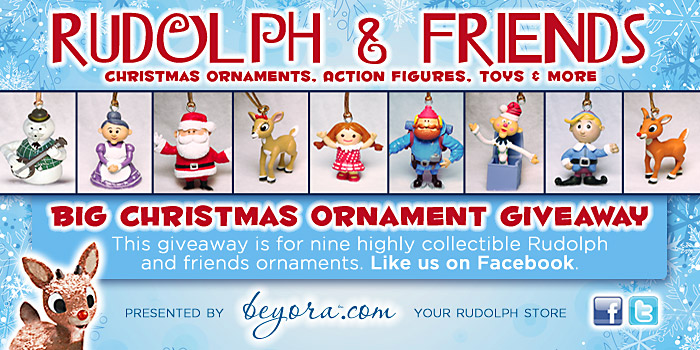 Giveaway Rules:
1) Leave a comment either about the SRC post or tell me what your favorite Christmas tradition is.
2) Like Beyora on facebook
3) Visit Beyora and leave a comment on what your favorite ornament is.