Just when you thought meatloaf couldn't get any better-Bam! I hit you with the most amazing, rich and mouth watering recipe for the dear beloved and sometimes forgotten classic.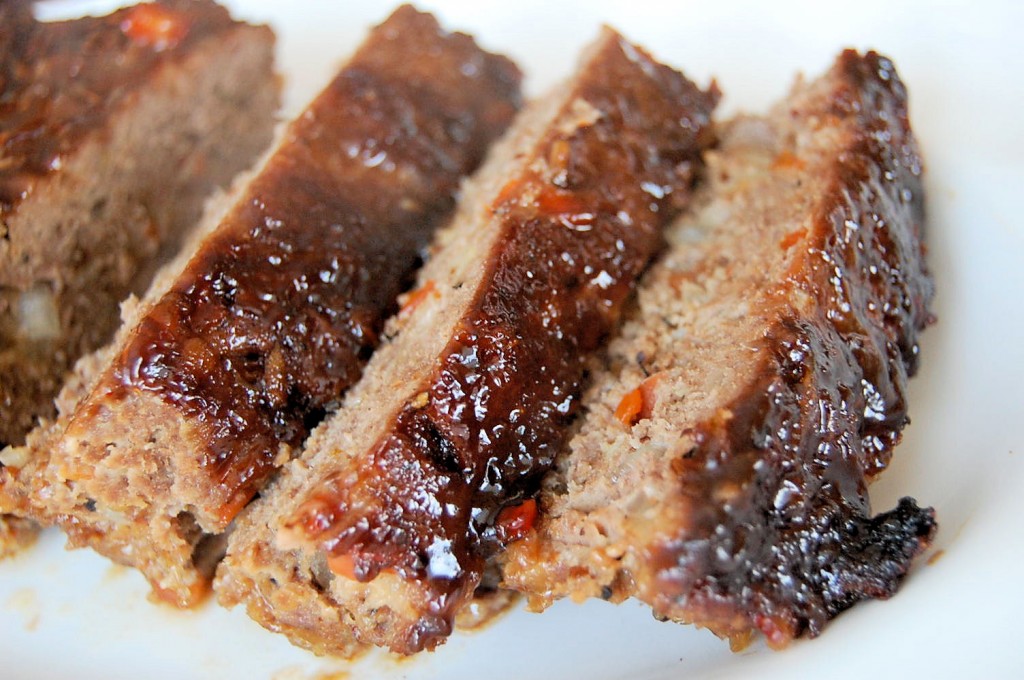 Put down the ketchup and step away from the meat. For years countless meatloafs have been made with ketchup alone or a simple ketchup sauce slathered ontop but this is all wrong! Wrong as in we are not doing the idea of meatloaf justice by using simple ketchup. To truly experience the best meatloaf has to give- you need an amazing sweet but savory sauce with a mustard and tomato base and loaded with flavors of pineapple, soy, sugar, chile and garlic.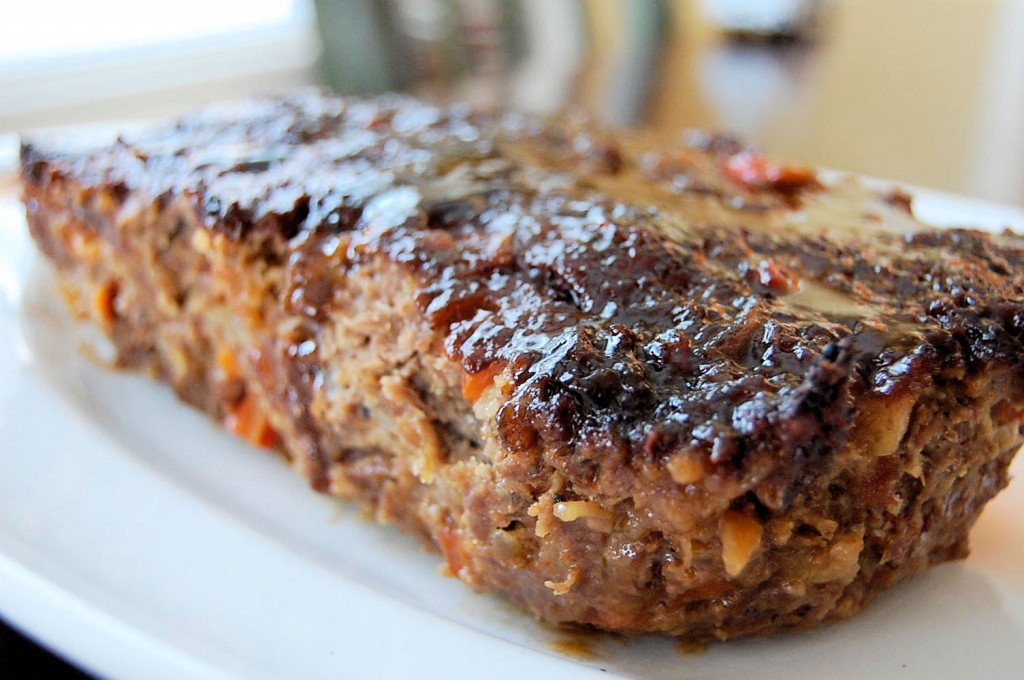 Wait- I am not done yet. Not only does your meatloaf need this perfect sauce concoction but it must and I repeat must have a slightly crunchy onion  and jalapeno texture to it. What am I referring to? I am talking about crispy, crunchy jalapeno strips made by Alexa and a load full of crispy garlic onions. You would be surprised to find out that the breading on the jalapenos and onions do that bow down to the moisture in the meatloaf but rather stay nice and intact throughout the baking process.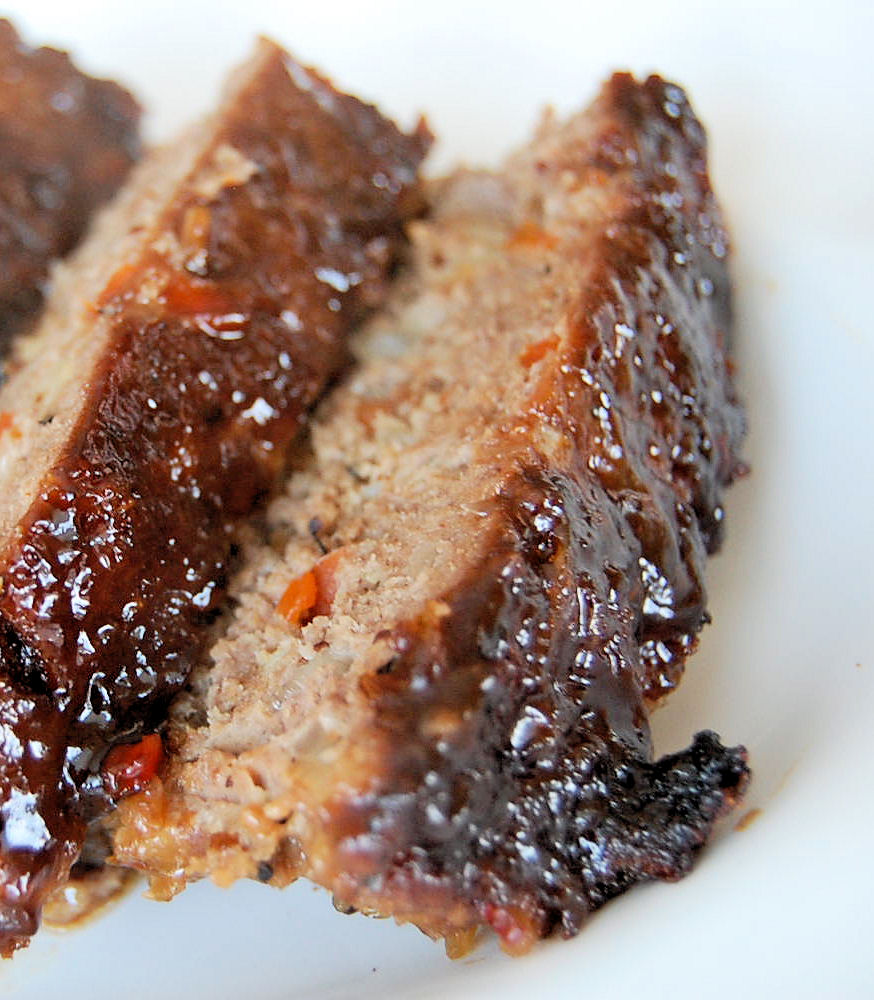 All this to say- this is the most fantastic plate of meatloaf you will ever have. No longer will kids be scared of the thought of a cafeteria style plate of mystery meat. They will be begging you for more meatloaf and considering meatloaf is one of the easiest one pot meals to make- no mom would turn down that request.
Balsamic Mustard Glazed Meatloaf with crispy onions and jalapenos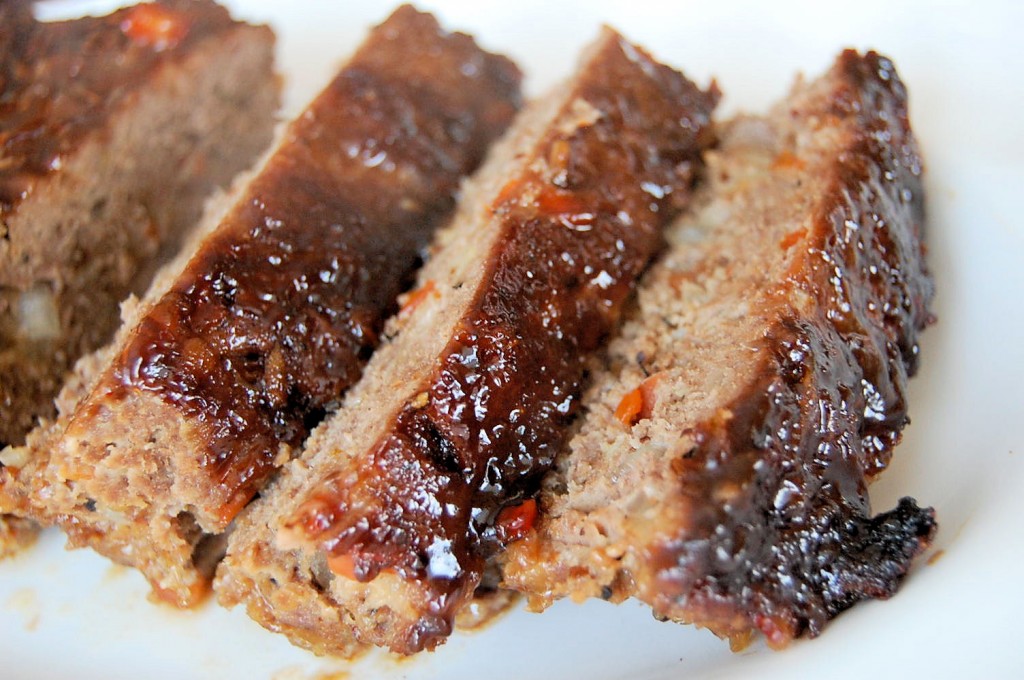 Ingredients
1½ pounds of ground beef ( I used 80/20 because you need some fat to keep it juicy)
2 cups of breadcrumbs
3 TBSP buttermilk
½ cup crispy onions
½ cup crispy jalapeno strips
1 tsp salt and pepper each
1 clove of garlic, minced
1 cajun seasoning
½ onion, diced
1 bell pepper, diced
1 TBSP worcestershire sauce
1 TBSP coca-cola
1 egg, slightly beaten
2 TBSP butter
Balsamic Mustard Glaze:
½ cup ketchup
3 TBSP butter
¼ cup of balsamic vinegar
¼ cup brown sugar
¼ cup spicy brown mustard
½ tsp chili powder
1 TBSP soy sauce
½ tsp minced garlic
2 TBSP of pineapple juice
Instructions
Melt the butter in a heavy cast iron skillet. Saute the onions, bell peppers and garlic until soft and tender. Remove from the pan and pat to take away some of the excess moisture. Combine the meat with the veggies and remaining ingredients, leaving the eggs and buttermilk until last. Mix well and either form into a mound on a foiled lined baking sheet or place into a foiled line loaf pan. Slather with half of the glaze and bake at 350 for 15-20 minutes. Remove and spread remaining glaze on top- bake for another 15-20 minutes until slightly crispy on top.
For the Glaze:
In a saucepan, melt the butter and add in the brown sugar, ketchup and mustard. Stir to combine and bring to a boil. Reduce heat and add in the remaining ingredients. Allow to simmer for 10-15 minutes until reduced by half and thick.
Nutrition Information

Serving size: 4-6 servings large; 6 to 8 smaller servings