Oh how yummy and fun these were to eat. Any kid and adult alike will take much pleasure in filling their mouth with a load of moist pumpkin flavored cookies and sweet as can be creamy filling. They are perfect for Halloween treats as I brought them to my friend's pumpkin carving party just last weekend. Everyone was so excited about them but honestly there is nothing to it- I probably shouldn't tell you all that so you will continue to think I am superwoman but seriously- easy peasy!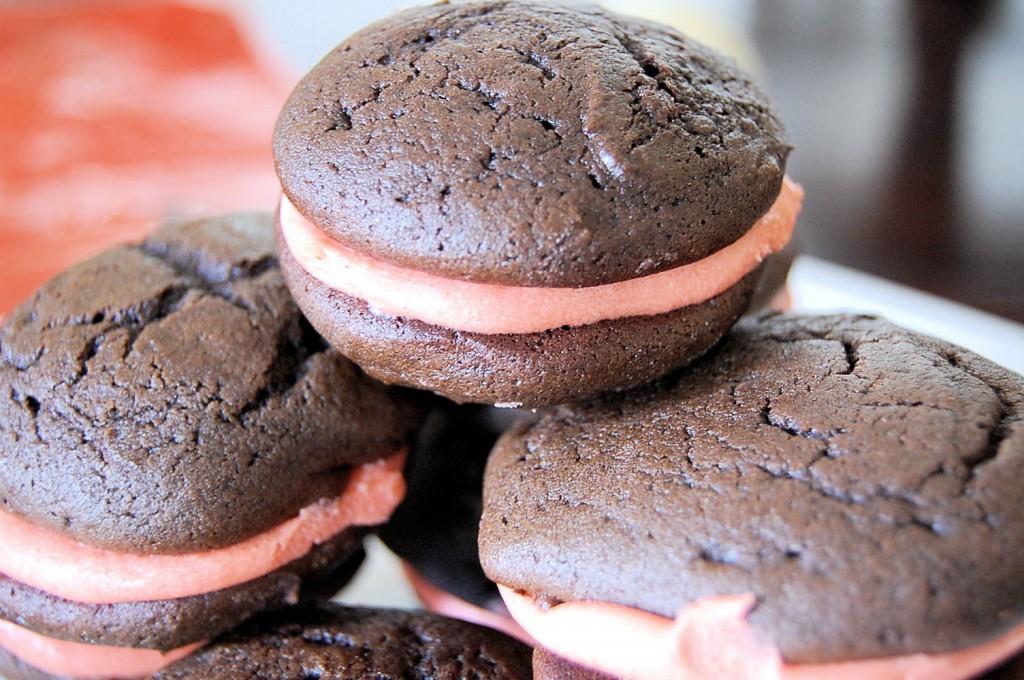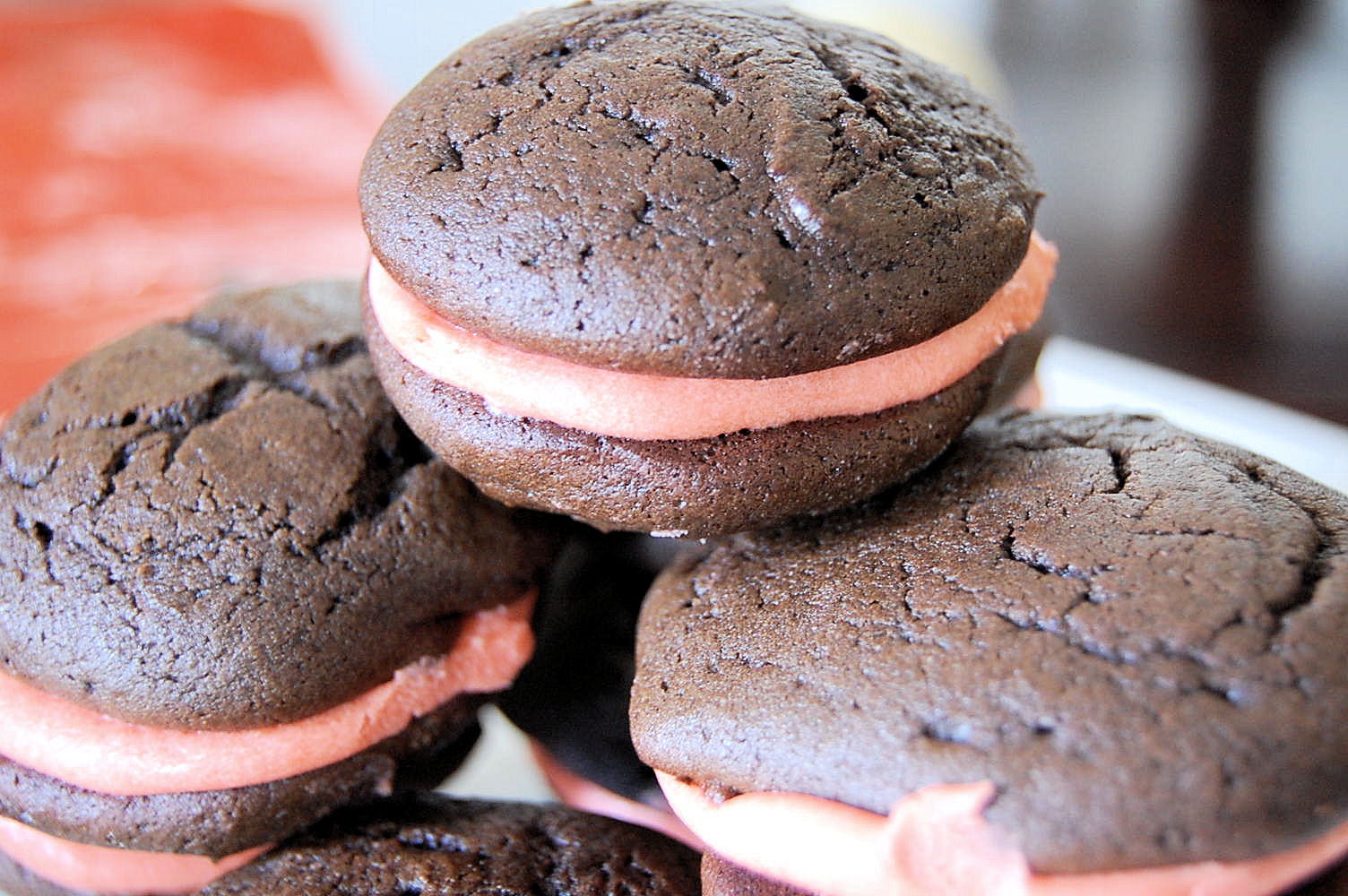 The first time I made a whoopie pie it was a simple vanilla recipe and since then I couldn't get them out of my mind. I wanted to play around with different variations like a lemon, espresso, white chocolate and raspberry. I ended up with- you guessed it- pumpkin and spice! The perfect sweet answer to the arrival of fall and so cute to present at a Halloween party. Since it was Halloween I decided to add a little cocoa powder to the batter to make it a dark chocolate brown. No worries- this did not overpower or mask the flavor of the pumpkin- it just aided in the dessert theme. Believe me- the spice is still there!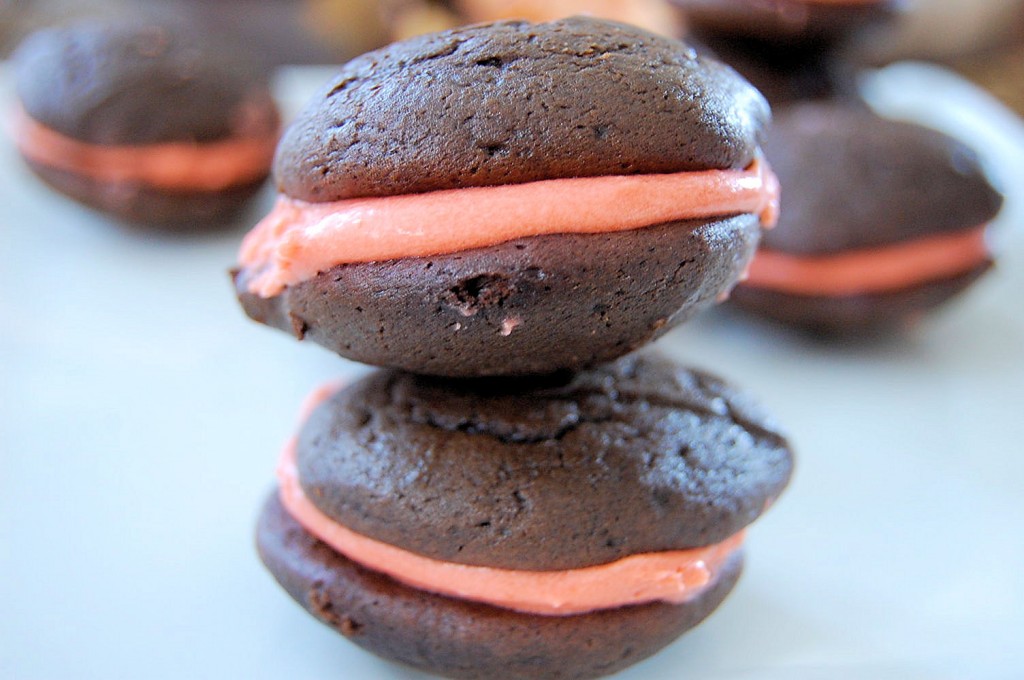 Delicious Delicious Delicious! They are simply delicious. I am afraid I might have to explain what a whoopie pie actually is though before I let you go. It seems in my group of friends some are not used to the term. I like to think of them as a cross between a cake and an oreo. They have an amazing cream filling that you can make into just about any flavor you wish sandwiched in between two moist chewy and yet slightly crispy cookies. Sounds good right? Enjoy!
The only downside to these whoopie pies is you can't eat just one. Or maybe that's an upside? I'm curious- let me know what twist you would make on the flavor? I love hearing your ideas.
[print_this]
Pumpkin & Spice Whoopie Pies
Ingredients: (adapted from Browneyed Baker)
3 cups all-purpose flour
1/4 cup cocoa powder
1 tablespoon cinnamon
1 teaspoon baking powder
1 teaspoon baking soda
1 teaspoon salt
1 teaspoon pumpkin pie spice
½ teaspoon ground nutmeg
1 cup granulated sugar
1 cup brown sugar
1 cup canola oil
1 can pumpkin
2 eggs
1 teaspoon vanilla extract
Ingredients:
3 cups powdered sugar
1/2 tsp pumpkin spice
8 ounces cream cheese, softened
1 stick unsalted butter, softened
1 teaspoon vanilla extract
Directions:
1. Preheat oven to 350 degrees F. Line baking sheets with parchment paper or a silicone baking mat.
2. In a large bowl, whisk together the flour, cinnamon, baking powder, baking soda, salt, ginger and nutmeg. Set aside.
3. In a separate bowl, whisk the granulated sugar, the dark brown sugar, and the oil together. Add the pumpkin puree and whisk to combine thoroughly. Add the eggs and vanilla and whisk until combined.
4. Gradually add the flour mixture to the pumpkin mixture and whisk until completely combined.
5. Use a small cookie scoop or a large spoon to drop a rounded, heaping tablespoon of the dough onto the prepared baking sheets, about 1 inch apart.
6. Bake for 10 to 12 minutes, making sure that the cookies are just starting to crack on top and a toothpick inserted into the center of a cookie comes out clean. The cookies should be firm when touched. Remove from the oven and let the cookies cool completely on a cooling rack.
7. To make the filling, beat the butter on medium speed until smooth with no visible lumps, about 3 minutes. Add the cream cheese and beat until smooth and combined, about 2 minutes. Add the powdered sugar a little at a time, then add the maple syrup and vanilla and beat until smooth.
8. To assemble the whoopie pies: Turn half of the cooled cookies upside down. Pipe or spoon the filling (about a tablespoon) onto that half. Place another cookie, flat side down, on top of the filling. Press down slightly so that the filling spread to the edges of the cookie. Repeat until all the cookies are used. Put the whoopie pies in the refrigerator for about 30 minutes to firm before serving.
[/print_this]