Meat
Mediterrean Beef Casserole with Polenta Crust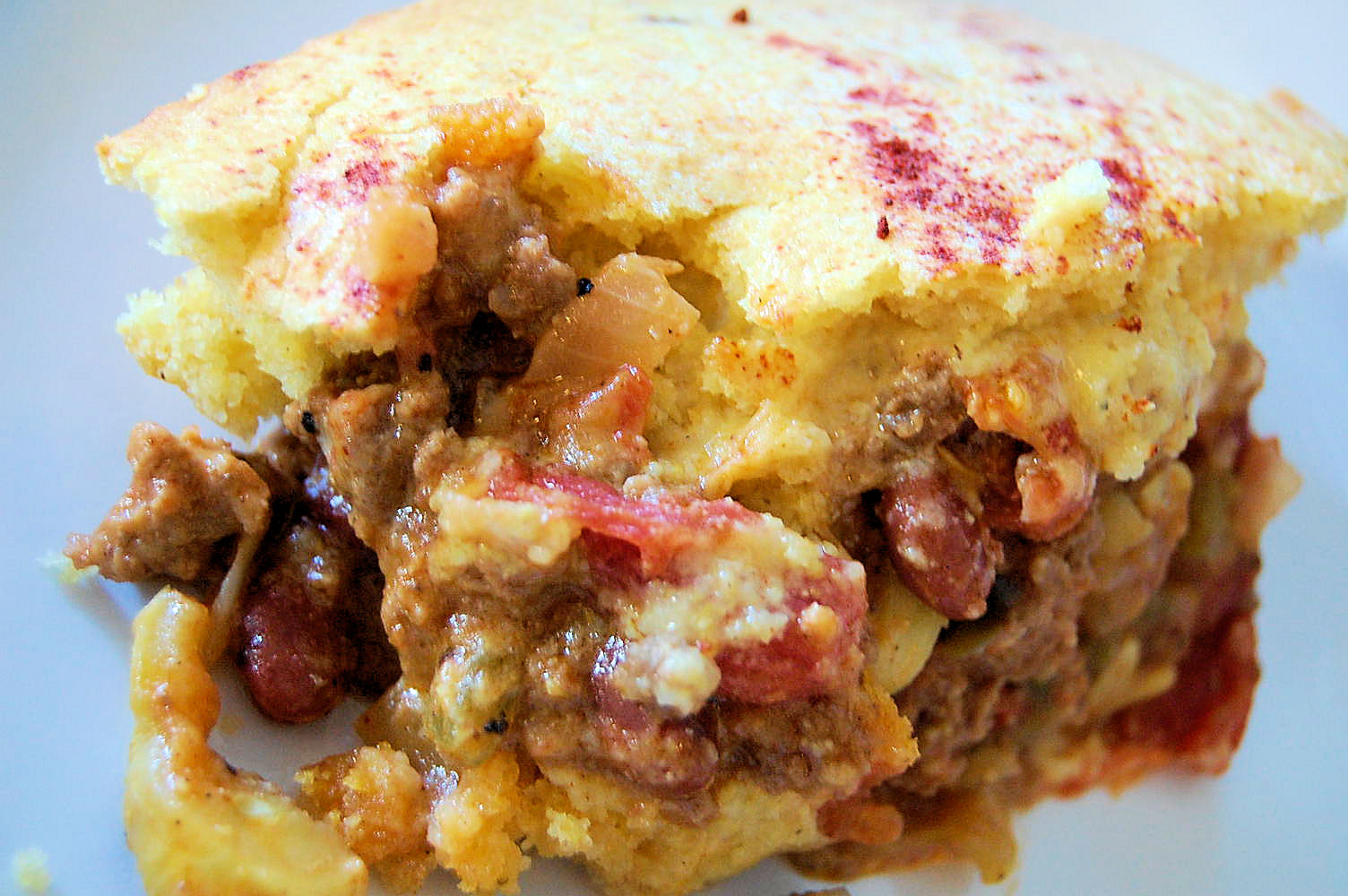 The other day I was intent on making comfort food for dinner but I didn't want to make the same old thing which can be hard to do since comfort food is usually very traditional. To further my predicament I needed to use ground beef and a few veggies lying around before they went to waste. The first thing that pops into most people's mind (well, at least my mind) when they think of ground beef is tacos, chili, hamburgers or spaghetti, none of which I wanted that night.
(Note: It might not look pretty but it taste INCREDIBLE!) Not everything is picture perfect- right???


I decided to do a mediterraen take on chili pie by incorporating squash, olives and zucchini with the beef, flavors of oregano, thyme and basil and a crust of polenta. I wasn't real sure what to call this dish but I thought Medietteran Beef Casserole with a Polenta Crust might do the trick.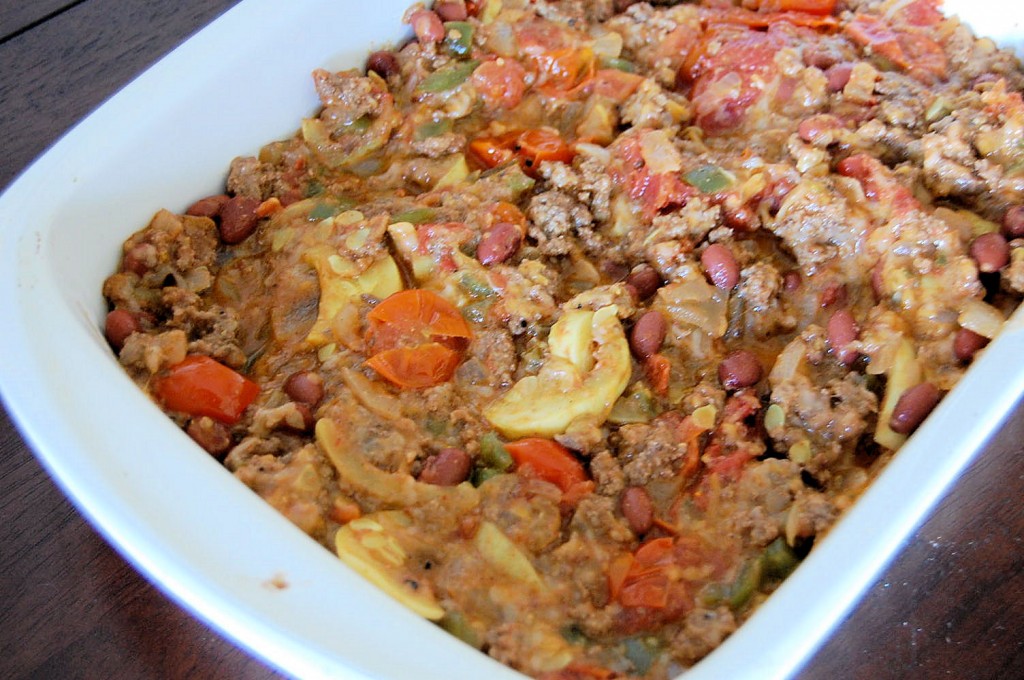 The crust was the perfect addition to this casserole. Slightly sweetened cornmeal with a hint of paprika adorned the top and bottom of the casserole dish and created an outstanding texture against the meat, veggies and cheese. This is definitely a dish you can do very quickly and a day ahead of time so by all means get outside and enjoy this beautiful weather while this casserole sits in your fridge just waiting to be baked!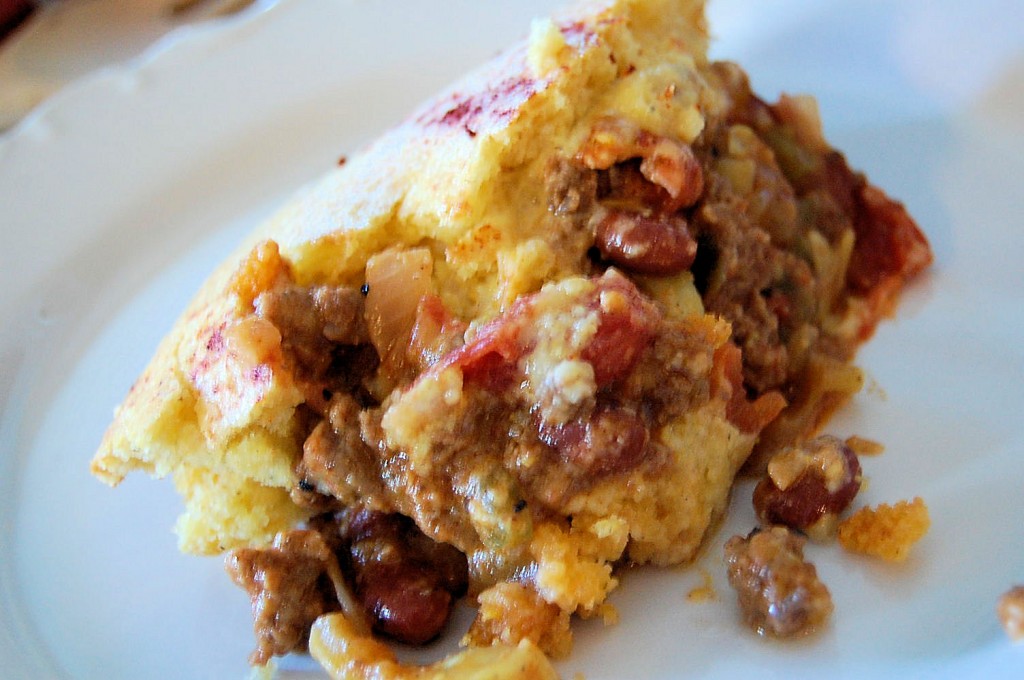 [print_this]
Mediterrean Beef Casserole with Polenta Crust
Ingredients
1 teaspoon salt
1 cup plain yellow cornmeal
1/2 teaspoon cajun seasoning
4 ounces of monterry jack cheese
2 ounces of sharp white cheddar cheese
1 pound ground beef or you could use Italian sausage
1 cup chopped onion
1 cup chopped bell pepper
1 medium zucchini, cut in half and sliced
1 medium squash, cut in half and sliced
1 tablespoon olive oil
1 tsp salt and pepper each
1/2 tsp oregano
1/2 tsp paprika
1/2 tsp sugar
2 cans diced tomatoes, not drained
1 pound of roasted cherry tomatoes
2 TBSP fresh chopped parsley
2 TBSP fresh chopped basil
Directions:
1. Preheat oven to 350°. Bring 3 cups water and 1 tsp. salt to a boil in a 2-qt. saucepan over medium-high heat. Whisk in cornmeal; reduce heat to low, and simmer, whisking constantly, 3 minutes or until thickened. Remove from heat, and stir in cajun seasoning, 1/2 tsp salt, 1/2 tsp pepper, 1/2 tsp paprika and the sugar. Now slowly incorporate 1/4 cup of the Monterrey jack cheese. Spread half of cornmeal mixture into a lightly greased 11- x 7-inch baking dish and set aside the rest.
2. Brown ground chuck in a large nonstick skillet over medium-high heat, stirring often, 10 minutes or until meat crumbles and is no longer pink; drain and transfer to a bowl.
3. Sauté onion, squash and zucchini in hot oil in skillet over medium heat 5 minutes or until crisp-tender. Stir in beef, tomatoes, and tomato paste, roasted tomatoes and remaining ingredients, reserving 1 TBSP of parsley; simmer, stirring often, 10 minutes. Pour beef mixture over cornmeal crust, sprinkle with remaining cheese and top with remaining cornmeal crust. Bake at 350° for 30 minutes.
[/print_this]