I titled this post Panzanella Salad- My Way because I didn't want to confuse anyone as they stopped by and caught a glimpse of my Panzanella. I thought some might have a fit over my ingredients and method of choice. Not to be one to cause contention among the food blogging world I wanted to get it all out in the open from the beginning!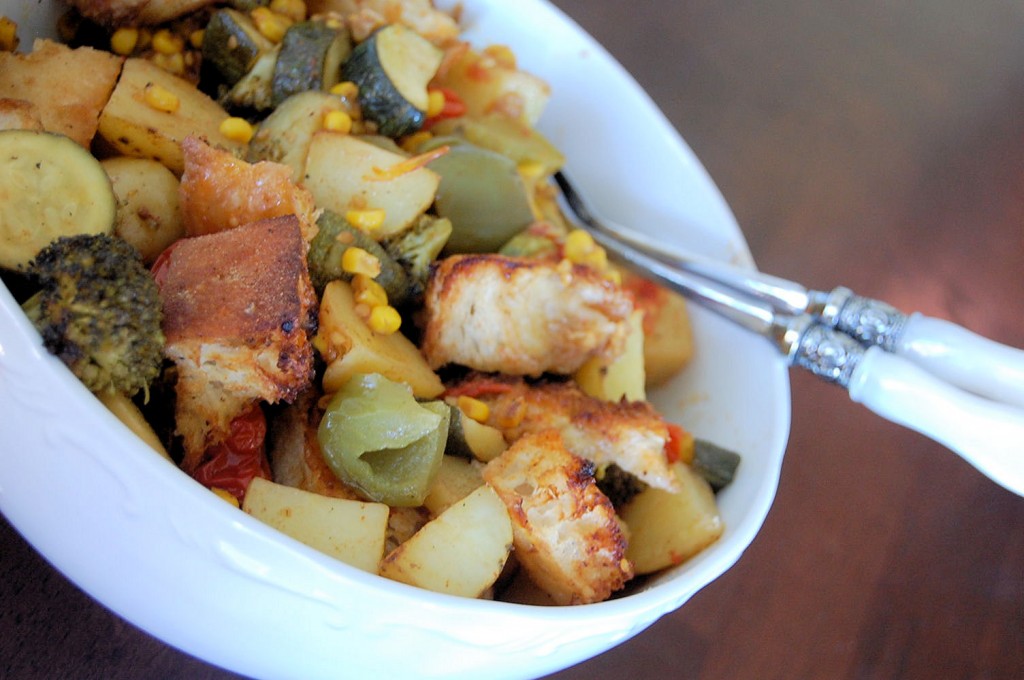 So there you have it. After making this dish and thoroughly enjoying every last bite of it I am cautiously labeling it a panzanella salad. Why? Because it has all the makings of a great panzanella salad just not the method. See, behind all this goodness is the star of the show and that is the method- roasting everything all at once for 1 hour on low heat then bumping up the heat to get a nice crispy coating on the veggies.
I had 4 veggies that needed to be used quickly, zucchini, bell pepper, a handful of tomatoes, potatoes and corn. I thought tossing everything with a nice combination of olive oil, balsamic vinegar, red wine, sea salt and a few extra seasonings would really bring out the flavor of the vegetables and present an incredible rush of tantalizing flavors.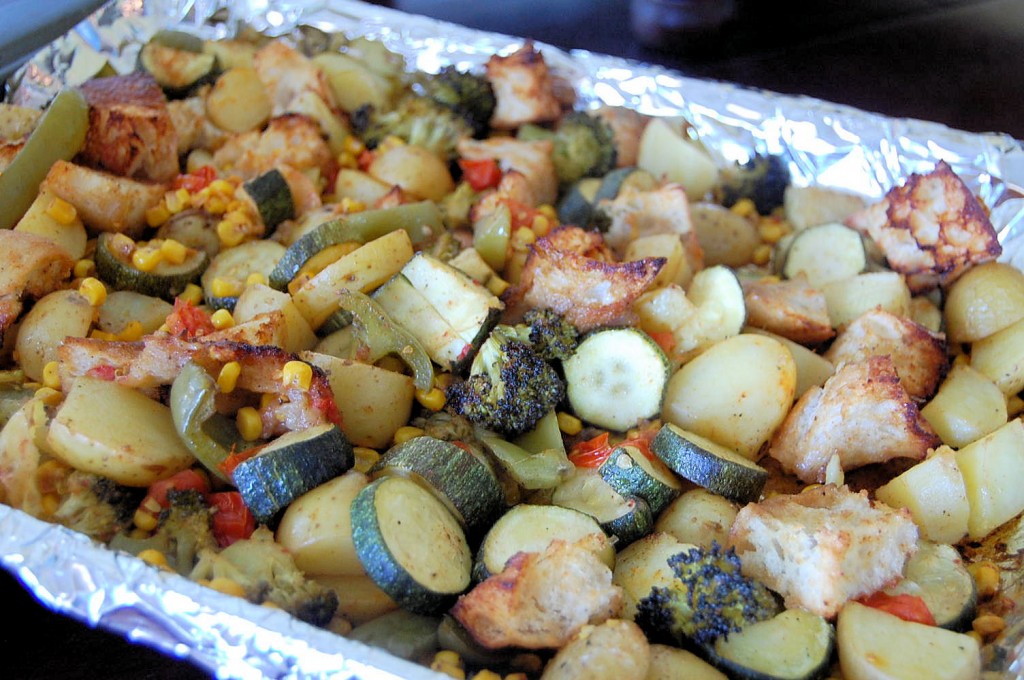 Extra Bonus: You will not believe your eyes here in a few weeks when I publish the most amazing Vegetable Beef Soup. I used a big container of the leftover veggies from the panzanella salad that I had frozen and allowed them to be the base for my roux for an incredible flavor in the most incredible soup. Are you excited? Hang on then and give me a few weeks to post it! In the meantime, MAKE this dish and freeze the leftovers- you will be glad you did!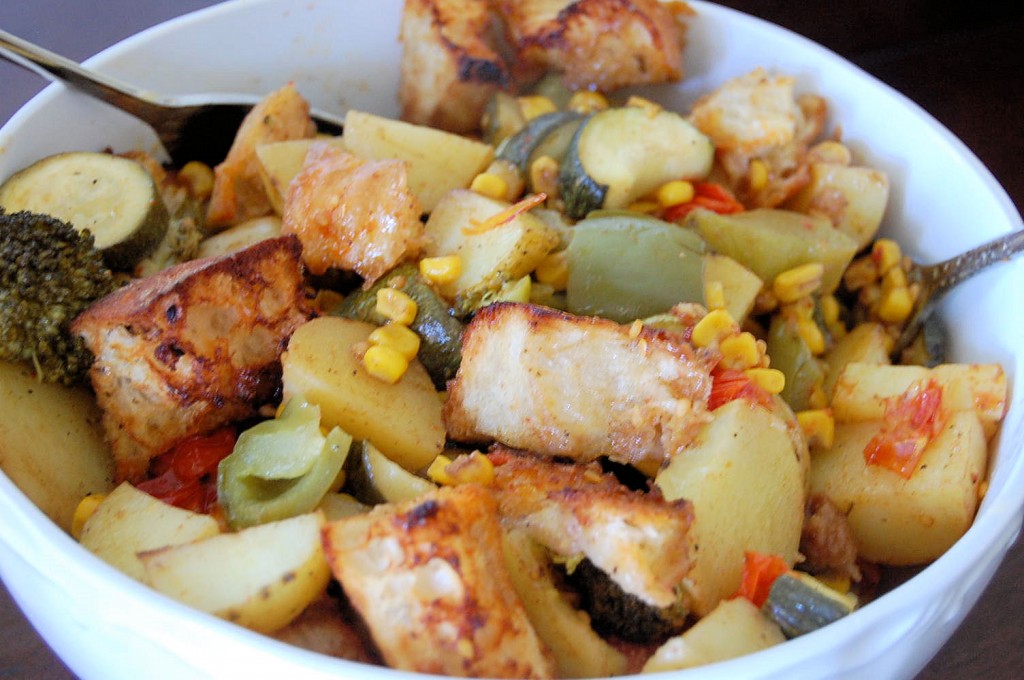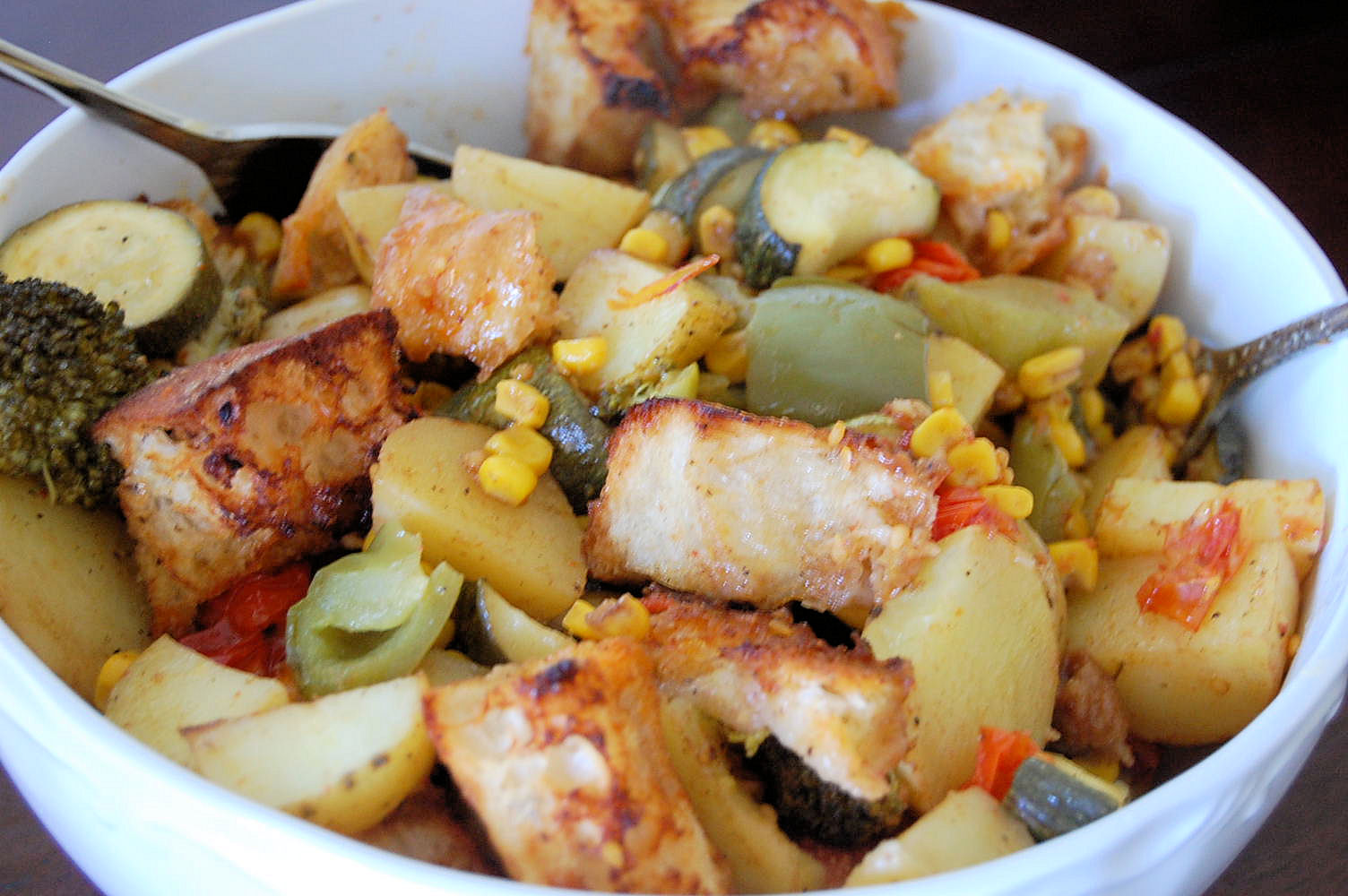 [print_this]
Roasted Panzanella Salad
Ingredients:
1/2 small French bread, cut into 1-inch cubes
1 teaspoon kosher salt
1 tsp freshly ground black pepper
1 tsp paprika
1 tsp herbs de provence
4-5 yukon gold potatoes or small potatoes, cut into quarters
1 pound of grape tomatoes
1 hothouse cucumber, unpeeled, seeded, and sliced 1/2-inch thick
1 green bell pepper, largely chopped in stripes
2 zucchini's, sliced 1/2 inch thick
1/2 red onion, cut in 1/2 and thinly sliced
1 cup of fresh corn or 1 can of corn
2 TBSP basil
3 tablespoons good olive oil
2 TBSP of baslamic vinegar
1/2 tsp mustard
1 TBSP of red wine vinegar
Directions:
Mix together the last 5 ingredients in a small bowl and set aside. Place on a large foil lined baking sheet all of the veggies. Season with the salt, pepper, paprika and Herbs de Provence. Toss well. Pour the marinade over the veggies and toss again. Trying to coat all veggies evenly. Roast at 400 for 30 minutes. Add in the bread cubes, toss, and roast for another 30 minutes. Serve hot and by all means freeze the leftovers for soup later.
[/print_this]