Chicken, Soup
Homemade Chicken Stock: The Secret Recipe Club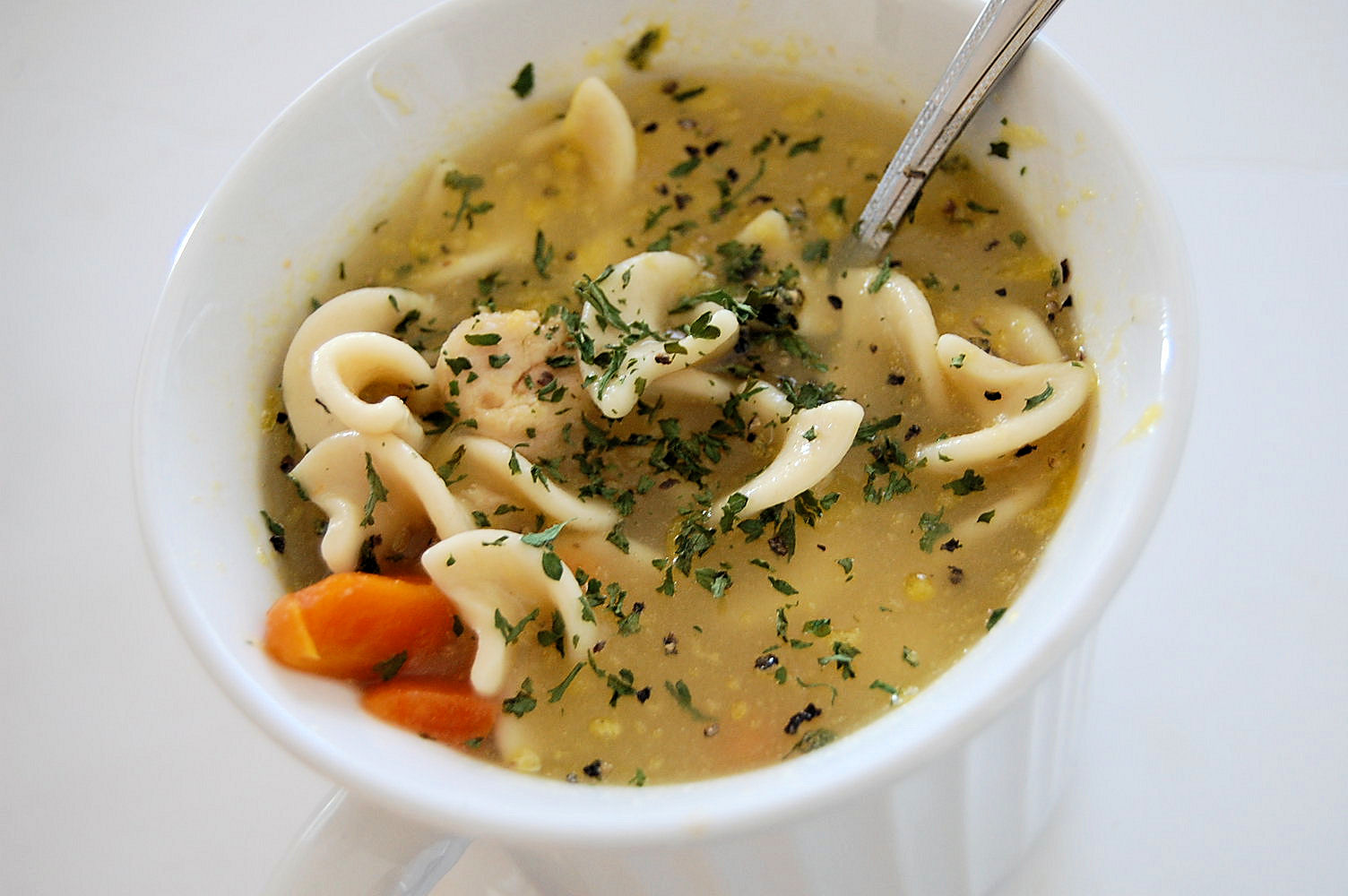 Today I am venturing into the unknown and taking the chance by making my own chicken stock. Yes, I know it has taken me a while to jump on this bandwagon but I just always enjoyed the ease  of buying the stock in the store and having them at moment's notice in my pantry not my freezer.
In 2 1/2 short months all of that will change. I will not have the luxury of heading to the store every week, especially not at moment's notice when the cook is out of stock. With the Secret Recipe Club challenge on my mind and a wonderful assigned blog called Concetta's Cafe I decided to get all Martha Stewart or Ina Garden on you and make my own stock. Freezing it so I can enjoy a good pot of soup any whenever I please.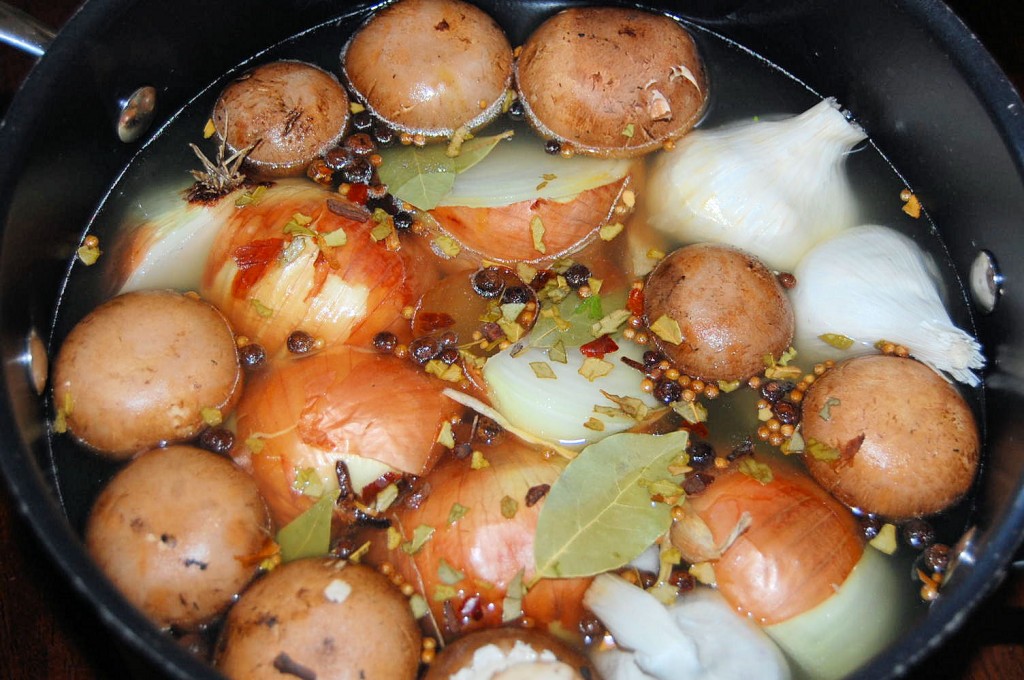 Sorry the pictures aren't the best. It was kind of hard for me to get a good looking picture of a pot of veggies and chicken. The carrots, herbs and chicken are floating down underneath all that onion, garlic and mushroom goodness!  (this is the before pic)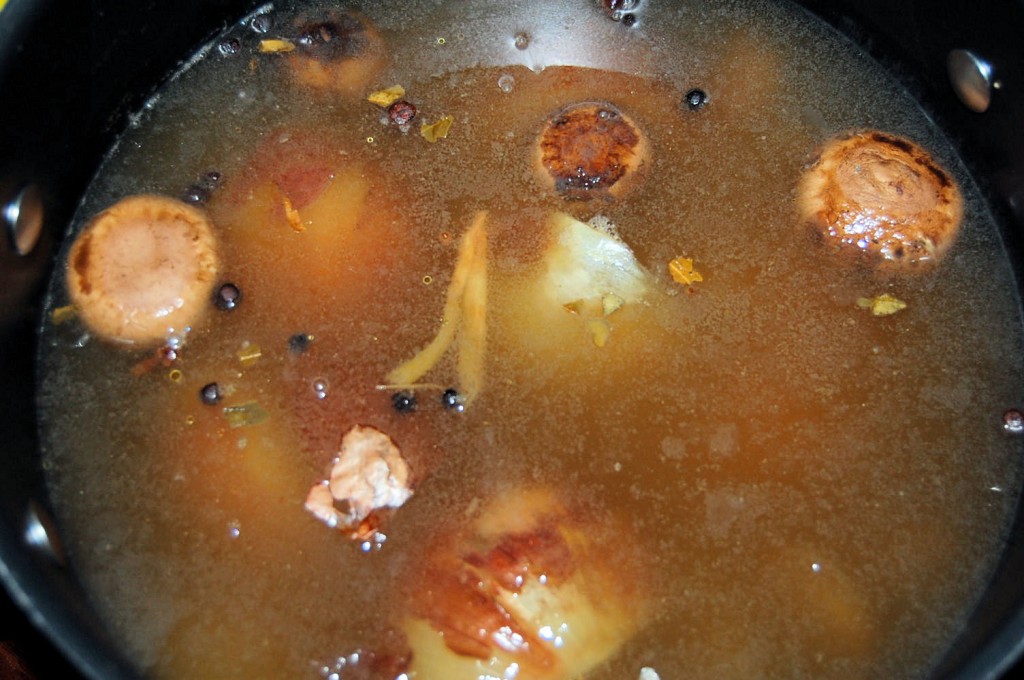 this is the after pic! Oh the heavenly smell!
I have to tell you, making the stock seemed some what daunting to me at first because of all the ingredients needed but I actually thoroughly enjoyed the process and the end result was exactly what you hear about on the shows and in the magazines- Undeniably Better than any Storebought Stock. It was rich and hearty, salty but not over the top and full of simply amazing flavors that truly popped with each sip/bite. There was no masking the flavor of the seasoned chicken (Yes that was my secret weapon) and all the work was truly worth it. 6 count 6 bags and containers of chicken stock are now sitting in my freezer. It is a wonderful site to see and an even better one to taste!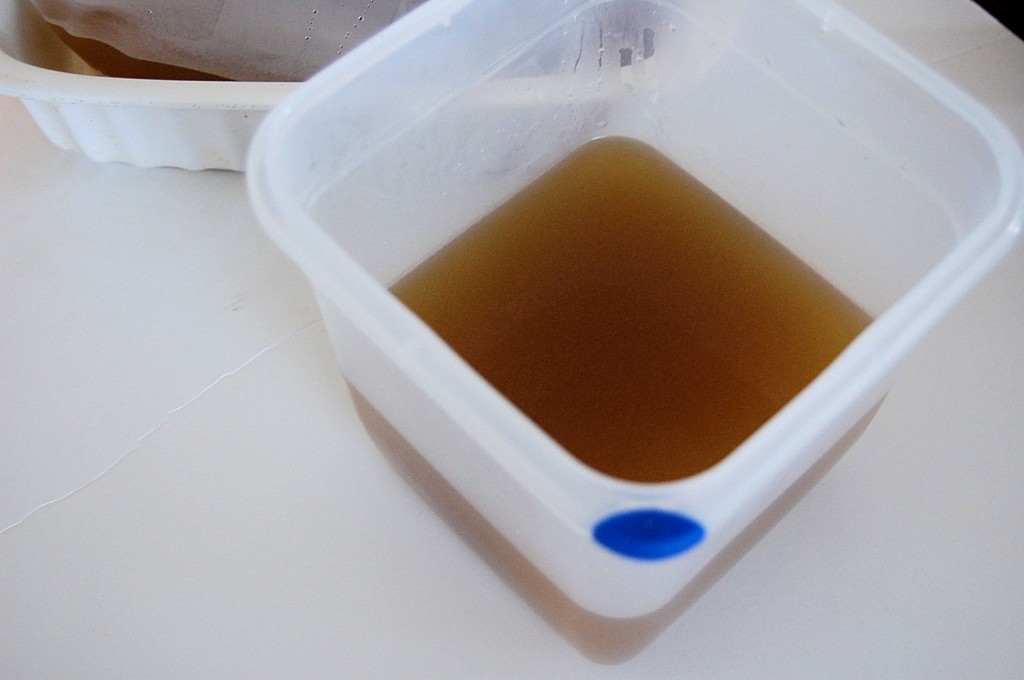 Note: I keep meaning to buy those plastic containers Ina uses on her show and after making this chicken stock the other day I was banging my head against the wall thinking I still have yet to get them. If you are interested in her fabulous storage containers, Cassandra's Kitchen is having a sale right now. Just thought I would let ya'll know.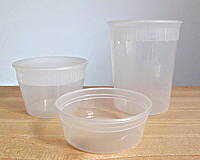 You don't have to be apart of a challenge to give yourself a challenge in the kitchen. This recipe is super simple and after one taste of your own homemade chicken stock you will have the Same Aha Moment I did and say, "Why didn't I do this sooner".
I used the recipe from Concetta's Cafe and took it up a notch by adding in some extra spices and seasoning my chicken before hand.  I was going to wait until it got a little cooler to make my first batch of chicken noodle soup but with that incredible smell lingering throughout the house even the husband agreed that a bowl of my Asian Inspired Chicken Soup NEEDED to be made. Oh, it was delicious and the homemade chicken stock truly takes it to a whole new level! I can't wait for you to try it!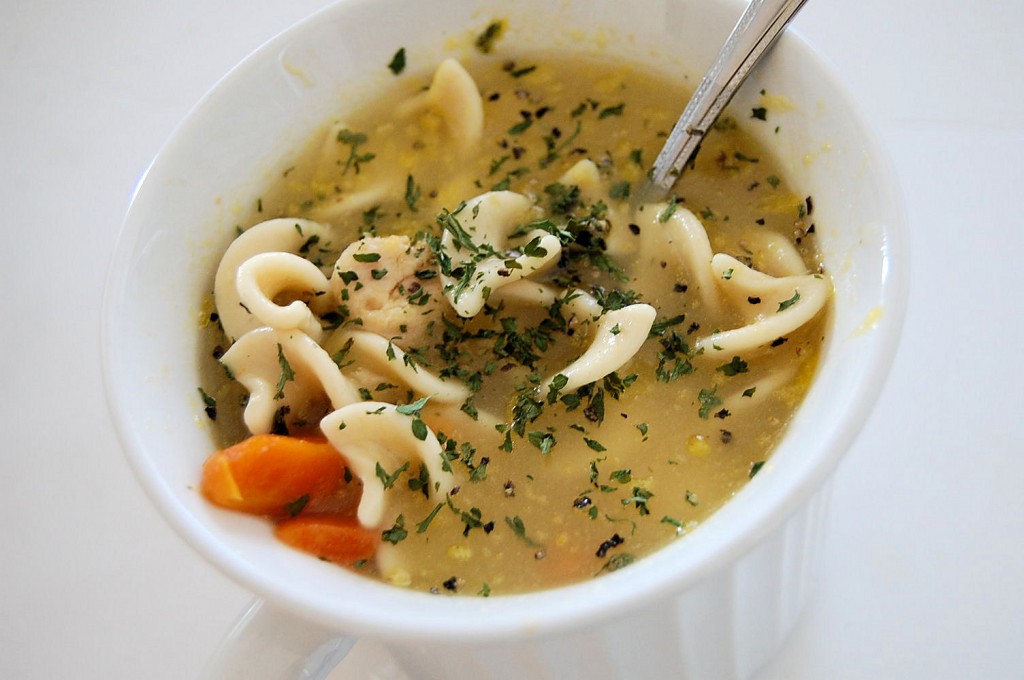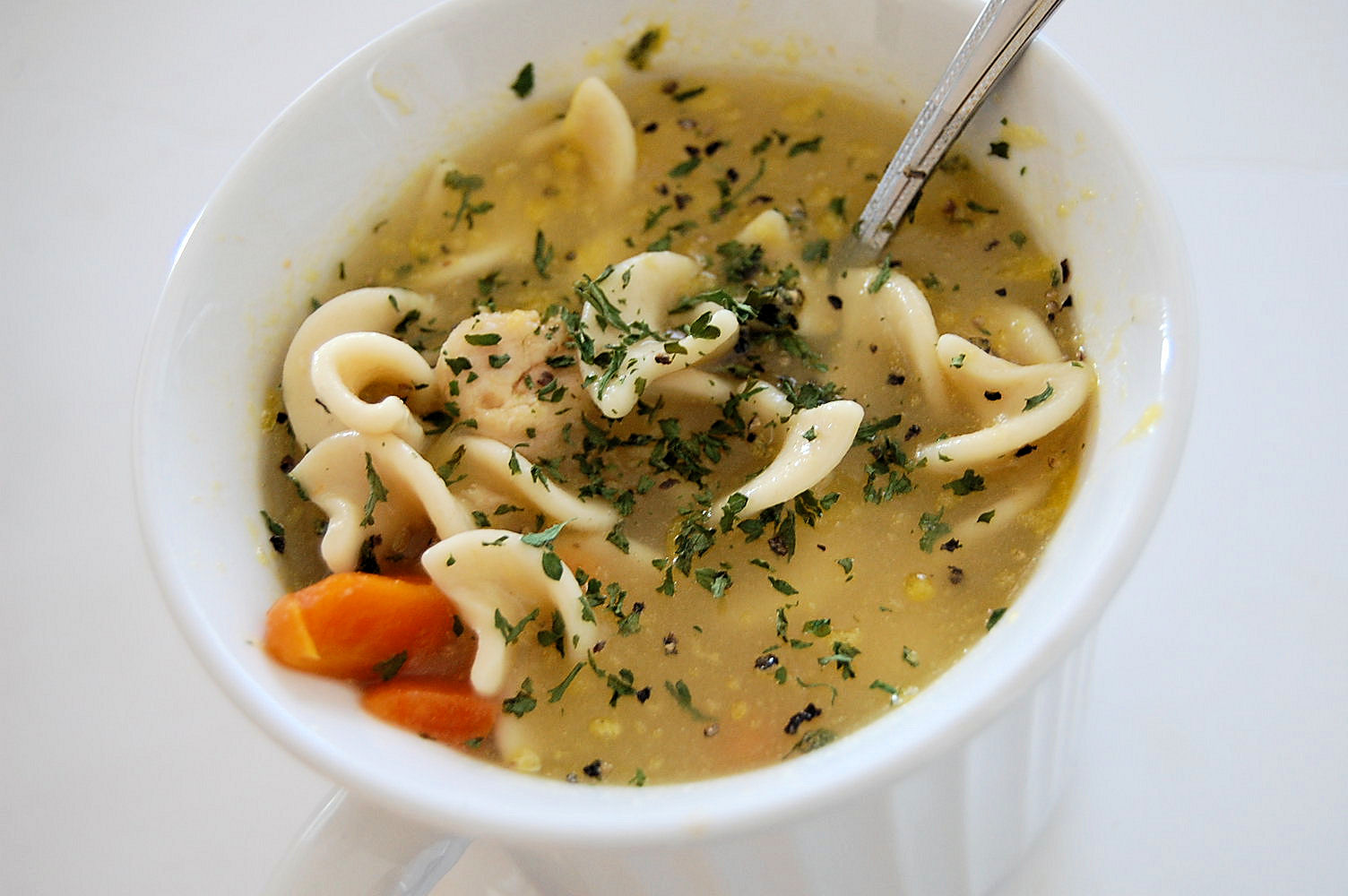 A few tips:
The onion skin adds a rich brown color to the stock as well as flavor.
Carrots add sweetness; reduce them if you like an even more savory stock.
You can do the stock without adding salt at all then season appropriately once you are using the stock in a recipe.
[print_this]
Homemade Chicken Stock
Ingredients:
1 whole roasting chicken, in parts
3 large carrots, largely sliced
1 leek, largely sliced
4 celery stalks, largely sliced
1 onion, sliced in quarters (peeled or unpeeled, doesn't matter)
1 whole garlic bulb, cut in half
1 bunch of fresh parsley (about 10 sprigs)
1 bunch fresh dill (about 10 sprigs)
1 bunch fresh basil (about 10 sprigs)
1 bunch of fresh thyme (about 10 sprigs)
1 bunch oregano (about 10 sprigs)
2 Bay leaves
2 TBSP kosher salt
1 1/2 TBSP peppercorns
For the chicken:
2 tsp paprika
2 tsp herbs de provenence
2 tsp lemon pepper
1 tsp cajun seasoning
2 TBSP paprika
Directions:
Season the chicken with the above seasonings and refrigerate for at least 4-6 hours (or overnight which is what I did).
For the stock: Place all ingredients above in a large dutch oven along with the seasoned chicken and fill the pot to the top with water. Bring to a boil and reduce heat. Allow to simmer for 4-6 hours. Skim the scum from the stock with a spoon or fine mesh strainer every 10 to 15 minutes for the first hour of cooking and twice each hour for the next 2 hours. Add hot water as needed to keep bones and vegetables submerged.
Strain stock through a fine mesh strainer into another large stockpot or heatproof container discarding the solids. Cool immediately. Place in refrigerator overnight. Remove solidified fat from surface of liquid and store in container with lid in refrigerator for 2 to 3 days or in freezer for up to 6 months. Prior to use, bring to boil for 2 minutes.
[/print_this]