Potatoes…. Fry, Saute, Bake, Roast……..Loaded, Stuffed, Whipped, Mashed
Regardless the method or type of potato dish you chose to make, Potatoes are simply one of the easiest vegetables to cook and play around with. Plus, everyone likes potatoes, unless of course you were like myself growing up and I would not eat a potato for the life of me. No way, no how. No matter what my mom did I would not eat a potato!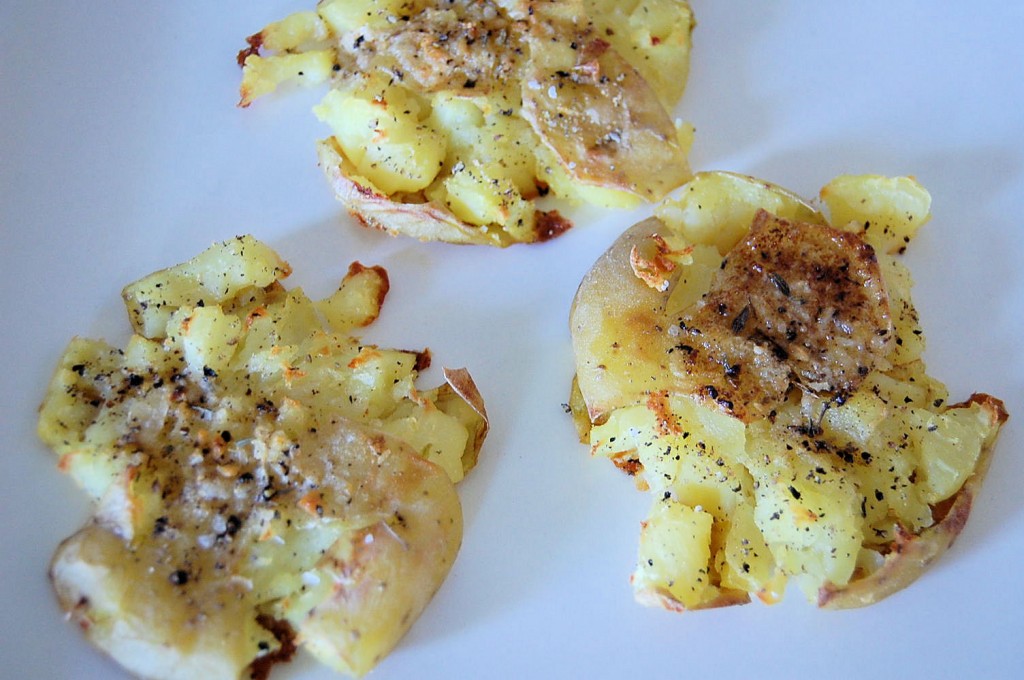 I was getting bored the other day- Yes BORED. I know it is hard to believe with a 2 year old running around, a growing belly and cookbook agents calling me every second (Okay, that last part was a lie- I just like to pretend that is happening sometimes). Anyway, so I was bored and we were having your average chicken dish that night and although I am all for average and eating leftovers I always like to included something- rather anything new in the menu. For instance, if we are having canned soup (Yep, we eat canned soup) then I make a good hearty and yummy loaf of bread. If we are having leftover beef then I make a nice new salad dressing for a steak salad or a fun sauce to serve over it with a zesty rice or something to that degree. My point is I like to mix old and new, average and creative together and it really makes cooking fun. You should try it!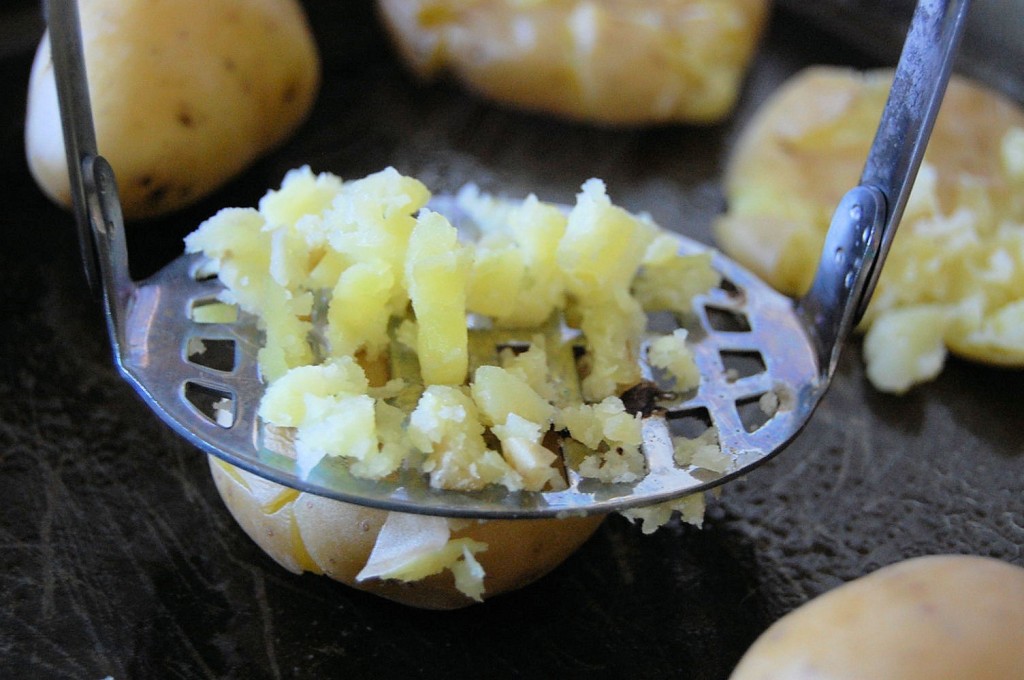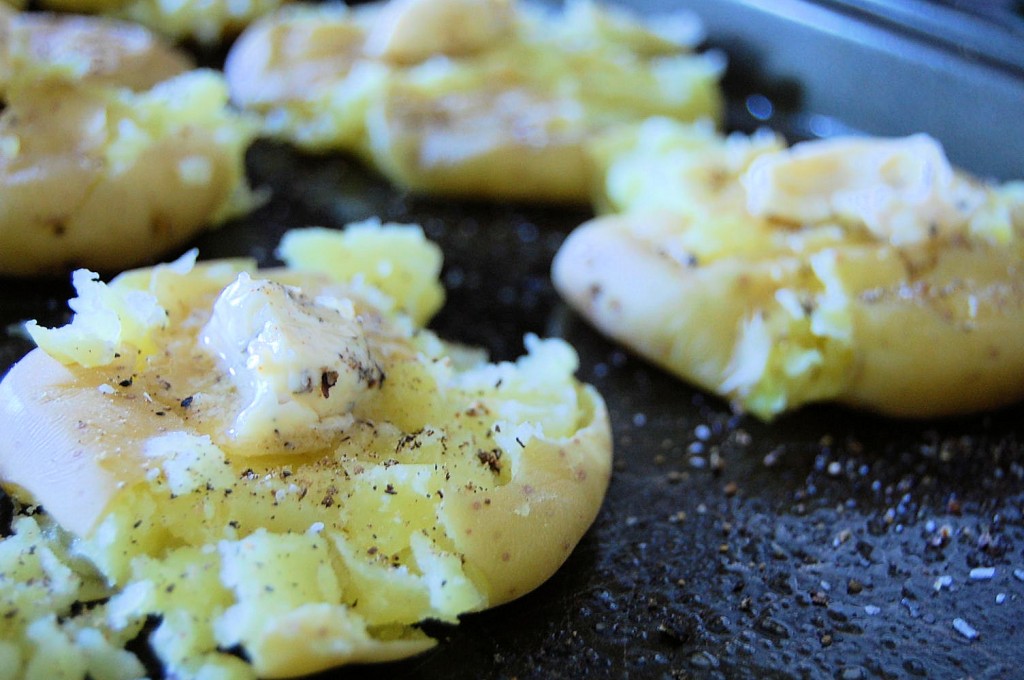 So where am I going with this? I had a big old bag of yukon potatoes in my pantry and  I wanted to do something different with them and I had remembered seeing a smashed potato recipe a while back and thought I would go for it. I made my own garlic herb butter compote to top these delicious creations after boiling them first in a pot of water and then smashing them down with a potato masher. Simple and Fun! A drizzle of EVOO and a dash of S&P and you have an amazing side dish. It is the perfect combonation of both worlds. A soft mashed texture on the inside and a crispy almost fried texture on the outside.
Down right slap your mama step back from the kitchen insanely good (run on sentence I know!) Seriously, the best potato dish you have ever and will ever eat. Promise, take my word, DO IT!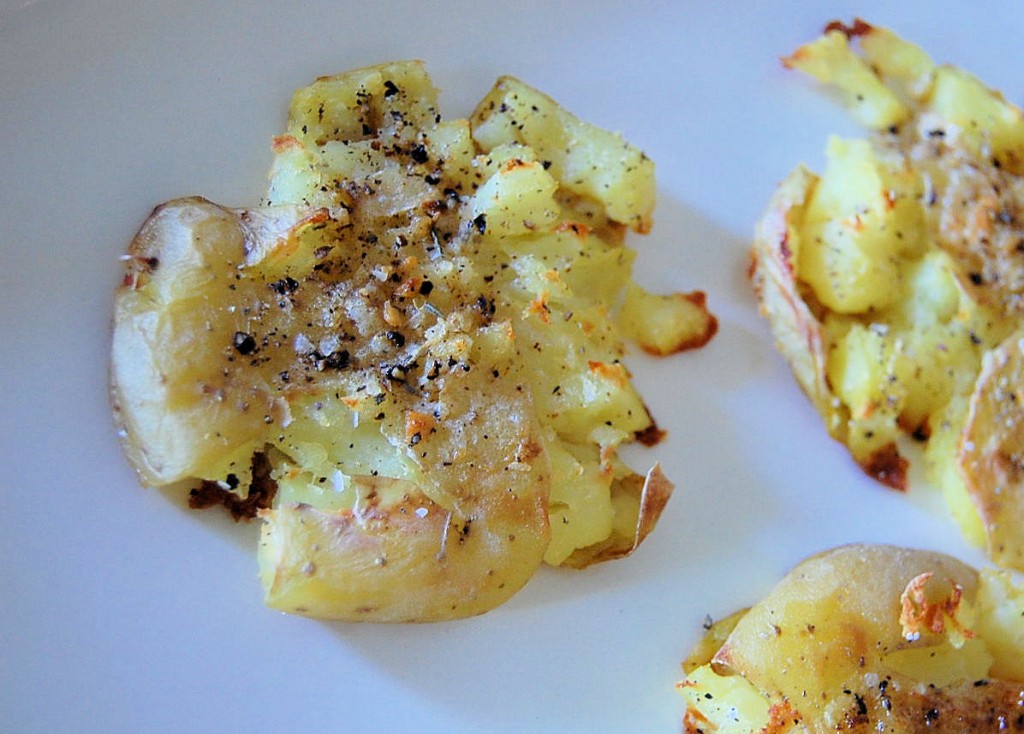 Note: Did you know that potatoes can also be used to treat warts, clean berry stains, soothe burns and help grow geraniums? Just sayin…..
[print_this]
Smashed Yukon Potatoes with Garlic Herb Butter Compote
Ingredients: adapted from Pioneer Woman
12 whole Yukom Gold Potatoes (or Other Small Round Potatoes)
Kosher Salt To Taste
Black Pepper To Taste
1 tsp cajun seasoning ( I used Slap Your Mama)
1 TBSP parsley
1 TBSP chives
1 TBSP garlic paste
1 stick of unsalted butter, softened at room temp
drizzle of Devo Olive Oil
Directions:
Mix together the butter, garlic and herbs together in a small bowl. Set aside.
Bring a pot of salted water to a boil. Add in as many potatoes as you wish to make and cook them until they are fork-tender. On a sheet pan, generously drizzle olive oil. Place tender potatoes on the cookie sheet leaving plenty of room between each potato.
With a potato masher, gently press down each potato until it slightly mashes, rotate the potato masher 90 degrees and mash again. Place a heaping teaspoon of the butter compote on top of each potato. Sprinkle with plenty of kosher salt ( I am obsessed with kosher now) and a dash of cracker black pepper. Bake in a 450 degree oven for 20-25 minutes until golden brown.
[/print_this]