You know those times when you are just in the mood for something fried. Something delicious that you normally don't partake in on a regular basis. Well, I was in the "fried" mood the other night and decided I wanted needed fried onion rings. Did I have onions? Only 1, did I have buttermilk? Nope! Did I have enough flour? Just Barely! Regardless of what was in my kitchen or not, I had my mind now set on onion rings and darn it- onion rings is what I was going to have. The husband was quite shocked when he walked into the house on a Tuesday night to the smell of something being fried. Typically if I decide to fry something I do it on the weekends but again like I said, I was in the mood!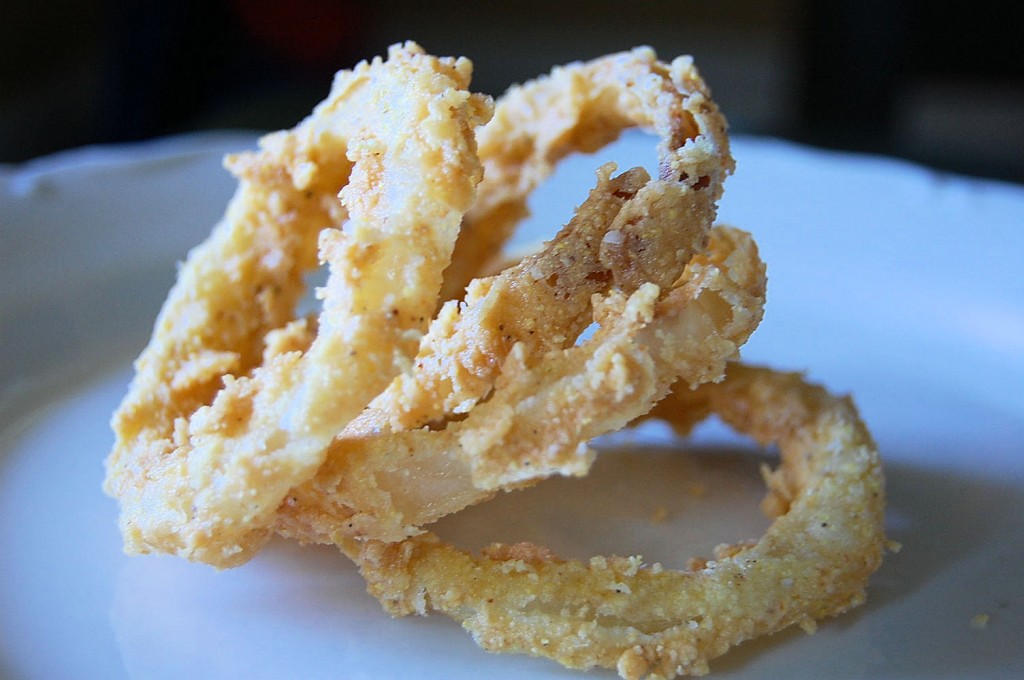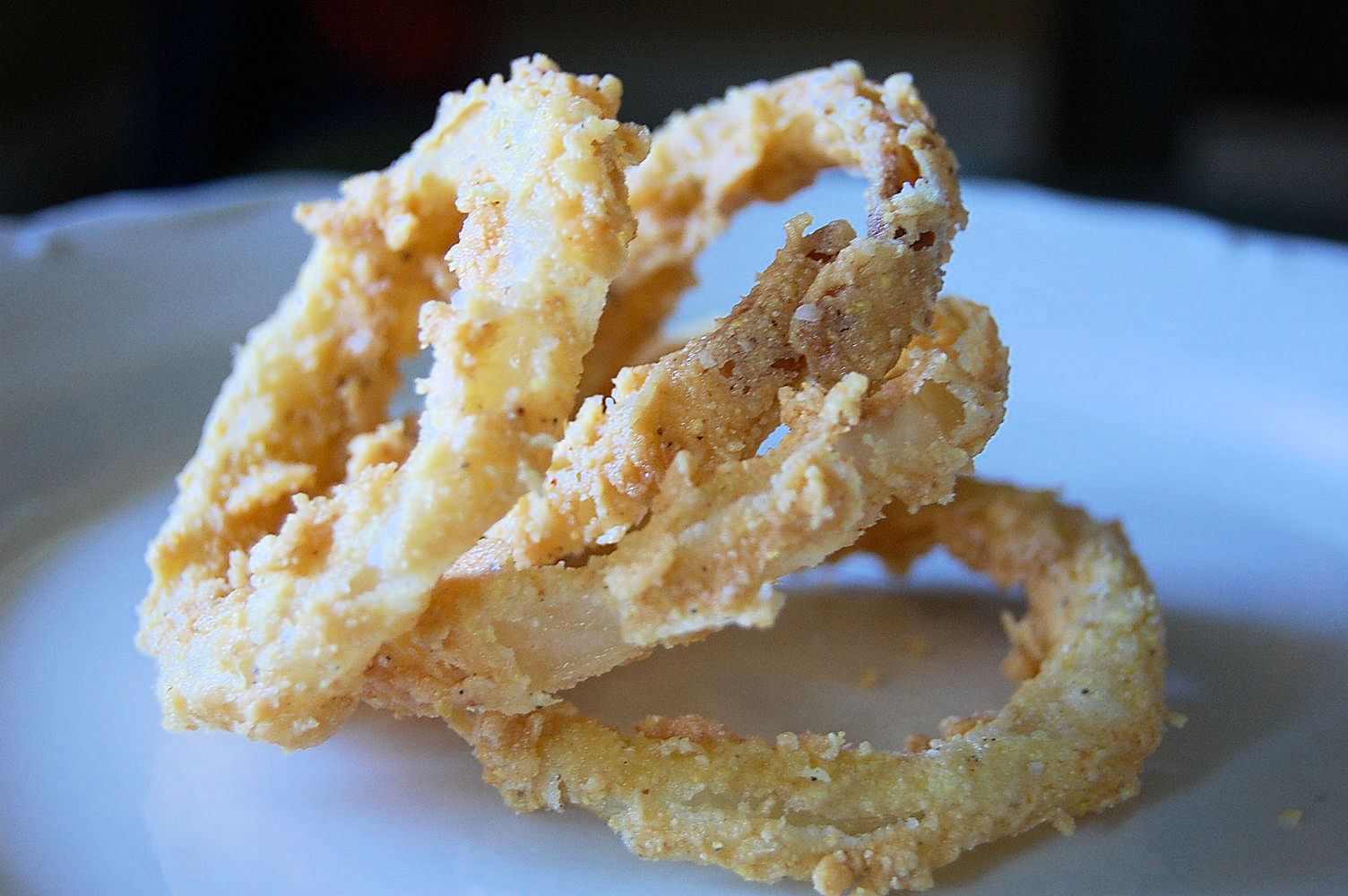 So considering I didn't have buttermilk, which everyone knows buttermilk is a must in frying, I decided to mix things up a bit and try something new. I combined 1 1/2 cups of milk with 1 1/2 cups of club soda, salt and pepper. Yes, I realize that no where will you find club soda hanging out in the list of ingredients to fry something but Believe Me- It Worked! That with a cornmeal and flour based coating infused with dashes of  lemon pepper and kosher salt, these onion rings are by far the best you will have.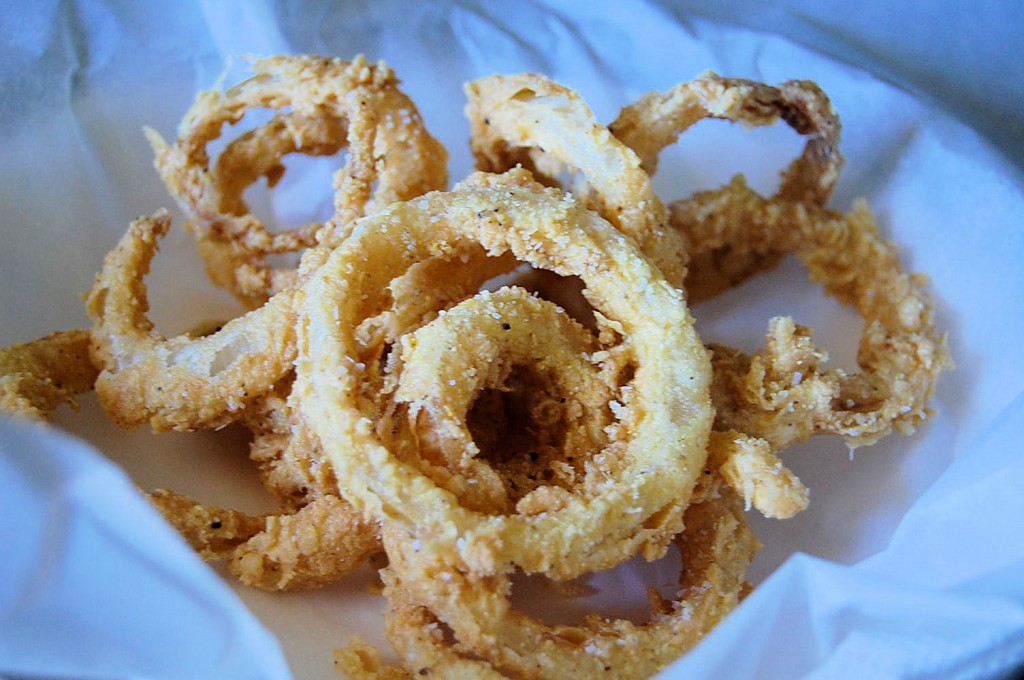 The batter was just perfect. Thick enough to give you a nice crunch factor but not too much as to get soggy on you. A lot of times the batter on onion rings lose their crispness as they sit and cool but not these babies.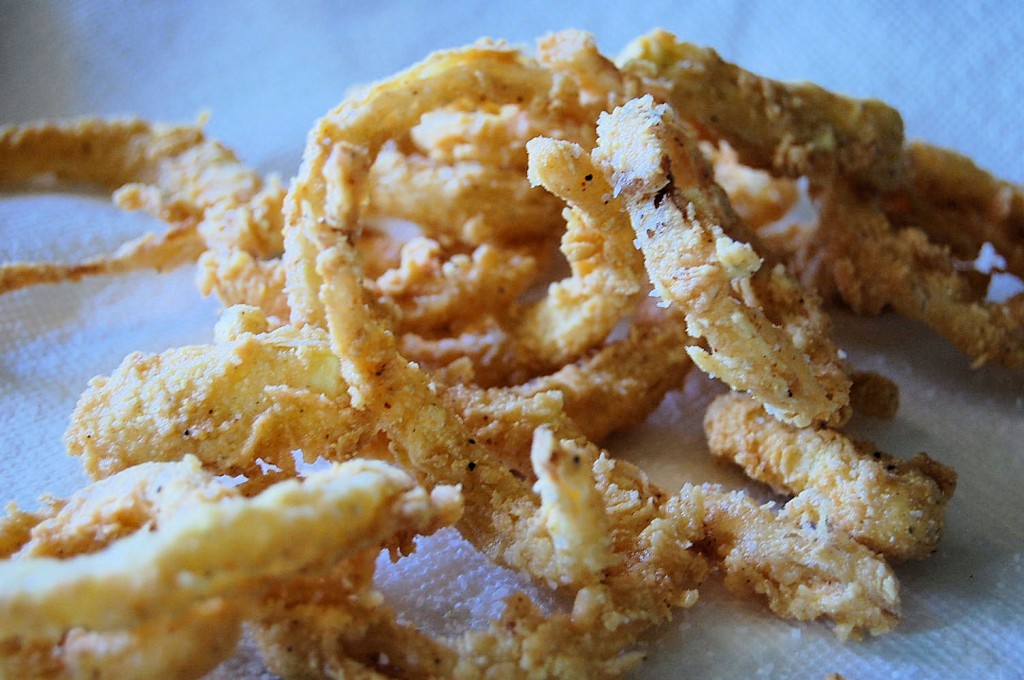 For a split second I realized I was cooking for just myself 🙂 and thought that since my 2 year old doesn't like onions that he might would like fried squash instead. I searched the internet for fried squash and to my amazement there were not many recipes to be found out there. They all consisted of frying up zucchini but not squash. My heart was broken for this wonderful veggie and regardless of what the internet did or did not say I said- Fried Squash It Was Going To Be! They were amazing! A nice sweet touch to the onion rings and the batter was perfect for both veggies so there was nothing going to waste! Perfect for the kids and I will be putting up that recipe on my Belleicious Kids blog today. I haven't mentioned my kids blog in a while and for those of you who have no idea what I am referring to-I started a kids blog at the end of last year to share recipes I make for my picky 2 year old son. I have not been very good at updating it since the summer began but I have a lot of yummy recipes just waiting to be posted so stay tuned and if you haven't visited the site please do! I would love to have you!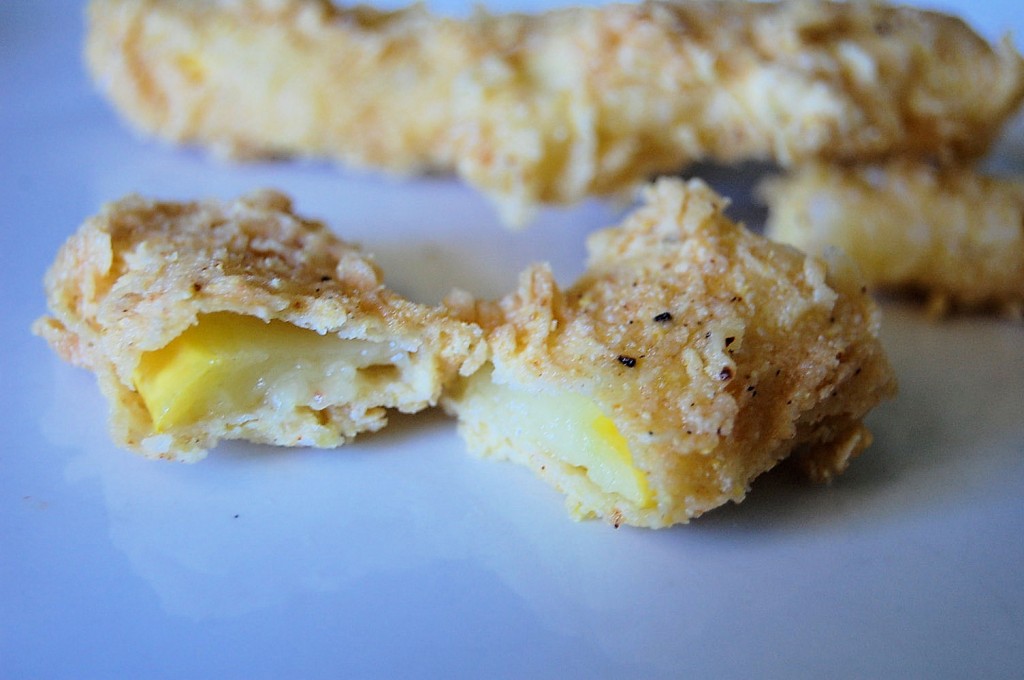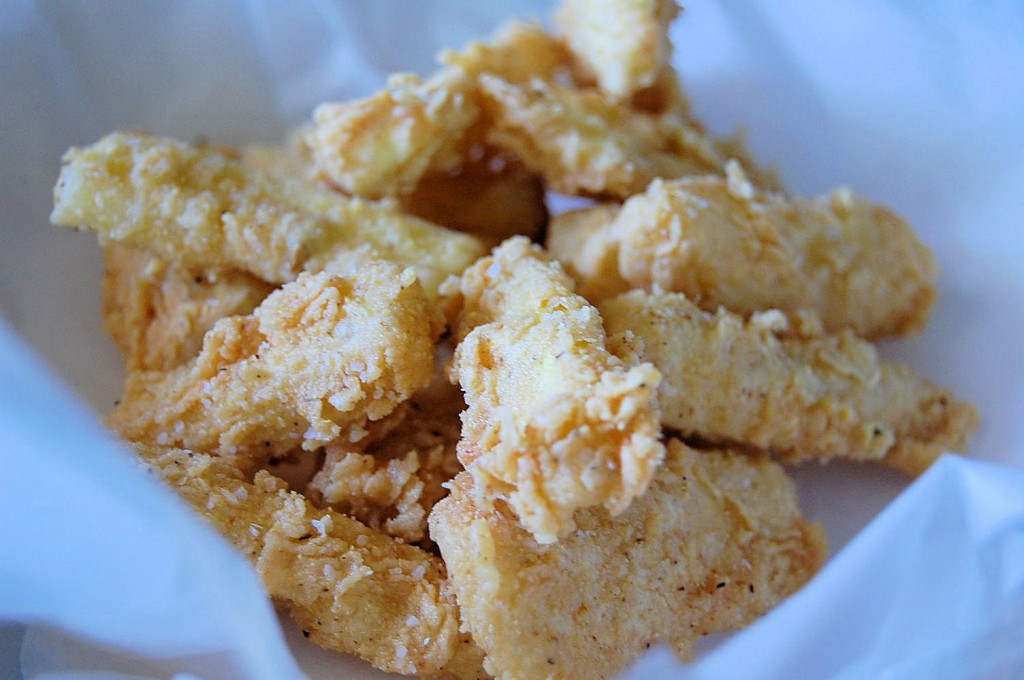 [print_this]
Fried Onion Rings and Squash
Ingredients:
6 cups vegetable oil for deep frying
1 large sweet onion, cut crosswise into 1/4-inch thick slices
1 1/2 cups whole milk
1 1/2 cups club soda
1 1/2 cups all-purpose flour
1 1/2 cups cornmeal
1 cup of egg beaters
2 tsps kosher salt
1 tsp lemon pepper
1 tsp cajun seasoning
Directions:
Heat oil in  heavy pot or deep fryer until oil temperature is 370 degrees F.
Divide onion slices into rings and cut squash into small strips. Pour milk, club soda and 1 tsp salt into a bowl and add the onions and squash. Cover and refrigerate for 2 hours. Meanwhile combine the flour, cornmeal, 1 tsp salt, lemon pepper and cajun seasoning in a large pie plate or bowl. Put the egg beaters into a large pie plate or bowl as well. Working in small batches of three, dip rings from the milk into the flour then into the egg then into the flour again. Transfer rings to hot oil and fry, stirring, until rings are golden brown, about 2 minutes. Carefully transfer rings to paper towels to drain. Coat and fry remaining rings in same fashion. Serve immediately.
[/print_this]