It was my grandmother's 69th birthday this past weekend and I was thrilled when my grandparents and my mom decided to come down for a quick visit. I went into full hostess mode seeing as how the queen of south, the ultimate hostess, the southern belle herself was going to be staying with me. My grandmother could write a book about the right way to be a hostess, from the food, to the linens, guest treats, activities and so on. My nanny is one of the most amazing women I have ever meet. She is beautiful inside and out, sweet but sassy and has lived a life full of love and laughter. Most importantly she has passed down her love for cooking to yours truly and inspires me every day to do something new and creative with my dishes. Below is a picture of us making pretzels back home at my mom's house this past spring.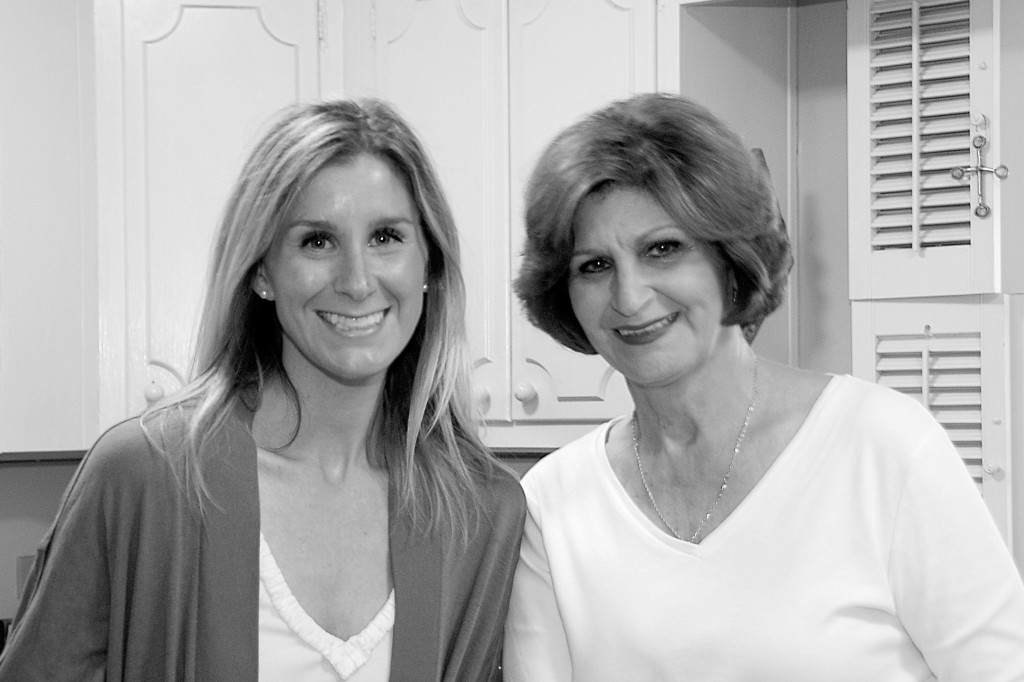 For breakfast we had a delicious sour cream pound cake that I will be sharing with you all later this week, a yummy sausage and pea manicotti bake on friday night and for her birthday I made the most mouth-watering, moist and intoxicating cake I have ever had. I knew I wanted to make a simple cake since there wouldn't be much time to bake but I also liked the idea of giving my grandmother something a little different and refreshing using fresh strawberries I had picked up just a few days before at the farmer's market. So some improvising was needed and I think the outcome was perfect!  I used my oldie but goodie vanilla cake recipe with layers of an amazing strawberry mousse filling and white almond butter cream frosting. TO DIE FOR! Just go ahead and set aside all diet plans aside for the moment- your not going to want to miss out on this amazing creation!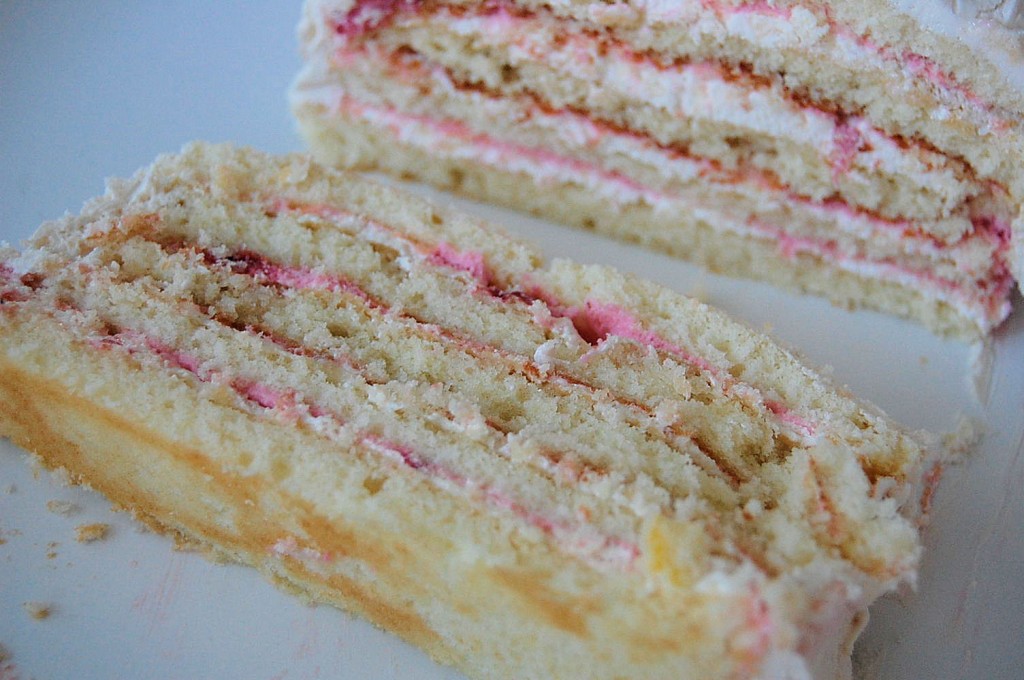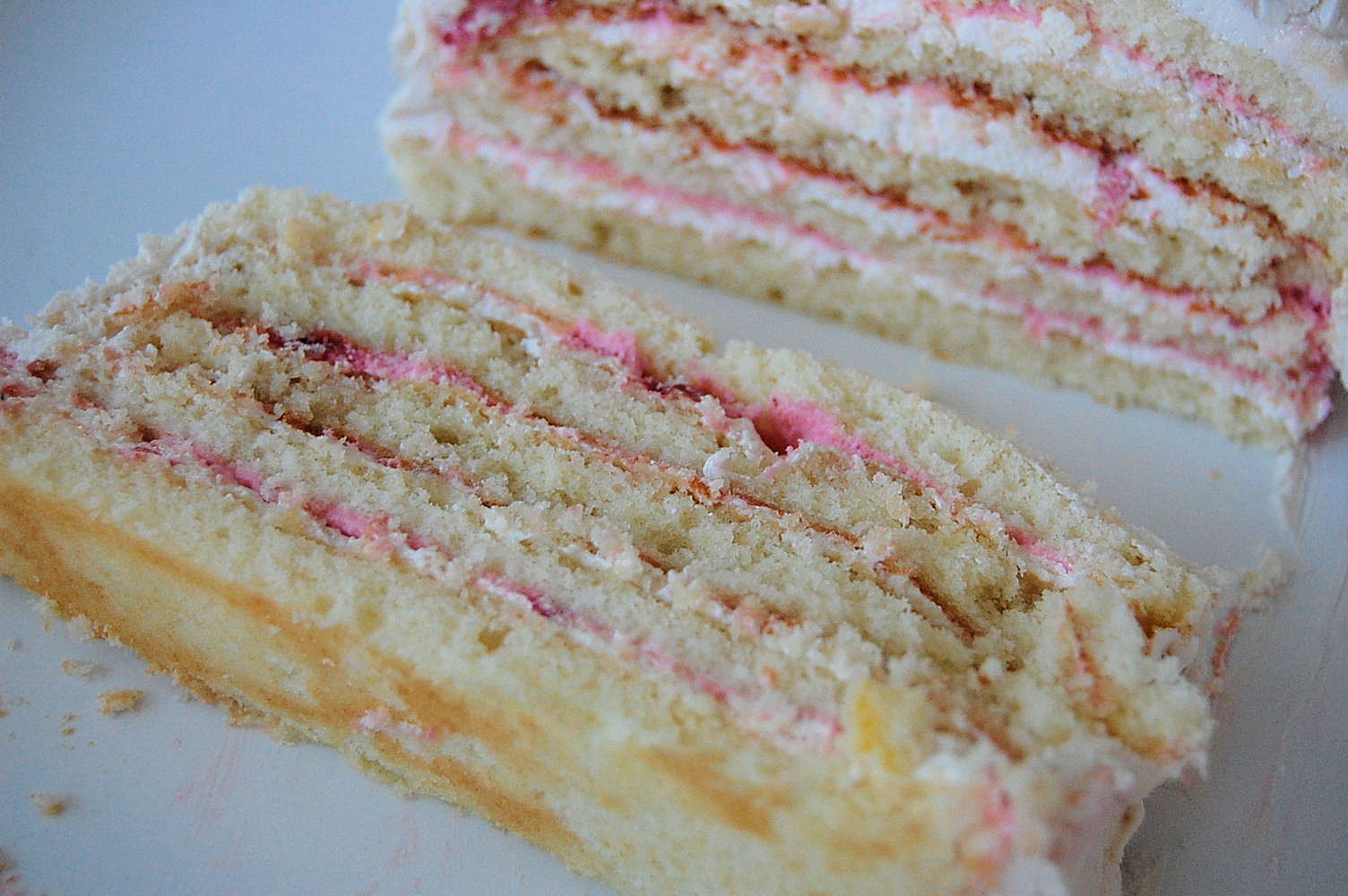 I apologize ahead of time for the pictures. It was evening before we cut into the cake, hence the lighting and we were anxious to dig into the cake that I actually forgot to take a picture of the whole thing. Oh well, I hope the pictures you do see will wet your appetite enough to try this amazing combination of flavors for your next birthday cake!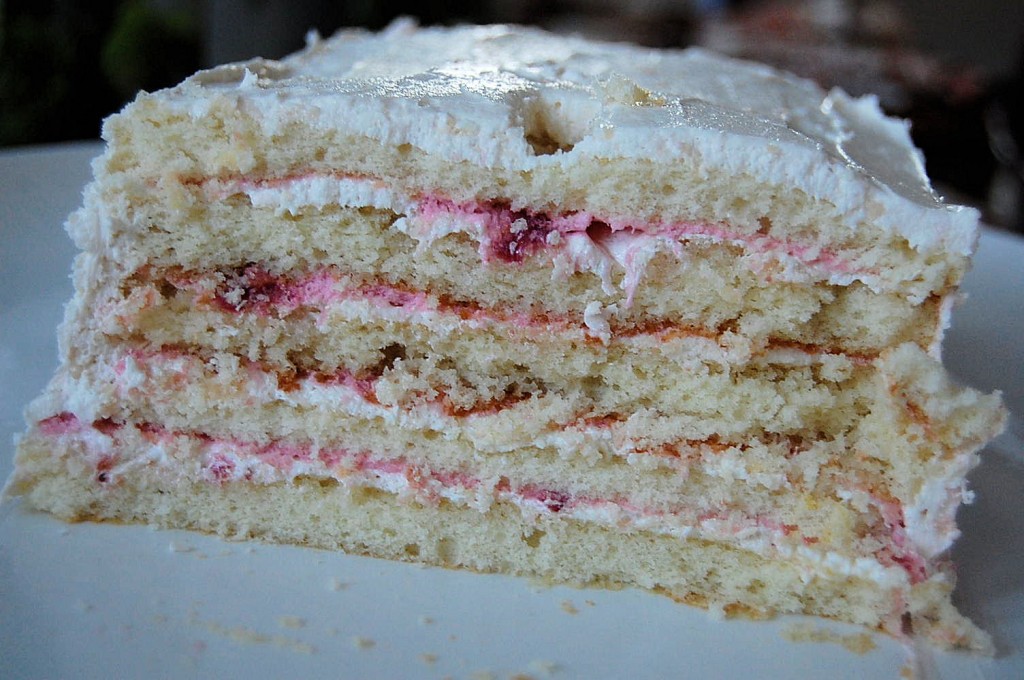 On another note, if you have a chance please stop by and check out this amazing author, Tricia Goyer, my mom is featuring on her blog and radio show tonight. If you can listen to her radio show via the internet (unless you live in Louisiana) then you can enter to win a free copy of her latest book Sue Ellen's Girl Ain't Fat She Just Weighs Heavy! Be sure to let her know I sent you!
[print_this]
White Almond Cake with Strawberry Mousse Filling
Cake layers:
2 cups sugar
3 1/4 cups cake flour
2 1/2 teaspoons baking powder
1 teaspoon salt
3/4 cup unsalted butter, softened
1 1/4 cups milk, at room temperature
1 teaspoons vanilla extract
2 teaspoons of almond extract
4 large eggs
Frosting and filling:
1 cup butter, softened
3 cups confectioners' Sugar
1 Tsp. Vanilla ext.
2 Tsp. Almond ext.
4 Tbsp. heavy cream
Strawberry Mousse   (by Edible Moments)
1 pound fresh strawberries
1 cup water
1 cup sugar
4 tsp powdered gelatin
1 3/4 cup cream
Preheat oven to 400°F and place a rack in the center of your oven. In the bowl of an electric mixer, beat butter until light and fluffy, reduce speed and gradually add sugar, then increase the speed and add in the eggs, vanilla and almond extract. Scrape the bowl, reduce speed again and gradually add flour and milk, alternating between the two and ending with the milk.
Spread your batter in prepared pans. If you plan to make a layered cake like seen in the pictures above, then spray cooking spray on two baking sheets, lay down parchment paper and lightly spray again. Use scissors to make sure the parchment paper fits exactly. Pour batter onto the baking sheets and bake at 400 for 15-20 minutes, until golden with some dark brown spots. When layer is baked, remove it from the oven and flip it out onto a cooling rack that has been dusted with a small amount of confectioners' sugar. Carefully, gently remove parchment paper then flip cake back onto another lightly dusted cooling rack to finish cooling. It's best to cool the layers right side up; the tops are the stickiest part.
For the filling and frosting: Beat butter until light and fluffy. Gradually add the 3 cups of powdered sugar and beat on low until all sugar has been mixed in. Add the vanilla and almond extract, beat and then add the milk. Beat for 3-5 minutes. Can be stored at room temperature for up to 1 hour.
Make the Strawberry Mousse: Wash and hull the strawberries and place in a sauce pan. Add the water, caster sugar, and gelatin and simmer until all the gelatin dissolves. Cool the mixture and blend the mixture in a blender or food processor until the mixture is pureed. Beat the cream in a separate bowl until just thickened, not soft or stiff peaks! Be careful not to overbeat the cream which will result in a stiff mousse. Fold in the strawberry puree mixture and mix until well blended.
Assemble the cake: Place first cake layer on plate and spread frosting on top and to edges with an offset spatula. The filling must be spread fairly thinly to have enough for all layers and the outsides of the cake. Next spread on the strawberry mousse filling. Repeat with remaining layers, stacking cake as evenly as possible. Spread frosting on outside of cake, just to cover and adhere the crumbs to the cake. Place cake in fridge for 30 minutes. Spread more frosting thickly and smoothly to make a final exterior coat of frosting. Remove paper strips.
[/print_this]