I love couscous! Couscous is like my secret weapon. When in doubt, cook couscous. It looks delicate, elegant and delicious and yet it only takes 5 minutes. Yep- 5 minutes. Although it doesn't resemble it, couscous is a small grain of pasta that is just as versatile as your everyday pasta or rice. You can serve it hot or cold, with veggies or meat and it is delicious with a drizzle of an amazing combination of olive oils and vinegar's.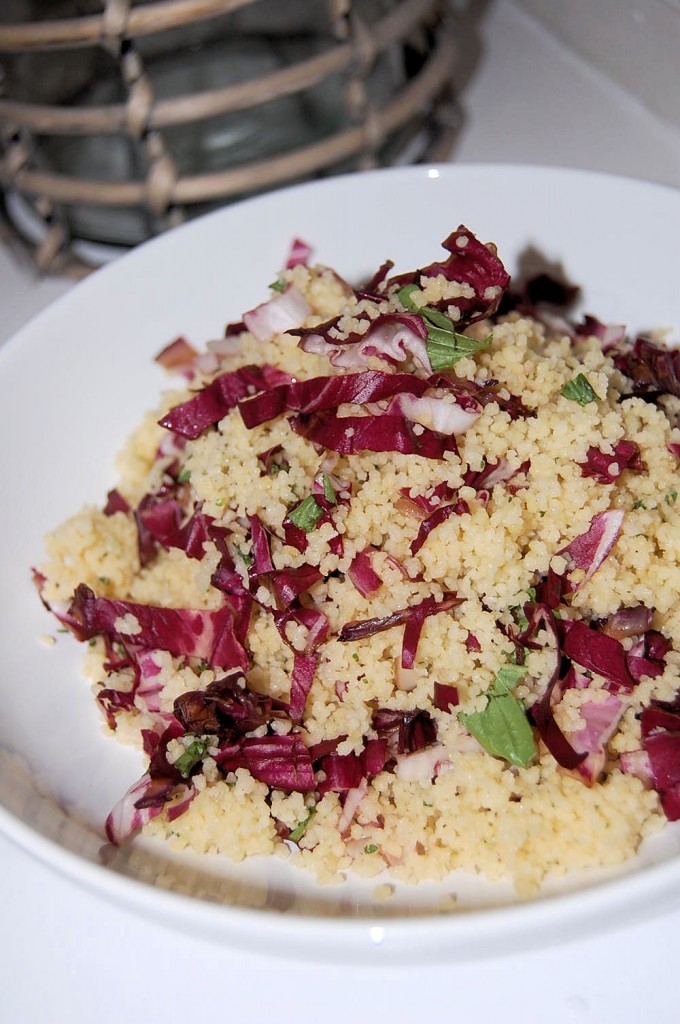 Some people shy away from couscous because if it isn't paired with the correct seasonings and cooked properly then it can seem a bit flavorless, kinda boring in fact. First things first, you must always use stock- never water. Couscous is so small that it needs a little extra help in the flavor department and since it only cooks for 5 minutes, the cook needs to pump as much flavor in the liquid as possible. My favorite liquid combination is chicken stock and white wine, my second favorite is veggie stock with drizzles of balsamic vinegar and garlic paste. Yes- I actually add the garlic paste along with the balsamic vinegar in with the stock while it comes to a boil.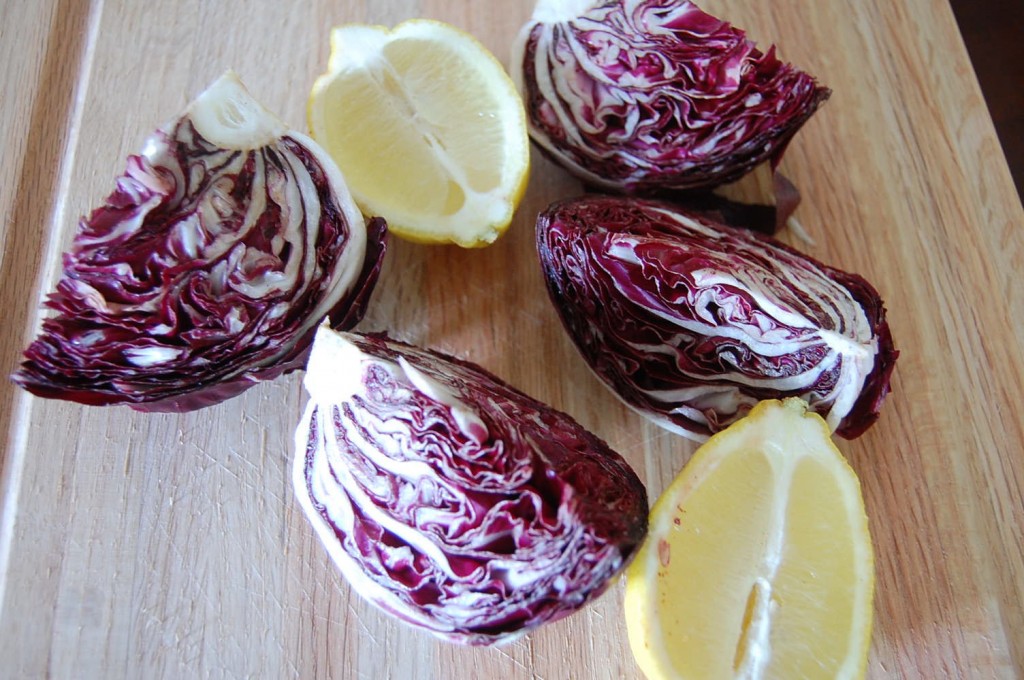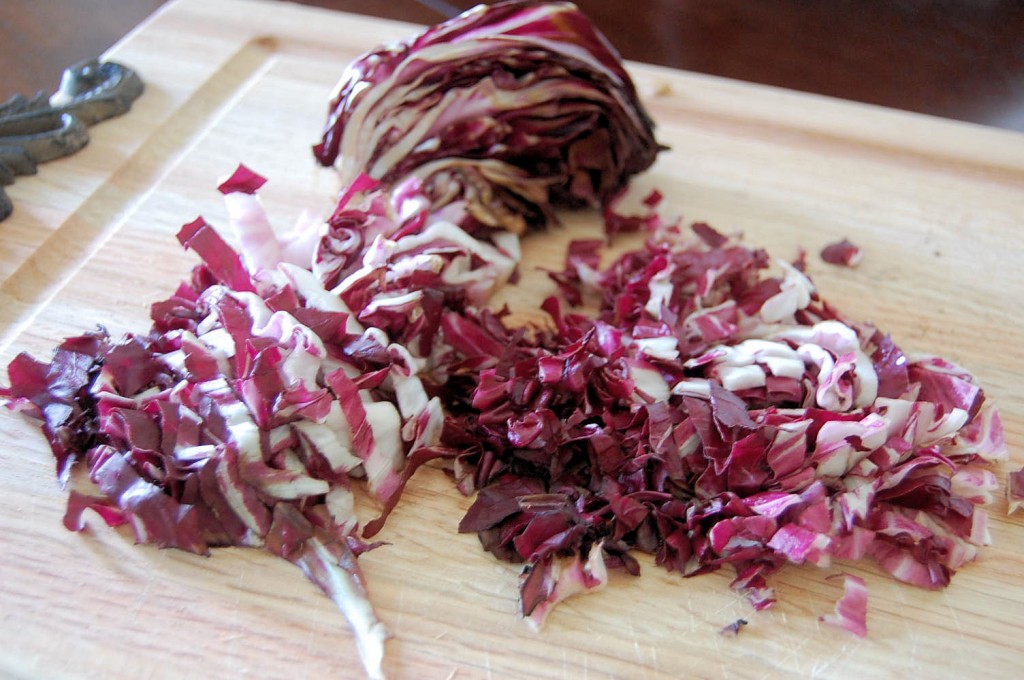 This recipe is so simple and rustic yet beautiful. I thought of it while watching my husband grill us up some fish on our big green egg last weekend. I was needing a side dish to go along with the seafood and after sitting outside and getting a big whiff of that wonderful aroma coming off the grill I thought charring up some radicchio along with lemon would really bring out the flavor and give everyday couscous a different and fun twist.  So light, so delicious and so easy!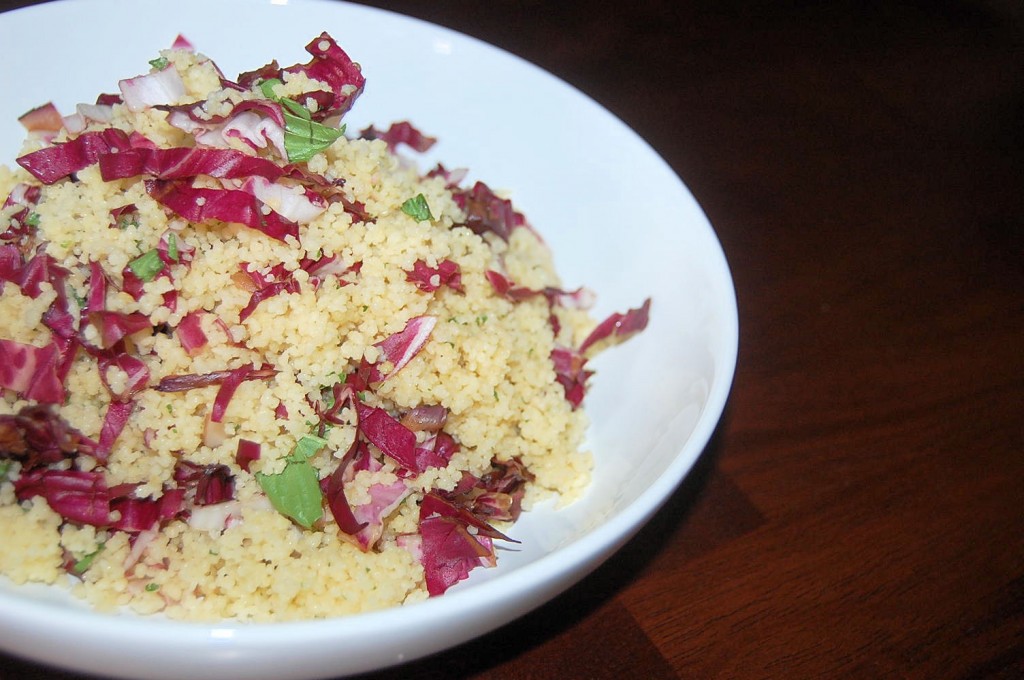 [print_this]
Herbed Couscous with Grilled Radicchio and Lemon
Ingredients:
1/2 cup cooking white wine
1 1/2 cups chicken stock
1/2 tsp salt
2 cups couscous
1/4 cup mixed chopped herbs
1 head of radicchio, quartered
1 lemon, quartered
1/4 cup freshly grated Parmesan cheese
Directions:
Quarter the radicchio and lemons. Drizzle with a bit of olive oil and sprinkle with salt and pepper. Place cut side down on an indoor or outdoor grill. Grill for 5-10 minutes until slightly blackened around the edges. Watch closely as the radicchio can go from grilled to blackened in seconds! Chop radicchio into bite-sized pieces and set aside.
Bring the stock and white wine to a boil. Add in the couscous and stir. Cover and remove from the heat. Allow to sit for 5 minutes and then add in the juice of the grilled lemon, fresh grated Parmesan cheese, herbs and chopped radicchio. Fluff the couscous with a fork and serve hot or at room temperature.
[/print_this]