Before it is too late, let's turn some of the season's best vegetables– peppers, squash, onions,and eggplant- into a healthy, delicious and fun dish. Open Faced Ratatouille Melt with Homemade Pesto is what I like to call my take on the classic Rautouille Dish.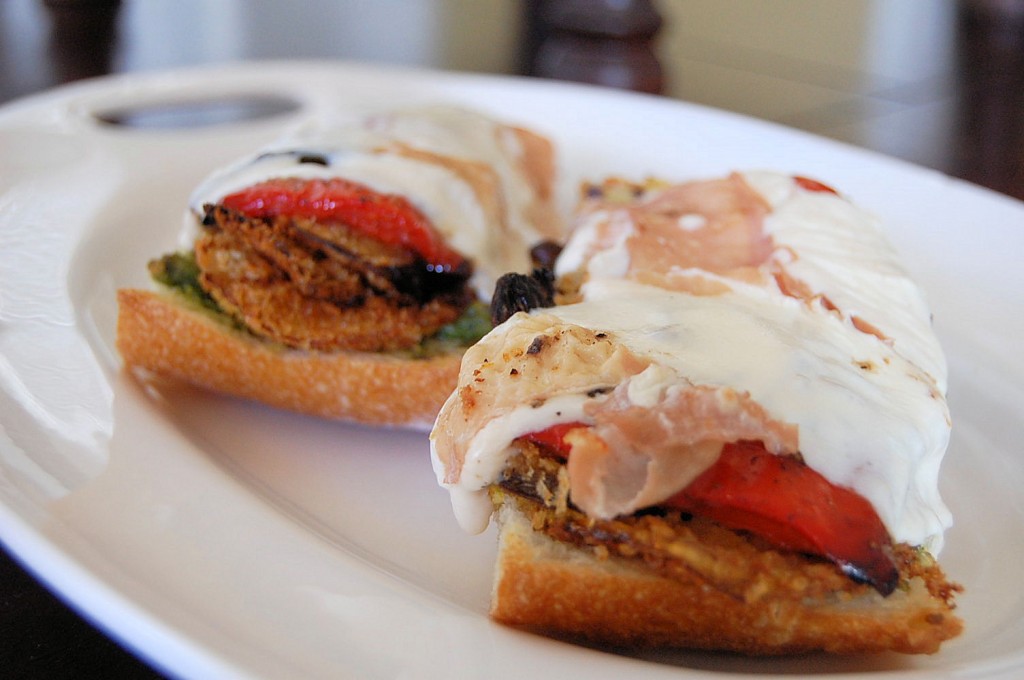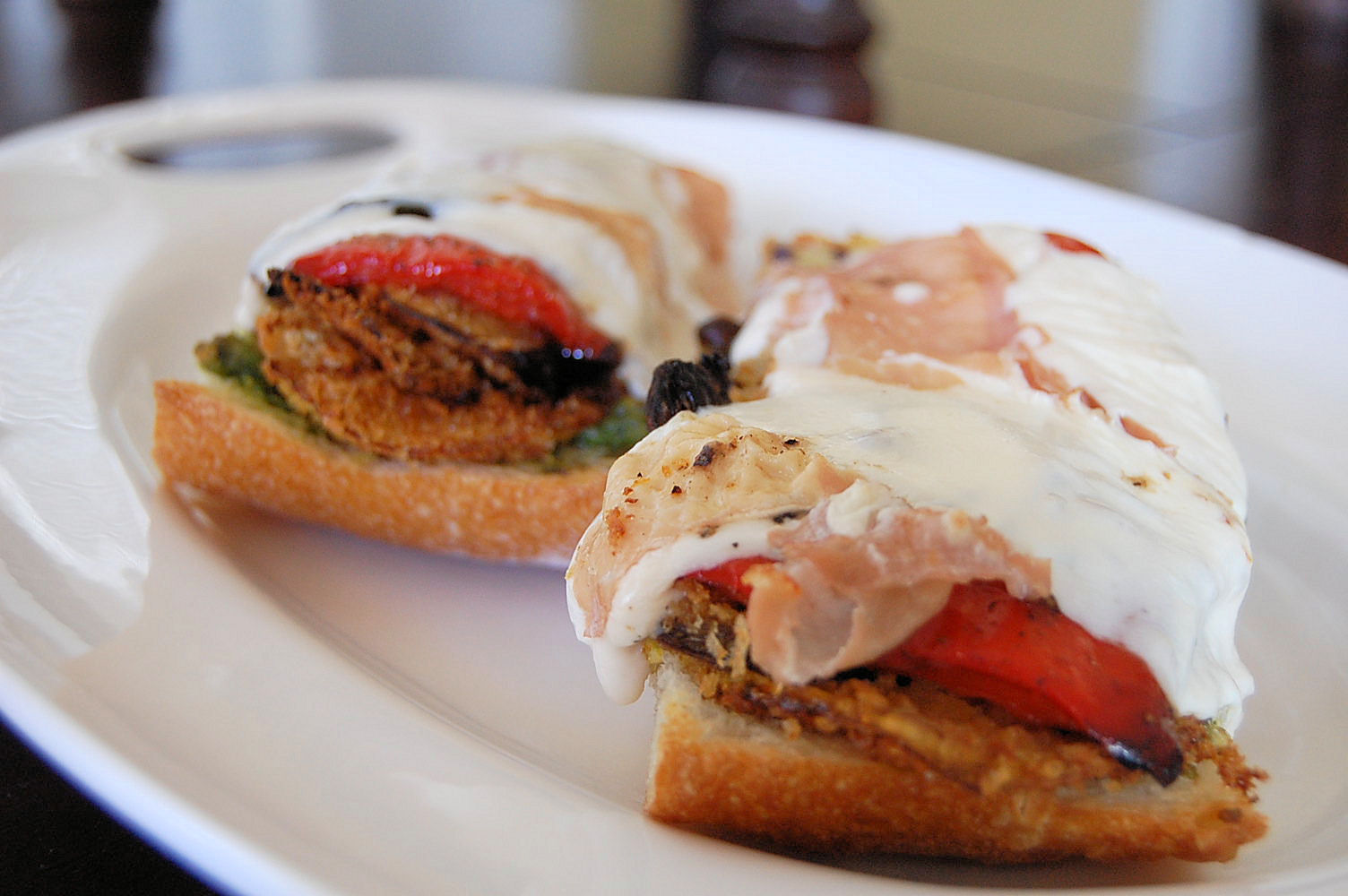 I was in the mood for ( and by that I mean I am pregnant and was CRAVING) a really really good sandwich. My sweet sister-in-law Carey from Providence sent me home a large selection of vegetables she has been growing in her outdoor garden over the 4th and I have to say, she is quite the little farmer. I mean, I wouldn't expect anything less since she married into a farming family but she has definitely got one leg up on me with the gardening skills. Her squash are the biggest and sweetest squash I have ever seen or tasted- just take a look at these beauties. Can you believe it?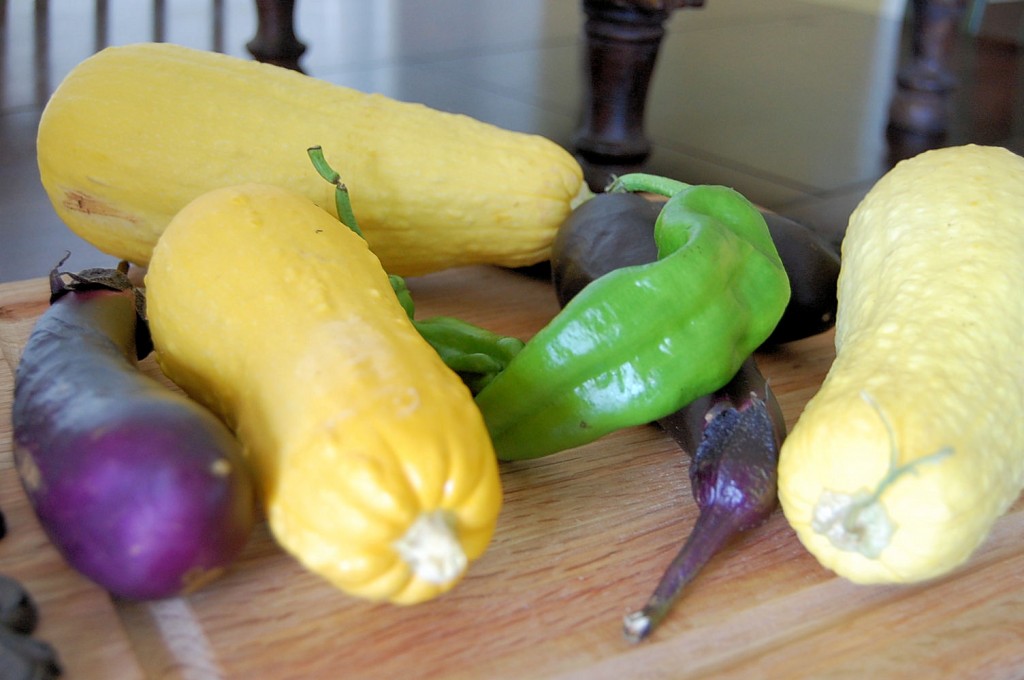 All this leads me to the Ratatouille Sandwich. I wanted to do my own twist on a vegetable sandwich and make it so incredibly irresistible  that my husband could not say no ( he is a meat lover). I decided to use Mediterranean ingredients and combine that with my homemade pesto, fresh sliced mozzarella cheese and you guessed it- prosciutto. To me, nothing beats the marriage of mozzarella cheese and prosciutto. These vegetables all atop a crispy mouth-watering piece of Artisan Sourdough Bread is something no one can resist. I expected it to be good but not this good.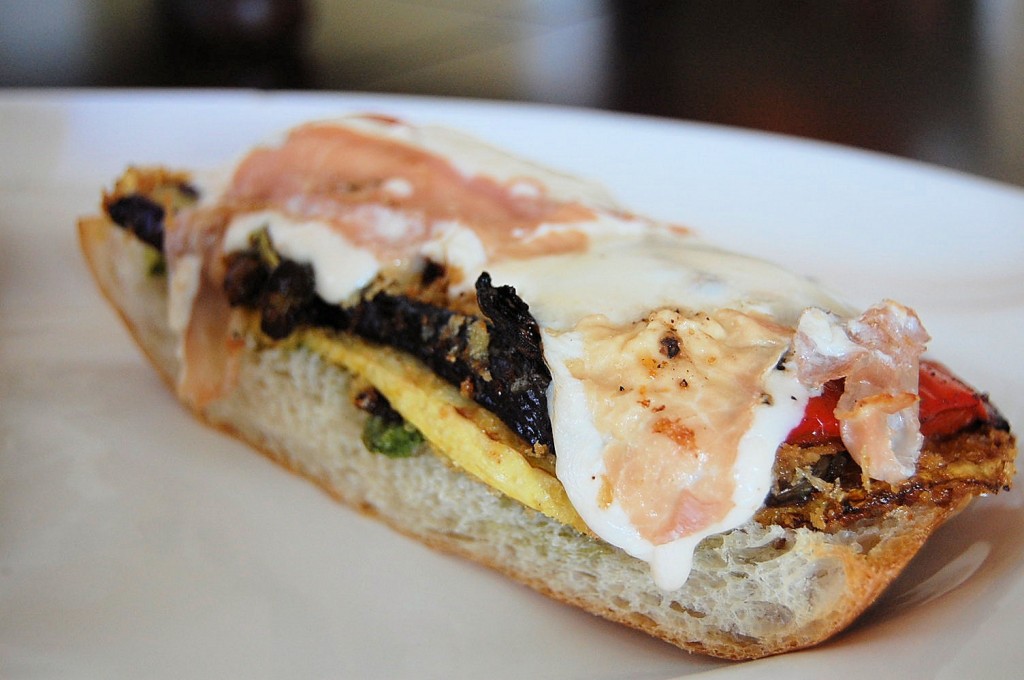 Although the balsamic roasted red bell peppers, onion and jalapeno peppers definitely contributed a lot of the flavor, I think the star of the show was the Panko crusted squash and eggplant. I thought pan-frying the eggplant and squash much like you would do for an Eggplant Parmesan dish would up the anty so to speak for the flavor. I seasoned my breadcrumbs, dredged those little veggies in eggwhite and then watched as pure magic happened right before my eyes. As I was examining and flipping the veggies to obtain the perfect crispness I couldn't help to find myself drooling over the thought of these crispy veggies loaded with roasted peppers and combined with cheese, prosciutto and a touch of pesto. When the husband came home and said "Oh what smells so good?" I knew I had accomplished my task. We both loved this sandwich and I hope you will too. Don't forget to have fun with it too- You can substitute the squash for zucchini, the eggplant with tomatoes and the onions for mushrooms.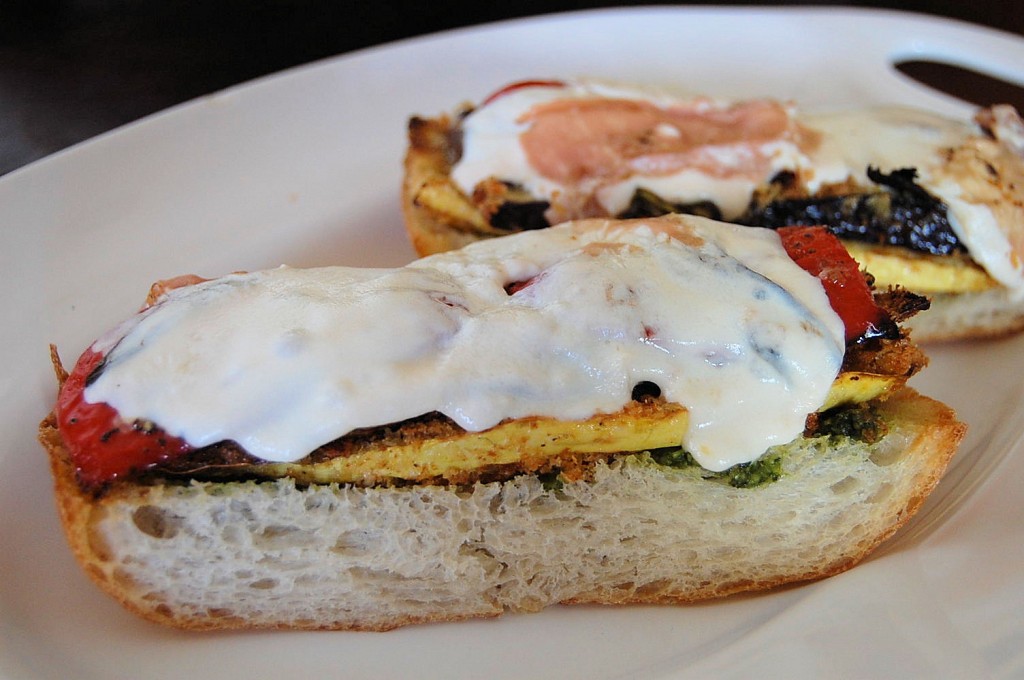 [print_this]
Open Faced Ratatouille Melt with Pesto
Ingredients: (serves 4 )
1 large squash, cleaned and thinly sliced vertically
1 large or 2 small eggplants, cleaned and thinly sliced vertically
1-2 red bell pepper, sliced
2 jalapeno peppers, sliced
1 small onion, sliced (like you would do for onion rings)
1 TBSP balsamic vinegar
1/2 tsp sea salt and fresh cracked pepper
2 cups Panko breadcrumbs (seasoned with 1/2 tsp salt and pepper, 1/2 tsp garlic powder and 1/2 tsp paprika)
2 egg whites, slightly beaten
4 ounces of freshly sliced mozzarella cheese
4 ounces of prosciutto
olive oil for frying
4-5 TBSP of pesto
1 loaf of fresh Artisan Sourdough Bread or your favorite time of bread
Directions:
Drizzle the red bell peppers, onion and jalapeno peppers with a touch of olive oil, the balsamic vinegar and season with 1/2 tsp salt and pepper. Roast at 400 for 15-20 minutes Set aside.
Dredge the sliced squash and eggplant into the egg white then into the breadcrumbs. Heat 1 inch of olive oil in a non-stick skillet and in batches pan-fry the eggplant and squash until golden and crisp- approximately 3-4 minutes per side, depending on the thickness. Set aside.
To assemble: Spread pesto on the bottom layer of the sandwich. Top with a layer of squash, then eggplant,  then onion, red pepper, jalapeno pepper, mozzarella cheese and the prosciutto. Place on a baking sheet and broil until cheese is melted (watch carefully as to not burn the sandwich). Serve open-faced or top with the other layer of bread- your call!
[/print_this]