In need of a little comfort food? Tuck into the classic southern side dish of pecan rice. Complete with my twist of toasted pumpkin seeds and a little extra spice. The perfect addition to any meal that is loaded with flavor!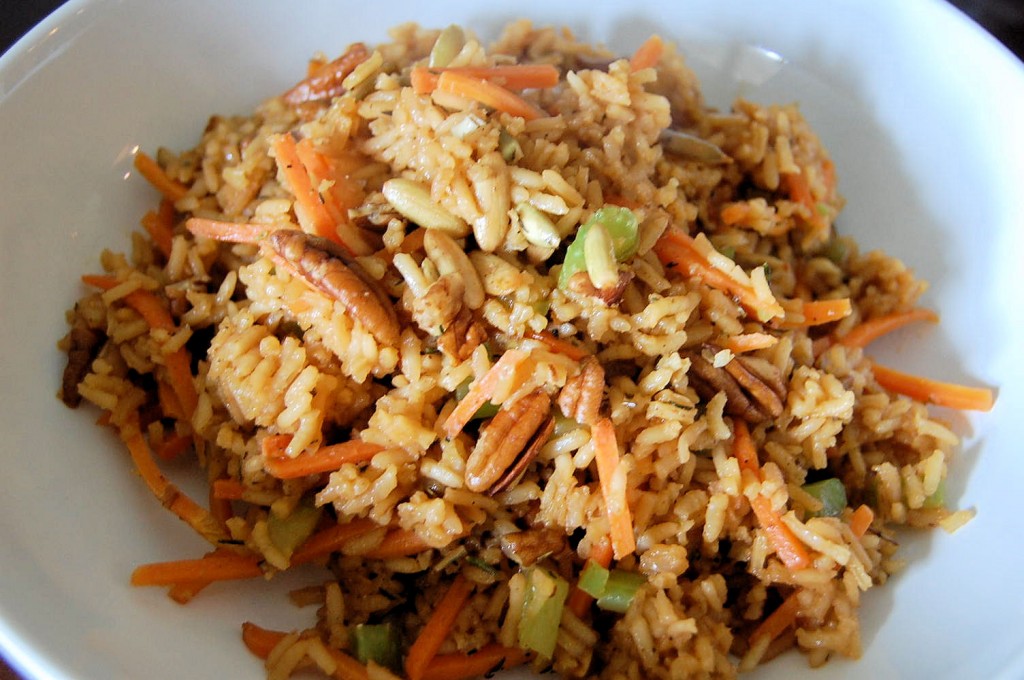 Pecans and pumpkin seeds toasted and mixed with  green onions, parsley, thyme and veggies make plain white rice come to life. How many times do you find yourself needing a side dish and having nothing but the boring old white rice to work with. I grew up on rice and by that I mean I literally grew up on rice. You see my dad not only grows corn but rice, beans and wheat. I remember all to well the look of awe on his face when I served him brown rice at my house a few years back. He was shocked at the horror of eating anything other than his beloved white on white rice! But that is why I love my Daddy! He dug in that brown rice to please his little girl and to his amazement he actually liked it! Go figure! However, we are not here to talk about brown rice. Sorry, I got off the subject a bit. I am here to enligthen you on a great white rice dish that is packed with so much flavor you will think it had been cooking all day long on the stove.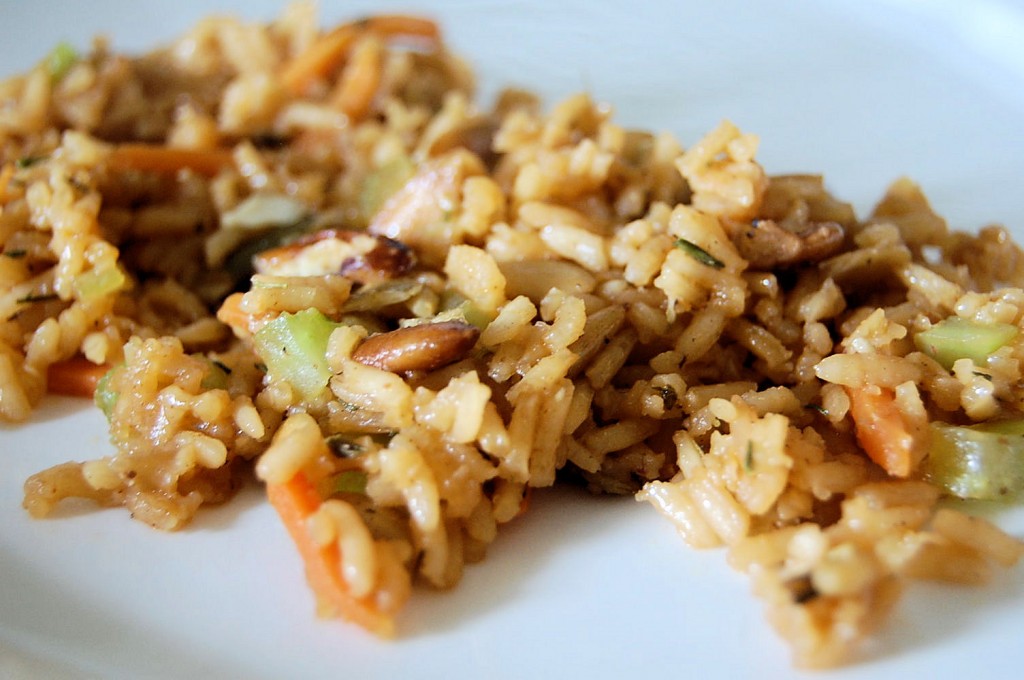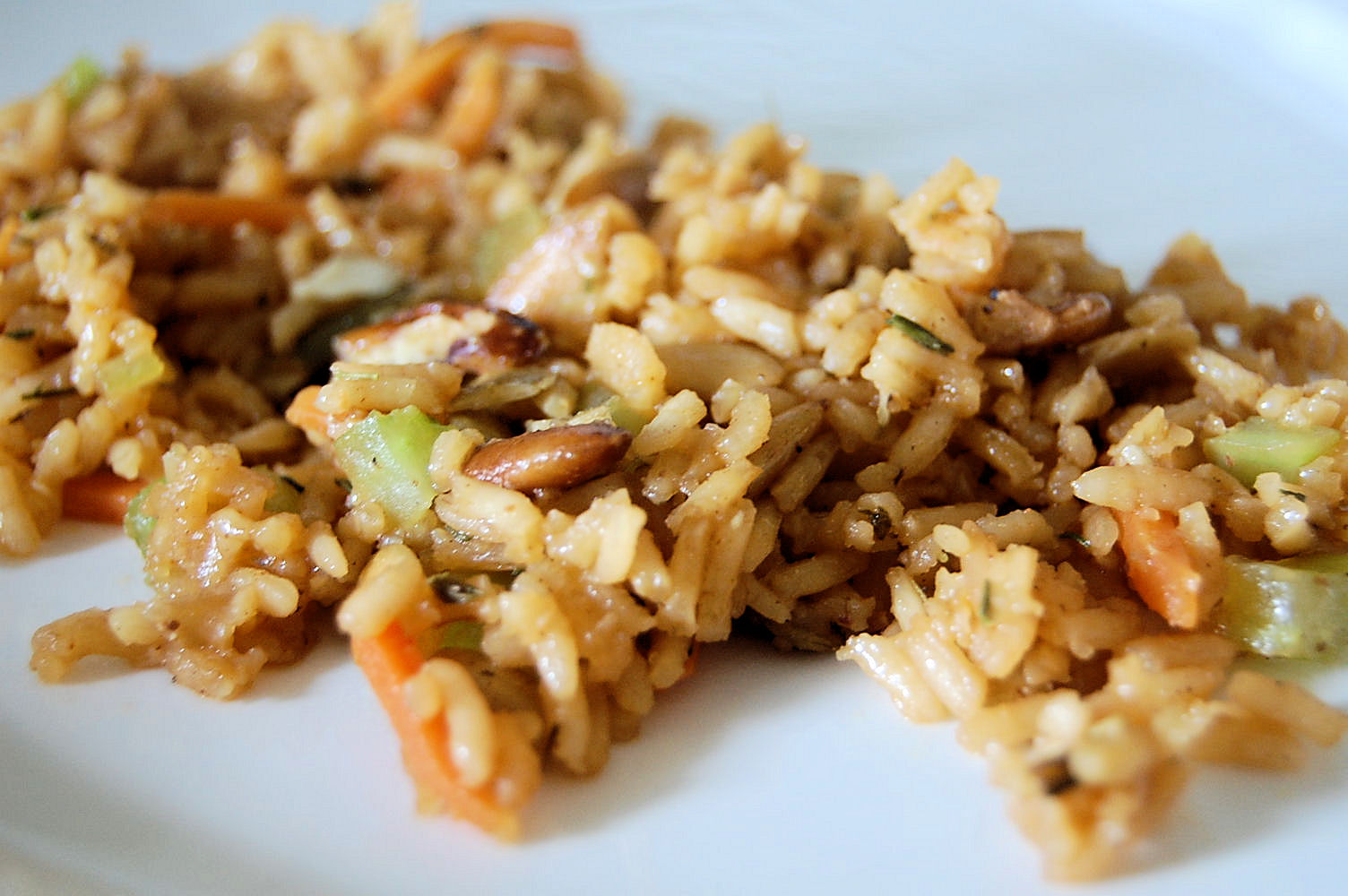 This pecan rice dish, also known as pilaf, has an amazingly rich and nutty flavor. The fresh carrots and celery bring a refreshing addition and the nuts give a nice crunch. My twist? Incorporating new spices I don't typically use that much and that is celery salt, onion powder and all-spice! Oh I am getting hungry just thinking about it! The rice pilaf pairs perfectly with both seafood and meat and can easily be frozen for up to 2 months for a quick, no fail side dish that will be ready in minutes!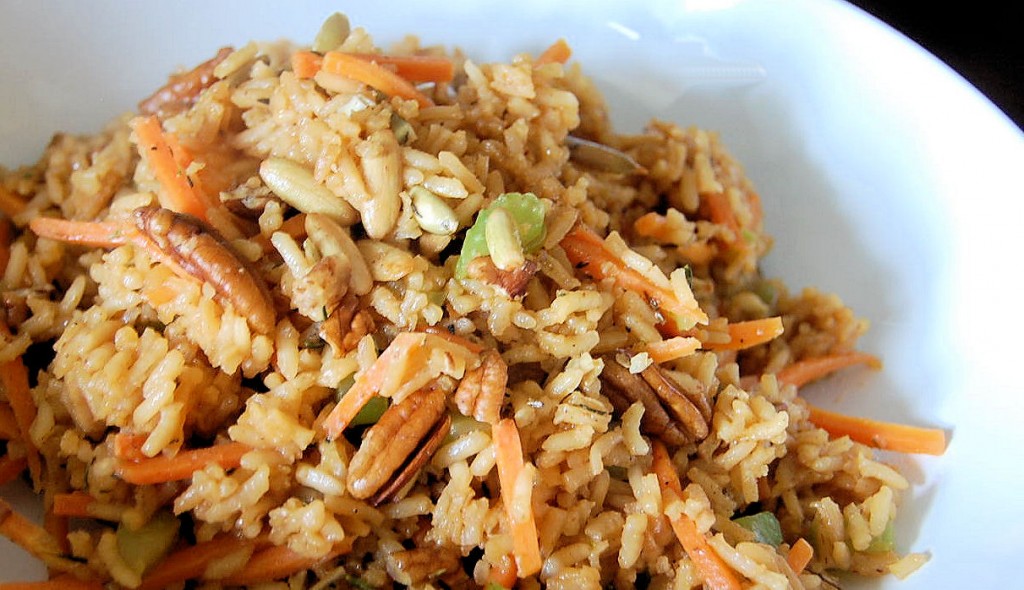 [print_this]
Pecan Rice
Ingredients:
4 cups of vegetable broth
2 cups of white rice
5 TBSP of butter, unsalted
1/4 cup carrot, grated or just buy the carrot strips
1/4 cup diced celery
1/4 cup green onions, diced
1/2 cup toasted pecans
1/4 cup toasted pumpkin seeds
1/2 tsp each of salt and pepper
1/2 tsp cajun seasoning
pinch of onion powder, celery satl and all-spice
1 tsp fresh chopped thyme
Directions:
In a large skillet, melt the butter over medium to high heat and add the rice. Stir to coat the rice and cook until slightly golden brown. Add the broth to the pot and cover. Bring to a boil, reduce heat and simmer for 20 minutes. Add in the celery, carrots, salt, pepper and thyme. Cover and cook for another 5-10 minutes, until all the liquid as been absorbed. Remove from heat and mix in the green onions, pecans and pumpkin seeds. Mix using a fork, barley fluffing the rice. Serve with freshly chopped parsley and can be served hot or at room temperature.
[/print_this]