Back in June I made a special little basket full of goodies for the World's Greatest Father (my Dad). I remember thinking as I was cooking everything that this would be such a great post for all my readers. Three simple yet amazing treats that you can make for any man on any special occasion that they will love!  With football season coming up I think it would be fun to whip up these treats for your men while they are glued watch their favorite college football teams.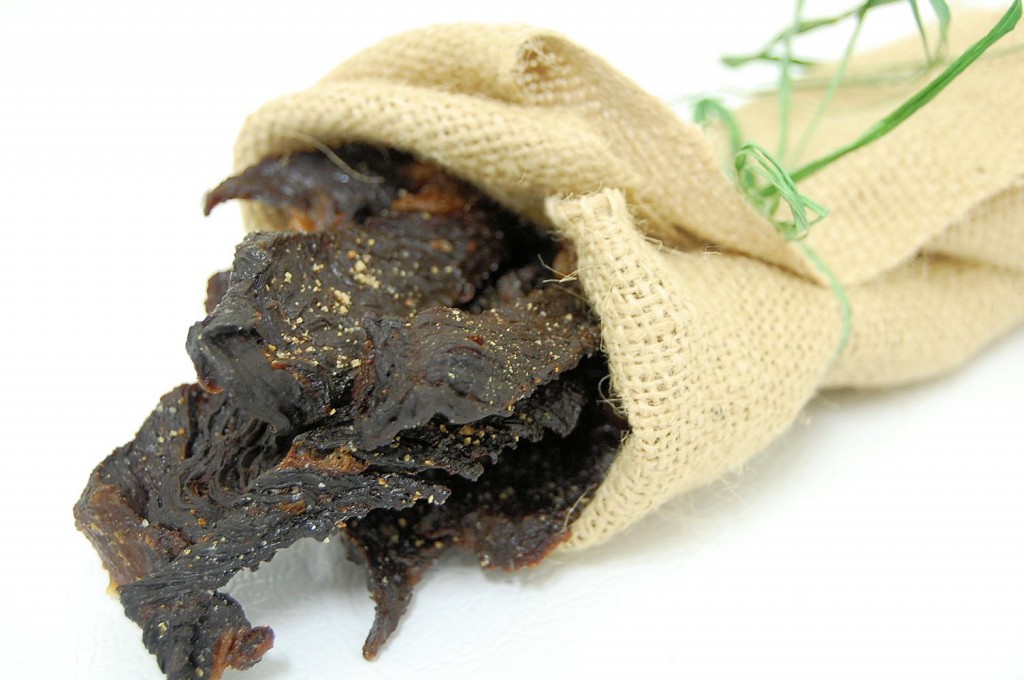 Homemade Peppered Beef Jerky, Beer Infused Caramel Fudge Sauce and Spicy Roasted Nuts. An old saying I grew up hearing is " A way to a man's heart is through his stomach" and I am pretty sure the women were referring to my treats here. I wish I had a picture to describe the look on my husband's face when he came home to the smell of beef jerky. He was like a little kid in a candy store. Good thing I made enough leftovers for him to divulge in before shipping off the rest to my Dad.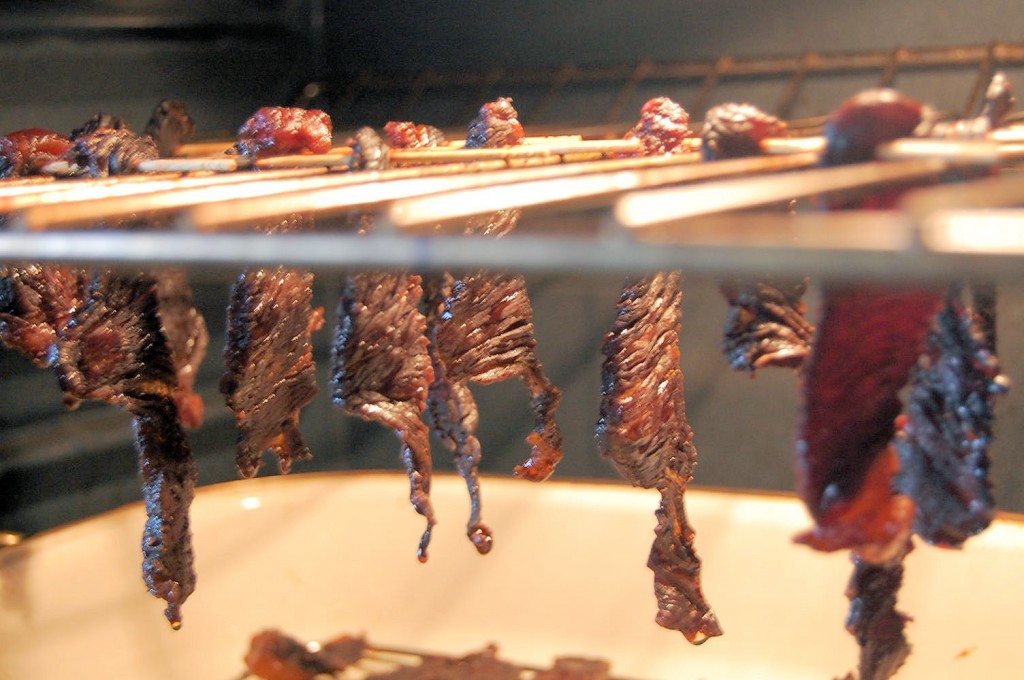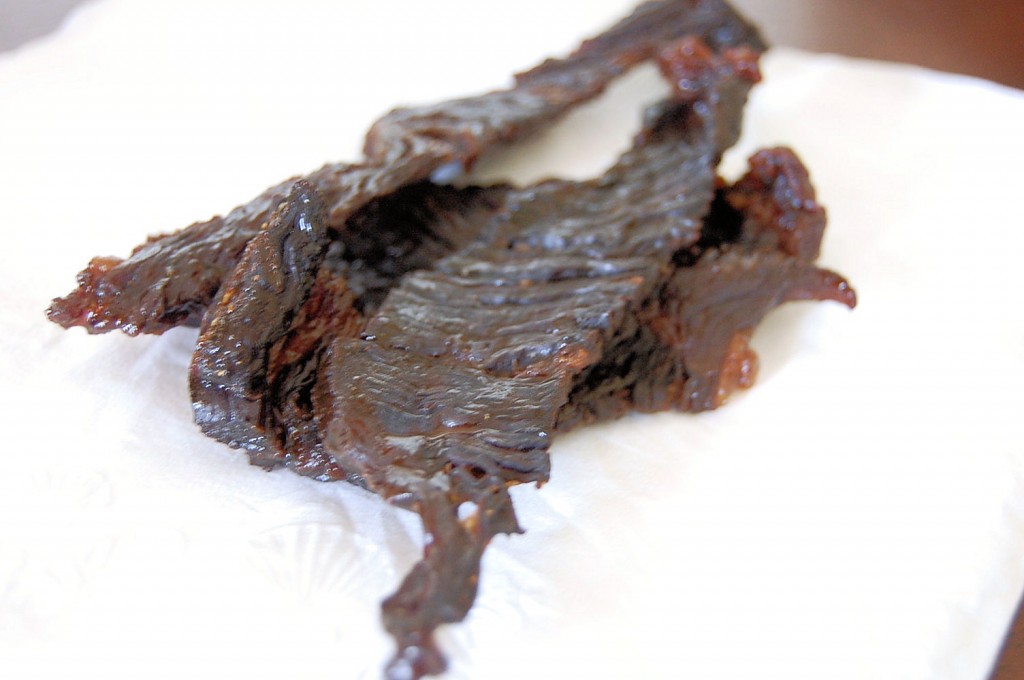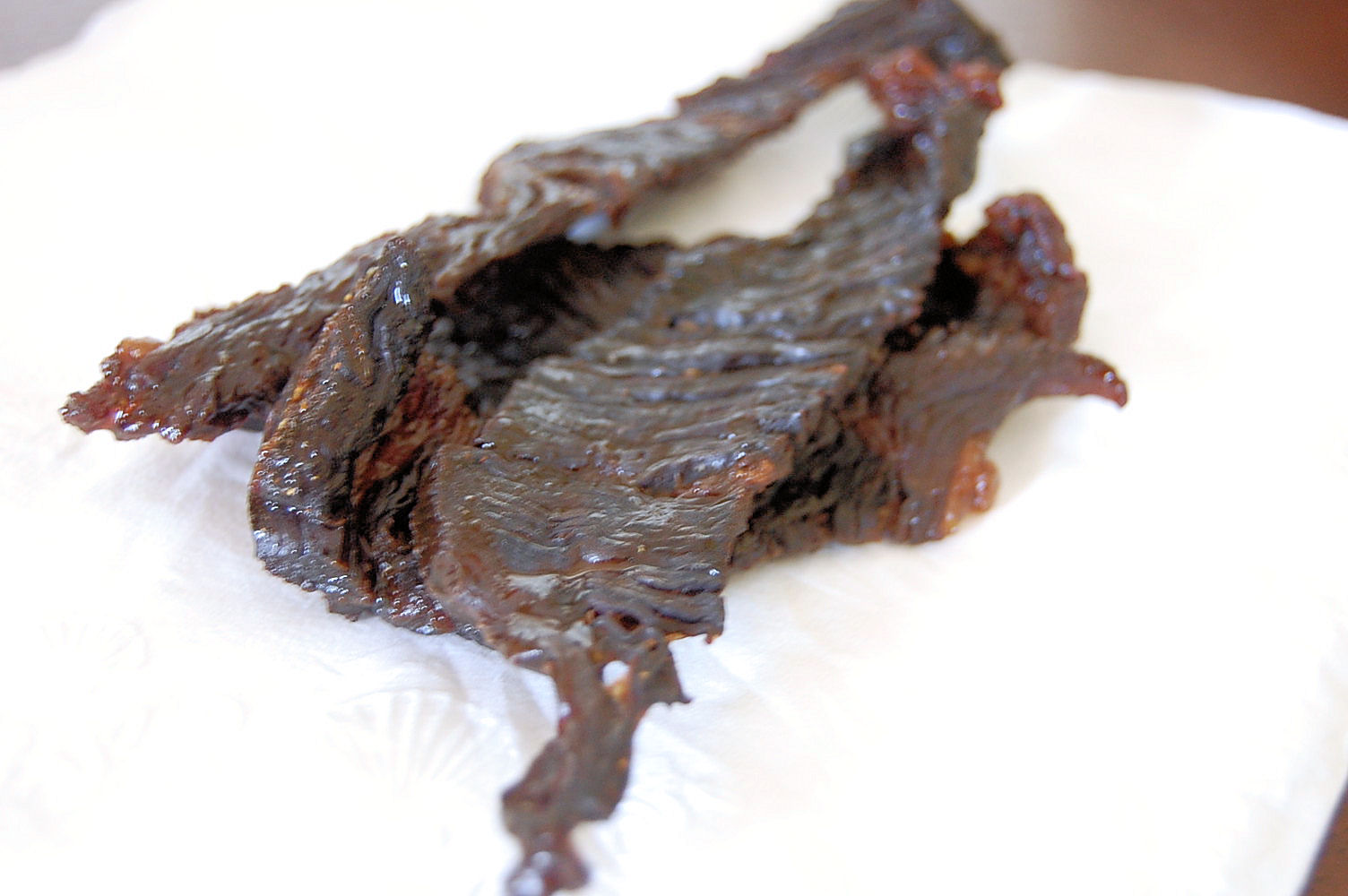 This was my first stab at doing beef jerky at home and one would think I would have been deterred from making it since I did not own a dehydrator but seriously, nothing can stop me when I have my mind on doing something so I simply researched other methods of cooking beef jerky. Thankfully the good old Food Network came a knocking at my door (like literally the magazine came that very week- coincidence- I think NOT) and I decided to give their old fashion version a try. Hard? No- Messy-Yes? Fun-You betcha! I would do it over again for my man any day!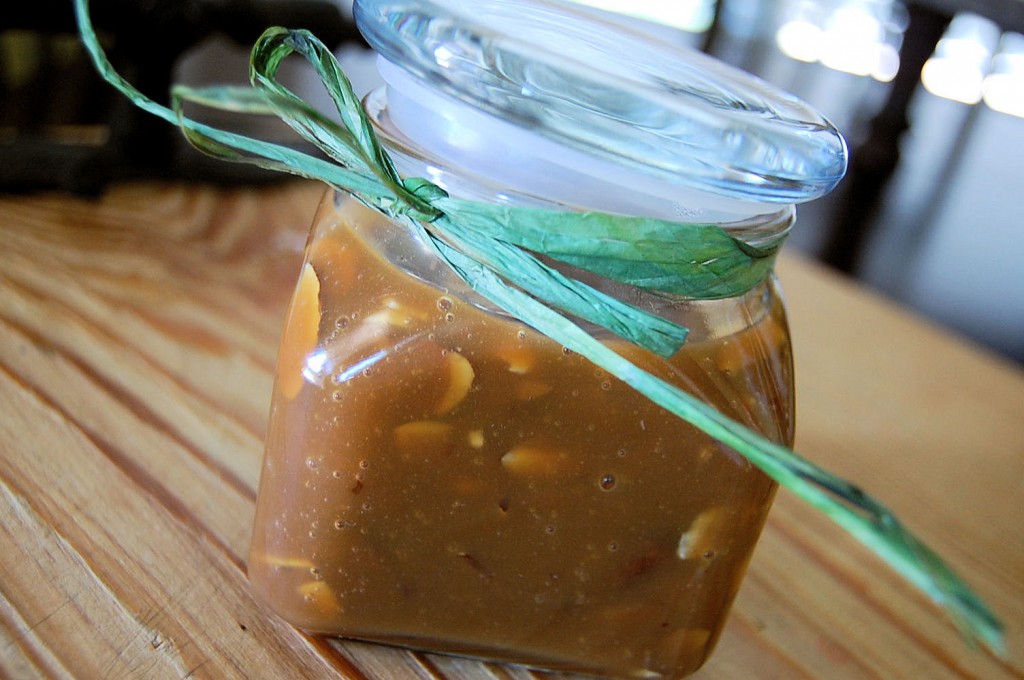 The caramel fudge sauce is simply just that with a hint of orange and beer flavor throughout to kick things up a bit and the nuts are to die for. You will not be able to stopping eating them- just let it be known that I warned you. Roasting nuts is a perfect appetizer for parties and game-days. It takes little time and energy and it is fairly inexpensive.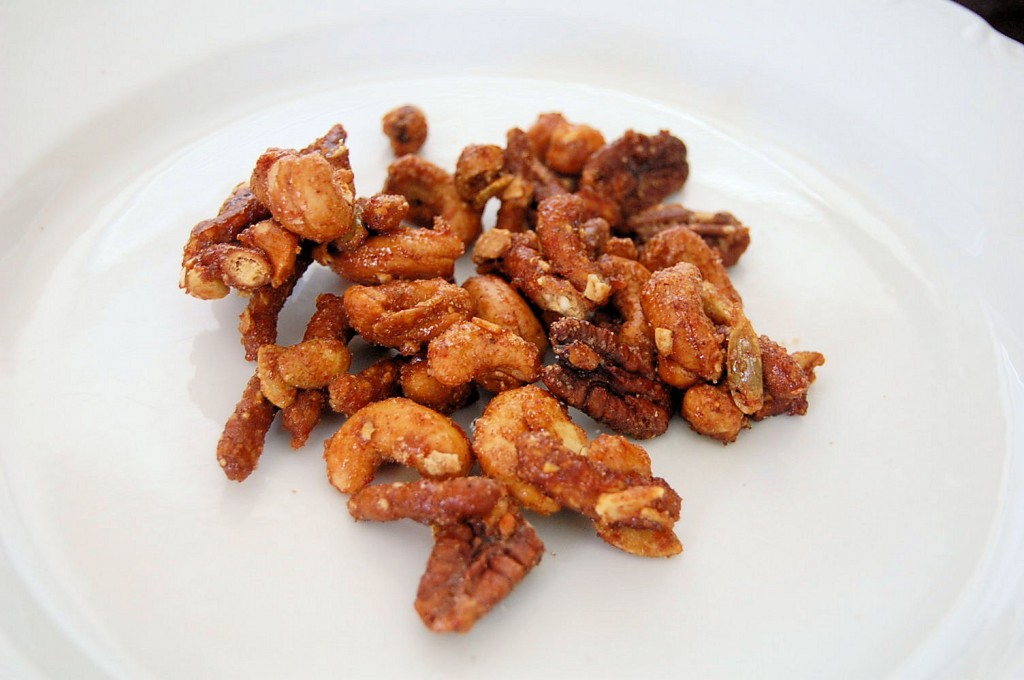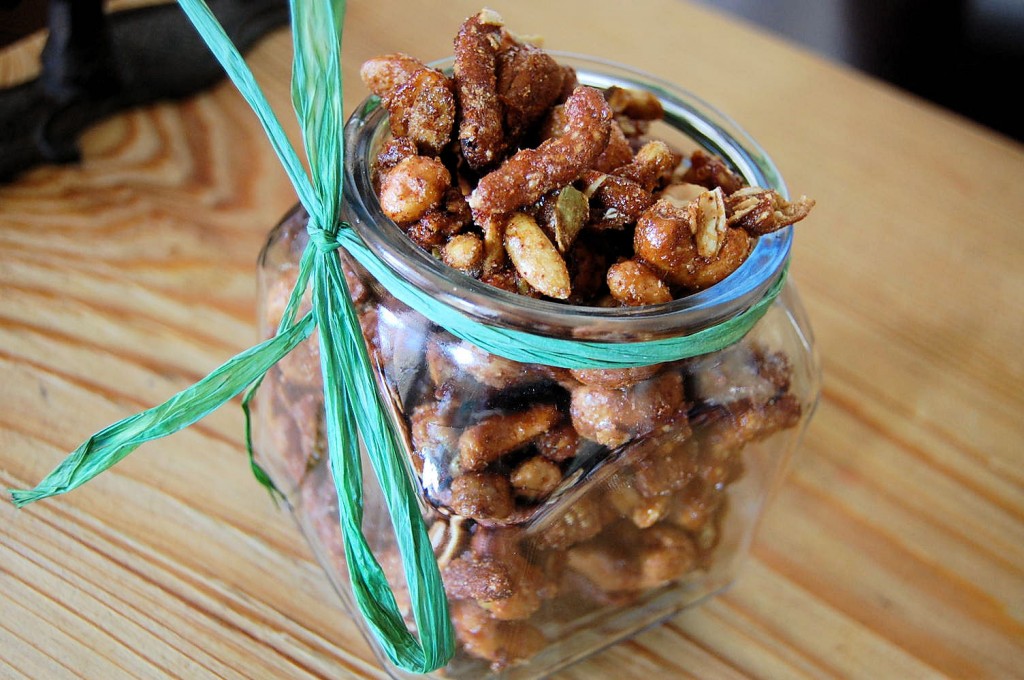 [print_this]
Smoky Cola Jerky
Ingredients:
1 cup coke
1/3 cup soy sauce
1/4 cup honey
1/3 cup rice vinegar
2-3 tsp sea salt
1 tsp cracked black pepepr
1 tsp paprika
1 tsp onion powder
2 chipotle peppers in adobe sauce
2 pounds of beef sirloin ( 1 inch thick)
Directions:
Mix together all ingredients in a saucepan over medium heat. Bring to a boil then reduce hear and cook for 12 minutes. Set aside and allow it to cool completely. Combine the meat and marinade in a ziploc bag and refrigerate for at least 24 hours.
Position a rack in the center of the oven, line the bottom of foil. Drain the meat, discarding the marinade, and stick a toothpick in the end of each strip of meat. Starting at the back of the oven and working forward, arrange each piece of meat between the grates so that the toothpick is resting on each grate. (see pictures above)
Once the meat is in the oven, bring the temp to 200 and cook for 2-3 hours until the jerky is tough but bendable.
Caramel Beer Fudge Sauce
Ingredients:
1 12 ounce bottle of beer
4 cardamom pods
zest of 1 orange
2 TBSP unsalted butter
1 1/2 cups brown sugar
1 cup heavy cream
1 tsp vanilla cream
pinch of sea salt
Directions:
Bring the first 3 ingredients t a boil over medium heat and then simmer, reducing to 1 cup, about 10 minutes. Stir in the butter and brown sugar. Cook for another 10 minutes. Slowly stir in the cream and cook until the sauce thickens, about 5 minutes. Remove from heat and stir in the salt and vanilla. Remove cardamon pods and let the sauce cool before transferring to a small jar. Can refrigerate for up to 2 weeks.
Spicy Roasted Nuts
1 tsp sea salt
1 tsp smoked paprika
pinch of ground mustard
pinch of seasoning salt
1/4 tsp garlic powder
1 tbsp soy sauce
1 egg white
1 tsp water
pinch of nutmeeg
dash of worchestire sauce
Directions:
Coat the nuts in the egg white mixture then mix in all seasonings including the Worcestershire sauce and water. Spread out evenly on a baking sheet and bake at 250 for 1 hour, stirring ever so often.
[/print_this]