Pork
Rice Noodles with Black Bean Sauce
Don't let the name or ingredients fool you with this pasta dish. Rice noodles are simply the easiest noodles you can possibly handle and the black bean sauce is far from being complex. There are plenty of recipes for black bean sauce most of which have you using a black bean paste you can find in most Korean markets. However, although I am a cook- I am also a mom with a million things on my plate so making a special trip to the Korean market (don't even know where one is) just doesn't make the errand cut. However, maybe one day it will because I am dying to get my hands on some of the fabulous Korean ingredients I see in a lot of recipes floating around here in blog land.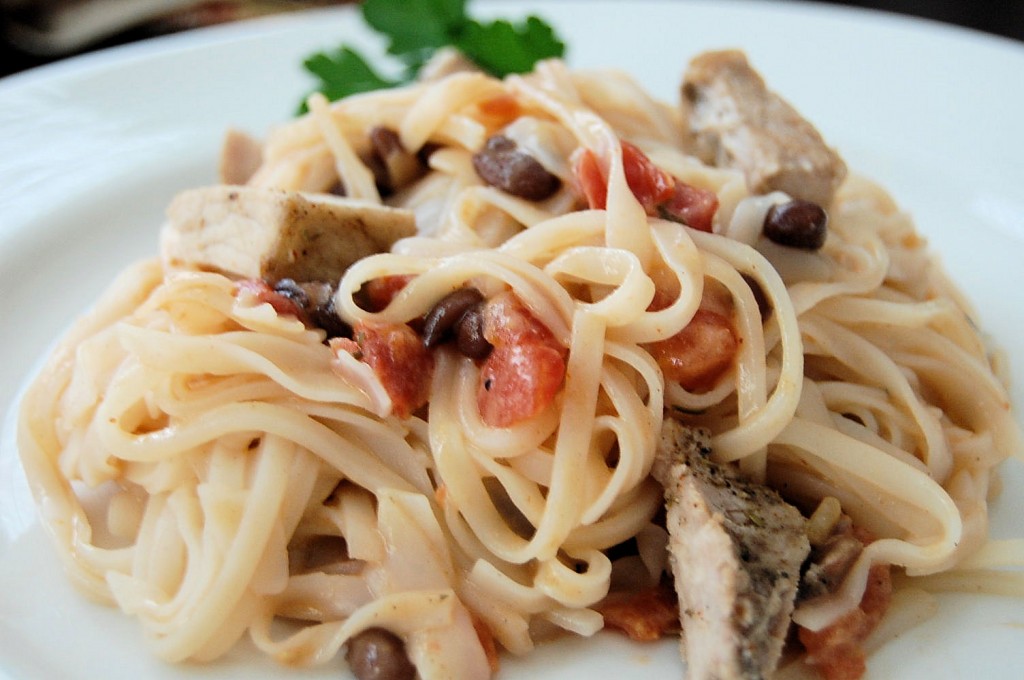 In light of not having black bean paste or fermented black beans (both of which you supposedly must have for a true authentic sauce) I decided to lighted up the idea of a black bean sauce by using dare I say- Canned Black Beans with a little more broth than usually required and for an even more rare twist I incorporated diced tomatoes. I know! It all seems to much to handle right now but just take it easy, have a seat and soak it all in before running to the store for all the ingredients!  It just made the dish sauce not as heavy as I have had it before and was in fact perfect for a light summer dinner. The taste was undeniably amazing and I like to think I have myself a winner.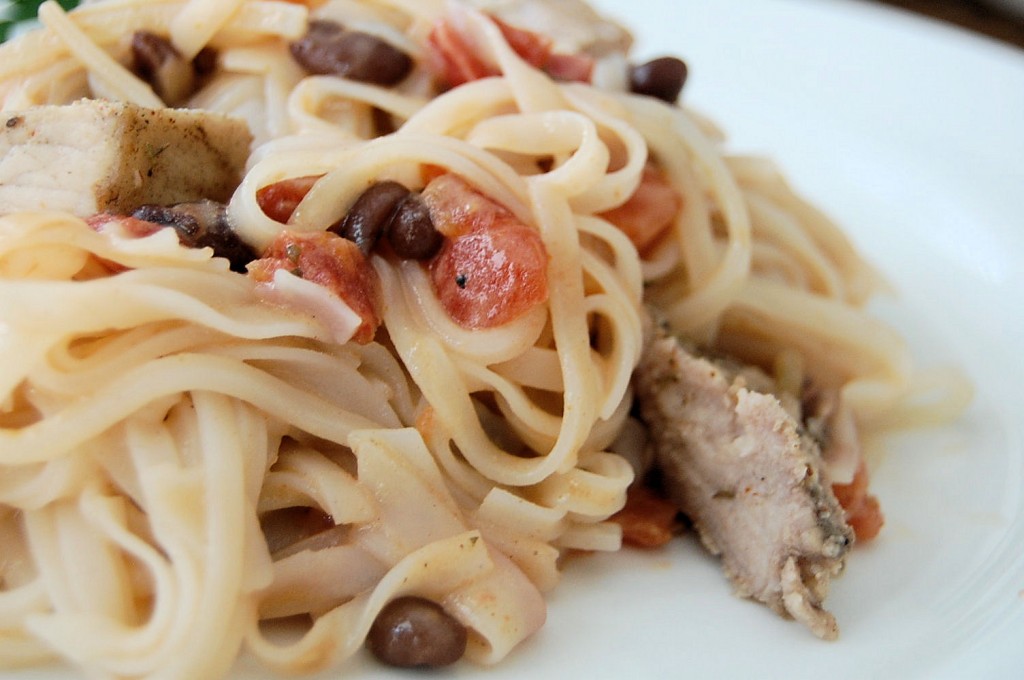 I began this post with how simple it is to cook rice noodles but what I didn't tell you was that I had never done worked with them until this dish. Though after one night of cooking this dish I can tell you I now have a stocked pantry of rice noodles! So how did my inexperienced attempt at these rice noodles pan out? Pretty well I must say! Actually, amazingly well!  I was so pleased with the simplicity of the noodles, the flavor and the perfect pairing alongside the sauce. Pork is one of my favorite things to eat with pasta (weird I know) so combining the grilled sweet pork with the black bean sauce was phenomenal.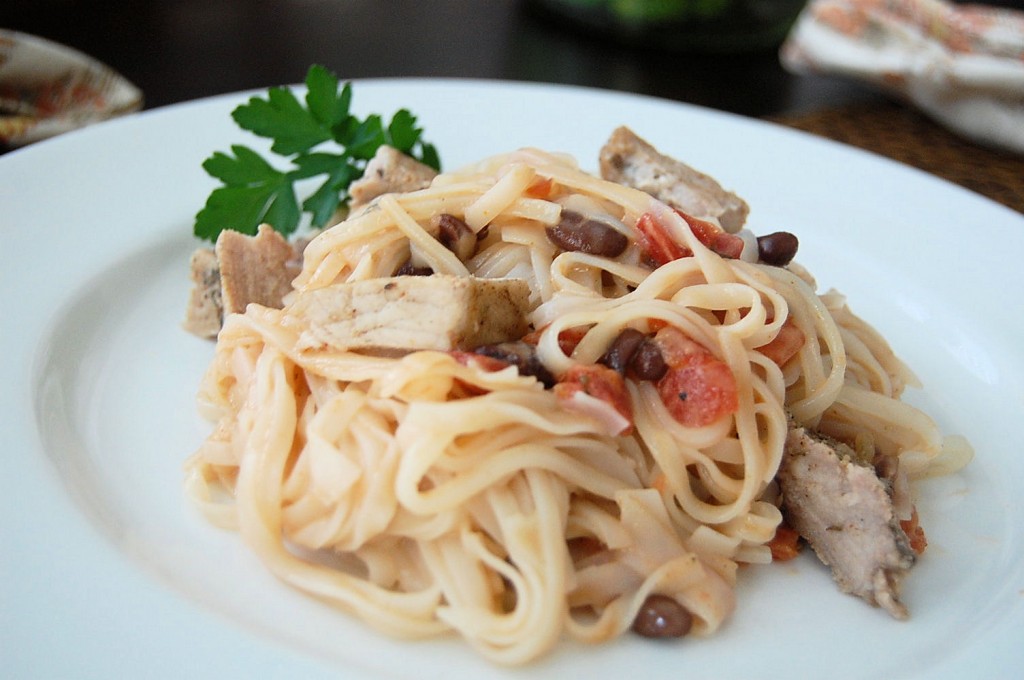 [print_this]
Rice Noodles with Black Bean Sauce
Ingredients:
For the Marinade:
1 -1 1/2 pounds of pork chops, cubed
1 tsp chili powder
1 1/2 TBSP Worcestershire sauce
4 TBSP sugar
2 1/2 tsp cornstarch
1/3 cup soy sauce
1/2 cup white cooking wine
2 tsp sesame oil
canola oil
For the Black Bean Sauce:
1 can black beans- do not drain (keep the juice for extra bean flavor)
2 bay leaves
1 tsp salt and pepper each
1 can of diced tomatoes (drained)
1/2 tsp paprika
1/2 tsp ground ginger
1/2 tsp soy sauce
2 cloves of garlic, minced
2 cups of water
2 cups chicken broth
Directions:
Combine the cornstarch, soy sauce, wine, sugar, Worcestershire, chili powder and sesame oil until smooth. Pour the marinade into a large resealable plastic bag; add the pork. Seal bag and turn to coat; refrigerate for 30 minutes to an 1 hour. In a large nonstick skillet or wok, stir-fry the pork in 2 teaspoons canola oil until juices run clear; remove and keep warm.
Place beans in a large non-stick skillet with all of the other ingredients except for 1 cup of the broth and water each. Bring to a boil, then reduce the heat and simmer, uncovered, for about 1 1/2 hours. Add additional water if needed. Remove bay leaves, then using a potato masher mash the potatoes until the mixture resembles a thick sauce. Add the remaining cup of chicken broth and water and stir like crazy! Season with extra salt if necessary and return pork to the pan.
Cook rice noodles according to package directions. Drain noodles; toss with pork and bean sauce.
[/print_this]