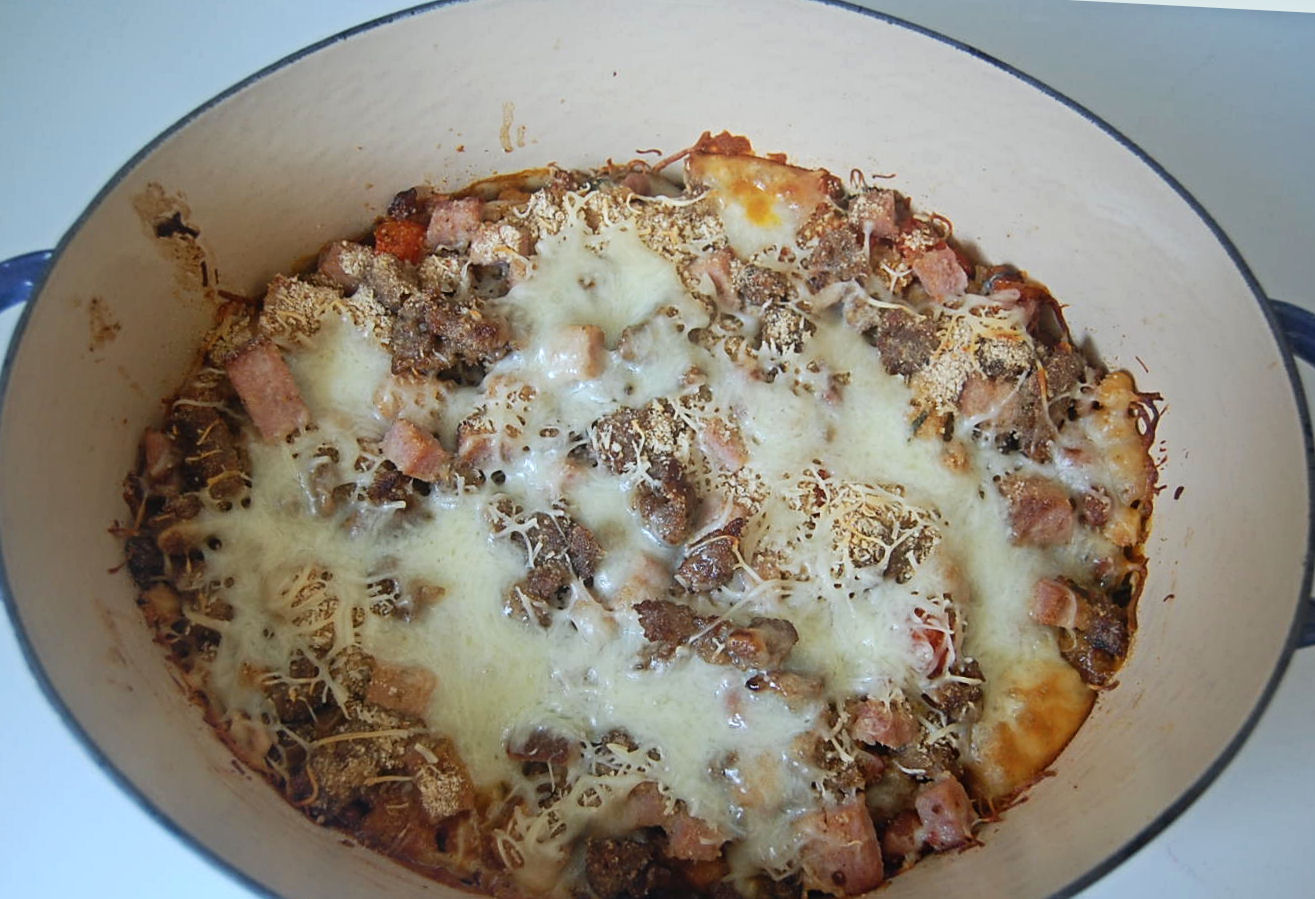 I feel like the world is going to come to an end with this post. As if Julia Child herself is going to magically appear and give me a big fat F for my latest dish- My Three Bean Cassoulet. This was my first time making a cassoulet and I was a little skeptical if I would like the original version due to all the soupy, broth stuff going on. Nonetheless, I had spotted a cassoulet on a blog recently and it looked so delicious I knew I had to give this rather peculiar dish a try.
A cassoulet is a rich, slow coked bean stew or casserole, hence cassoulet. It's a great recipe for its simplicity but time consuming nonetheless. I believe there is nothing wrong taking a traditional version of a dish and making it into a quick no fail recipe. This is where I feel like Julia would give me a failing grade.  You see, not only did I make my cassoulet very very chunky but I made it in 1/3 less of time than her recipe calls for and to her horror- I replaced the traditional duck and turkey with sausage, ham and prosciutto and I added cheese! Yes- I added cheese to the top. I couldn't help myself. When I even hear the word cassoulet I think cheese and by golly I couldn't let this dish slip through my hands without adding some.
I am now a firm believer in Cassoulets! They are amazing. Full of flavor, so rich and hearty. I added Italian sausage, sweet honey ham, prosciutto, cherry tomatoes, herbs, onions, garlic, three beans and loads of bread crumbs. All of which resulted in the most fantastic flavor. It just says Welcome Home! Although it has continually reached over 100 here in Texas this summer, on this particular day it was rainy and windy so no one can have an excuse not to make this dish- hot or cold, rainy or sunny! It is perfect!
Honestly, I love Julia Child and I think all of her recipes ROCK but with all due respect, there is no need to have a cassoulet take you all day to make. You cook your meats, saute your veggies, drain your beans (yes, go ahead and by all means just use canned!) and pop this sucker in the oven. 30 minutes prep time TOPS and 45 minutes of baking. Now, doesn't that sound good?
[print_this]
Thyme Scented Three Bean Casoulet
Ingredients:
1 pound of Italian sausage
1 1/2 cups of diced ham (I used honey but you can chose your flavor)
1/4 pound of chopped prosciutto
3/4 cup shredded mozzarella cheese
3/4 cup shredded Parmesan cheese
1 can cannellini beans
1 can garbanzo
1 can kidney beans or white beans
1 onion, finely diced
4 cloves of garlic, minced
1 pint of cherry tomatoes, halved
2 bay leaves
1/2 bunch of fresh thyme
1/2 bunch of fresh parsley
1 tsp salt and pepper each
1/4 tsp red pepper flakes
1/2 tsp paprika
1 cup of panko breadcrumbs
1 TBSP fresh lemon juice
Directions:
In a medium skillet cook sausages in oil over moderate heat, turning them, until browned on all sides and cooked through, about 8 minutes, and transfer to paper towels to drain.
In the fat remaining in the skillet cook onions and garlic, stirring, until golden and tender. Stir in the cherry tomatoes, herbs, bay leaves, chicken broth, white wine and seasonings. Cook stirring occasionally to help break down the tomatoes, for about 10 minutes (pressing the tomatoes to release their juices). Stir in the beans and cook, stirring, until heated through. Discard bay leaf.
To Make the Topping:
Toast the breadcrumbs with a drizzle of olive oil along with the lemon juice in a medium saute pan over medium to low heat for 2-3 minutes. To prepare the cassoulet, Spoon half of the tomato and bean mixture into a 3 quart casserole dutch oven. Spread the ham and sausage over it, then top with the remaining bean mixture. Sprinkle with bread crumbs and cheese (if you prefer) then drizzle with olive oil. Bake at 350 for 45-50 minutes or until the sauce has thickened and the cheese has fully melted. Allow to sit for at least 15 minutes before serving.
[/print_this]