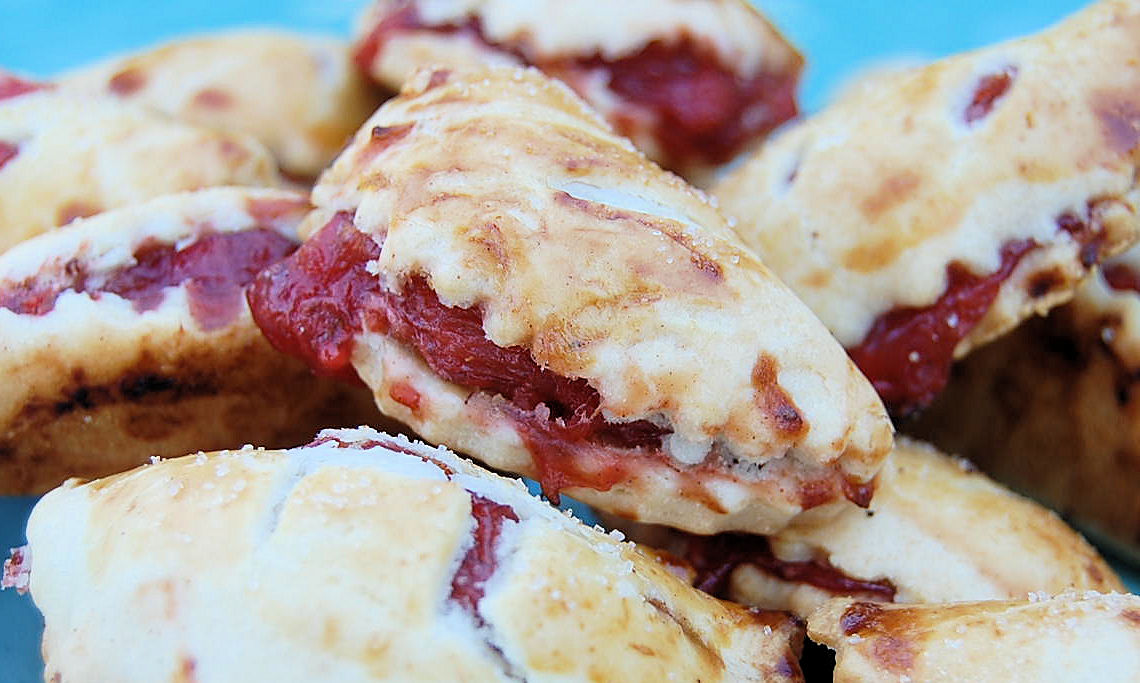 Nothing says summer than fresh fruit and I have a perfect summer dessert that is just waiting to be put into those hands. Sweet strawberry and rhubarb filling all wrapped inside delicate homemade pie dough and baked to perfection. Crisp, sweet and the ultimate backyard treat!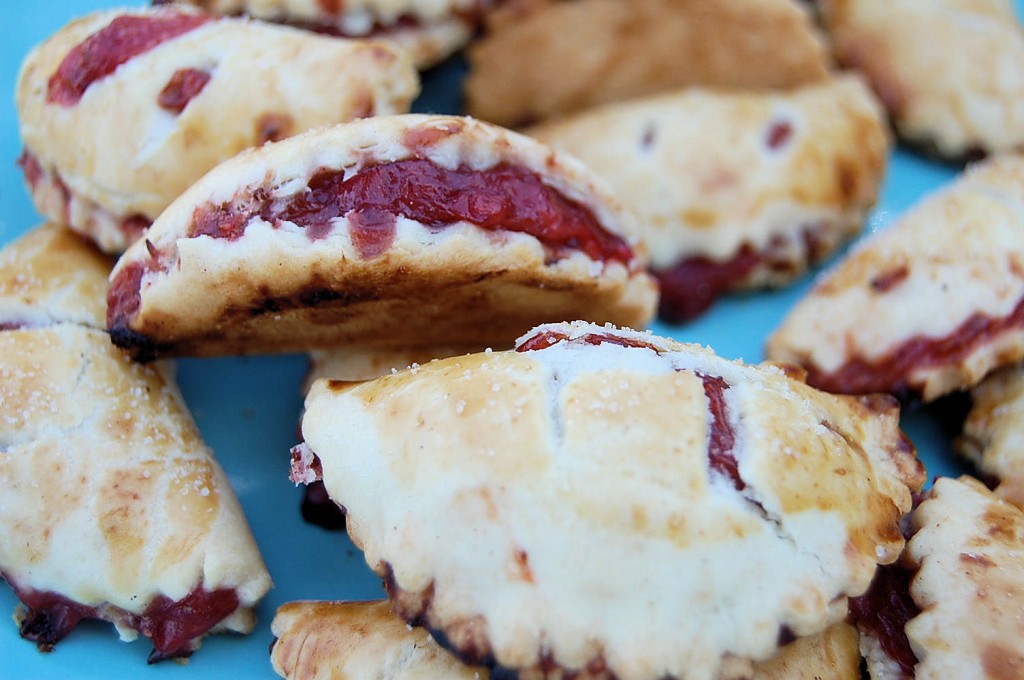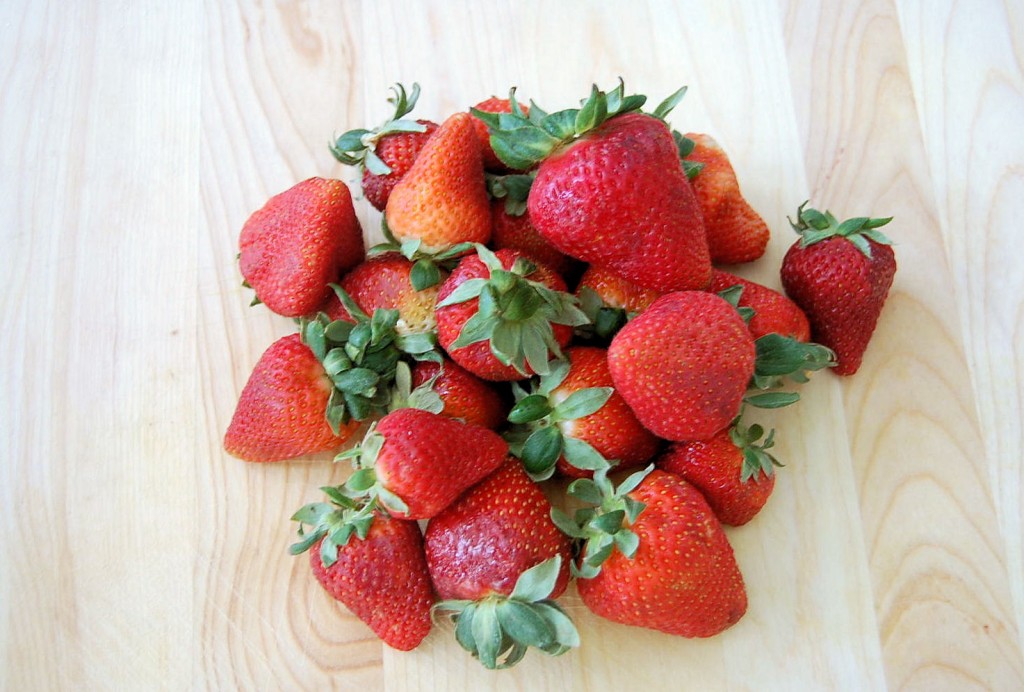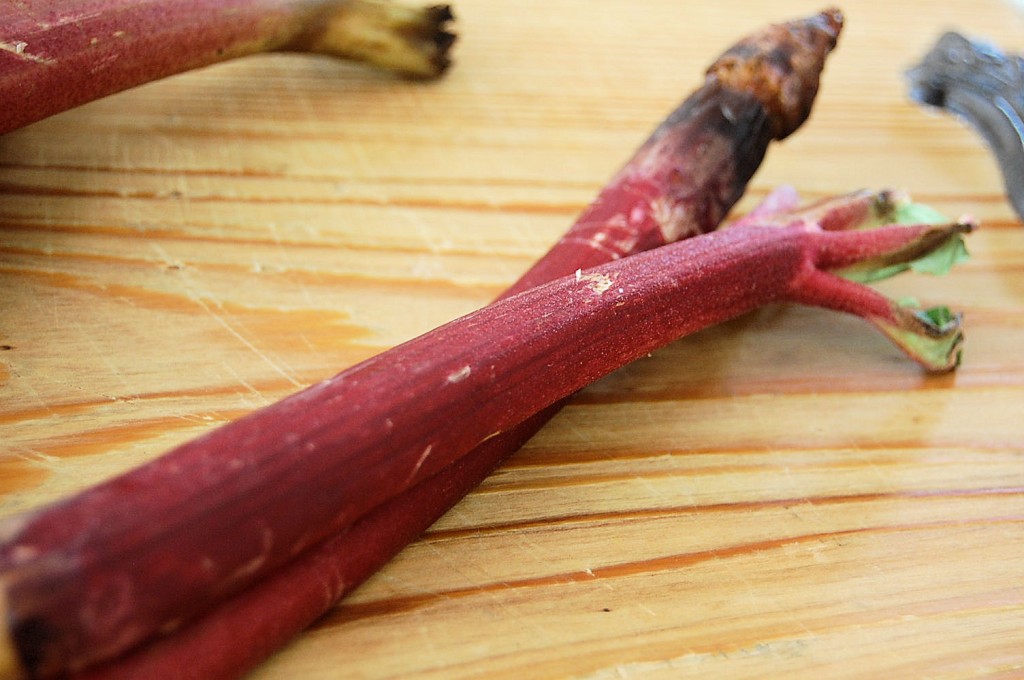 I wish I had something really clever to say about these pies but I will instead give you a few of my favorites lines about the nature of pies from none other than Ms. Smitten Kitchen herself.
"Do you have a favorite pie? I always think of pies falling in two categories, the prom queens, the blue ribbon prize winners, the ones that the president can't keep out of his thoughts, and the rest of them. In the latter category there are the soggy bottoms, the overly-gelled fillings, the mortarboard crusts, the treacly sweet and those flawlessly latticed, magazine-ready specimen that turn out to have [insert your least favorite pie filling here] under their pretty lids."
"I love strawberry-rhubarb pie, in spite of or perhaps because of its old-timey charm; at their best, cooked strawberries taste like cotton candy and rhubarb is the perfect almost citrusy-sour contrast."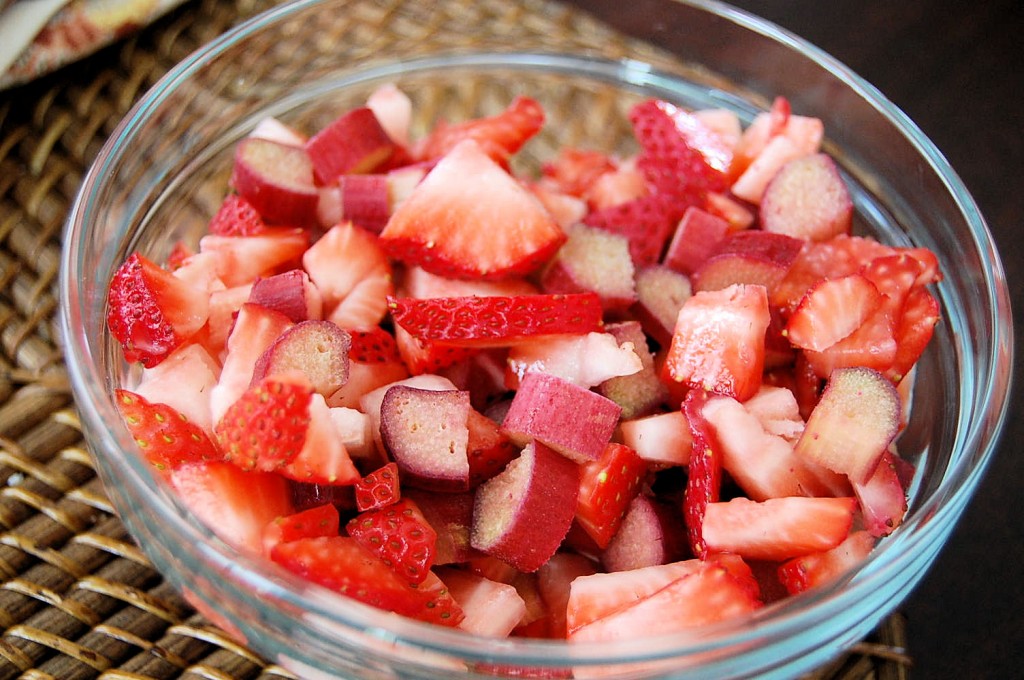 Is she right or is she right? When I really sat down and thought about it, I typically tend to make a super delicious but not so good looking pie or either a drop dead gorgeous pie with a not so good filling. Well that was my past and now I am happily looking to the future seeing my new creation Strawberry and Rhubarb hand pies that are full of flavor, about the easiest pie you will ever make and perfect, perfect for day our in the sun. I am seeing these hand pies making a nice little appearance at our annual Fourth of July party here in a few weeks. What do you think?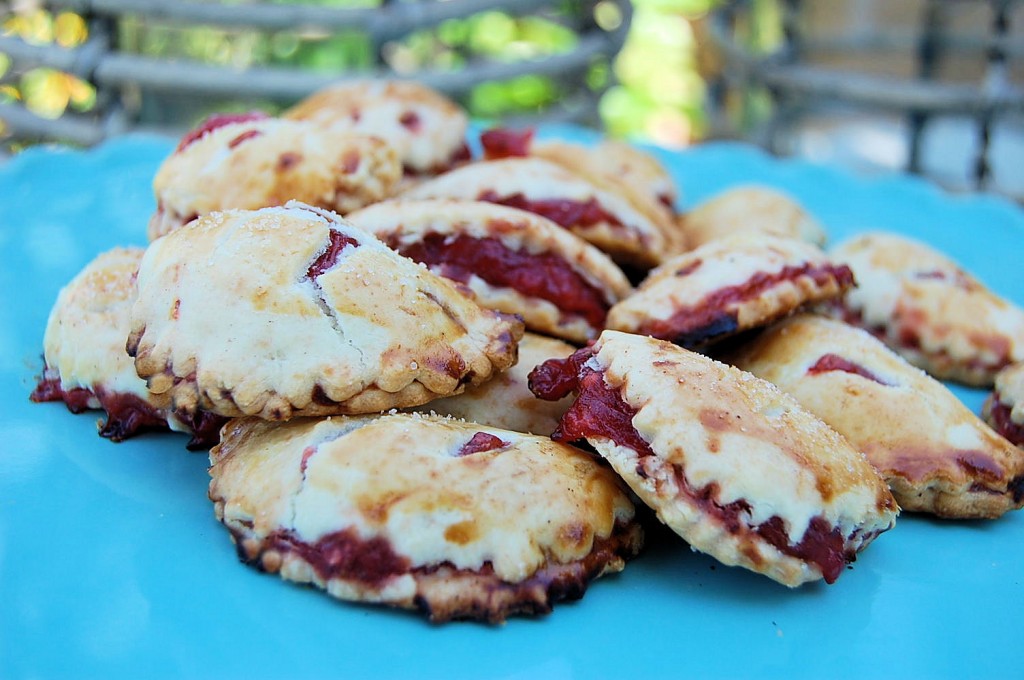 This was my first time to really cook with Rhubarb. The flavor is so tart and citrusy and now I know why it pairs so well with the sweetness of strawberries. I always wondered why people put the two together and now I get it! We all know that I like my store- bought pie dough but I was making these for my friend Christina's surprise birthday party a few weeks ago and I wouldn't settle for anything but the best. I rolled up my sleeves and dug into my grandmother's homemade pie dough recipe. With flour everywhere and my heart racing I attempted her pie dough yet again and once again it turned out just perfect- although never ever as good as when she does it. Her recipe is easy and a no fail way to make the ultimate homemade pie dough.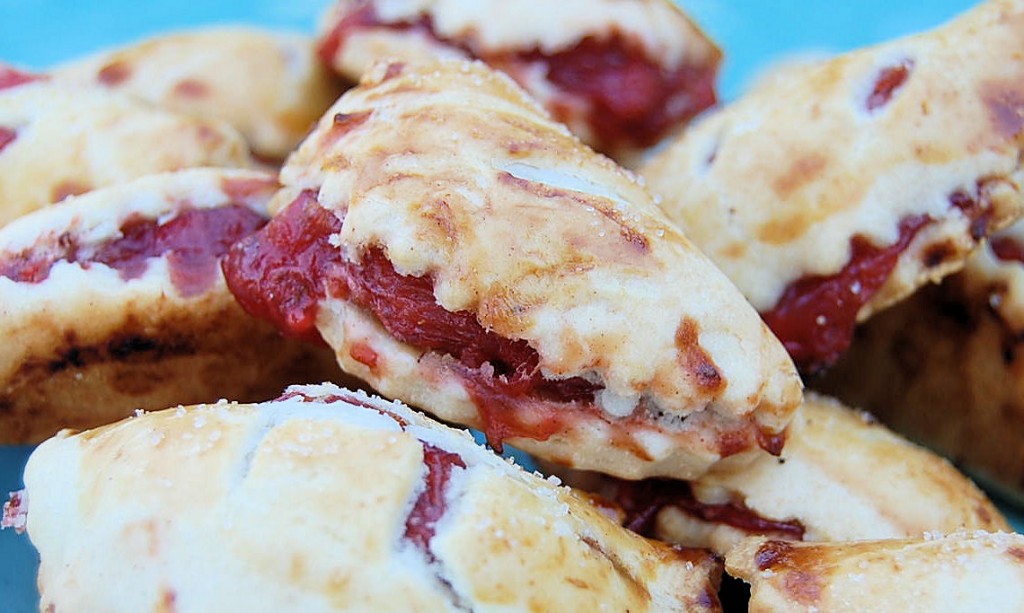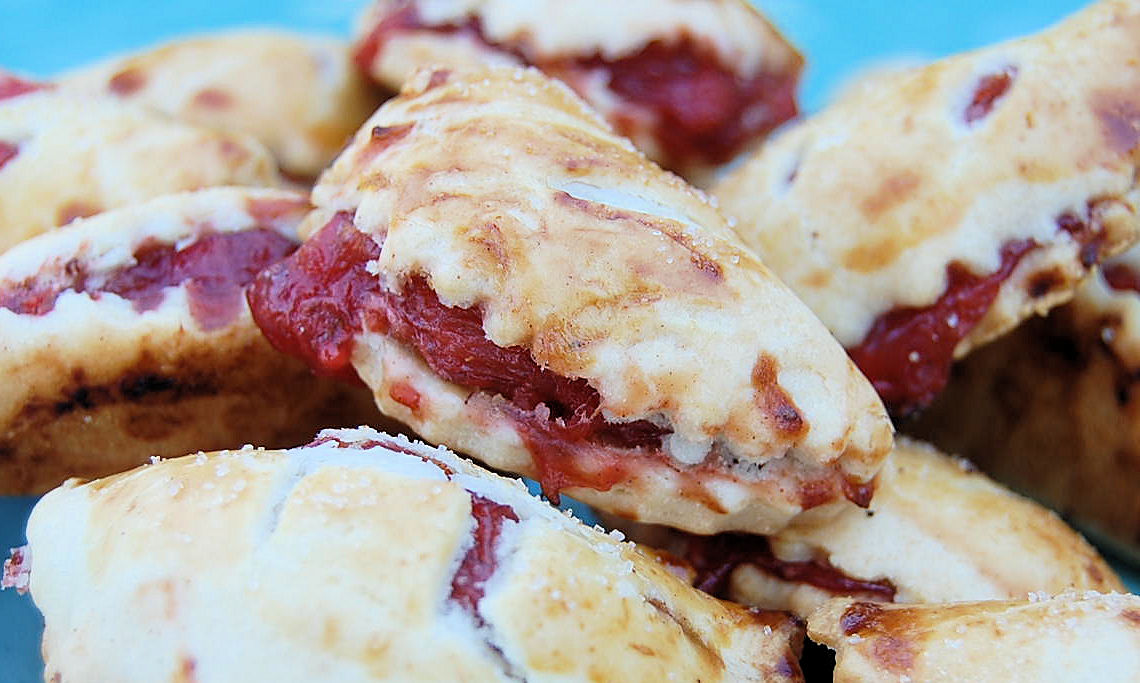 [print_this]
Strawberry and Rhubarb Miniature Pies
Ingredients:
Filling:
3 ounces of strawberries, sliced
3 ounces of rhubarb, diced
1 TBSP cornstarch
zest of 1 orange
2 TBSP of orange juice
2 TBSP fresh lemon juice
1/2 cup sugar
pinch of salt
1 tsp ground cinnamon
Pie Crust:
2 1/4 cups AP Flour
1/4 stp salt
1/4 cup butter, cold and cut into 1 inch cubes
4 TBSP sugar
1/4 cup shortening, cold
3 TBSP ice water
2 TBSP orange juice
Directions:
Combine all the ingredients for the filling in a small saucepan and heat on medium low until it reaches a slow boil. Reduce heat to low and sit, stirring occasionally, for 5-7 minutes.  Set aside
Combine the flour, salt and sugar in a large mixing bow. Cut in the chilled butter and shortening until it resembles coarse meal or small peas. Drizzle with ice cold water and orange juice and using a fork blend until all combined. Knead the dough lightly and shape dough into a disk. Divide dough in half.
Roll the first half out to 1/8 inch thick and using a 2 1/4 inch biscuit cutter with fluted edges cut out as many circles as you can. Now you can either use one circle per hand pie as I did in the pictures above or you can use two circles per pie. If you are using one circle then just place the 1/2 -1 tsp of filling into the center of the circle and fold over in a moon shape, crimping the edges to seal the dough. Or if using two dough circles, place the filling in the middle of the first circle and top it with the second circle. Crimping the edges to seal the dough. Brush with 1 TBSP of cream and 1 egg yolk. Cut a small slit in the top of each pie and place in the freezer for 10 minutes. Bake at 375 for 20-25 minutes until the tops are nice and golden brown.
[/print_this]