At this Time I am Not Selling Anymore Belle Bands. Thank you for your support. My Goal of $30,000 has been met- Praise the Lord!
I haven't updated you all in a while as to what is going on with my Shelter A Child project. As many of you know, about 3 months ago I personally committed to raising $30,000 to build a church orphanage in the Girhorwe community of Rwanda. I am partnering with ICM, International Cooperating Ministries, to change these kids lives by giving them a shelter, a home, a refuge from their devasting past. Most of the kids do not have parents and live on the streets alone, not knowing where there next meal is even coming from. This breaks my heart into imagining my own son in those conditions, having never received so much as a hug or hearing the words "I Love You".
I have been overwhelmed by the tremendousness support, donation and prayers from my blogging friends and I just want to THANK YOU from the bottom of my heart. Thanks to you all and my friends and family I have raised $18,500 so far towards my goal of $30,000 for the orphanage. I never thought in a million  years I would be this far so shortly. The Lord is truly blessing this and I can't wait to see where He has me go and what he has me to do to raise the rest of the money. Which brings me to my absolutely amazing news!
If you haven't heard of Southern Proper ( my sponsor over there to the right) they are the quintessential southern clothing company for the south. A must-have staple for any southern beau and belle. They have products ranging from clothing, frat hats, polos,croakies and more each bearing a signature mark of distinction. When I first saw their knit polo's with the cute little dog and the amazing ties that just scream Preppy I immediately feel in love. Since then I have became great friends with the two amazing women who run the company, Reagan and Emily. They are beautiful on the inside and out and love our Lord so when I told them about my church orphanage project they literally jumped at the chance to help!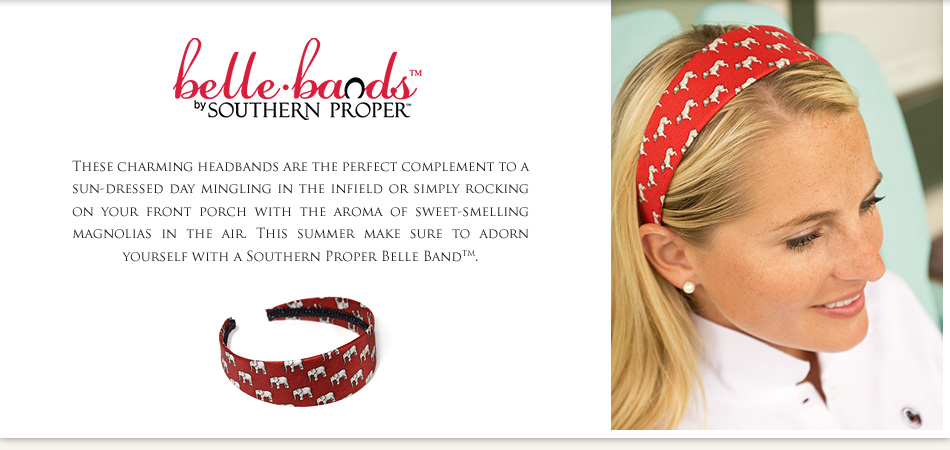 Emily and Reagan have donated (as in I have them here at my house) 100 belle bands for me to personally sell with all proceeds going directly to Shelter A Child. Southern Proper belle bands are perfect for those days when your all dressed up or if your like me- the days when you don't want to get all dressed up but still want to look cute. I just pop on a belle band with some raggy jeans and polo shirt and I am ready to hit the town! Okay, not really hit the town because I am a stay at home mom- but I am ready for the park and grocery store! LOL!
Their are 4 different belle bands to chose from:  The Black Lab Red Band, The Pink Horse and Cup Band, The Light Blue Cotton Pickin Band (my personal favorite) and the Navy Blue Sweet Magnolia Band.
I am in love with these bands and I hope you all are too. Please consider buying a Southern Proper belle band from Kitchen Belleicious for yourself or as a gift for a friend. Teenage and college girls would LOVE them. All you have to do is click on the Buy Now button below and you will be sent to a secure Paypal Shopping Cart where you can pick your color and quantity. From there I will ship your belle band to you ASAP so you can start enjoying it. Again, every single amount of money made from these belle bands goes straight to Shelter A Child. Please help me reach my goal of $30,000 by simply buying a $18 band. That's all it takes. I appreciate your donations and support and I wish you all the best day ever!
If you would like to make a separate donation to Shelter A Child, you can click on the donate button below or click on the Shelter A Child web address which will bring you to the ICM donation page. 100% of all proceeds go directly to the orphanage and your donations are tax deductible.

Or Visit Shelter A Child Donation Page