So one way to help reduce stress is supposedly rolling a tiny little pointy or squishy ball back and forth in your hand until all stress and worries are gone, blown away, and you feel as light as a bird. Well, as most moms know we don't really have time to sit around rolling balls in our hand to get rid of stress. We don't actually have time to sit around at all which in that can lie the problem. So in an effort to help all mothers everywhere I have come up with the perfect stress reliver exercise and one that benefits both your mind and body and your family's appetite.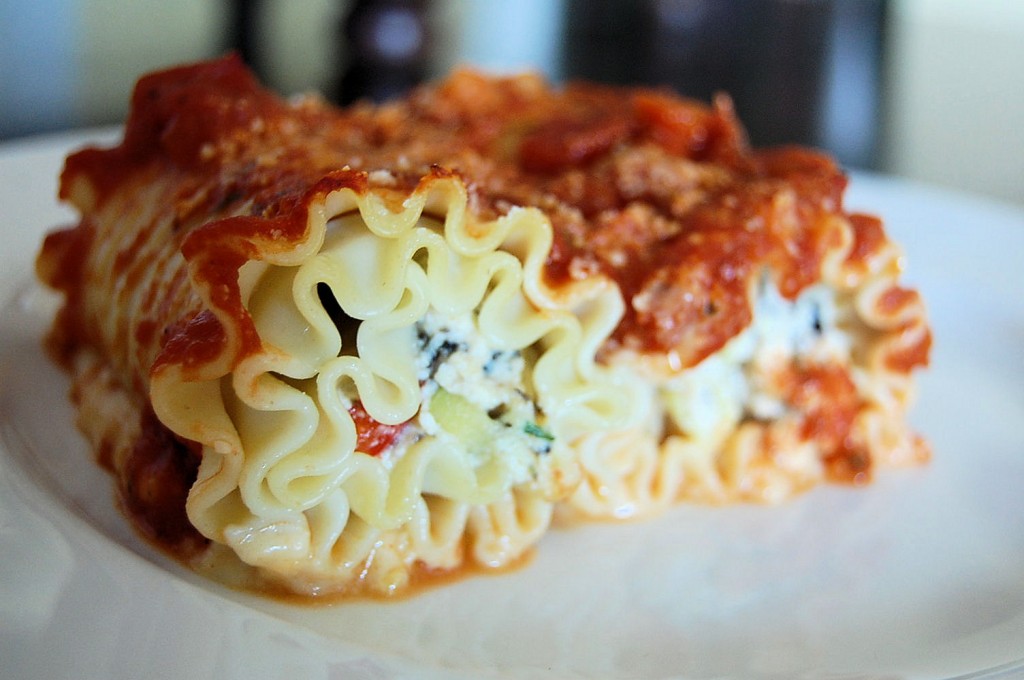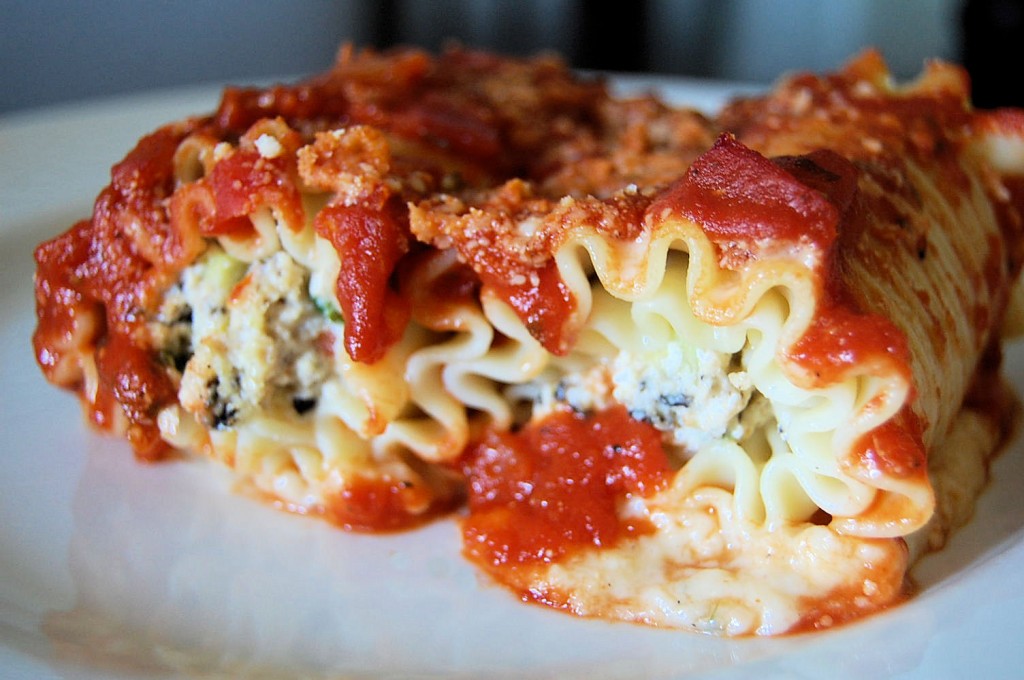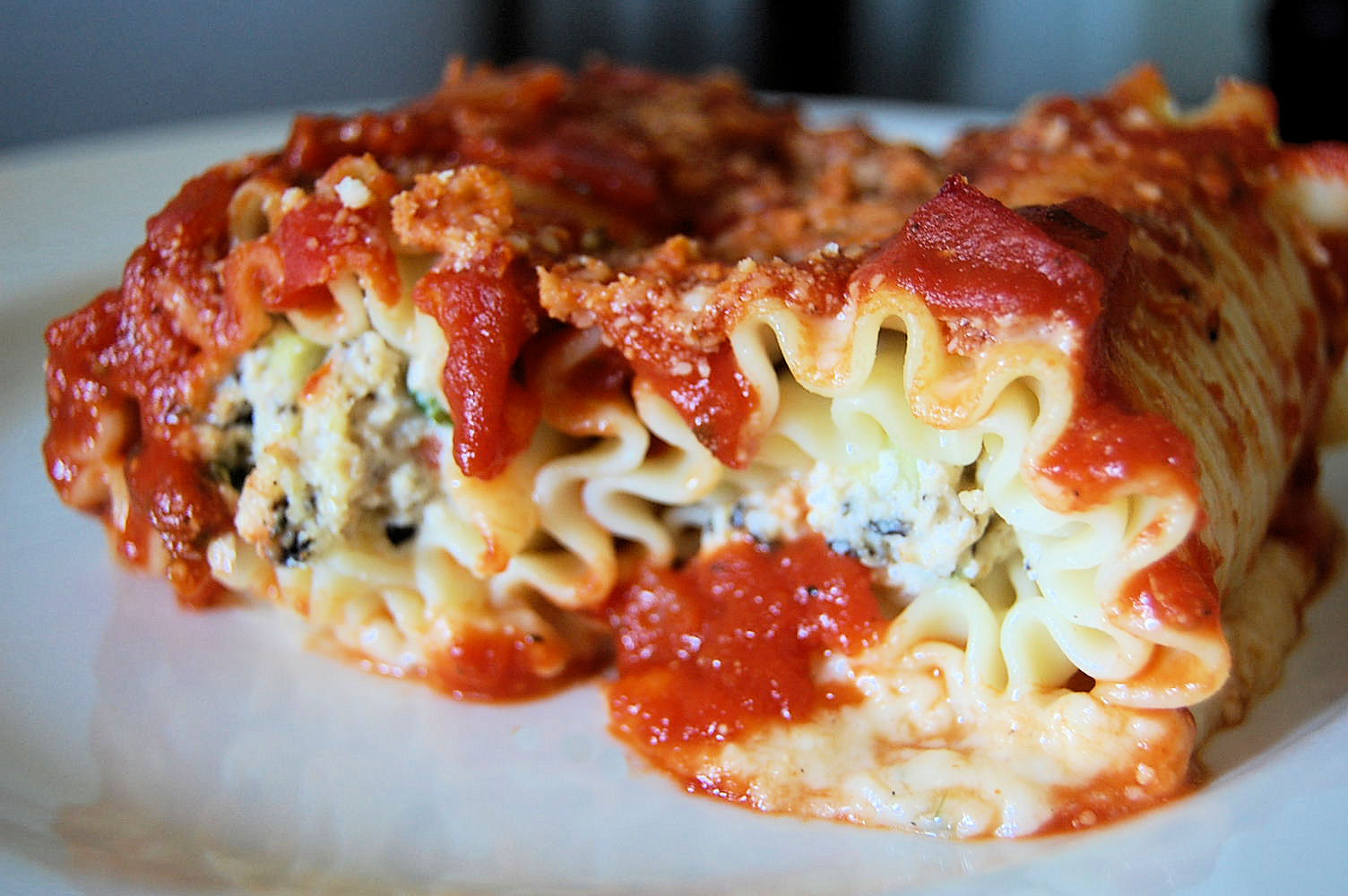 SpicyLasagna Rolls. They are easy and quite inexpensive to make. A twist on your classic lasagna dish. Simply mix together your ingedients, place a heaping spoonful on a lasgana sheet and just start rolling. Okay, so I am no scientist and I realize this might not work for everyone but it sure did the trick for me last week. I was having one of those no good, horrible bad days (I think I used to read that book as a kid) and the last thing I wanted to do was cook but I needed to make the hubby something because I knew he had a long day ahead of him as well. I resorted to an easy veggie filling option and noodles. You can go wrong with pasta. Little did I know that rolling these small treasures would actually make me feel better. Seriously, you should try it!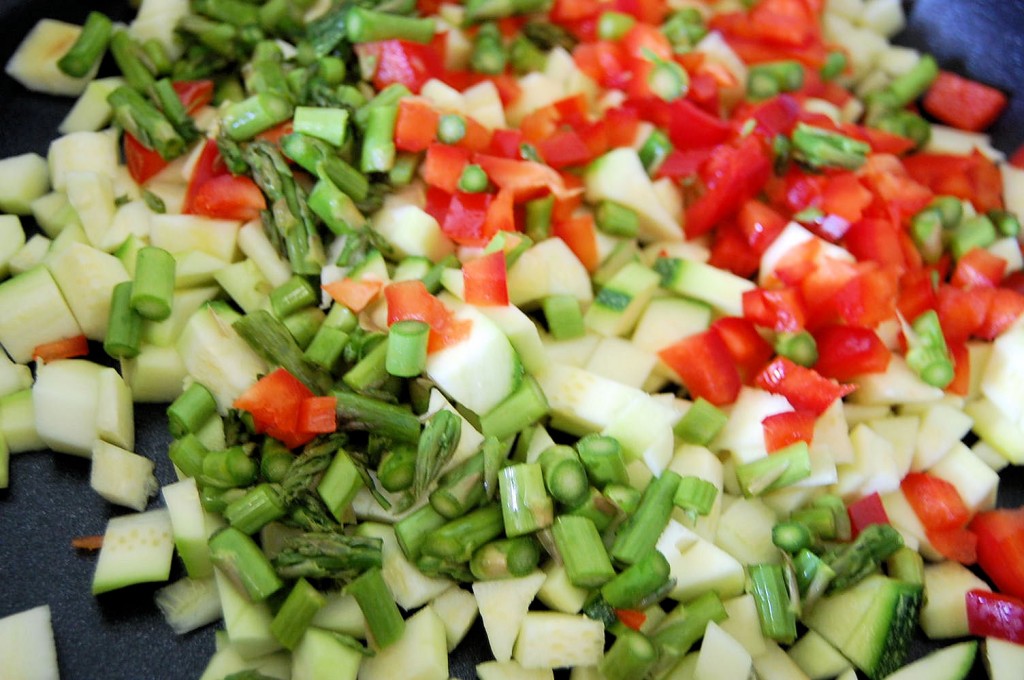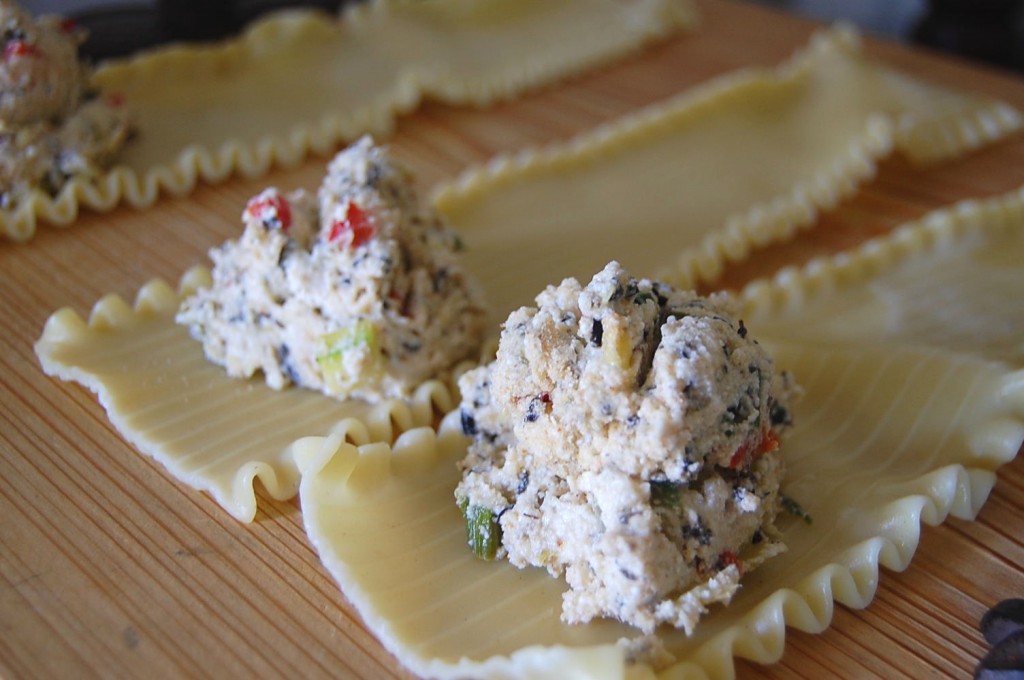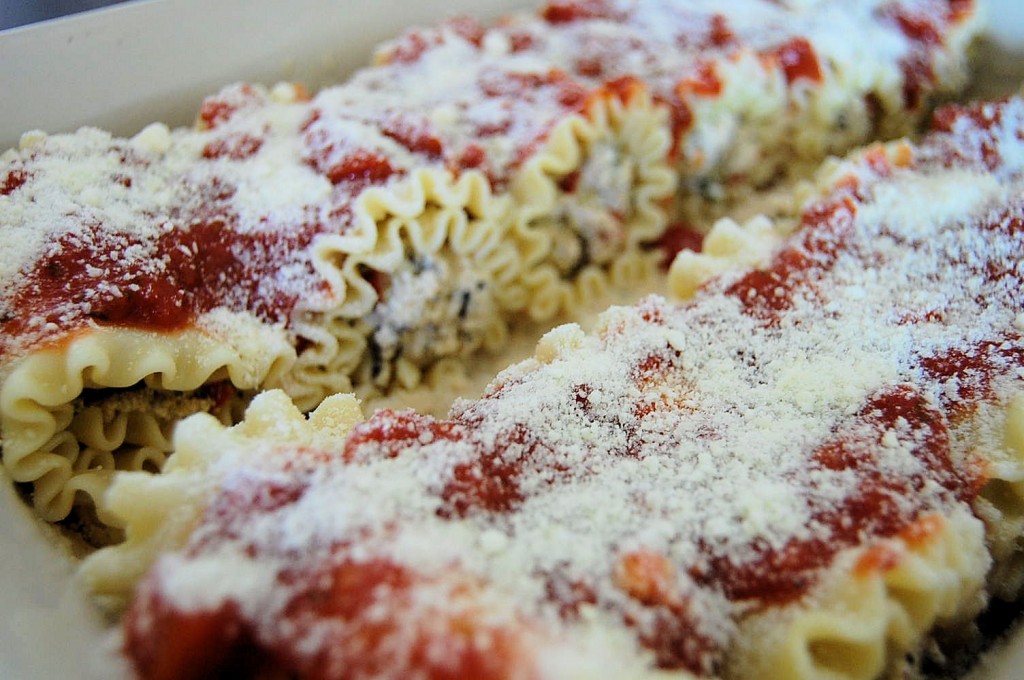 The veggie filling is packed with flavor from dried Spanish thyme to roasted garlic, red peppers, zucchini, asparagus and fresh herbs. The sauce, my I dare say, is a piece of cake. Using a large can of whole tomates, I roasted them in the oven with some garlic for just a few minutes then cooked them on low with a blend of red wine, mascarpone cheese, garlic and fresh herbs. Outrageously good and like I said before, the best stress reliver I have found to date:)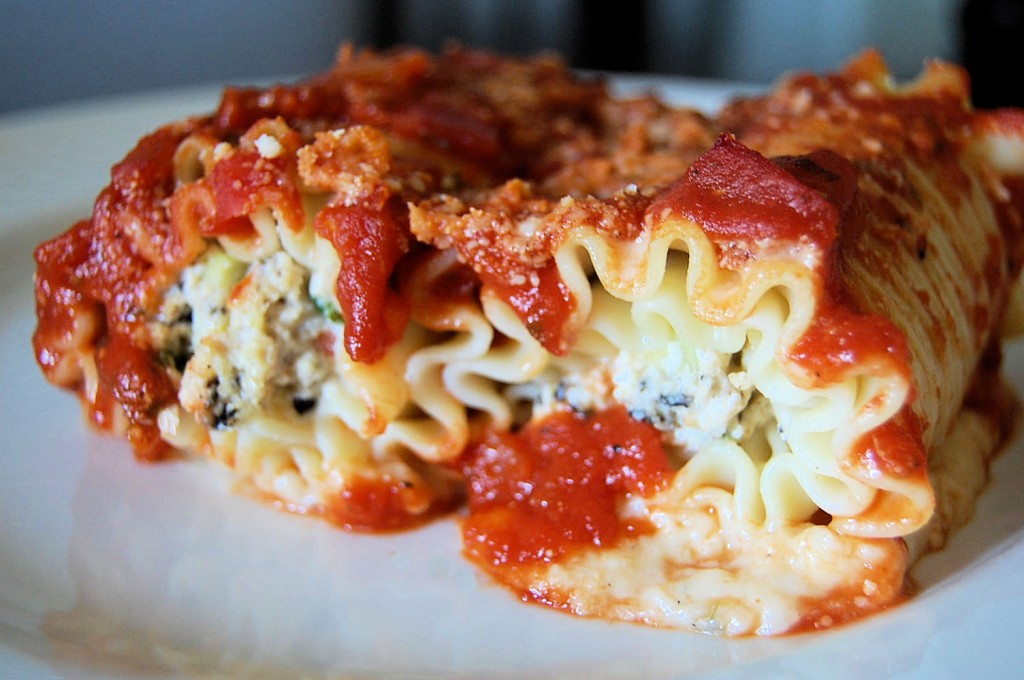 Note: Your kids would have a field day helping you make these lasgana rolls. You have a variety of fillings you could chose from that your kids might be more "keen" to rather than vegges, although I would start with the veggie filling because it is so good for them. Chose from a mexican inspired chicken filling, seafood or the traditional meat and red sauce. Getting your kids to help prepare their own meals makes a huge difference in the type of eaters they grow to be, their palates and their overall lifestyle. So get in there and have some fun!
Submitting this to A Moderate Life, Presto Pasta Nights, Meatless Mondays, Sunday potluck, Midnight Mania Meatless Mondays, Mouthwatering Monday
[print_this]
Spicy Vegetable Lasagna Roll Ups
Ingredients: (adapted from Giada de Laurentiis)
3 small zucchini with skin removed and roughly chopped
1/4 cup chopped asparagus
1/4 cup roasted red peppers (from a jar) roughly chopped
1/2 red bell pepper, chopped
2 cloves garlic, minced
2 TBSP Devo Olive Oil
15 ounces of ricotta cheese
1 egg, slightly beaten
1 tsp salt and pepper each
1/2 tsp red pepper flakes
1 tsp Spanish thyme (or any thyme you have)
1 cup parmesan cheese
1/2 cup panko bread crumbs
1 cup shredded mozzarella cheese
1 cup marinara sauce (recipe below)
12 lasagna noodles, cooked and cooled
For the Sauce:
2 TBSP butter, unsalted
4 tsp AP flour
1 1/4 cup heavy cream, slightly warm to the touch
1/2 tsp salt
1/2 tsp pepper
1/2 tsp nutmeg
Directions:
First make the sauce: Melt the butter in a non-stick sauce pan and slowly add the flour a TBSP at a time, whisking until well blended (about 3 minutes). Next, whisk in the warm cream and increase the heat to high until the sauce begins to simmer. Season with salt, pepper and nutmeg- cook for another 3 minute then turn heat to low and allow to sit until time to assemble the lasagna rolls.
Saute the asapargus, garlic, zucchini and red bell peppers in 2 TBSP of olive oil for 5-7 minutes until the vegetables are nice and tender. Season with 1/4 tsp red pepper flakes, 1/2 tsp salt and pepper each and set aside.
Mix together the ricotta, sauteed vegetable mixture, Parmesan, egg, 1/2 tsp salt, 1/2 tsp pepper, thyme, bread crumbs and 1/4 tsp red pepper flakes in a medium bowl to blend.
Boil the noodles until just tender but still firm to bite. Drain and arrange the noodles in a single layer on a baking sheet to prevent them from sticking.
Butter a 9×13 inch baking dish and pour the bechamel sauce over the bottom of the prepared dish. Lay out 4 lasagna noodles on a work surface, then spread about 3 tablespoons of ricotta mixture evenly over each noodle. Starting at 1 end, roll each noodle like a jelly roll. Lay the lasagna rolls seam side down, without touching, atop the bechamel sauce in the dish. Repeat with the remaining noodles and ricotta mixture. Spoon 1 cup of marinara sauce over the lasagna rolls. Sprinkle the mozzarella. Cover tightly with foil. Bake at 350 until heated through and the sauce bubbles, about 20 minutes. Uncover and bake until the cheese on top becomes golden, about 15 minutes longer. Let stand for 10 minutes.
Marinara Sauce:
1 can whole tomatoes
2 cloves garlic
2 TBSP Devo Olive Oil
1 TBSP Spanish Thyme
1 tsp oregano
1 tsp paprika
1/4 cup Red Wine
4 ounces of mascarpone cheese
2 TBSP fresh basil, chopped
2 TBSP fresh parsley, chopped
Directions:
In a large skillet, heat the olive oil and cook the onions for 4-5 minutes, add the garlic and roast for another 2-3 minutes. Pour in the can of tomatoes and remaining ingredients. Bring to a boil then reduce heat to a simmer and simmer for 30 minutes.
[/print_this]