Chicken
Honey Ginger Chicken with Peppers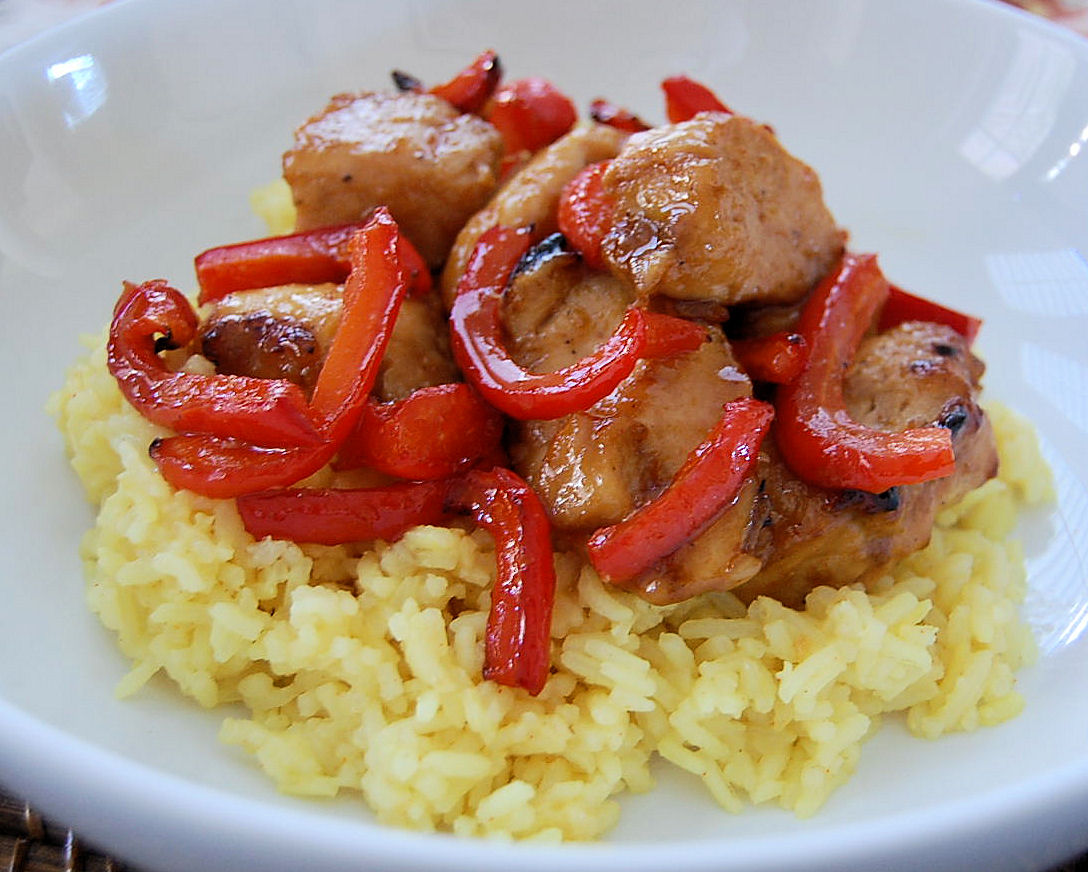 How sweet it is! Honey Ginger Chicken marinated and glazed in a mixture of soy sauce, garlic, honey ginger white balsamic and chili sauce. The taste is undeniable and the flavor is out of this world. These little miniature bites are perfect for popping in your mouth and much better for you than the fried sweet and sour version.
Anyway, back to the chicken. I love love love sweet and sour chicken, ginger chicken, terriakyi chicken, basically all the types of chicken dishes you get at your local Chinese and Japanese restaurants. However, I never actually end up making them at home because I don't seem to have all the ingredients on hand at the same time. I either have soy sauce but no honey, or I have oyster sauce but no sesame oil or ginger. You get the picture…. So when I took a sip of this amazing bottle of Honey Ginger White Balsamic the taste was so overwhelming and absolutely perfect for a sweet and sour type chicken dish.  I immediately took out some chicken breasts and got to cooking. I decided the best thing to do was not mess with perfection (that being my little bottle of Honey Ginger White Balsamic) and simply take the flavor and raise the ante by increasing the flavor and consistency with soy sauce, orange juice, a touch of chili sauce and a sprinkling of corn starch for thickener. The end result was amazing. I can't craft the perfect sentence to describe how great this dish turned out to be but just take my word for it. This is a must try. A keeper in my book.
[print_this]
Honey Ginger Chicken with Peppers
Ingredients: Marinade
1/4 cup Devo Honey Ginger White Balsamic
1/4 cup Devo Garlic EVOO
1 TBSP honey
1 TBSP ground ginger
1 TBSP fresh lemon juice
1 tsp orange juice and 1 TBSP orange zest
2 tablespoons low-sodium soy sauce
2 tsp chili sauce
1 teaspoon Worcestershire sauce
1 1/4 pounds skinless, boneless chicken breasts or thighs, cut into bite-sized pieces
1 teaspoon salt and pepper each
1/4 tsp red pepper flakes
2 teaspoons sesame seeds, toasted
Ginger Honey Glaze:
3 tablespoons soy sauce
3  tablespoons Devo Honey Ginger White Balsamic
3 TBSP Devo Garlic EVOO
2 TBSP honey
1 1/2 table spoons sesame oil
1/2 tsp each of salt and pepper
Directions:
Combine the marinade ingredients in a large zip-top plastic bag; seal and shake well. Add chicken; seal and toss to coat. Refrigerate at least 2 hours or overnight, turning occasionally.
Preheat oven to 425°. Remove chicken from bag, reserving marinade. Arrange chicken in a single layer on the rack of a broiler pan coated with cooking spray. Sprinkle chicken with salt and pepper. Bake at 425° for 20 minutes, stirring once.
Meanwhile, lets make the glaze for the chicken. Add all the glaze ingredients into a medium sized saucepan and heat on medium low until nice and thick, approx 8-10 minutes. Add chicken to glaze; toss well to coat. Place chicken mixture on a baking sheet; broil 5 minutes or until browned, stirring twice. Sprinkle with sesame seeds.
[/print_this]