Bread
Olive Oil Giveaway & Chipotle Bread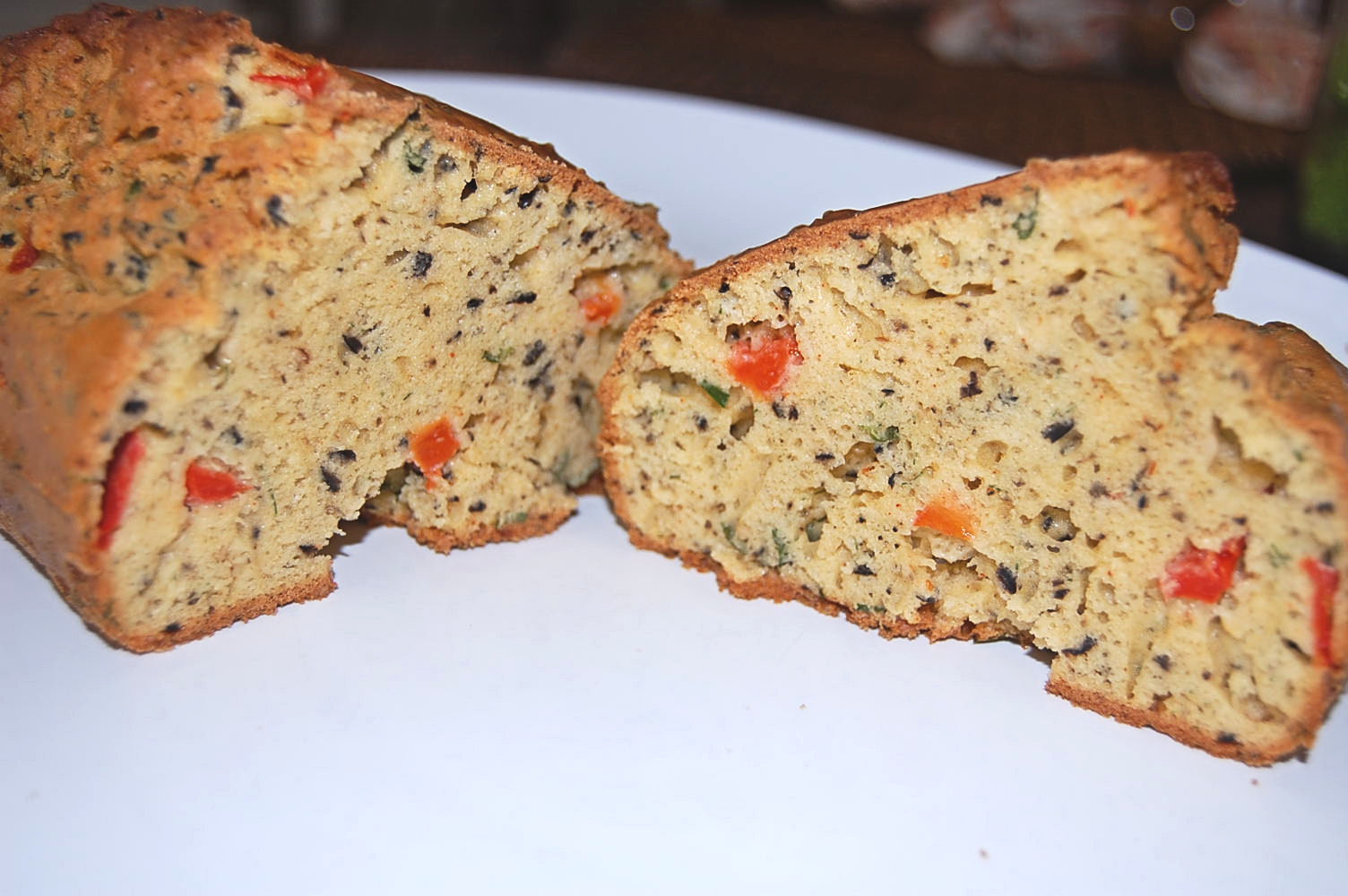 There a million and one different ways to use olive oils and vinegars and I am here to tell you there is nothing better- NOTHING, than an infused olive oil. Infusing involves mixing items such as herbs or fresh fruit zest with different types of oils and vinegars.  The outcome is simply magical, something so honest and pure yet refreshing and exotic. I have always loved cooking with infused oils but I never had the luxury of having my own little stash of gems to pick and chose my oil of choice. I always had to have a certain infused oil in mind along with a recipe before heading to whole foods or a local specialty food store to buy it. That is until now! Are you ready?
You May Want to Take A Seat……..
Today is my Birthday (PARTY) and in honor of my birthday I wanted to do something extra special so I have decided to give what I think is one of the best giveaways I have ever done here on Kitchen Belleicious and that is a Devo Olive Oil deluxe 9-bottle sampler as a gift to one of you lucky readers. The box includes the following oils and each of the oils or vinegars compliments at least one of the other flavors, so have fun mixing and matching!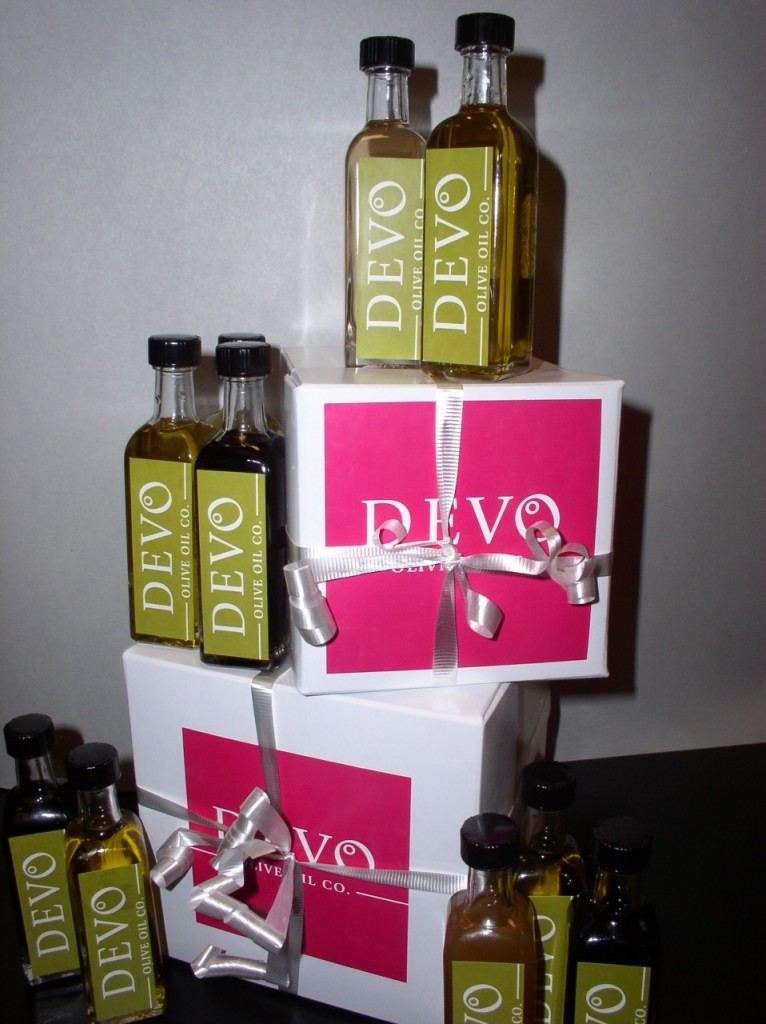 -Tuscan Herb EVOO, Roasted Garlic EVOO, Chipotle EVOO, Blood Orange EVOO, 18 year Traditional Balsamic, Strawberry Balsamic, Black Cherry Balsamic, Peach White Balsamic, and Honey Ginger White Balsamic.
DEVO Olive Oil is a specialized boutique located in Branson, MS that offers the finest extra virgin olive oil and balsamic vinegar available anywhere in the world. They have EVOO from all over the world as well as fabulous flavor infused EVOO and vinegars such as Tuscan Herb, Roasted Onion and Cilantro, Basil, Garlic and Blood Orange. They also offer gourmet oils like Black Truffle, White Truffle, Japanese Roasted Sesame, Avocado and Roasted Walnut oil. They even have in-store tasting, like you would do with wine. Below is a picture of some of the goodies you can taste test. Can we say mini vacation to Branson (more specifically the Devo Olive Oil Store) is calling my name!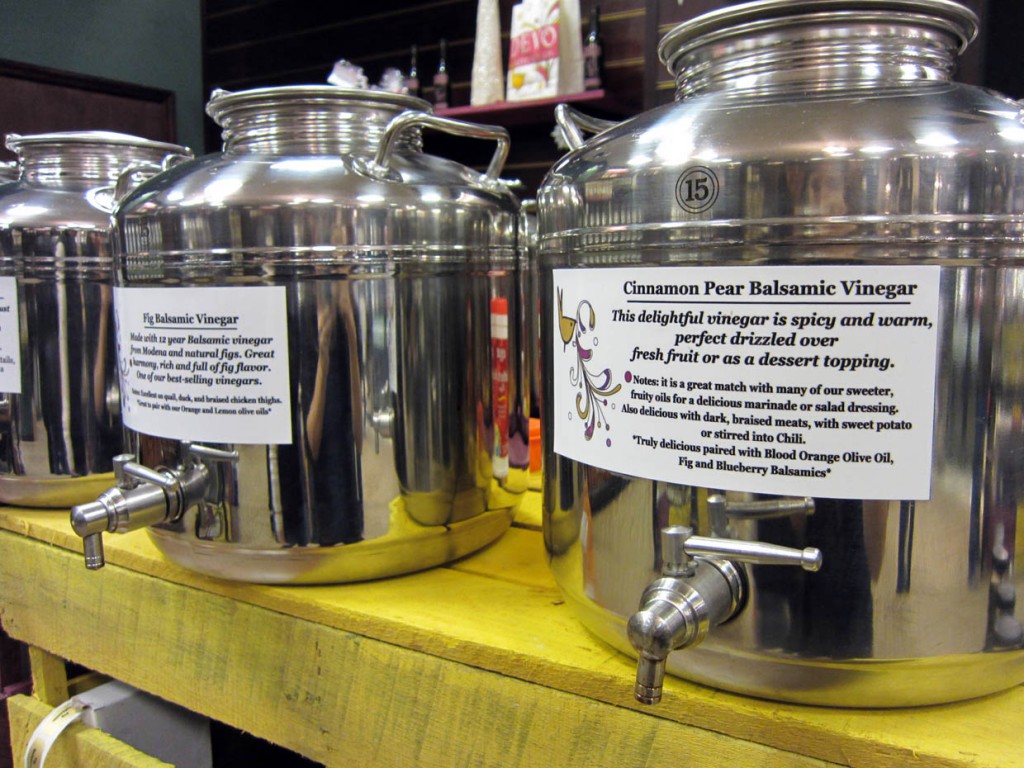 Oh and what is better than your own amazing collection of infused oils and vinegar? Simple I tell you- Devo Hand Made Rolled Pasta, Homemade Salts, Peppercorns and soap. My favorite pastas of theirs are the Chocolate Fettuccine, Garlic Parsley Angel Hair and Lemon Pepper Linguine.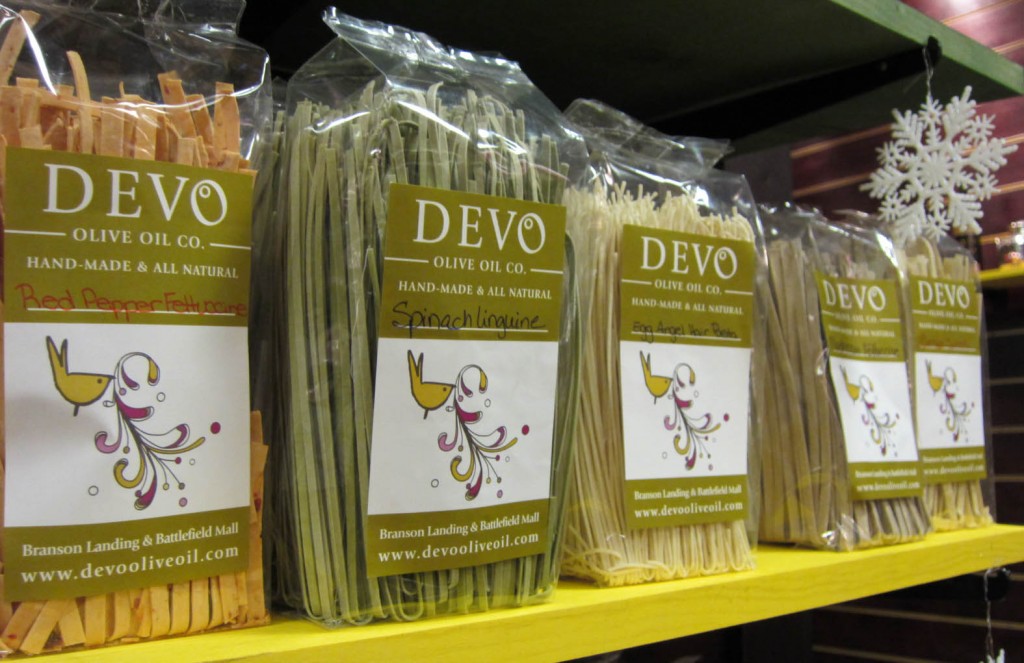 How amazing is this company and giveaway. Devo Olive Oil is seriously like a dream come true to this cook and if you have never cooked with infused oils or vinegars now is the time to step up to the plate. It makes life so much easier. Infused oils cut out steps like roasting the garlic in the oil, adding honey and herbs to a sauce. You simply just use your oil! Its Genius isn' it! I am just plain giddy about this giveaway and my new found love and I hope you are as excited as I am. Don't forget one of you lucky readers will get their very own sampler box and you will have so many varieties of oils ot chose from your not going to know what to do! Everything in their store is perfect as a buy for yourself or as a gift to someone you know loves to cook. You don't have to live in Branson to get the goods, just enter the giveaway or order your own choice of oils, vinegars and pasta at Devo's online store.
Now It Gets Better…….
In honor of my birthday week- Yes, you heard me- birthday week. I can't just have one special day I have to have 7- right? That is how its done- right? Anyway, in honor of my birthday week and the Devo Olive Oil Giveaway I am going to share three different recipes this week each using an olive oil I received from my 9 olive oil pack sampler by Devo. I have literally tasted each and every one of the samples but a few of my favorites were the chipotle olive oil, strawberry balsamic and honey ginger white balsamic. So I took those and made the most amazing dishes of my life. The flavors are mouthwatering and the possible combinations and types of dishes you can do with the different oils is just endless!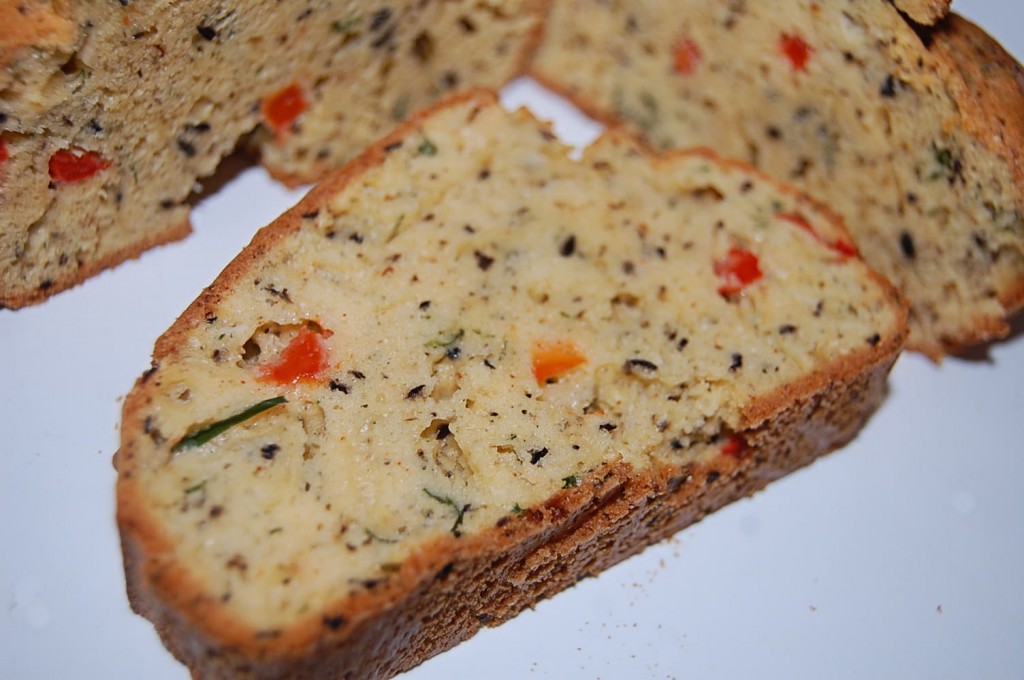 SIDEBAR: I wanted to let all my fabulous friends here on Kitchen Belleicious know that we are expecting a new addition to the family. I am 3 months pregnant and due in December! So in the event you begin to see more and more various sweet and just crazy dishes on here- just blame my cravings! We are so excited and I can't wait to begin this new chapter in our lives. I will keep you all updated throughout the year but one thing is for certain- you will have more recipes from me than you will know what to do with. I have not been able to stop cooking since I found out. I just want to cook EVERYTHING!
To Enter the Giveaway Just Follow the Rules Below. Make sure to leave a seperate comment for each entry and giveaway is open to U.S. residents only. Ends midnight on 6/12/2011.
1) Follow Kitchen Belleicious via GFC
2) Subscribe to Kitchen Belleicious via RSS or email (in the sidebar)
3) Like Devo Olive Oil on facebook
4) Follow Devo Olive Oil on twitter
5) Follow Belleicious Kids via GFC
6) Like Kitchen Belleicious and Belleicious Kids on facebook
Chipotle Olive Oil Bread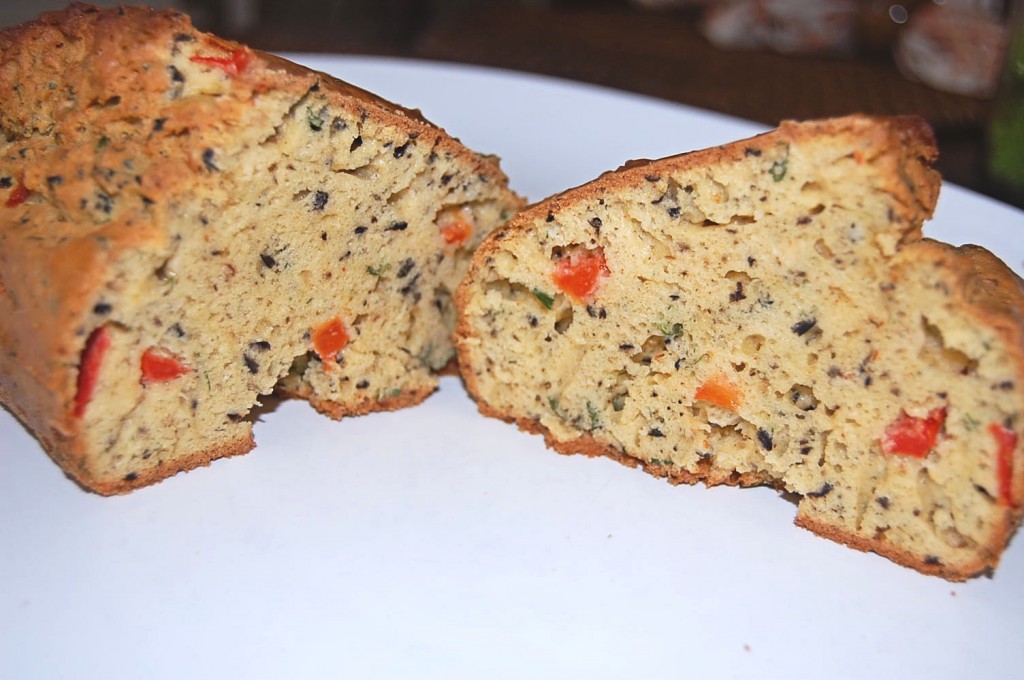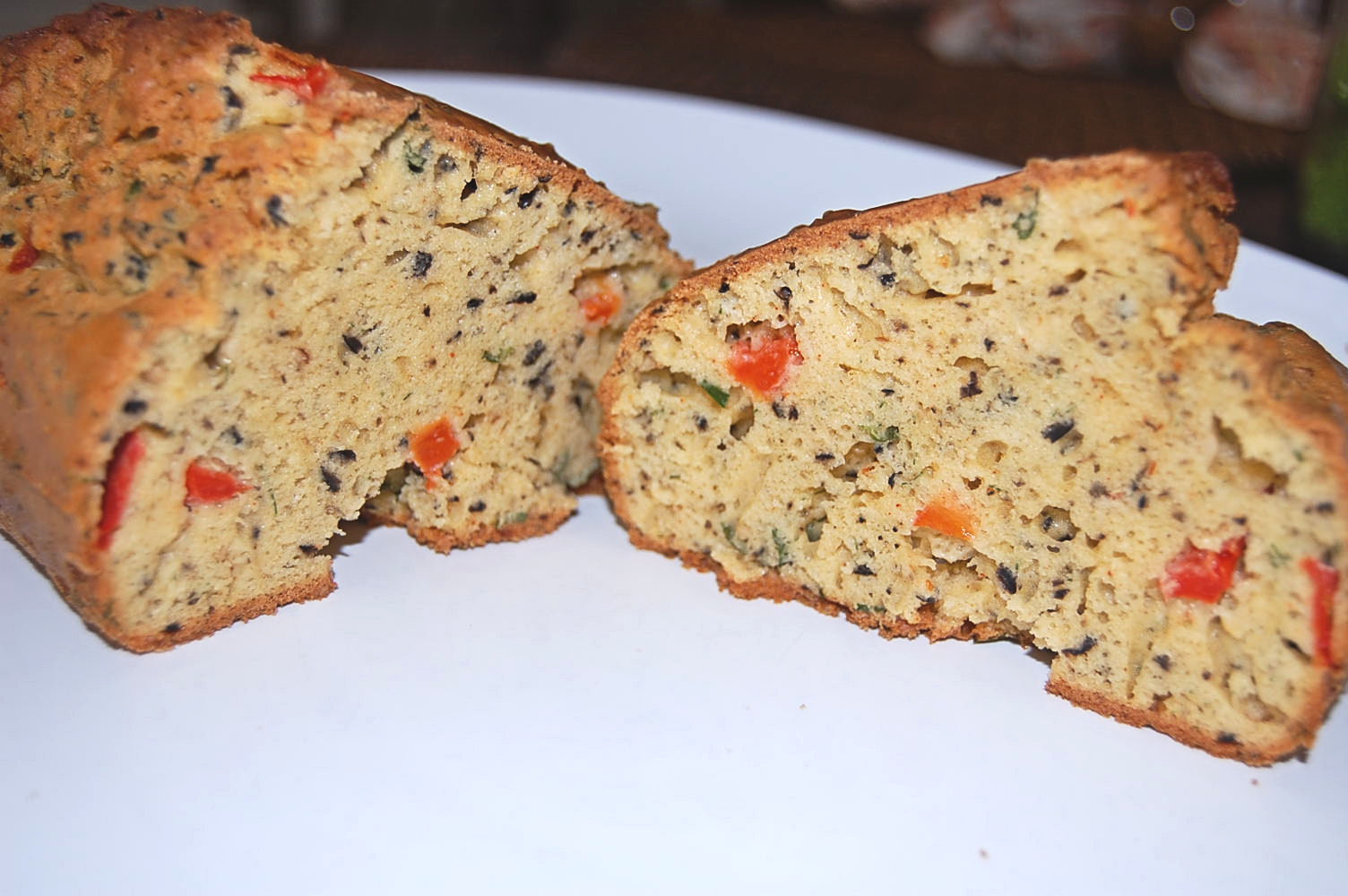 Up first is my Chipotle Olive Bread. This bread is so moist and chewy and full of the perfect pairing of herbs and spices. Have it alongside your next pasta dish or salad or simply dip it in any of the fabulous infused oils and vinegars from Devo for the ultimate culinary experience.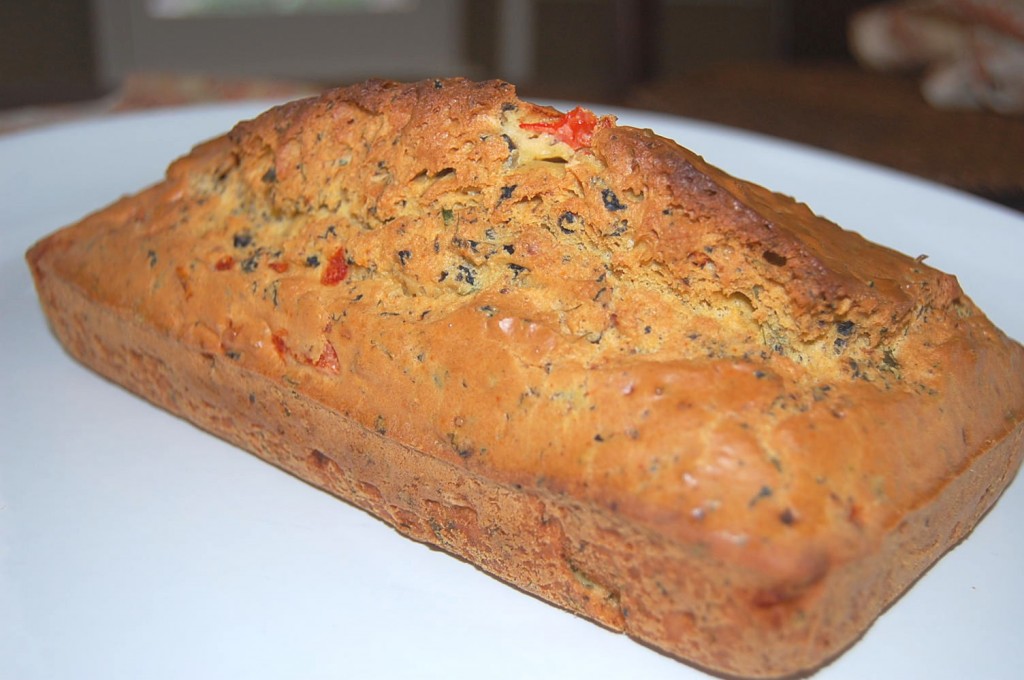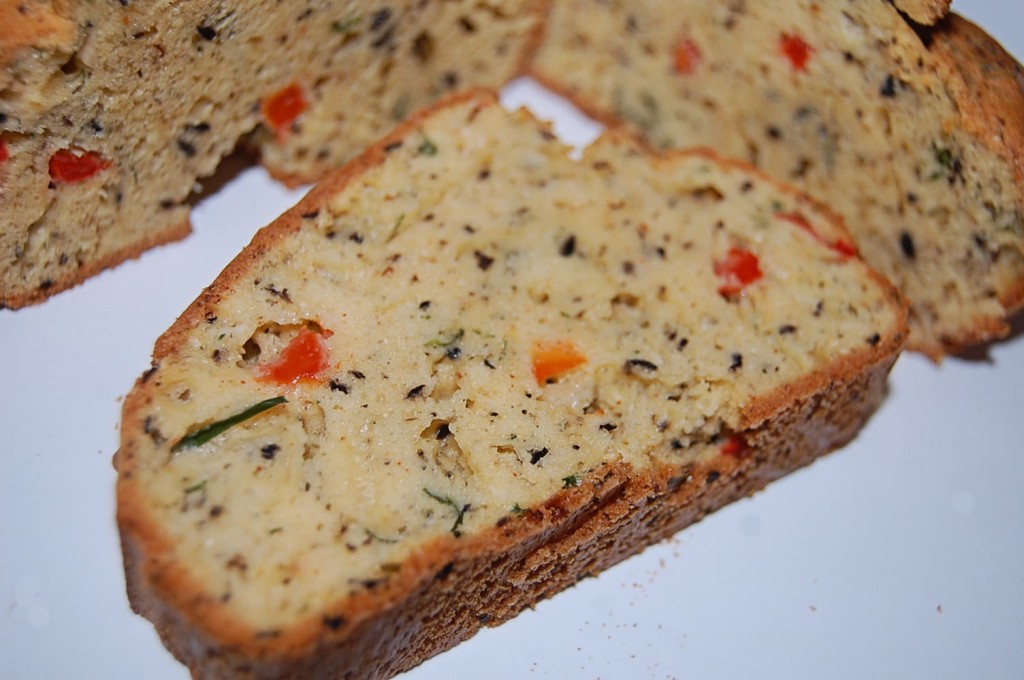 [print_this]
Chipotle Olive Oil Bread
Ingredients: (adapted from one perfect bite)
1 1/2 cups AP flour
1/2 teaspoon  sea salt
2 teaspoons baking powder
1 cup pitted black olives, coarsely chopped
1/2 cup minced basil leaves
1/2 cup mixed herbs like thyme and oregano or parsley and rosemary ( your choice ) Be fearless!
6 large eggs
1/4 cup Devo Chipotle olive oil
1 clove garlic, minced
1/2 teaspoon freshly cracked black pepper
1/2 tsp red pepper flakes
1/2 cup grated Parmesan cheese
Directions:
Sift together your dry ingredients, including salt, pepper and red pepper flakes, and then set aside. Whisk the eggs in a large bowl then add the chipotle olive oil, herbs and minced garlic. Add the cheese and chopped olives last and then pour into a greased loaf pan. Bake at 400 for approx 40 minutes. Allow to cool to the touch before inverting on a plate.
[/print_this]