Sweet Hazelnut (Nutella) mixed with coconut and a layer of caramel send this new twist on the classic brownie to a whole new level. They are sinfully delicious and take no time at all. The combination of the nutella with milk chocolate  is like a dream come true. Have I mentioned how much I love nutella? I have it on pancakes, waffles, bagels, fruit, graham crackers, you name it. I could literally eat this gem all by itself if need be (and yes the need has appeared). I love Nutella, I just want to scream it to the world. Note: If you do not like Nutella then this post can still be for you. Simply use peanut butter in place of the nutella and up the chocolate pieces by another 1/2 cup or 4 ounces and you have yourself a Peanut Butter Brownie! Genius- yes I know!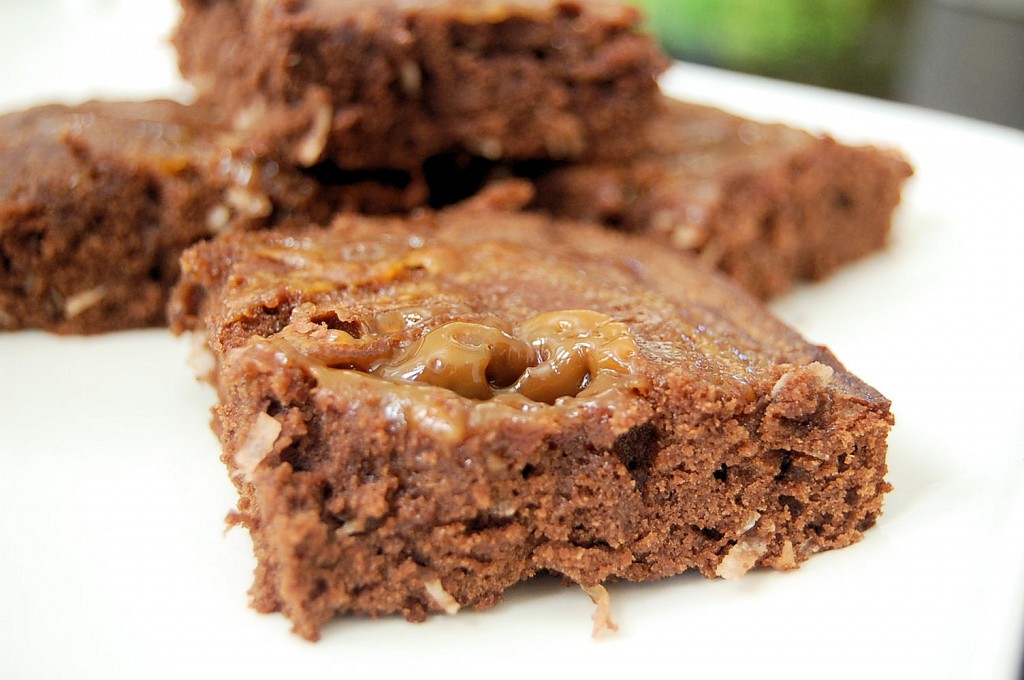 It is as easy as mixing the ingredients for your cake in an easy bake oven. The nutella does all the work as a great binder and the ultimate source of the perfect chocolate hazelnut flavor. I found this recipe in Food Network Magazine and seeing as how my sweet boy was sick for almost 2 weeks recently I wanted to make him something extra special to nibble on when he wakes up from his nap. Speaking of nap, can he take one until he is like 10? Just wondering, mommy really likes her 2 hour downtime in the afternoon.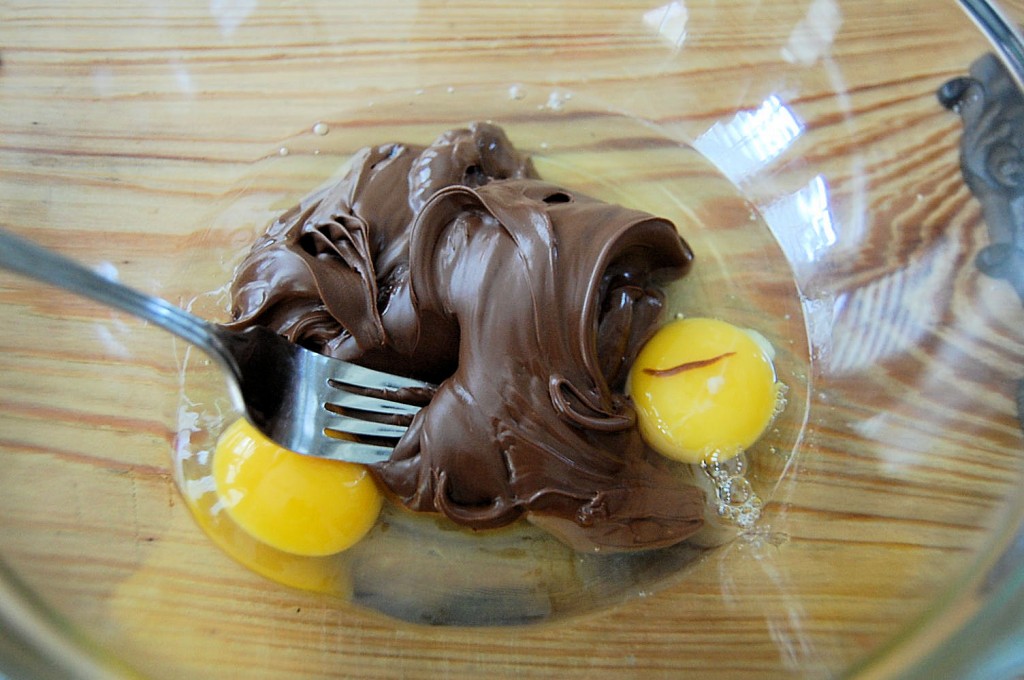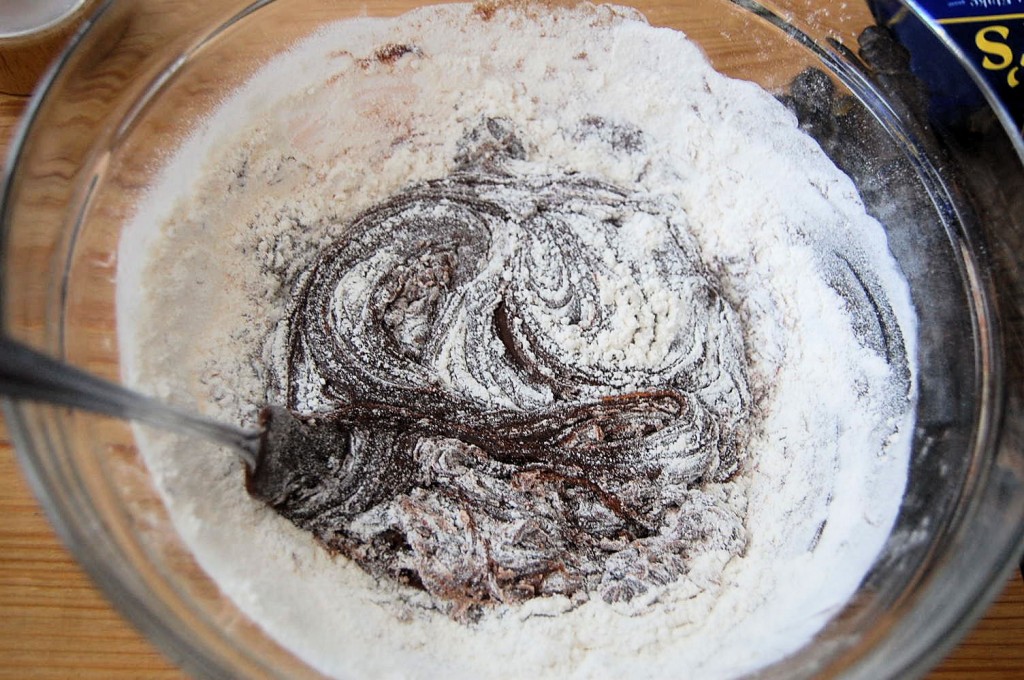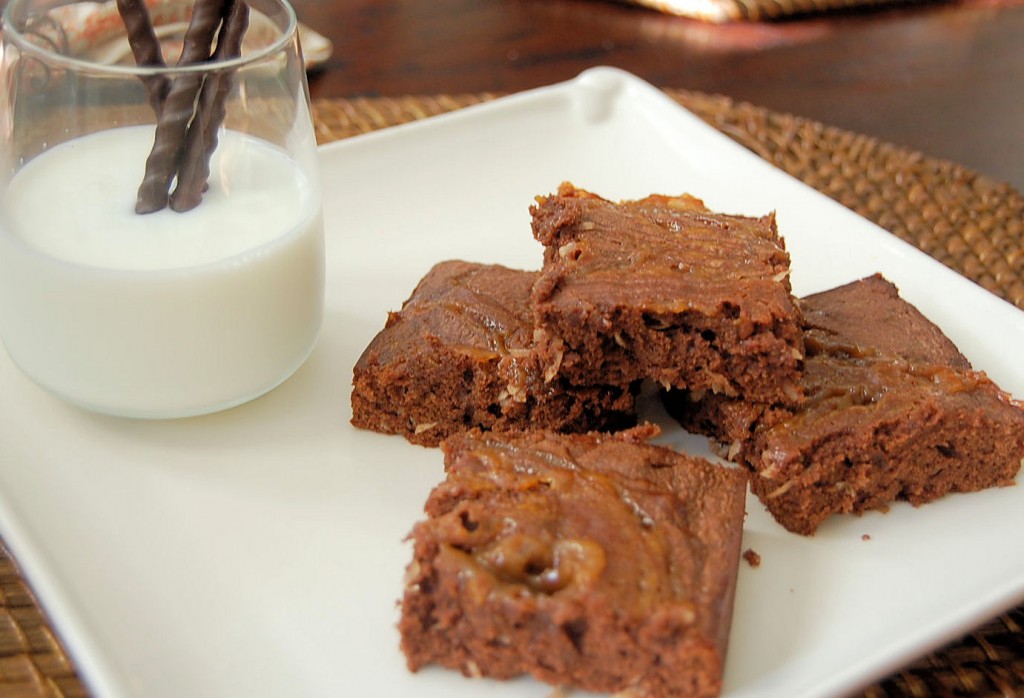 Anyway, so I knew my son's love for Nutella (just like his mom) would make these brownies his favorite little treat and the addition of the coconut was simply for mommy's sweet pleasure. If you are going to make brownies at any time with your children by all means start with this one. The easiest method yet the most flavorful. They were simply delicious and perfect with a bowl of vanilla ice cream. You do know I am a sweet tooth NUT- right?
I am linking this up to Sweet Indulgences Saturday, Sweet Tooth Friday and Sweets for Saturdays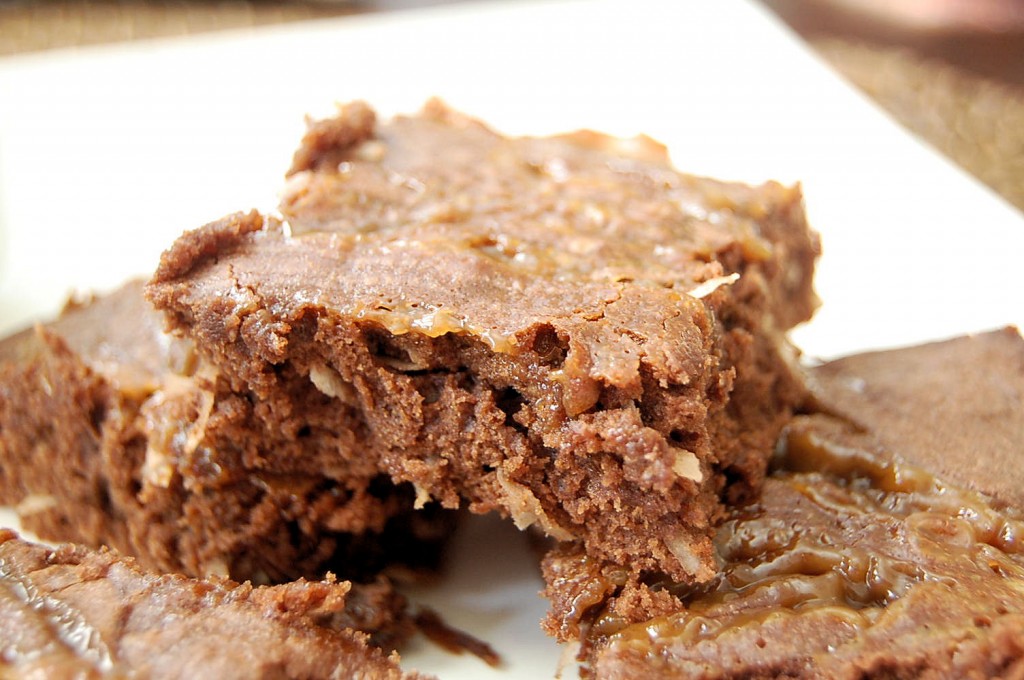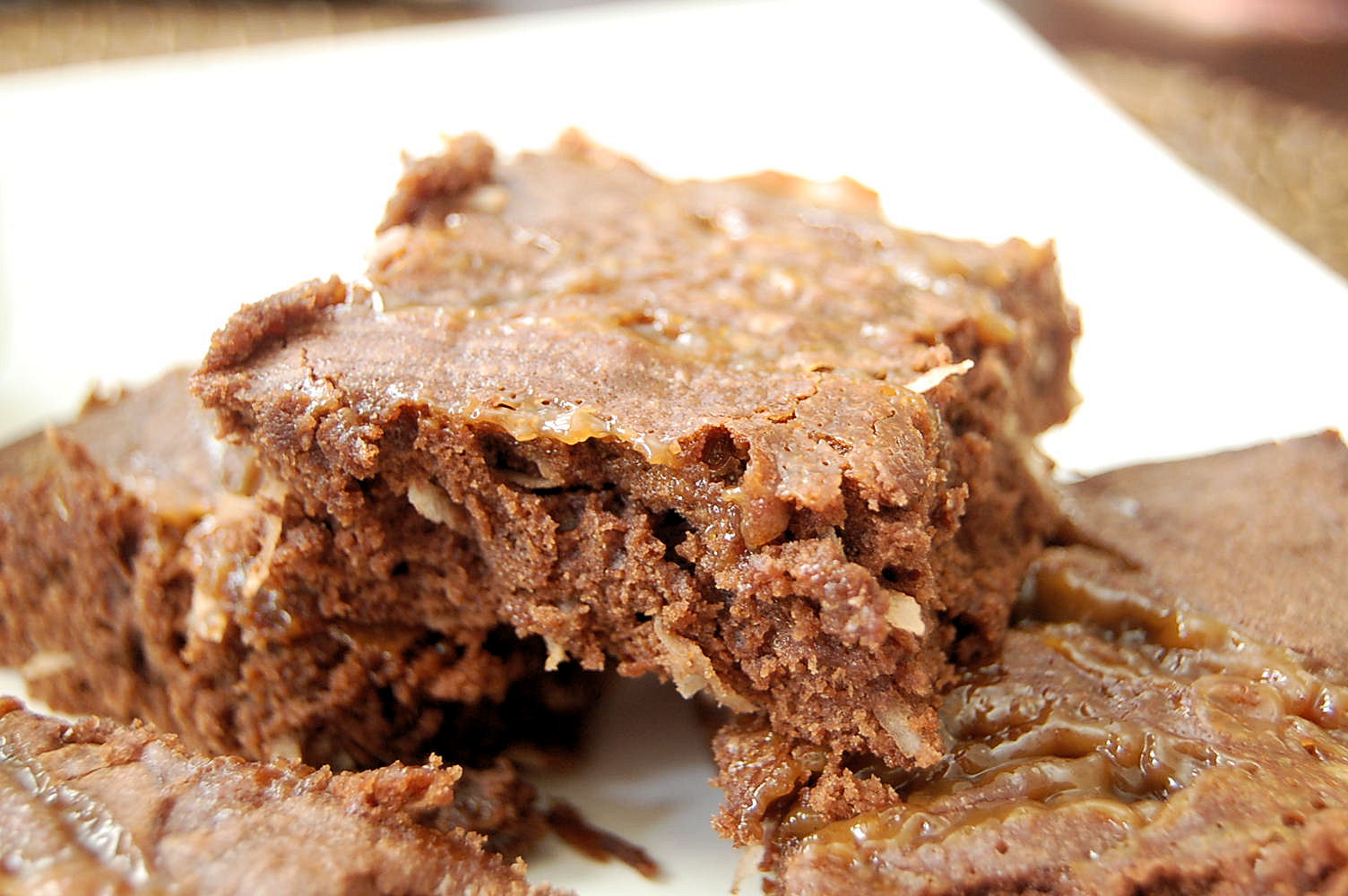 Before ya'll go I wanted to let you know that my Fourth of July article was just published in the newest Southern Child Magazine. If you haven't subscribed to the mag please do so by clicking here. This magazine is a southern living must have for moms as it is packed full of tips and tricks, new baby products and gadgets for moms and kids, amazing clothing stores, and much much more. Oh and of course amazing recipes (from yours truly).
I don't want to give away everything on my Fourth of July menu but below are two pictures that will hopefully wet your appetite for more and get you over there to find out what else I cooked up!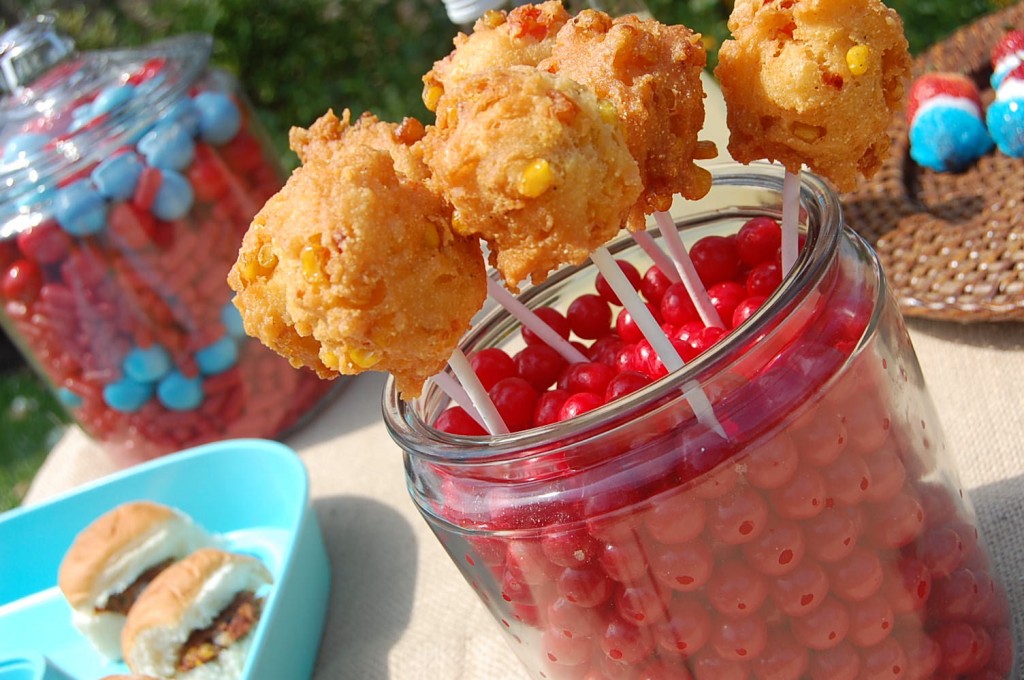 [print_this]
Nutella Coconut and Caramel Brownies
Ingredients:
3 eggs
6 squares of Semi-Sweet Chocolate (you can use 1 cup of chocolate chips if you need to)
1 1/2 sticks butter, unsalted, melted and cooled to room temp
1 cup AP flour
1/2 tsp baking powder
2/3 cup Nutella
1 tsp salt
2 c sugar
1 tsp vanilla
1/3 to 1/2 cup shredded coconut flakes
Caramel Sauce:
2 cups sugar
1 cup water
pinch of salt
1 cup heavy cream
Place water and sugar in sauce pan. Bring to a boil and cook for 20 minutes. Turn off the heat and slowly add the warm heavy cream and pinch of salt. Bring the mixture back up to a boil and stir constantly until the sauce begins to thicken and coats the back of your spoon. Will keep in a sealed container for up to 2 weeks in the refrigerator.
Directions:
Mix together the dry ingredients and set aside. Using a hand mixer, fork or stand mixer, mix the nutella with the eggs and vanilla. Add in the melted butter and sugar. Melt the chocolate in a microwave safe bowl for a total of 3 minutes stirring at every 30 second interval. Add the melted chocolate to the egg and nutella mixture and mix well. Stir in the dry ingredients and coconut.
Pour the batter into a 9×13 lightly greased dish. Spread or drizzle the caramel sauce over the brownies and using a knife or the bottom of a spoon swirl the caramel sauce into the batter for a nice pretty presentation. Bake at 350 for 30-35 minutes.
[/print_this]