Now before you say anything  just hear me out. Yes, Mac and Cheese is a family favorite. Yes it is a dish of perfection with the perfect proportion of cheese to pasta and Yes it is one of those dishes that is better left alone because again who wants to mess with perfection- right? Oh Me! Pick Me! I wanted to and I did mess with perfection this past week and I swear if this wasn't the most outstanding dish I have ever made. My husband who is kind of a New Orleans food snob (he believes any type of meal or dish or dessert that he has in his beloved city of New Orleans is the best and nothing can compare- try living with that kind of pressure!) so when he said this was better than the Lobster Mac and Cheese he had at Commander's Palace a few years ago I took a deep breath, stood up and graciously took a bow. At that moment the world stood still and I could breathe for the first time! Okay, not really but I was super excited and so giddy that I couldn't wait to share it with you all!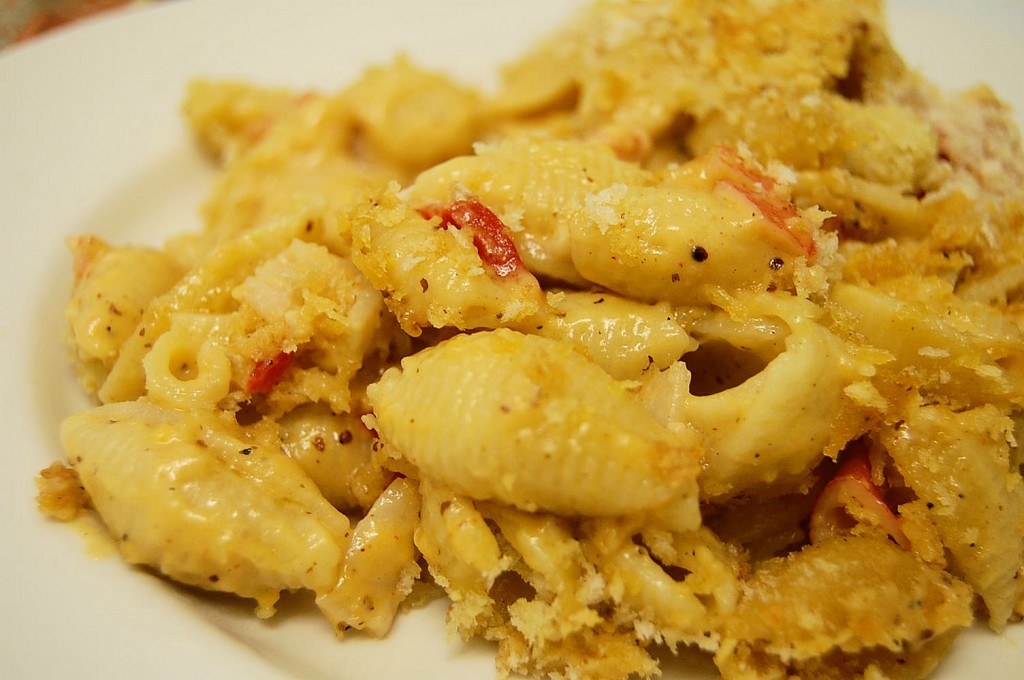 Now how do you top a classic American favorite that both you and the kids will relish. Simple, add sweet bites of crab and the charred taste of roasted red peppers (which also tend to be a little sweet) and you have a fantastic twist on a simple weekday meal. When I am making a cheese sauce I like to use more than one type of cheese for the sake of variety and to increase the flavor. Instead of using just cheddar I thought  I would up the level of cheesiness (is that a word?) and incorporate two of my favorite cheeses along with the cheddar which is Muenster and Pepper Jack. Bet you have heard those words on here before.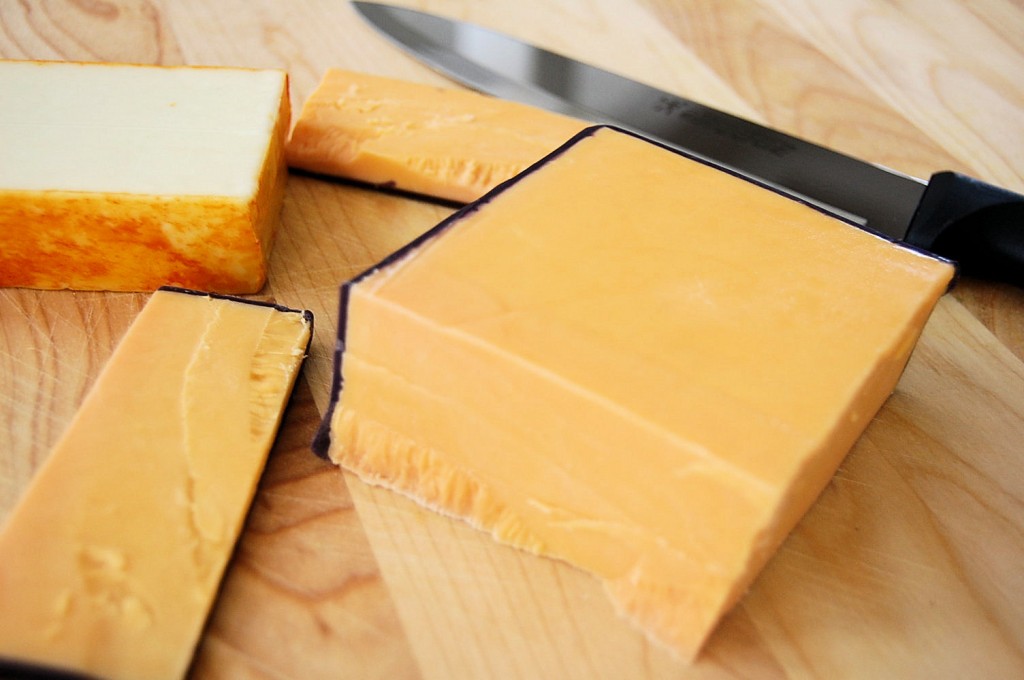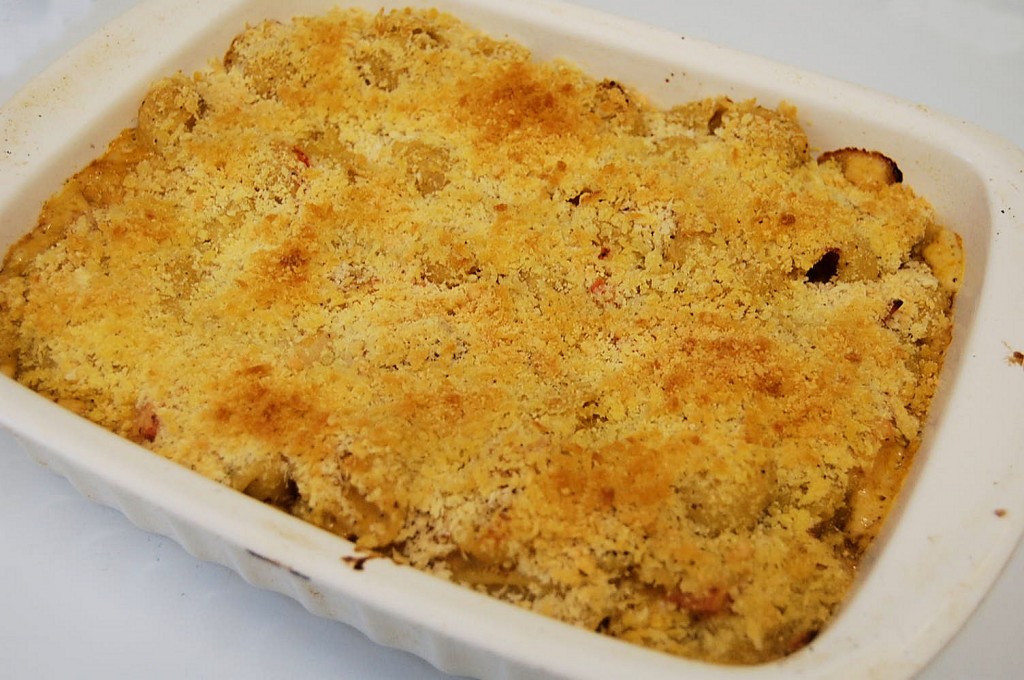 A little spicy Dijon mustard and a hint of white wine gave the dish an interesting and spicy flavor along with cayenne and red pepper flakes. The stars of the dish had to be the crab and roasted red peppers. Crab is already amazing just by itself but sauteed in a touch of butter and garlic brings it to a whole other level that worked absolutely perfectly alongside the cheese sauce. The late comer-roasted red peppers- were a last minute addition to the dish before popping it in the oven but their flavor was spot on and certainly stole the show. A layer of toasted bread crumbs in the end made this dish the most exciting and delicious meal I have honestly ever made! You must try this- I promise it is perfect for the whole family.
I am also submitting this to my new favorite recipe linky called Presto Pasta Nights headed up by Ruth of Recipes from 4 Every Kitchen!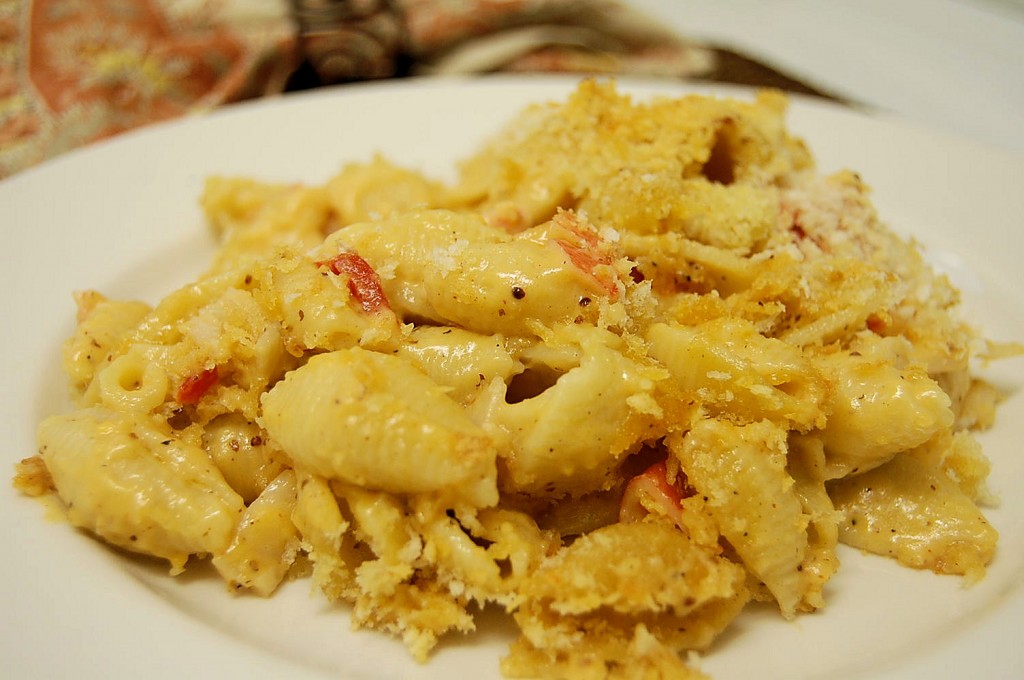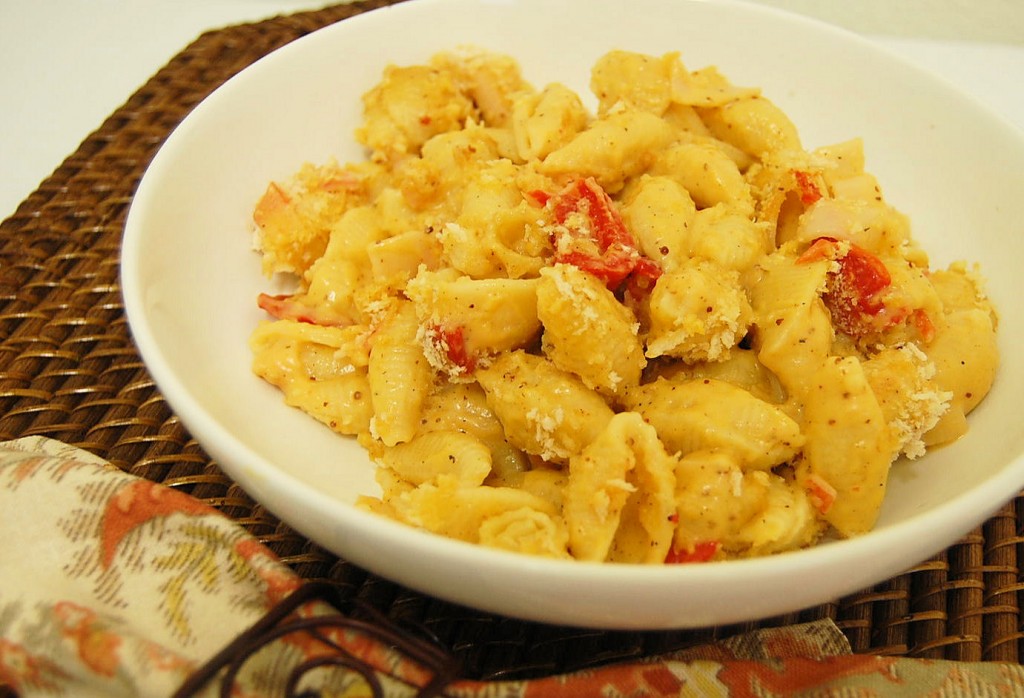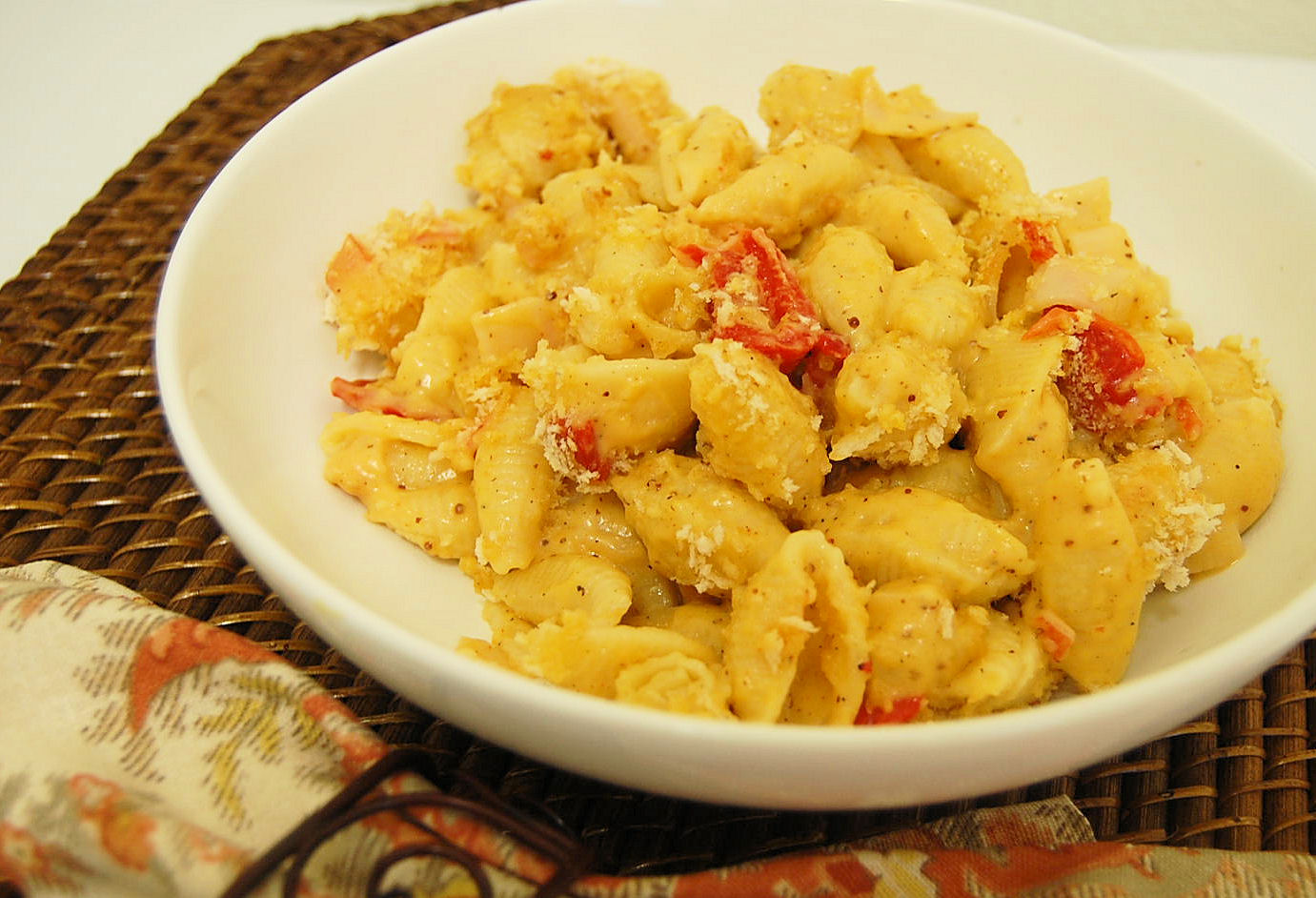 [print_this]
Spicy Crab and Roasted Red Pepper Mac and Cheese
Ingredients:
32 ounces of your favorite small pasta (I used shells)
8 ounces of fresh crab meat
1/3 cup roasted red pepper (jarred) minced
5 tbsp. butter, unsalted
3 1/2 TBSP all-purpose flour
2½ cups whole milk, warm to the touch
3-4 tsp spicy dijon mustard
1 tsp Worcestershire sauce
1/4 cup white wine or you could use cooking white wine or chicken broth
¼ tsp. cayenne pepper
¼ tsp red pepper flakes
1/2 tsp. garlic powder
1/2 tsp minced garlic
1/2 tsp. salt and pepper each
1/2 tsp cajun seasoning
1/4 tsp paprika
3 oz. sharp cheddar cheese, shredded
3 oz. pepper jack cheese, shredded
4 oz. muenster cheese, shredded
breadcrumbs and grated Parmesan cheese for topping
Directions:
Toast breadcrumbs in 1 TBSP butter in small skillet over stove until nice and golden brown. Set aside and mix with the parmesan cheese.
Saute the crab and minced garlic in 1 TBSP of butter for 3-4 minutes. Set aside.
In a large pot, melt butter and sprinkle in flour. Whisk together over medium-low heat. Cook mixture for five minutes, whisking constantly. Don't let it burn.Pour in milk, white wine, Worcestershire and mustard, and whisk until smooth. Cook for five minutes until very thick. Reduce heat to low. Add the remaining seasonings and then cheeses ( a little cheese at a time) until all cheese is melted. Adjust taste if necessary with more or less salt.
Pour into a greased 9×13 inch baking pan and cover with the toasted breadcrumbs and a sprinkling of Parmesan cheese. Bake at 350 for 20-25 minutes covered with foil, then remove foil and bake for another 5-10 minutes until the top of nice and golden brown.
[/print_this]