This year for Memorial Day we will be celebrating with a delicious flavor inducing batch of spicy crawfish but I suppose not everyone is into having craw-dads  or crayfish for their Memorial Day celebration so I thought it would be fun to give you a great Southern inspired Hot Dog recipe to liven up your party and throw one heck of a food bash.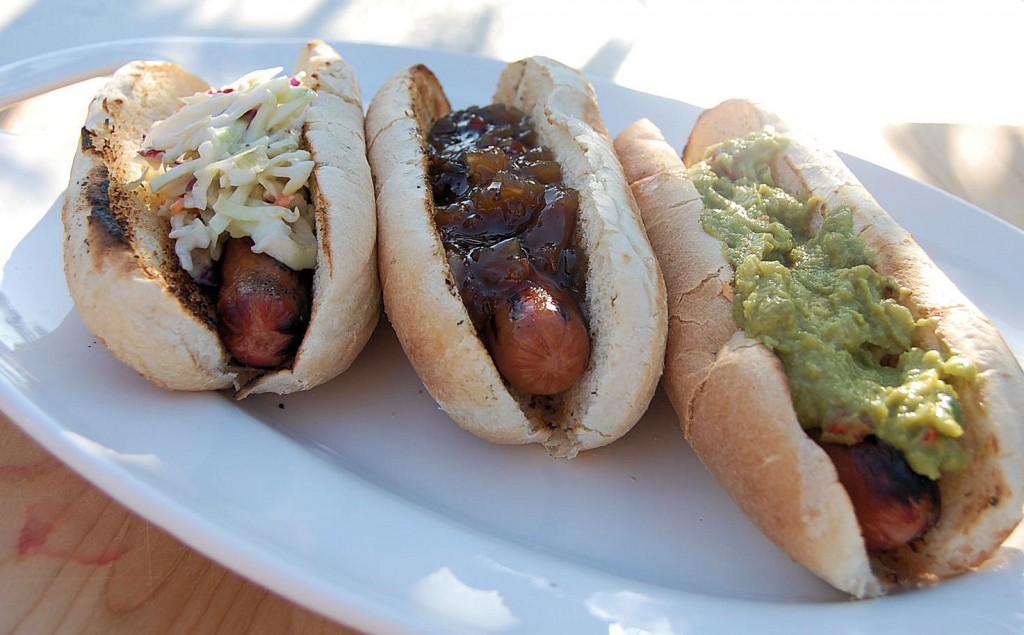 Do you know how to cook a hot dog? No, I don't mean in the microwave or letting your hubby throw it on the grill. Do you know the "real" method to cook a hot dog? I use the term real lightly considering it is "my"real way and I don't wan to offend anyone. Hot Dogs are best when they are juicy, plump and full of flavor. No one likes a commercial taste or a soggy dog. Instead of the old boiling technique you have long been accustomed to try this method I found in an old Cooking Encyclopedia for the perfect hot dog. When your done cooking be sure to add one or all of my three southern inspired condiments (recipe below) on top of your hot dog for an AMAZING mouth-watering experience!
Step One: Heat up your outdoor grill to 400 and place your skillet on top of the grill grates with approximately 8 TBSP of water, just enough to cover the bottom of the skillet. Bring to a slight boil and add your hot dogs. (You can of course do this method inside using a skillet and your stove).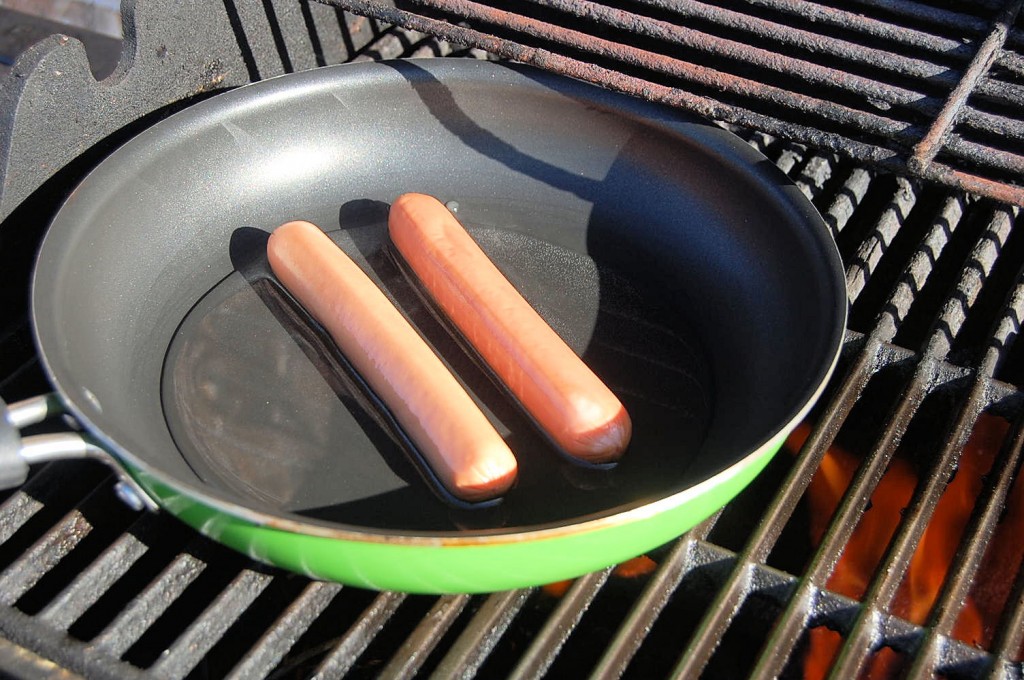 Step Two: Allow the hot dogs to cook in the water until the water steams off completely. Because of the small amount of water we have added to the pan the water will not continue to boil but instead like magic float off into the air:)
Step Three: There may be a little bit of water left over in the pan after about 4-5 minutes so just slightly tilt the skillet and pour out the remaining water. Add 1 TBSP of butter per hot dog to the pan along with a dash of celery salt and paprika. A DASH nothing more, nothing less. The butter will turn the hot dogs a nice color and blister them a bit and the seasonings will add an extra special touch. Again, just a dash and nothing more!
Step Four: Now toast your buns and begin piling on the extra goodies as seen below! Oh and you can thank me later!
Now a hot dog wouldn't be complete with all the fixings and I have three interesting and surprisingly fantastic ways to dress your hot dog in perfection.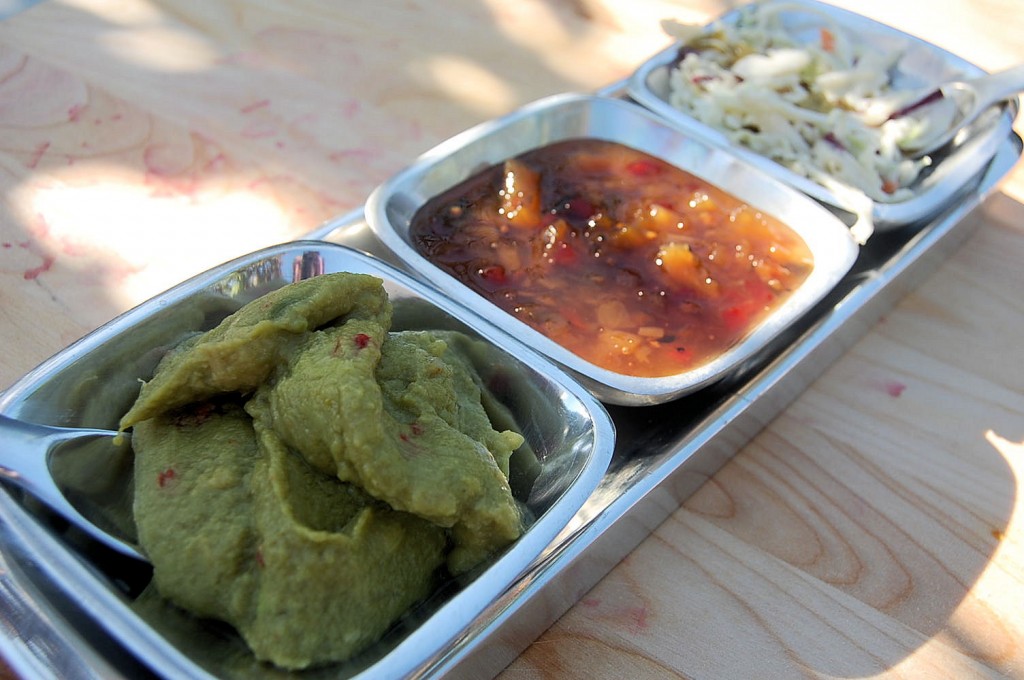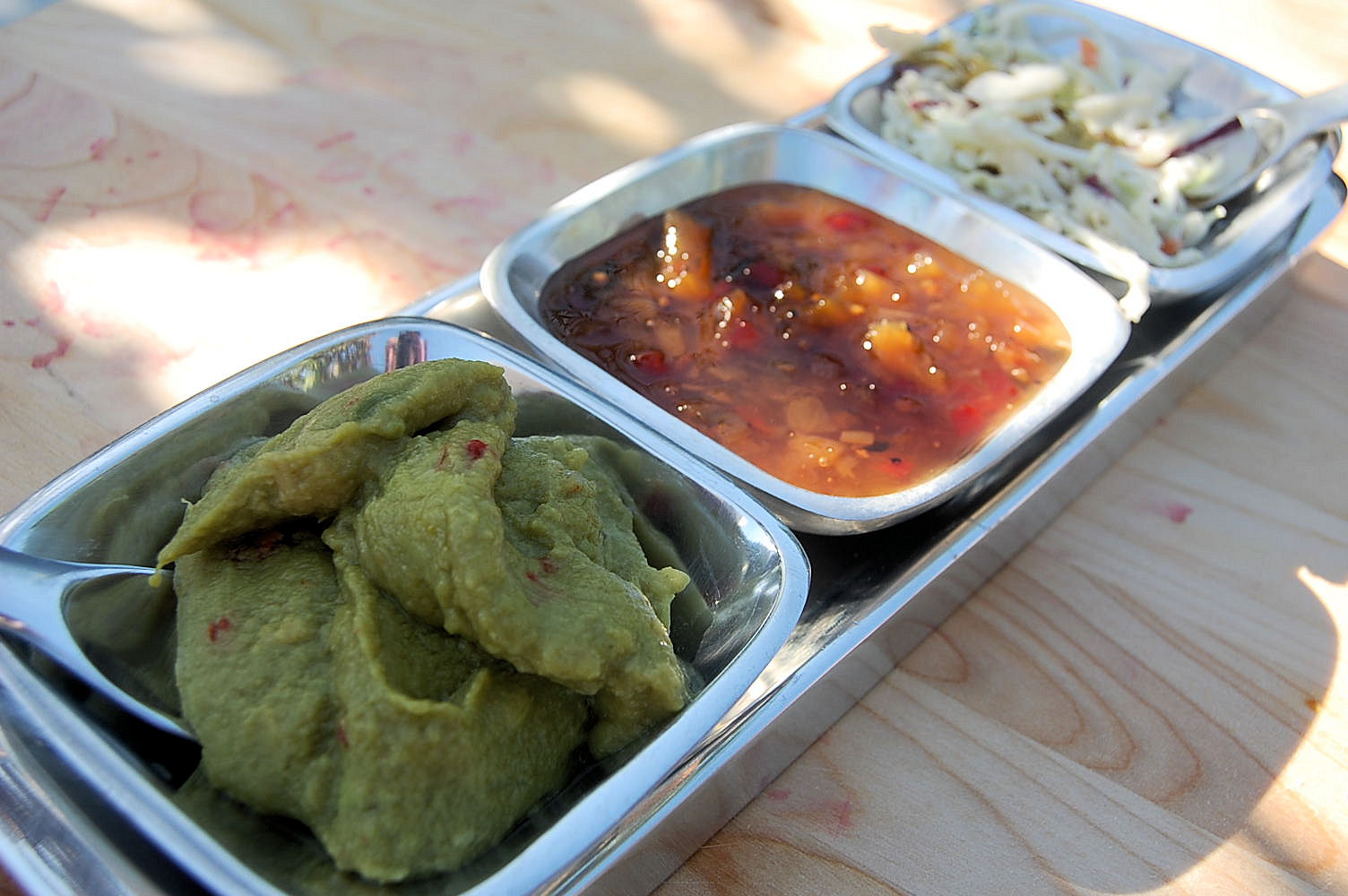 Roasted Pineapple and Habanero Chutney
First up my Roasted Pineapple and Habanero Chutney. It is perfection. The ultimate combination of sweet and heat that is so refreshing and can easily be transformed into a dip or salsa-but be careful- it is hot!
Creamy Jalapeño Coleslaw
Next is my Creamy Jalapeño Coleslaw. Beyond the shredded cabbage and choice of dressing there are so many variations you can mix up with your typical coleslaw recipe. You can use apples, grapes, almonds, crunchy almonds, fruit and even beans and corn. My favorite way though is a nice creamy version of a jalapeño coleslaw I had at a little hole in the wall restaurant my husband and I ate at one year in San Antonio. Tangy vinegar, jalapeños and a mayo-horseradish mixture is all you need for a veggie induced condiment sure to please.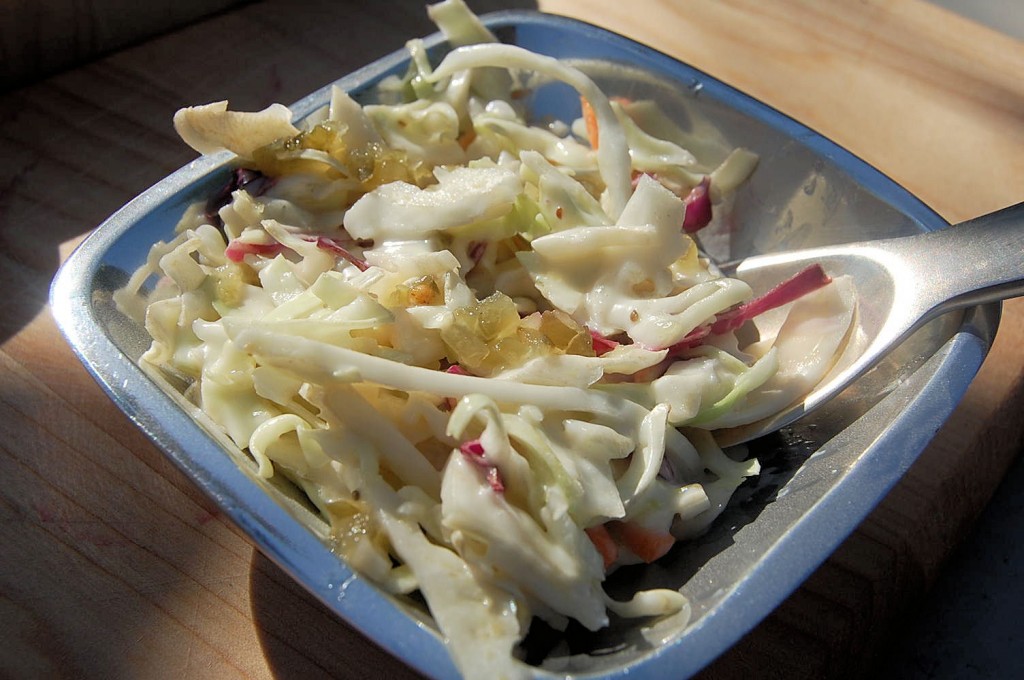 Spicy Avocado Hummus
Last but not least, my Spicy Avocado Hummus spread. It is out of this world delicious and I usually tend to eat it up before its even time to slap it on my bread. It has to be one of the easiest ways to add the perfect amount of flavor to a boring hot dog, sandwich or burger. Mix mashed avocados with ground chickpeas , lemon juice and garlic and a few other seasonings and you have a spread or dip that will leave people begging for more.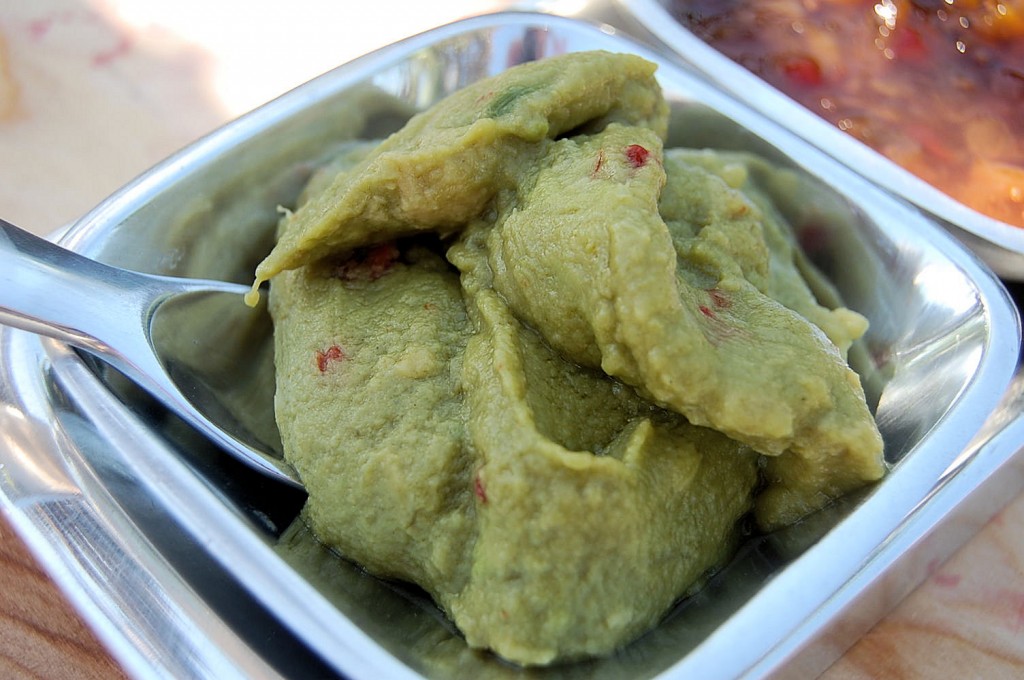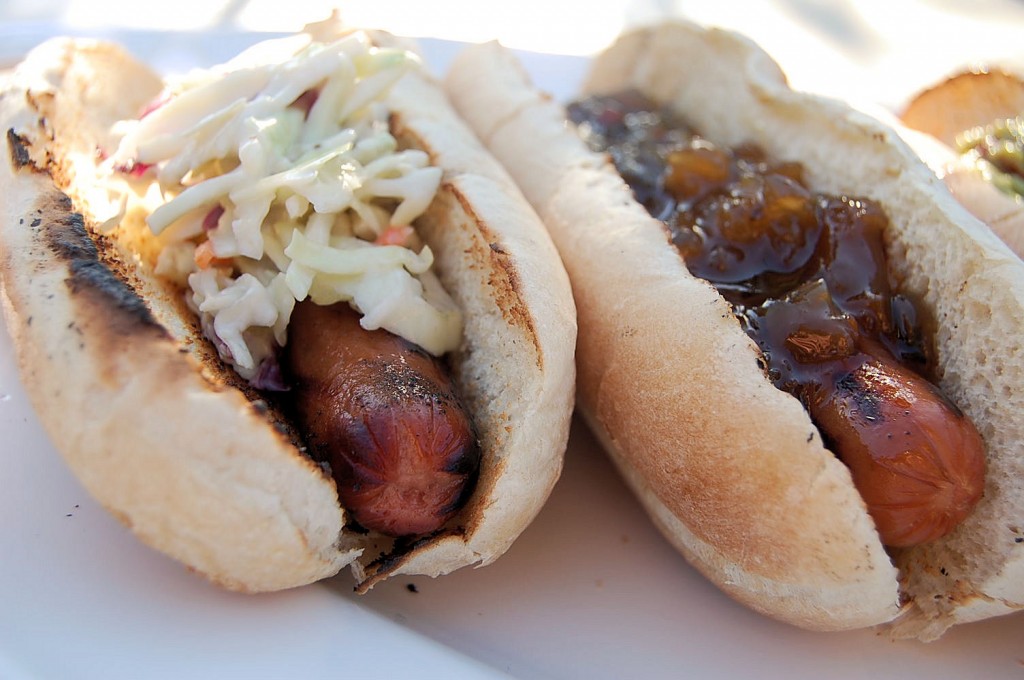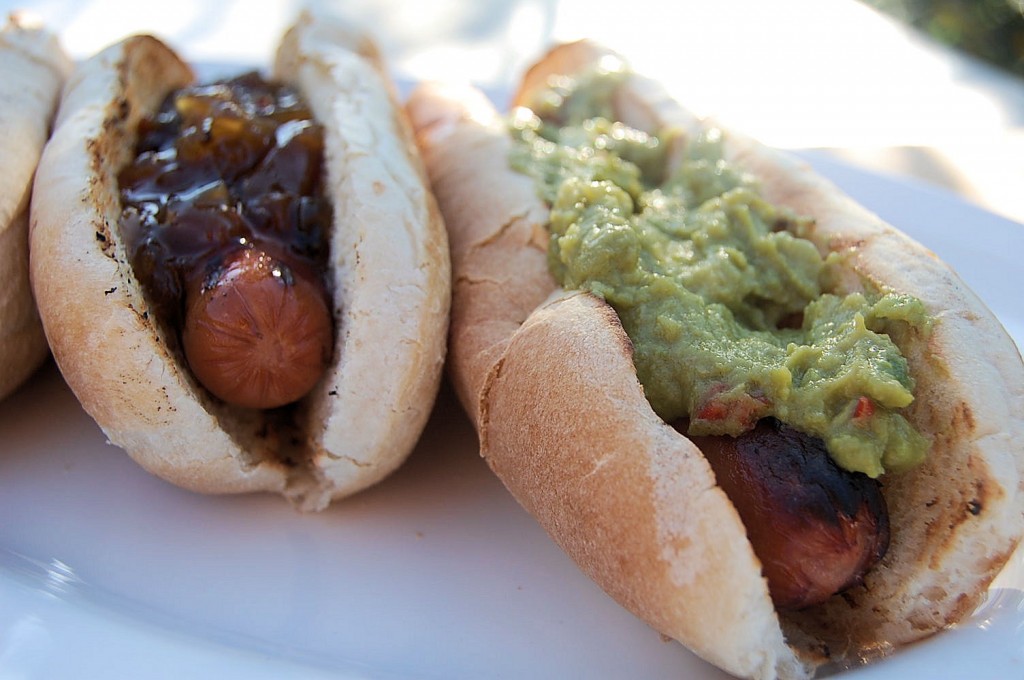 [print_this]
Roasted Pineapple and Habanero Chutney
(New Orleans Cooking by Emeril)
1 tablespoon butter, unsalted
1/2 cup chopped onions
1/2 tsp salt
2 cups small diced pineapple
1/2 cup small diced red bell pepper
1 tablespoon minced habanero
1/2 cup white vinegar
1/4 cup sugar
1 1/2 teaspoons cornstarch
1 tablespoon water
In a saucepan over medium heat, melt the butter. Add the onions. Season with salt and saute for 2 minutes. Add the pineapple, red bell pepper and habanero. Continue to saute until the pineapple is soft, about 7 minutes, stirring frequently. Add the vinegar and the sugar. Bring the mixture to a boil. In a small bowl combine the cornstarch and water and whisk until smooth. Stir the slurry into the pineapple mixture and return mixture to a boil. Continue to cook for 4 minutes, stirring constantly. Remove from the heat and cool completely.
Creamy Jalapeno Coleslaw
1 bag of coleslaw mix
3 TBSP of apple cider vinegar
2/3 cup mayo
2 TBSP prepared horseradish
1/2 tsp salt and pepper each
1/2 tsp garlic powder
1/4 tsp paprika
1 tsp dried cilantro
1 tsp sugar
2 jalapeños (from a jar) (pulsed in food processor until nice and juicy and minced)
Mix well and refrigerate for at least 2 hours before serving.
Spicy Avocado Hummus
2 ripe avocados, cut in half, pitted and peeled
1 tsp salt and pepper each
1 TBSP olive oil
6 ounces of chickpeas, drained
juice of 1 lemon
3 cloves of garlic
1 tsp tahini paste
1/2 to 1  tsp cayenne pepper (depends on how hot you want it)
1/2 to 1 tsp red pepper flakes (depends on how spicy you like it)
1/2 tsp cajun seasoning
Place all the ingredients in the food processor and turn it on low for at least 60 seconds and let all the magic has happened.
[/print_this]