WAIT! Don't Do It! Don't throw away those old donuts- by all means keep them and stash them away in the freezer- Believe me you are going to wish you had listened to me after reading this post! I hope you are mentally prepared for the most sinful indulging dessert that will have you dreaming of donuts and running to the nearest Shipley's or Krispy Kreme in the morning. My Donut Bread Pudding with Bourbon Creme Anglaise is by all definitions, and that would be per my Kitchen Belleicious Dictionary, a true culinary masterpiece.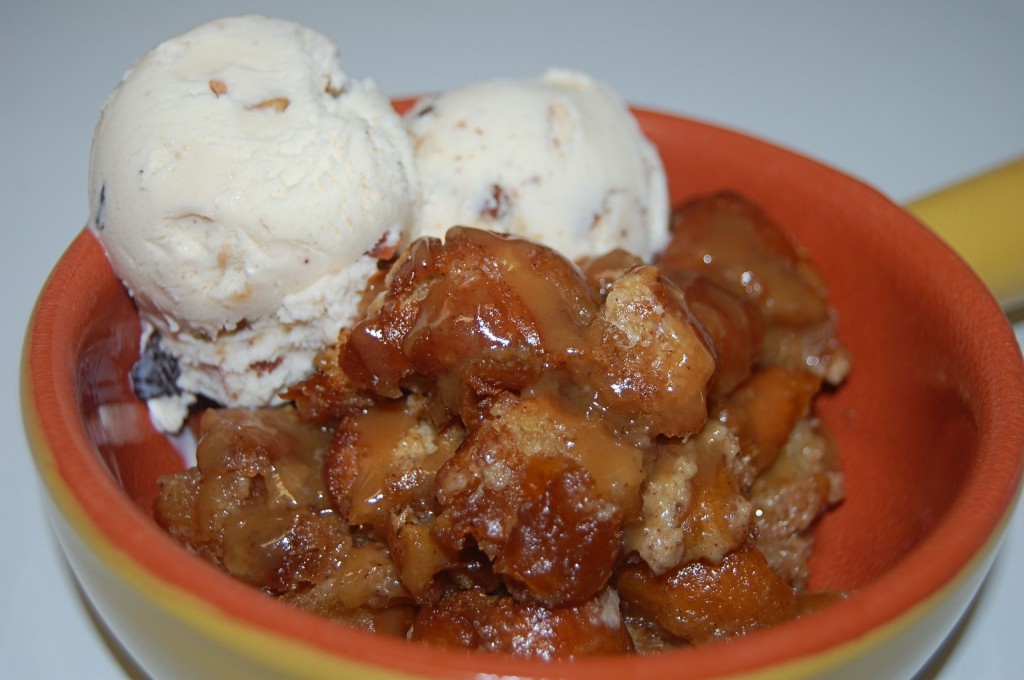 Not only did I go above and beyond the usual bread pudding by using donuts (Krispy Kreme to be exact) but I throw in the ultimate show stopper with the bourbon creme Anglaise. You see, I was not simply in the mood for something sweet, I was CRAVING something sweet, something so indulgent that I would feel sick afterwards. Why you might ask did I want to feel sick. Well, we had gone to a little engagement party that night and I had not been to keen on the food served (nothing was wrong with it just not my type of food) so I opted for a few appetizers here and there, all the while envisioning exactly what type of rich dessert I was going to make myself ( I mean us, I guess he could have a few bites! LoL!) once we got home. I remembered the donuts I had stashed in the freezer that my sweet loving father had brought me us the last time he was in town (Thank you Jesus) and my mind started racing. Besides just going straight at them and popping them into my mouth like crazy, I was trying to decide what could I actually make with them. Then it came to me. Bread Pudding! At last, I saw a light at the end of this food tunnel and now I was even more ready to get home than before!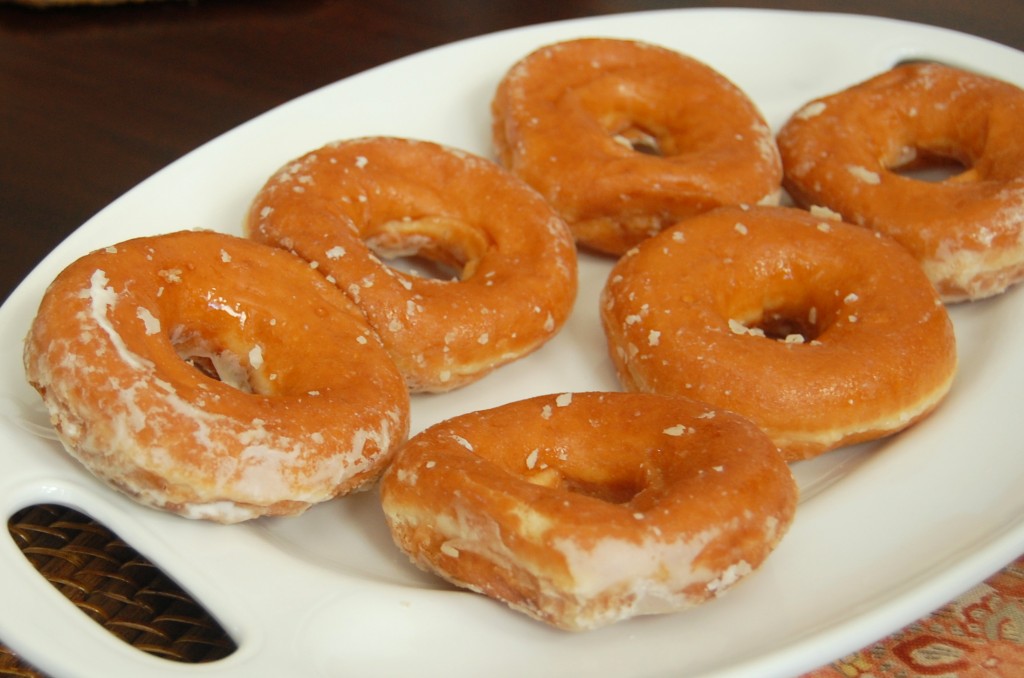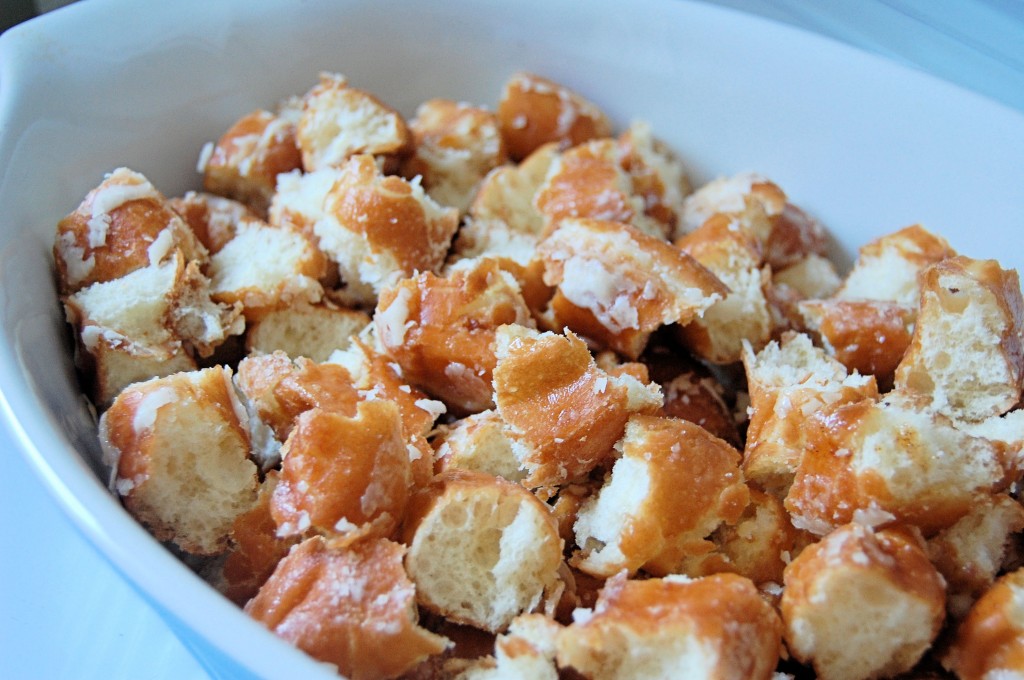 If you think bread pudding is hard to make then you have been reading the wrong recipes. If you can whisk up eggs and milk then you can make bread pudding. It is simply bread cubes soaked in a decadent custard and baked to perfection. You can't go wrong with it- chose from a variety of breads along with any flavor you wish (Oh, I just saw visions of strawberries dancing in my head). Note to s self: Make  a strawberry bread pudding next time. In fact, the best part of all about this dish is you can make it a whole day in advance. That's right, you heard me. You can actually make it and have it in the fridge ready to pop in the oven at a moment's notice.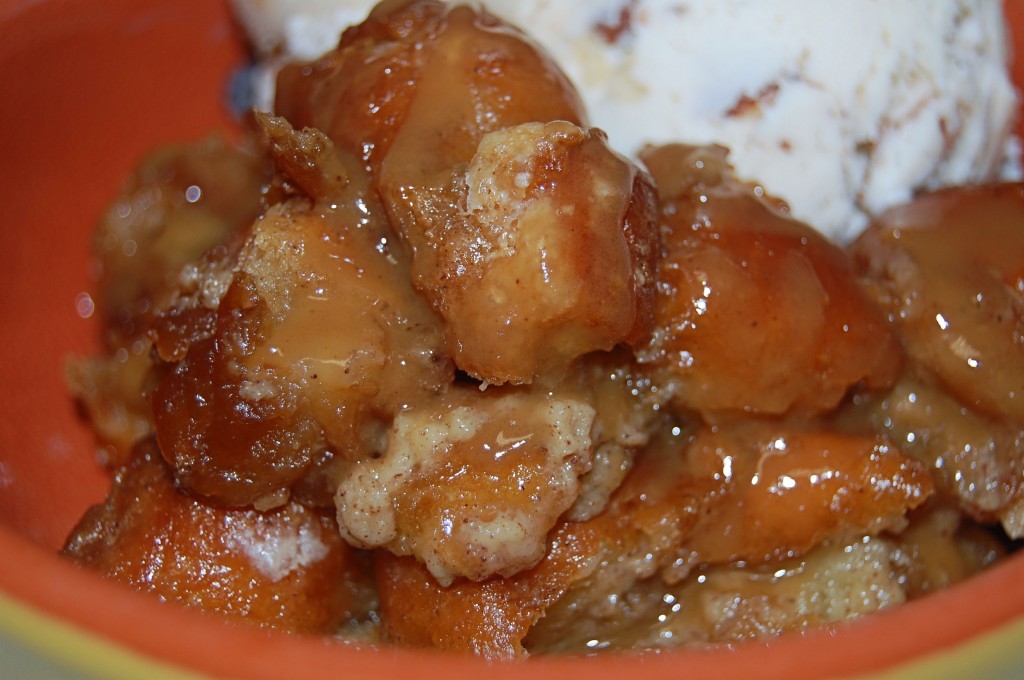 The rich Creme Anglaise certainly steals the show in the end. The bread pudding wouldn't have been the same without the sweet caramel-like sauce drizzle on top. Serve with a scoop of ice cream (please tell me you do that?) and have yourself a fabulous dessert!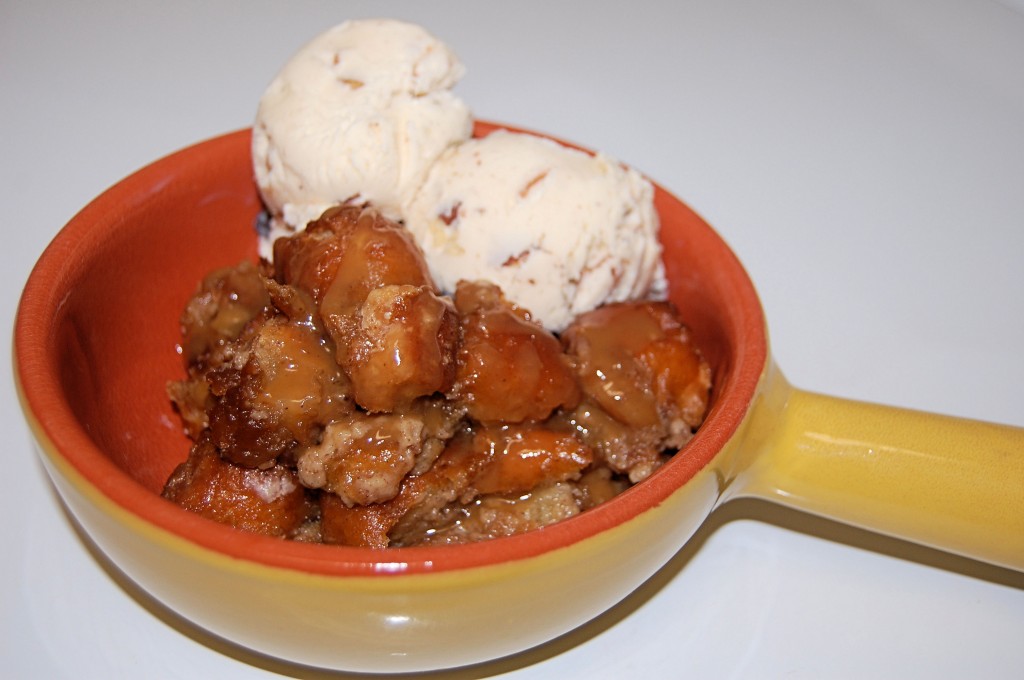 [print_this]
Donut Bread Pudding with Bourbon Creme Anglaise
Ingredients:
A dozen day old donuts, cut into cubes
1/2 stick butter, melted
2 1/2 cup whole milk or you could use heavy cream
1/2 cup brown sugar
1 tsp cinnamon
1 tsp nutmeg
1 tsp vanilla
1 tsp salt
4 eggs, slightly beaten
* optional- 1/4 cup whiskey
Bourbon Creme Anglaise
2 cups of heavy cream
6 TBSP of sugar
8 egg yolks
1/4 cup of bourbon or 1/2 tsp vanilla extract
Directions:
Grease a 9×13 oven safe dish. In a large bowl mix together the remaining ingredients. Place the donuts into the large bowl and allow to soak for 5 minutes. Pour the custard mix along with the donuts into the greased dish, leaving approx 1/4 cup of cream remaining. Sprinkle with a touch of cinnamon and cover with foil. You can either bake the bread pudding now at 350 for 30 minutes or place in the refrigerator for up to a day.  After the initial 20 minutes, remove the foil and bump up the temperature to 375- cook for the remaining 10 minutes. Allow to cool and drizzle with the Creme Anglaise
To make the sauce: (Southern Foodways Alliance cookbook)
Stir together the cream and 2 TBSP of sugar in a medium saucepan on low until the sugar is dissolved. Remove from heat and set aside to cool. In a small bowl, using a hand whisk beat together the egg yolks and remaining 4 TBSP of sugar until pale yellow and thick. When the cream and sugar has cooled place a small amount of the cream into the egg yolk mixture, stir to combine then place all the egg yolk mixture back into the saucepan with the creme. Stir gently and set over low heat. Stir constantly for approximately 5-6 minutes until the mixture is thick and coats the back of you spoon. Once thick, remove from heat and stir in the vanilla or bourbon. Drizzle ALL over the bread pudding!
[/print_this]