I hope you do mind the interruption of a re-post on this beautiful Monday after Mother's Day. Actually, it isn't really a bona-fide repost because I never posted it on this site before. I used this as my guest post for Alli-n-Son's a few weeks ago. If you stick with me, I promise to fill your sweet tooth desire with one amazing dessert and I promise to have the most delicious savory meal for you on Wednesday!
I have been talking non-stop about my passion for baking with fresh summer fruit this year on Kitchen Belleicious and today is no exception. Before I go any further let me explain a little more about myself. I am what some would call an OCD cook! I get into these little obsessions with my cooking where I can't stop baking or cooking with a certain ingredient. Last month it was strawberries and this month it is plums. They are just so darn gorgeous and juicy that I can't get enough. My husband asked if I needed counseling but I assured him that he must zip it unless he no longer wants dessert anymore! LOL!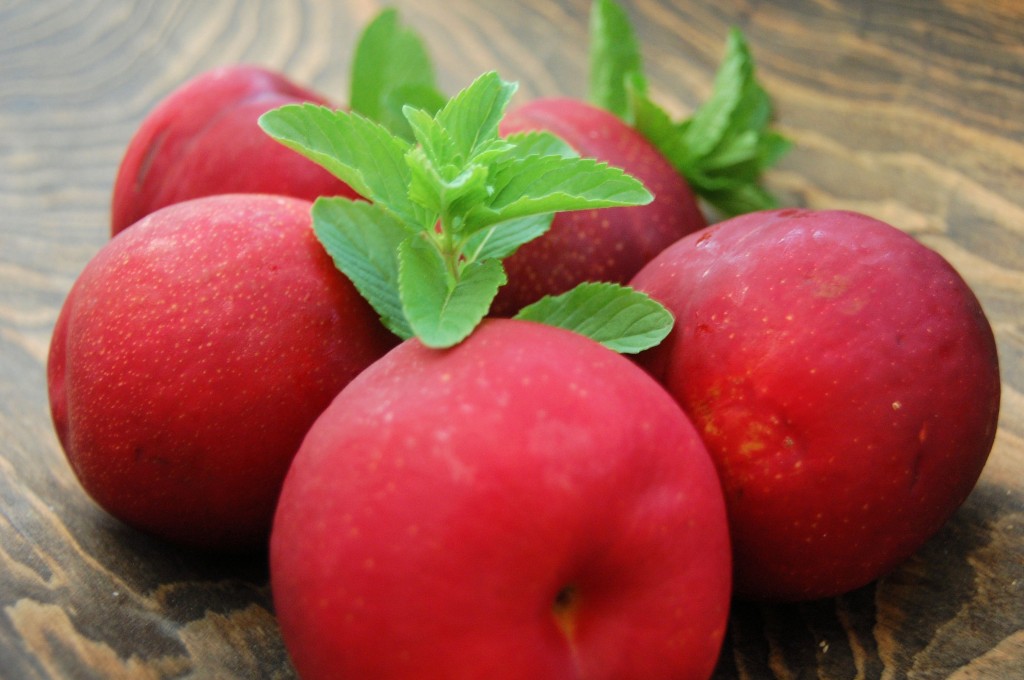 All this brings me to my latest and fabulous spring/summer dessert- Mint Infused Plum Tarte Tatin! You can just see the sweet goodness just oozing from the cake the moment you lay eyes on it. The addition of the mint adds a completely different layer to the dish that you wouldn't normally expect from a sweet tart. I got the idea from one of my favorite refreshments, Mint Julep. Seriously, one bite of this tart and you will think you died and gone to Mint Julep Plum Cake Heaven. Okay, maybe there is no such thing but the flavors and texture of this tart are just simply amazing. Just warning you- -You might not be able to have your cake and eat it too but then who really wants to have a cake to just look at. Seriously, that quote frustrates me sometimes because I don't know one person who would rather look at a cake instead of eating it! Do you?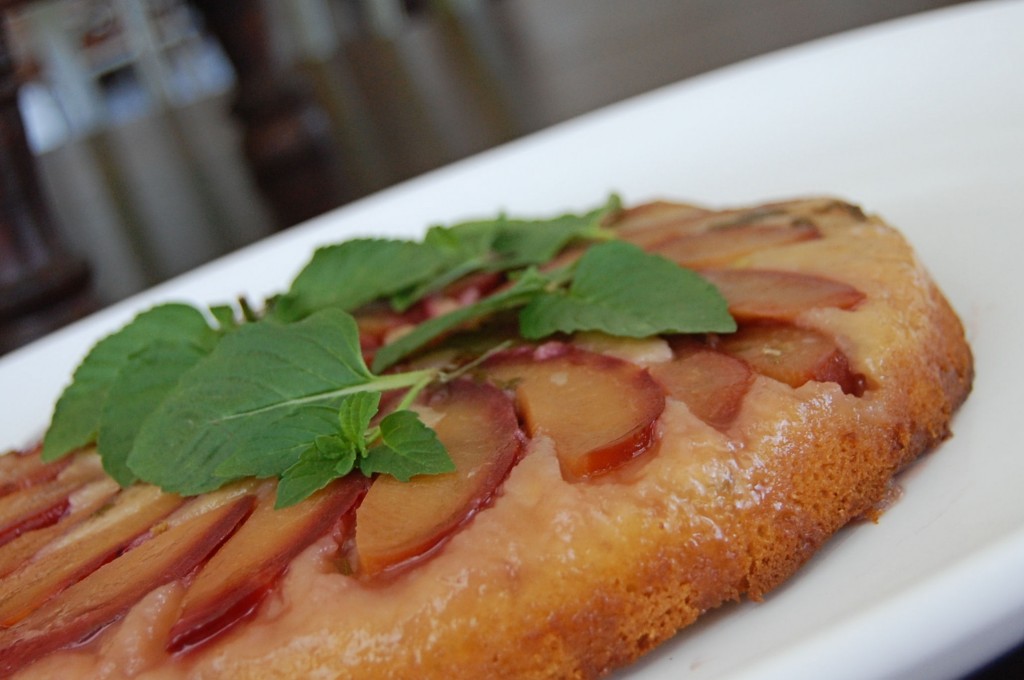 Have you ever obsessed over an ingredient before? If so I am so curious to know what it was?  Hope ya'll had a fabulous weekend and here's to a even better week!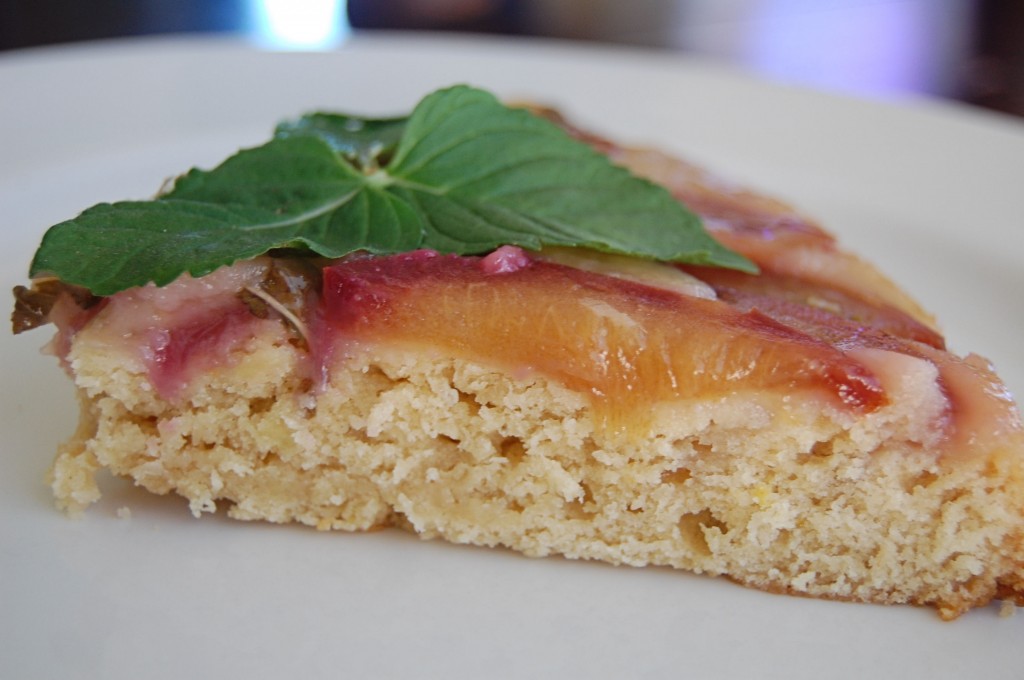 [print_this]
Mint Infused Plum Tarte Tatin
Ingredients: (adapted from Ina Garten)
1 cup plus 2 TBSP AP flour
½ tsp baking powder
1 3/4 cup sugar
6 TBSP, room temp butter
½ tsp vanilla extract
2 eggs
1/3 cup sour cream, room temp
¼ tsp salt
3 TBSP mint leaves, julienned plus more for garnish (optional)
½ tsp lemon zest
¼ cup sugar
1/3 cup water
6 ripe plums, pitted and quartered
Directions:
Generously butter a 9-inch glass pie dish and arrange the plums in the dish, cut side down.
Combine 1 cup of the granulated sugar and 1/3 cup water in a small saucepan along with the mint leaves and cook over high heat until it turns a warm amber color, about 360 degrees F on a candy thermometer. Swirl the pan but don't stir. Strain and pour evenly over the plums. (Note: I left a few mint leaves in the syrup to add little specks of green inside of the cake)
Meanwhile, cream the 6 tablespoons of butter and the remaining 3/4 cup of granulated sugar in the bowl using your electric mixer or stand mixer with the paddle attachment, until light and fluffy. Lower the speed and beat in the eggs one at a time. Add the sour cream, zest and vanilla and mix until combined. Stir together the flour, baking powder, and salt and, with the mixer on low speed, add it to the butter mixture. Mix only until combined.
Pour the cake batter over the plums and bake for 30 to 40 minutes, until a cake tester comes out clean. Cool for 15 minutes, then invert the cake onto a flat plate.
[/print_this]