Happy early Cinco de Mayo to you all! I have two great Cinco De Mayo Recipes to share with you today and then again on Wednesday. You know it is 5 o'clock somewhere and I know there is someone out there just wishing they had a fresh and flavorful salsa to go with their chips and margarita right now and that is what I am here for. To read your minds and provide random recipes like tomatillo salsa verde and fresh pico de gallo salsa at the drop of a hat!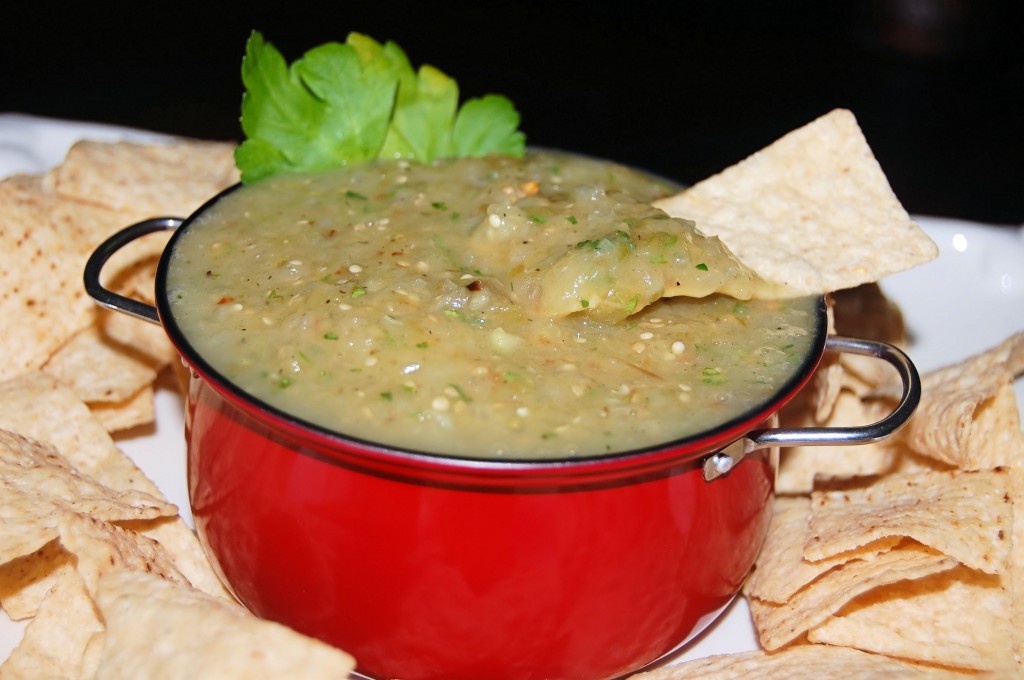 This authentic salsa verde has an amazing fresh flavor that you won't find in any store-bought version. Roasted tomatillos, onions and garlic with a dash of olive oil and sea salt add the perfect char taste that goes so well with the sweetness of the green tomatillos. You can use this salsa on just about anything from meat to seafood but my special favorite is to simply dip it with a big bowl of chips. I am a sucker for dip and chips. I can't just have one- let's just say I am all for the endless bowl of chips at Chilis! 🙂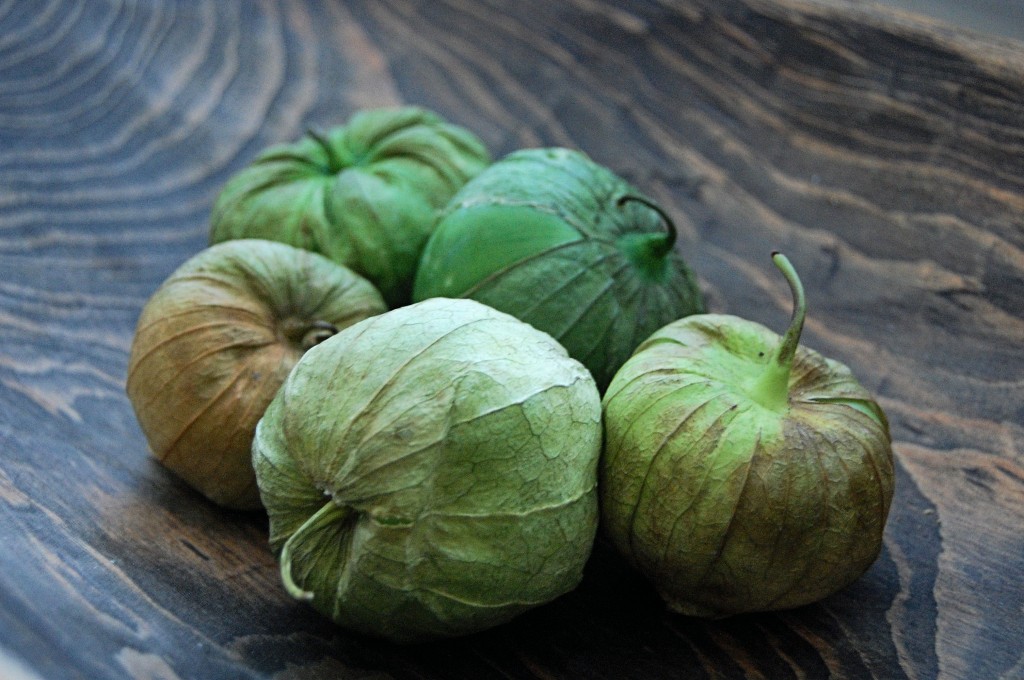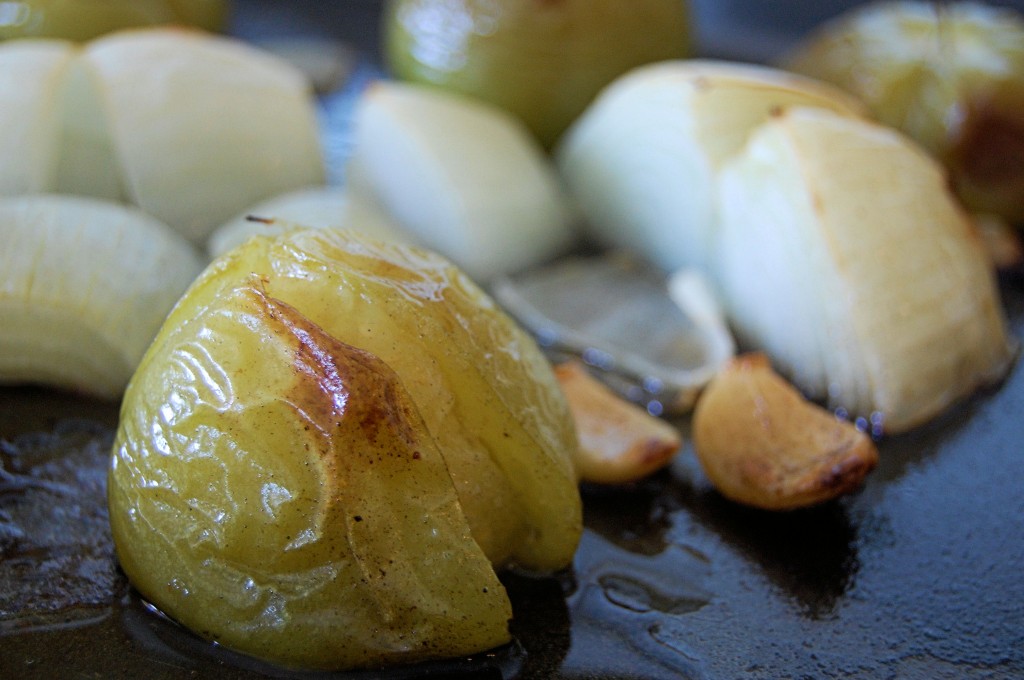 I saw these beautiful tomatillos in the store last week and I thought they would be perfect for a salsa but I wanted to do something a little different which is why I roasted them with onions before blending them with the other ingredients. As God as my witness, there are a million different recipes out there with methods of how to make salsa verde but I pinky promise to you all that this is by far the easiest way. You know I don't like alot of steps nor needed time for that matter so I opted to cook the tomatillos first then blend with no additional "simmering" time over the stove. The end result- the most exceptional bowl of tomatillo salsa you have ever put in your mouth. Amazing and Shear Perfection for the ultimate Cinco De Mayo celebration at this year!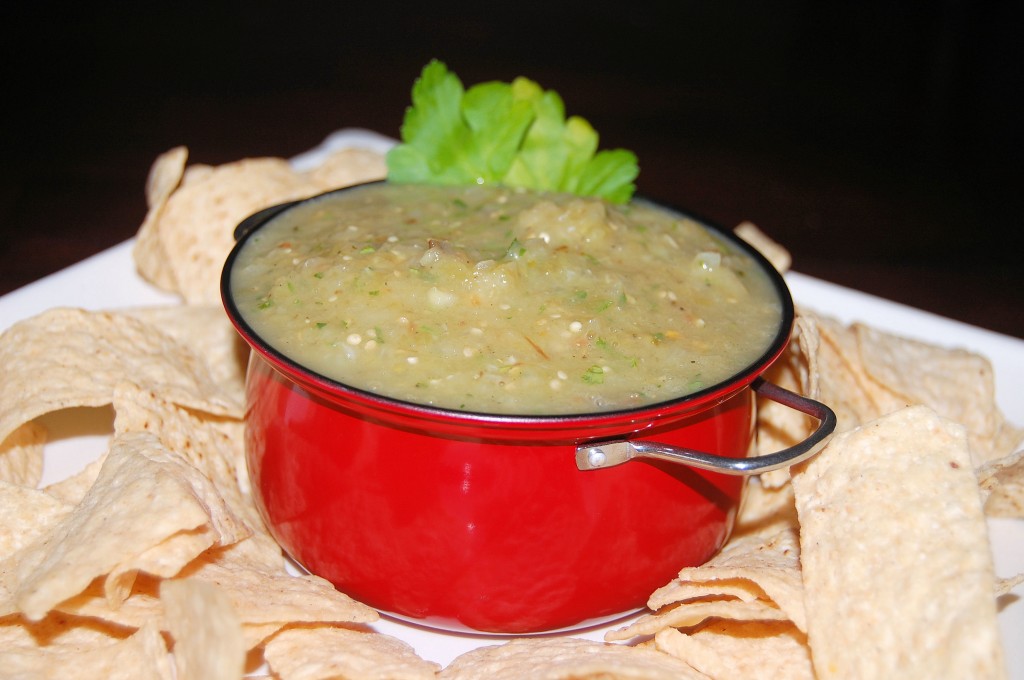 A little background on how I invented my fresh red salsa. A few months ago we were having some our friends Caleb and Sarah over for a little Mexican fiesta and I just assumed t I had salsa in the pantry when at last- there was no salsa to be found. With about 3 hours until they arrived and a shower that I desperately needed to take I embarked on my journey to make the perfect salsa. Actually, I wasn't going for perfect but just good enough to dip chips in. My dad (believe it or not) makes the best salsa ever. He got the recipe from my Aunt Sandy who lives in New Orleans and he makes jars and jars of this stuff when the urge hits him. He hasn't done it lately though and I can understand why because it takes literally all day to make. You have to sauté onions, boil tomatoes, simmer, sit, etc.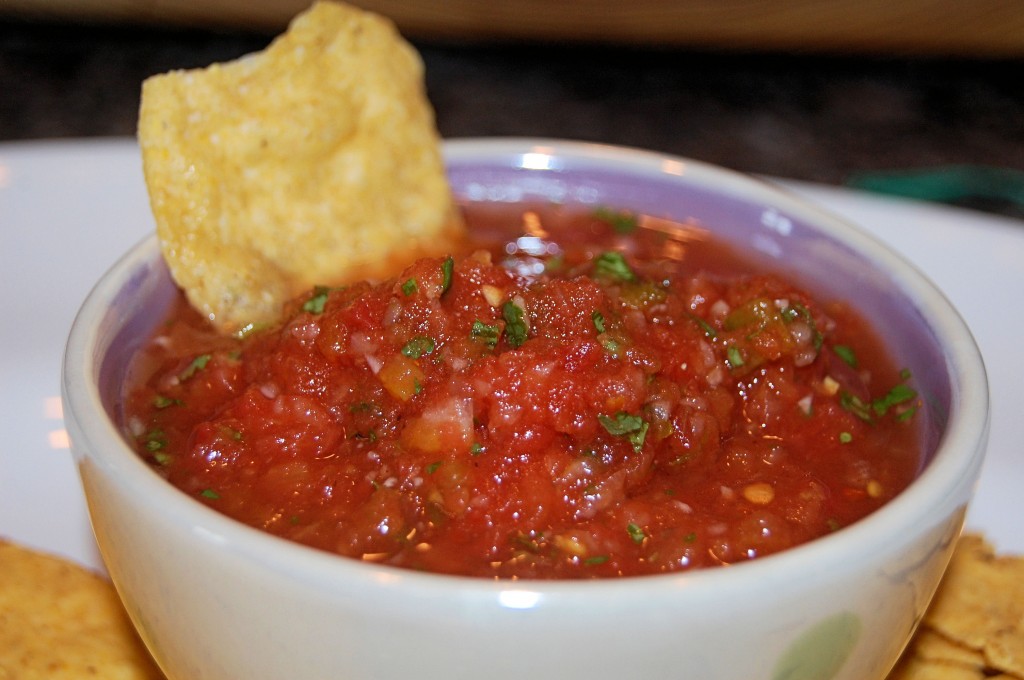 I miss Daddy's salsa but I think I have a simple, easy and absolutely delicious salsa to take its place. I am not lying when I say all I did was open up a can of whole tomatoes, popped them in the food processor along with 4 cloves of garlic, 1 handful of fresh cilantro, 1 tsp salt and pepper each, 1 tsp paprika, 1 lime juiced, 1 or 2 TBSP of olive oil, some vinegar and ½ of a small onion and hit pulse. In 1 minute I had the best easiest and flavorful salsa I swear you have ever put in your mouth. If you do not make any of my dishes ever please please make these two salsa recipes. They will cost you nothing, take you no time at all and everyone will think you are a genius!
[print_this]
Tomatillo Salsa Verde
Ingredients:
1 pound of fresh tomatillos, peeled and cleaned
4 cloves of garlic, whole
1 small onion, quartered
1 tsp salt and pepper each
1 tsp red pepper flakes
1/2 cup packed cilantro
splash of red wine vinegar
juice of 1 lime
1 tsp of jalapeño juice or 1/2 of a jalapeño minced
Directions:
Are you ready for the directions- pretty easy stuff! Place the tomatillos (whole) onions (quartered) and garlic cloves (whole) on a baking sheet drizzled with olive oil and a dash of sea salt. Roast in the oven at 400 for 15 minutes or more until they are slightly browned with a char appearance. * Note: make sure the garlic cloves are well drizzled with olive oil or they will burn in the oven.
Place all ingredients in the bowl of a food processor or blender and blend until slightly smooth ( I like a little texture with my salsa)
Fresh Pico de Gallo Salsa
Ingredients:
1 28 ounce can of whole tomatoes
4 cloves of garlic
2 tsp of salt and pepper each
1/2 cup packed cilantro
1/4 cup red wine vinegar
Juice of 2 limes
1 tsp red pepper flakes
1 small onion
Directions:
Place all ingredients in the bowl of a food processor and pulse on low until blended and slightly smooth in texture.
[/print_this]