This is a dish I have always wanted to try. It tastes just as refreshing as it looks and it is loaded with succulent flavors of white wine infused mussels and clams, grilled shrimp and fresh crab-meat. Seafood Paella is a favorite international dish of the Spanish Cuisine and one that this southern family is now in love with. Think a lighter and fresh version of your typical jambalaya. There are a million different versions of this classic dish but being the seafood lovers that we are I opted for a paella loaded down with fresh seafood.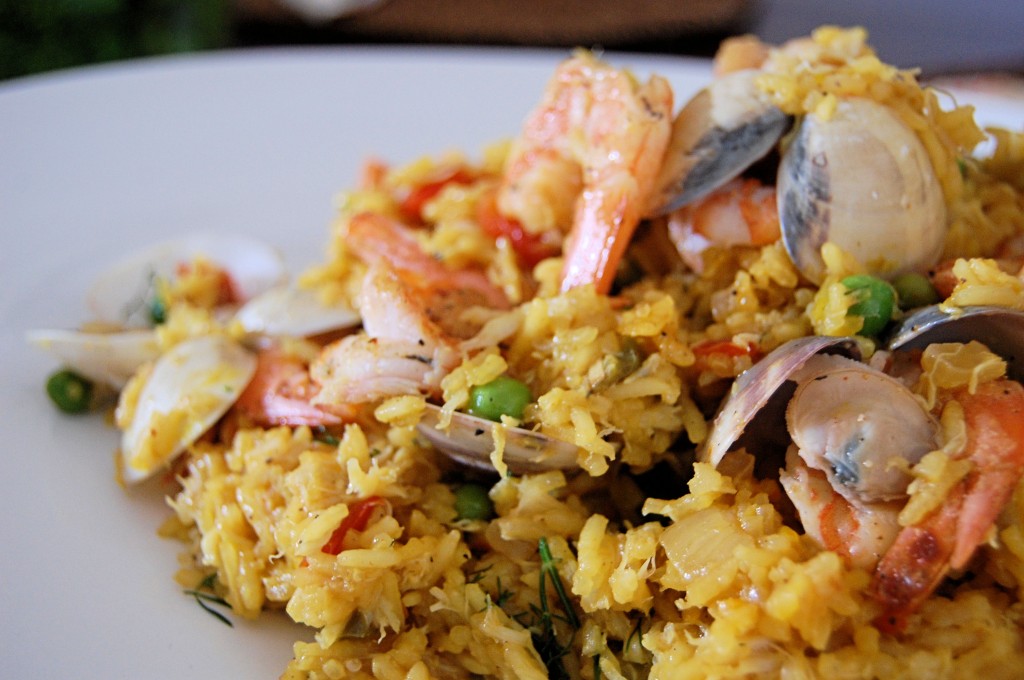 When I first researched paella, I have to tell you I was a bit overwhelmed by all the steps but as in typical Belleicious fashion I decided that I didn't have to follow the steps exactly, I would take the flavors accustomed with your typical paella dish but with my own set of instructions. For example, most recipes have you cooking paella for what seems like days and separating each of the different components into their own step by step cooking method. I am all for quick and easy so I used my jambalaya cooking method with the ingredients of a seafood paella. Have I lost you yet? You will see what I mean later down below!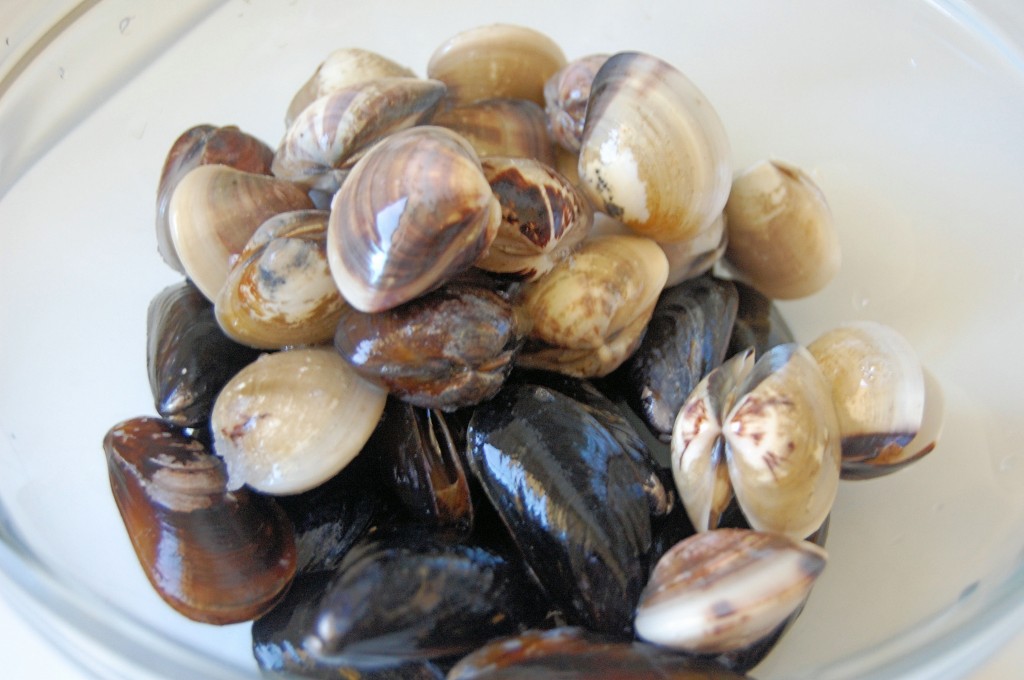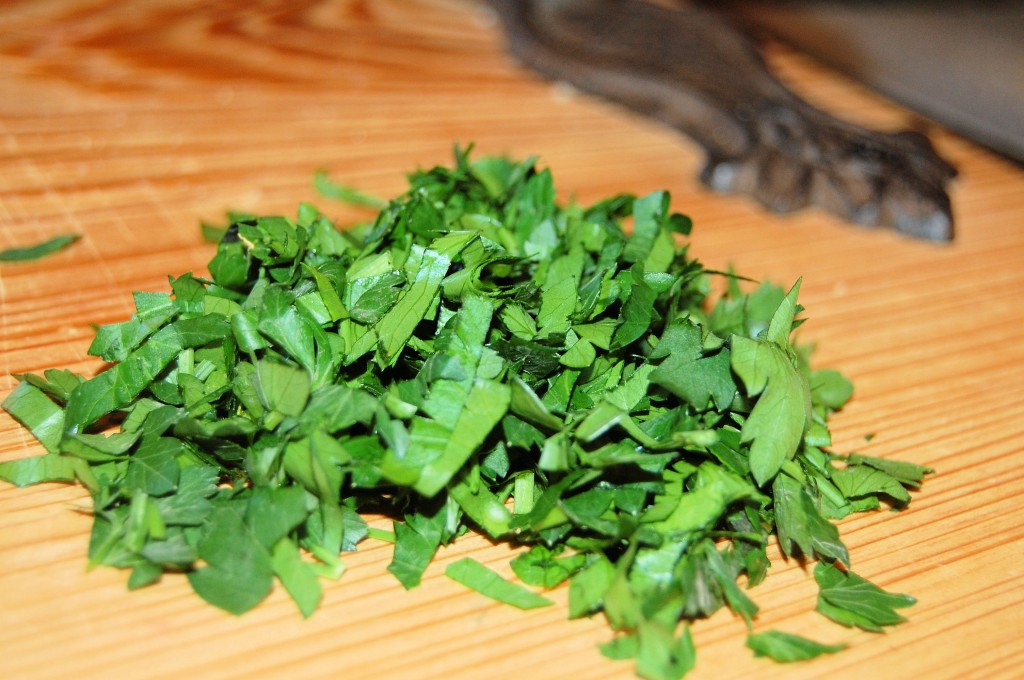 I love the replacement of the seafood over chicken or meat. It gives the dish a lighter feel and in my opinion enhances the flavors of the saffron and other ingredients of the dish by not masking the taste by the heaviness of the meat. Mussels and clams steamed in a white wine sauce with a touch of lemon, shrimp grilled in lemon and a pinch of turmeric pair ver
y nicely with the fresh lump crab-meat and woodsy and honey-flavor of the saffron rice. For an fun touch I added a package of frozen sweet peas for more color and a sweet taste.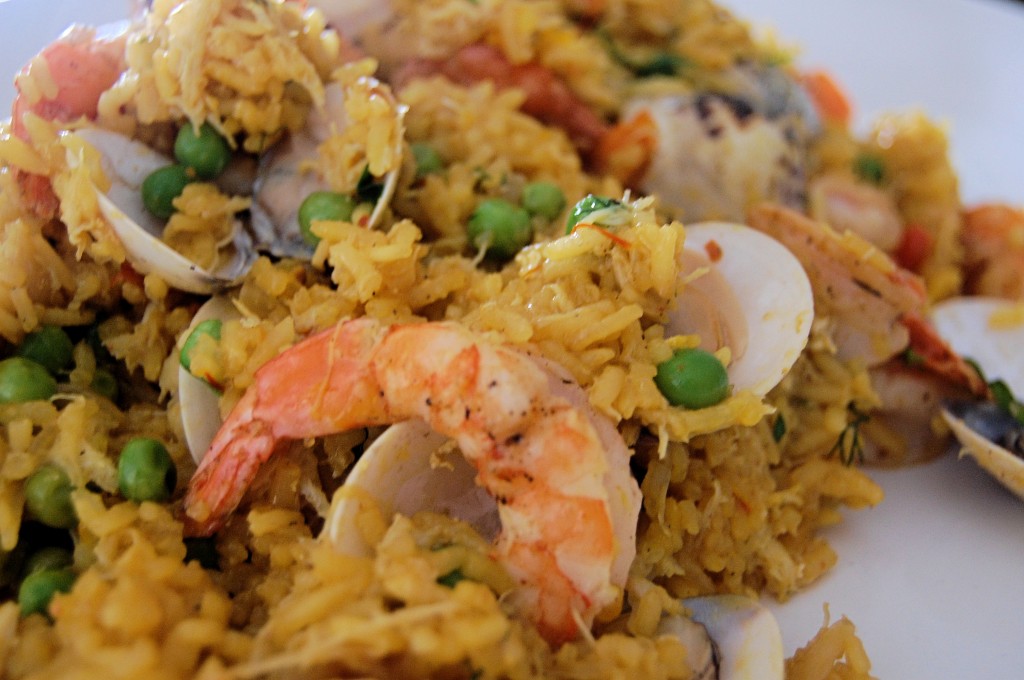 This dish is like hitting the jackpot or finding a pot of gold at the end of the culinary rainbow. It leaves you with a feeling of excitement and anticipation with each new bite. I started this dish off with reckless abandonment and in the end I left with a full sense of satisfaction. After a long hard week there is nothing better to me than a delicious and amazing meal like this Saffron Seafood Paella!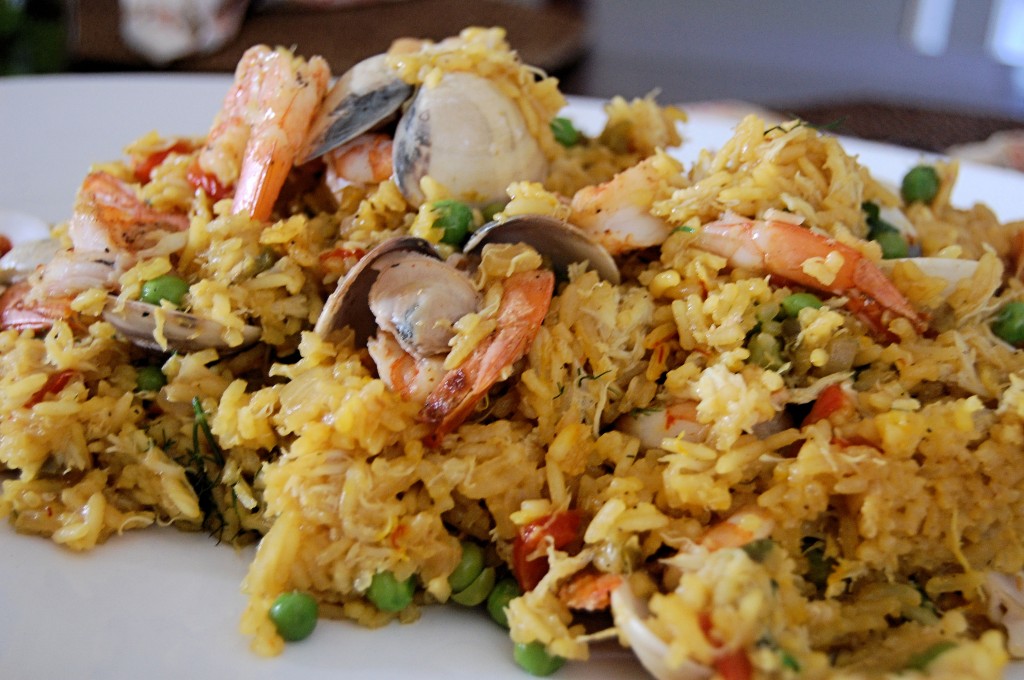 [print_this]
Saffron Seafood Paella
Ingredients:
2 cups Valencia Rice
1 medium onion, chopped
1 green bell pepper, chopped
1 red bell pepper, chopped
3 cloves garlic, chopped
1 tsp saffron threads
1 tsp salt and pepper each
1/2 tsp red pepper flakes
1/2 tsp paprika
1 TSBP each of freshly chopped basil and parsley
4 cups seafood stock
3/4 cup white wine
1  pound of fresh lump crab meat
1 pound fresh shrimp (15-15 count)
1/4 pound of mussels
1/4 pound clams
2 lemons, juiced and zested
1/2 cup olive oil
1 package of frozen peas
Directions:
Heat the oil in a large dutch oven. Saute the onions and bell peppers for 3-4 minutes then add in the chopped garlic. Cook for another 2-3 minutes and then add in the rice, seafood stock, 1/4 cup white wine and all of the seasonings, not including the herbs. Bring the pot to a boil. Cover the pot and allow to simmer for 25-30 minutes, stirring only after the first 15 minutes and very gently. At the end of the 30 minutes the rice should be fully cooked.
Meanwhile, season your shrimp with the juice of 1 lemon and a touch of salt and pepper. Broil on the highest rack for 5-6 minutes until slightly pink. Set aside.
Bring the remaining 1/2 cup of white wine to a boil in a medium sized saute pan along with the zest of 1 lemon. When it has reduced by half, lower the heat and add in the mussels and clams. Cover with a lid and steam for 4-5 minutes until all the clams and mussels have opened. Those who haven't popped open, discard before tossing with the rice.
Once all the liquid has been absorbed by the rice add the frozen peas and steam for 10 minutes. Next add in all the seafood and freshly chopped herbs. Squeeze the juice of the second lemon over the dish and serve warm.
[/print_this]