I was searching for a great cake recipe to make for the week of Easter when I discovered the cutest little bundt cake mini pan at a cake supply store last week with a picture of a carrot cake on the front of it. I was memorized by how breathtaking the cake looked and I knew I wanted to make something just as beautiful and just as delicious as the picture looked. Seeing as it is Easter I like to use one of my favorite veggies in my cooking that is  synomous with this holiday- CARROTS! What better way to bake with carrots than to make a carrot cake?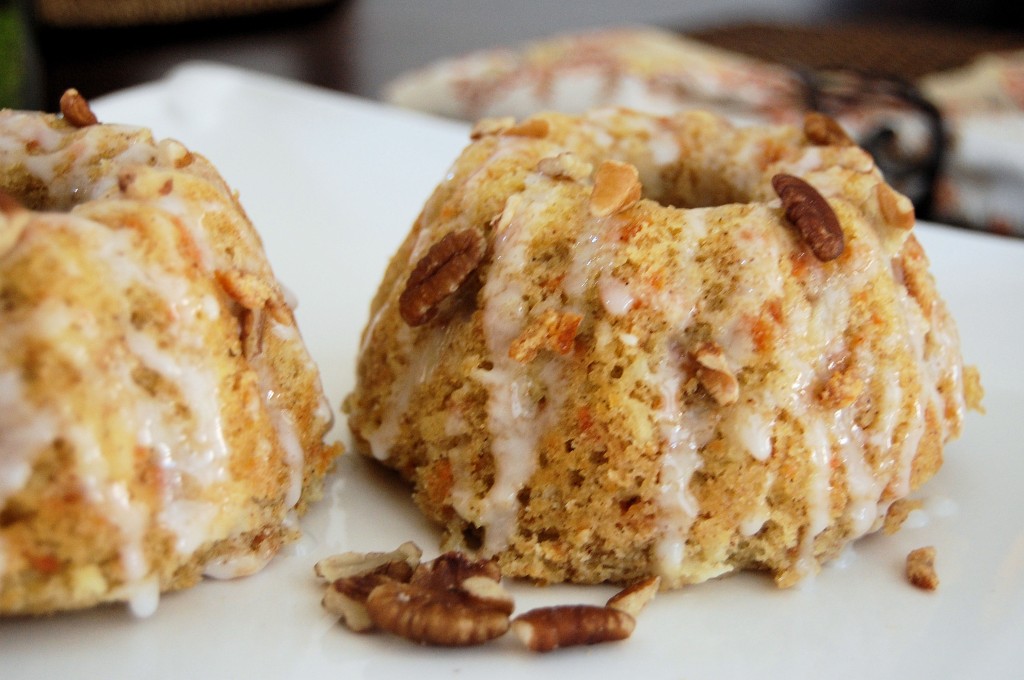 Yes, I realize the idea of a carrot cake is nothing new or exhilarating but I promise one bite of this cake will make your taste-buds scream for more. By incorporating coconut into the batter and a touch of pineapple juice the cake become this moist light and airy dream come true that one can only dream about (okay, maybe I am the only one who dreams of food- but you know what I mean!) Anyway, this is the perfect dessert to serve for an Easter brunch or dinner and once you make it for the first time just get ready- you will be asked to make it again and again, its that good!
Are you a nut person? I am but I find that a lot of people including my husband do not like nuts in their food. Given, he can crack open pecans in our backyard with lightening speed and eat them in one fast swoop of the hand but putting them in food he doesn't really care so much for. So Are You? A nut person that is? If you are not I beg you to still try this recipe and just skip the nuts in the glaze. It is still just as amazingly delicious as it looks and sounds without the addition of the pecans inside and on top of the cake. The pecans do an extra crunch that I particularly love and a saltiness that pairs perfectly against the sweetness of the coconut in the cake.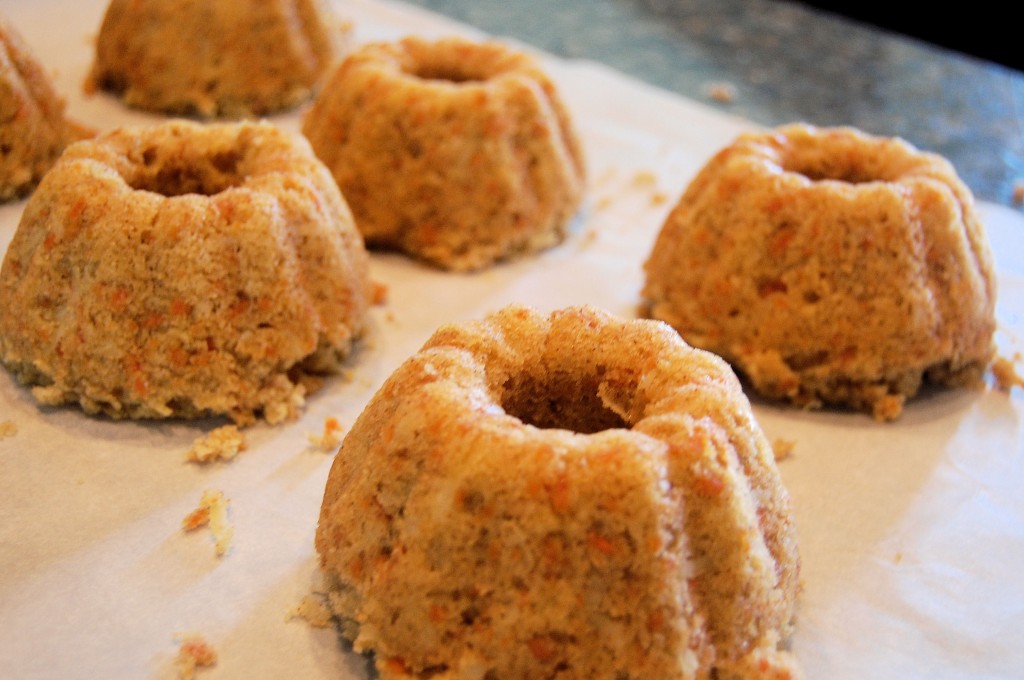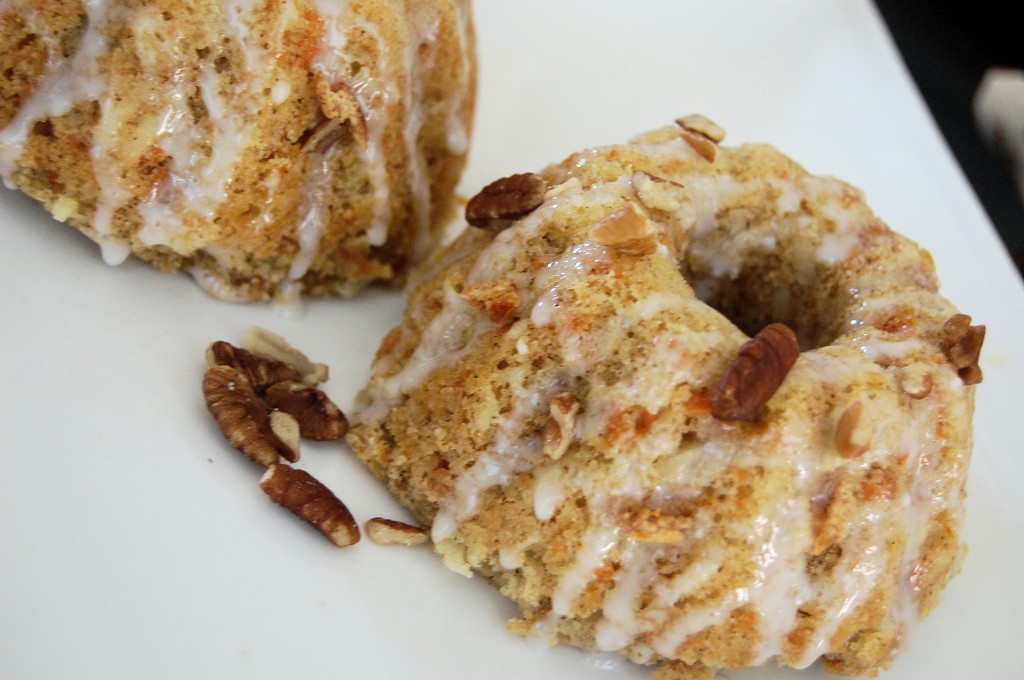 A traditional carrot cake is the ultimate  Easter dessert but with the twist of coconut and a banana walnut glaze, this recipe lends itself to a nice twist on an old-time favorite. It was hard to make the exact amount of lemon pecan glaze that I needed for the mini cakes so if you have leftover glaze (and you will) just do what I did and lick it with your finger until you are sick to your stomach and then place the rest in a container and freezer to put over a dessert on a rainy day! LOL!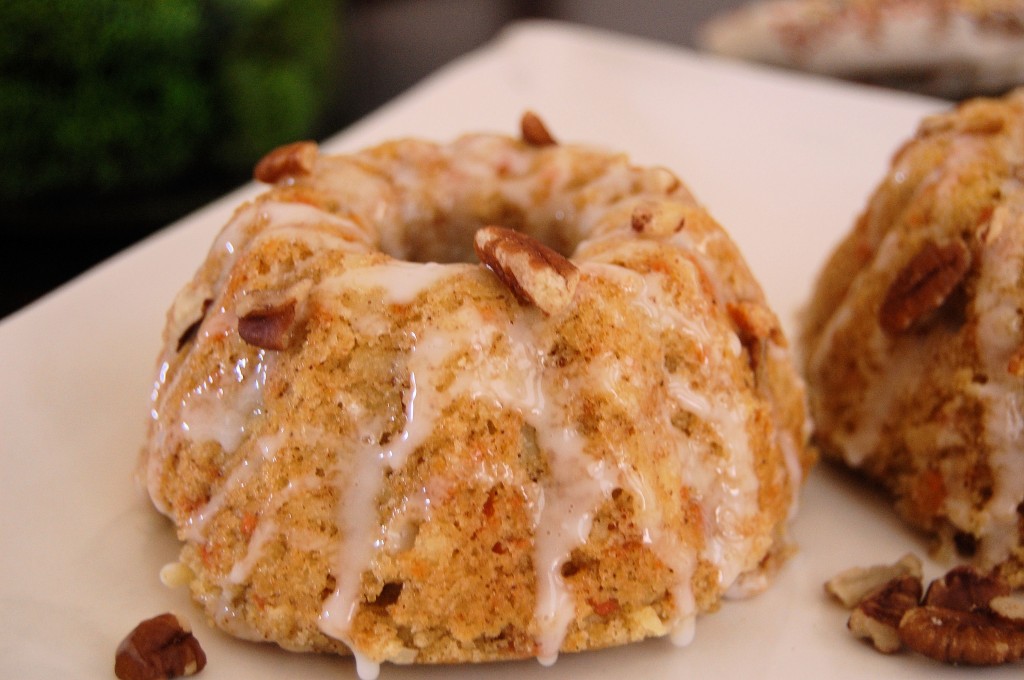 [print_this]
Coconut Carrot Cake Minis with a Lemon Pecan Glaze
Ingredients:
2 cups All Purpose Flour
2 tsp. baking soda
1 tsp. pumpkin spice
1 tsp. salt
1 1/2 tsp. ground cinnamon
1 1/2 sticks butter, softened
1 1/2 cup granulated sugar
1/2 cup milk
3 large eggs
1 tsp. real vanilla extract
2 cups shredded carrots
1 cup dry flaked coconut
1cup chopped pecans
1/4 cup pineapple juice
Lemon Pecan Glaze: Mix together all ingredients and drizzle over cooled cakes
1 TBSP of lemon juice and 1/2 tsp of lemon zest
2 TBSP milk
1 3/4 cup powdered sugar
1/4 cup chopped pecans
Directions:
Mix together your dry ingredients until well blended; set aside. Beat together your butter and sugar until light and fluffy. Add the eggs one at a time, beating after each addition. Now its time to add the dry ingredients and milk by adding each alternatively and ending on the flour. Mix in your nuts, pineapple juice, coconut and carrots. Allow batter to sit for 15 minutes at room temperature then pour into greased muffin or fluted tins. Bake at 350 for 20-25 minutes until nice and golden brown. Insert a toothpick in the center to make sure it is done. Drizzle the glaze over the top and ENJOY!
[/print_this]