In honor of grilled cheese month, no one is sure who exactly decided this way back when, I wanted to do something extra special with my grilled cheese sandwiches. I am all about the cheese! When I was pregnant my favorite two things to eat where grilled cheese dunked in hot soup and chicken salad sandwiches from none other than Chic-fil-A. Like most kids my son's favorite meal is grilled cheese and I for one and all for it! I happily tag along with this obsession!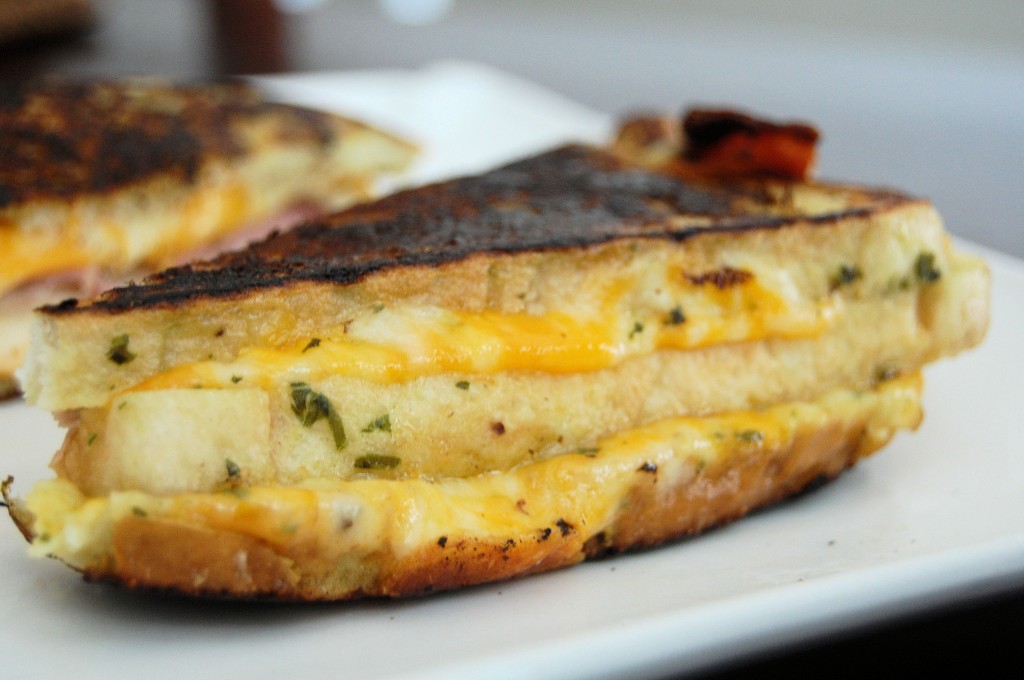 Most people tend to think that grilled cheese sandwiches are just for kids when in fact they actually started out as a dish just for adults- betcha didn't know that? I am going to apologize ahead of time for those of you who are looking for a healthy sandwich idea. No bones about it, this baby (my sandwich of course) is ridiculously delicious with credit to a yummy basil infused egg wash that I fried it in- taking cues from the every so popular Monte-Cristo method.
I then loaded it down with three types of cheese: Provolone, Swiss and Colby and topped it off with a somewhat subtle horseradish mayo and lots of salty layers of Prosciutto. This sandwich is simply divine, amazing, savory, a tad bit Sweet (from the basil) and a sandwich that you must and I do mean MUST make at home. They key to this dish is the basil infused egg wash using the basil from my own garden. Even though the sandwich is pan-fried the basil brings a certain freshness to dish that you wouldn't get otherwise. Leave off the prosciutto and top with ham for a treat the kids will even love!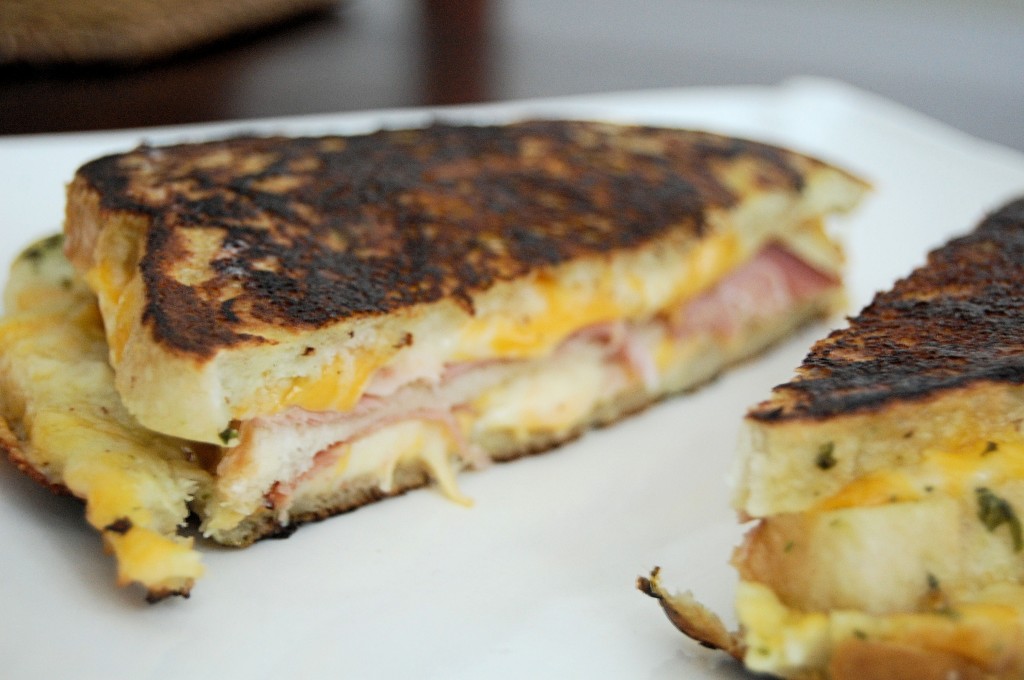 [print_this]
Basil Infused Grill Cheese with Prosciutto and 3 Cheeses
Ingredients:
6 slices of sourdough bakery bread ( this makes 2 sandwiches so double the ingredients below for a family of four)
1/2 pound of sliced prosciutto ( 3 slices per sandwich)
3 eggs mixed with 1/3 cup of milk
4 TBSP chopped basil or you could use basil puree found in the vegetable isle at your grocery store
1/4 pound each of provolone cheese, swiss cheese and colby
butter for the bread
Horseradish Mayo: mix all ingredients together
3 tsp horseradish
1 tsp garlic powder
1/2 cup mayo
dash of salt and pepper
For each sandwich use 3 slices of bread. Butter one side of bread first on the outside then spread the horseradish mayo over the inside of the bread, then cover with a slice of cheese, then prosciutto, then another slice of cheese. Spread a small amount of horseradish mayo over the 2nd piece of bread and place the 2nd piece of bread on top. Cover that with 2 more slices of prosciutto and 1 more slice of cheese. Top with last slice of bread. Make the remaining sandwiches and set aside. Meanwhile, mix the eggs and milk together and add in the chopped basil. Whisk to combine and dip each sandwich into the egg mixture and fry on a hot skillet. Brown on all sides being careful not to burn the bread- Approximately 4 minutes on each side.
Serves 4 cut into triangles or 2 as a whole sandwich
[/print_this]