Chicken
Chicken Crepes with Asparagus & Mushroom Sauce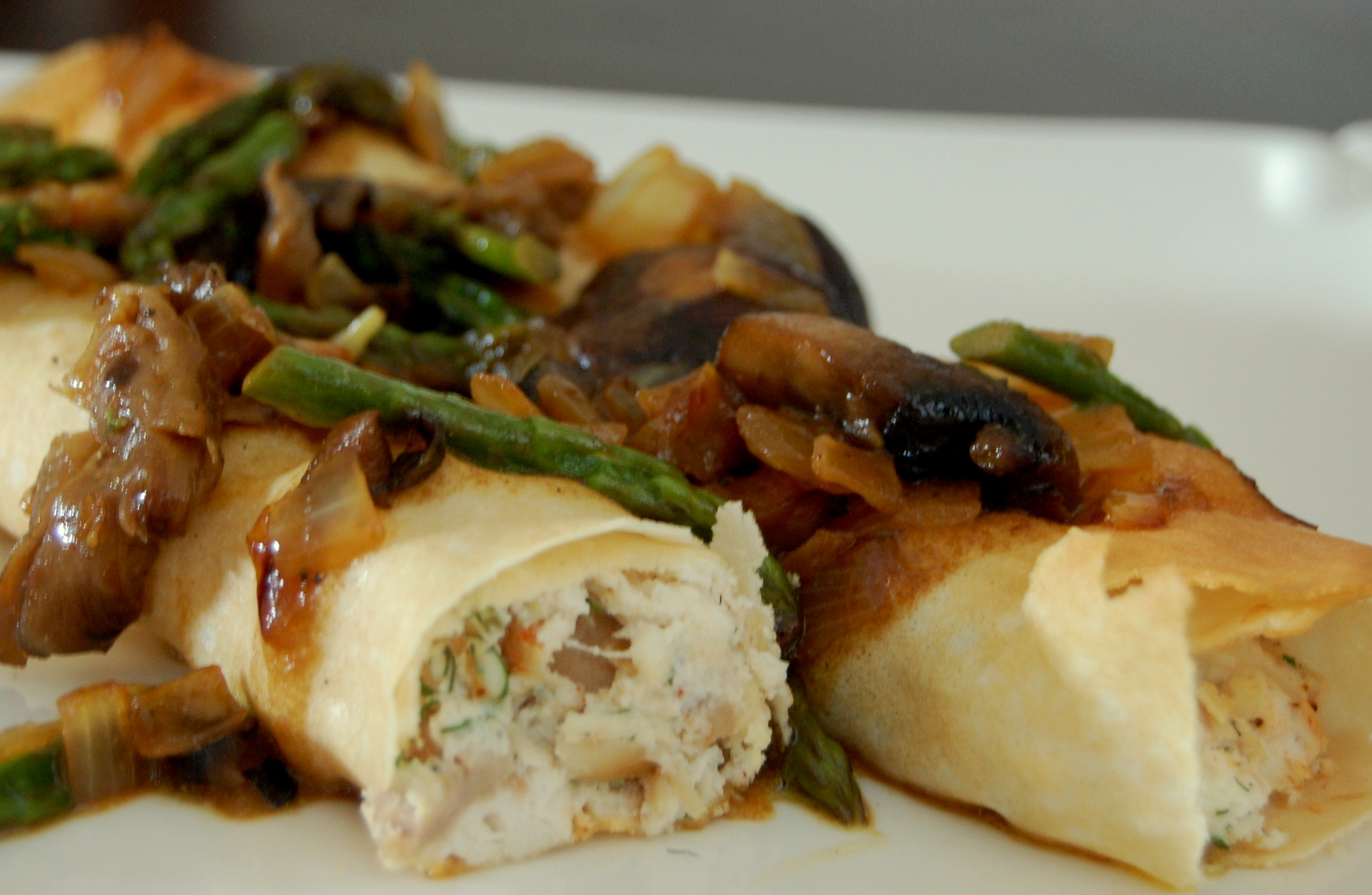 Wow, do I have a treat for you! I am so excited to indulge you with one of my new favorite dishes!  Savory crepes filled with rotisassrie chicken and topped with a asparagus and mushroom cream sauce. Oh these little mini-wraps are a far cry from your usual sandwich and they make for a great change in pace from the average weeknight meal. Now don't go thinking you can't do this because you don't know how to make crepes. Even more so, don't you dare go thinking that I made my own crepes for this dish. I have had zero time lately during the day to cook let alone sit at the stove flipping crepes and crossing my fingers they turn out right.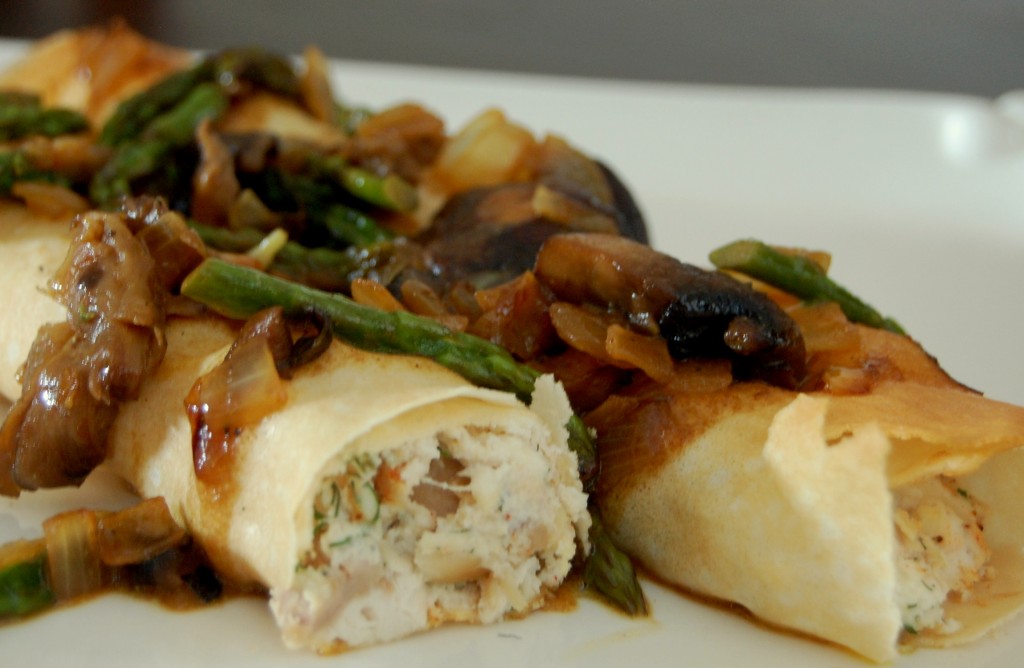 Homemade crepes are wonderful and not hard at all but I always keep a package of store-bought crepes on hand in the refrigerator (they last forever) for those days when I don't have time to make my own or even better- when I am craving nutella filled crepes and strawberries! So I am not knocking homemade crepes but I can tell you that for this dish, my magical store-bought crepes were the perfect stand in!
The filling for this crepe is loaded with flavors like dill, tarragon, lemon and nutmeg and accompanied by a few of my favorites such as ricotta cheese, fontina and caramelized onions. For the topping, I added sliced portabella mushrooms to a rich butter and white wine sauce along with chopped fresh asparagus, cream and a touch of balsamic vinegar. You can google chicken crepes and find loads of recipes but I dare you to find one with a balsamic flavored cream sauce. The vinegar adds a whole new level to this dish. It's like a fancier version of chicken pot pie but only better!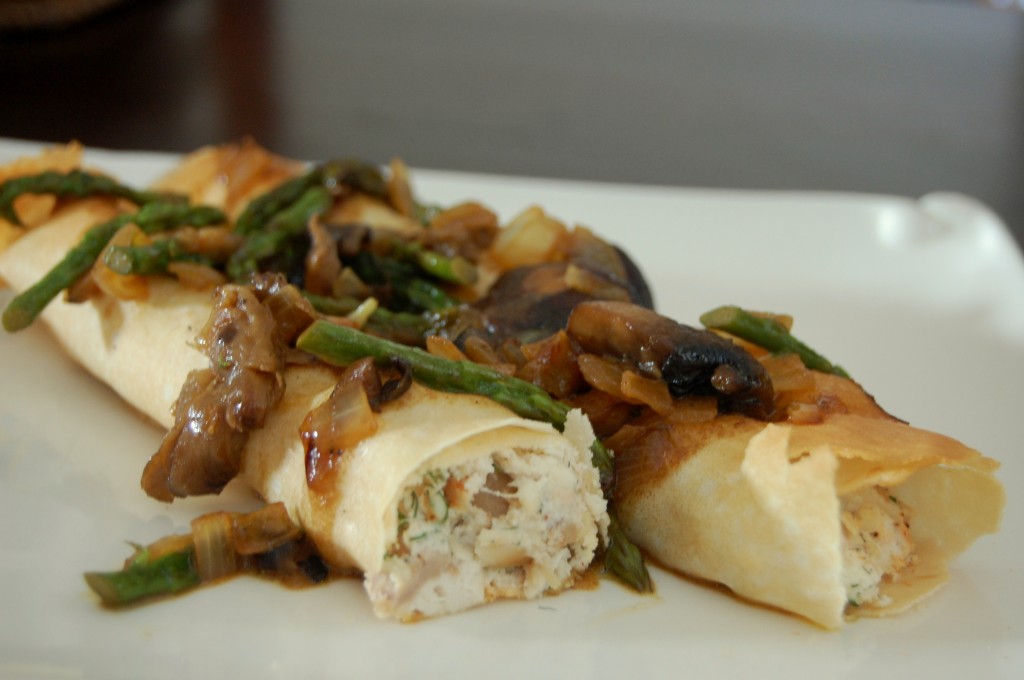 One of those dishes you can easily make ahead of time and then pop in the oven for a quick and hot meal that is satisfying beyond words. A go to meal and a fancy one at that! I know your whole family will enjoy. Get Cooking!
[print_this]
Chicken Crepes with Asparagus and Mushroom Sauce
Ingredients:
1 rotisserie chicken, chopped
1 1/2 cups ricotta cheese
Zest of 1 lemon
4 TBSP butter
1/4 cup Romano cheese
1/2 cup parmesan cheese
1/2 cup chopped onion, or half of a large onion chopped
1 tsp salt and pepper each
1/2 tsp Slap Your Mama cajun seasoning
6 TBSP of fresh herbs such as chives, dill, fennel, basil or parsley (I used all the above!)
1/2 pound of fresh asparagus
1/2 pound of portabella mushrooms
3/4 cup vegetable stock or you could use chicken stock if you prefer
1 package store-bought crepes (Do it! Just buy them!)
Directions:
Place the shredded chicken in a large mixing bowl along with the ricotta cheese, 6 TBSP of fresh herbs, lemon zest, 1/2 tsp salt and pepper each and the paprika. Stir to combine and add the Parmesan cheese. Butter a baking dish and being assembling your crepes by placing 2 to 3 large heaping spoonfuls (1/4 cup) over the lower half of the crepe. Roll up to enclose the filling and place seam side down. Cover with foil and bake at 425 for 15 minutes.
Meanwhile, heat the butter in a large saute pan and saute the onions until soft, add the mushrooms and asparagus and cook until just tender. Add the vegetable stock, 1/2 tsp each of salt and pepper and the remaining 2 TBSP of herbs and Romano cheese. Simmer until slightly thickened, about 2 minutes. Serve over the chicken crepes.
[/print_this]