Giveaway
Giveaway for your Guy! Volunteer Traditions
I am so excited to be able to share with you one of my family's favorite new southern clothing lines Volunteer Traditions. I found this company back in early February while searching for a fun little valentines present for my man. Lo and behold I not only find a present but a fabulous southern inspired company that backs up its name by the uniqueness and quality of its products. Where else in the world can you find hats, belts, shirts, dog collars and koozies specifically geared to a southern state that is preppy, classic and stylish.Volunteer Traditions, Where State Pride Meets Quality,  is right on the money.  They have been seen in Southern Living and will now be seen all over Houston because I not only got my husband a hat but they sent us some Louisiana and Texas koozies as well!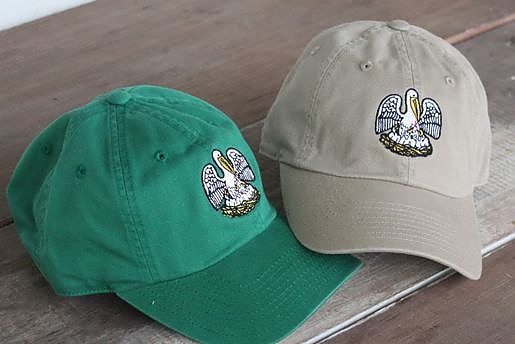 Volunteer Traditions evolved from a conversation between friends tailgating on the banks of the Tennessee River and in 2006, the conversation became more than a dream when they started the company now known as Volunteer Traditions with the philosophy of making quality products that celebrate the pride and the traditions of the state of Tennessee. Since then they have created products for other southern states ranging from  Mississippi, Alabama, Georgia, North Carolina, South Carolina, Louisiana & Texas.
I love that you can buy these products for anyone who has a connection to a southern state. Whether you've lived there all your life, spent some of the best four plus years, or simply enjoy the style, anyone can wear Volunteer Traditions. I promise it will live up to your expectations. My husband absolutely loved his Louisiana hat. It was created with such intricate details and the quality was amazing. The PERFECT shop to buy something the guys in your life will love including your little guys- they have the cutest boy belts! In fact, they even have some girl sandals I am thinking about buying for myself! So preppy!
Now here comes the best part of this post- GIVEAWAY TIME! Volunteer Traditions has so graciously offered to giveaway not 1 but 3 prize packages including a hat, belt and koozie from your state of choice! Yes, there will be 3 WINNERS this time around and I only wish I could participate! LOL! How awesome is that! Surprise your guy with a little happy this spring or make a purchase to hide away for his birthday or next Christmas (it'll be here before you know it!) In fact, that even have some things for girls so what am I talking about? Forget winning for hubby-win something for yourself! LOL! See below for the giveaway rules and join me in welcoming the cutie pie Mason from Volunteer Traditions by learning a little more about him and his company.
#1. Tell me some basic info about yourself and or your business partners.
I am now 28 living in Nashville, TN. A friend and myself started Volunteer Traditions in our second year of law school. Shortly after that he left the clothing company as he moved away for a great job. I dabbled in working for the state for a while then decided to make Volunteer Traditions my full time career. It has continued to grow steadily which is such a huge blessing.
#2. Where do ya'll hope to see your business going?
We hope to see our company continue to expand into more states across the South with a good mix of products for every state. We have enjoyed working with our retail stores and hope to work with many more as we continue to grow.  Customer feedback has been huge and helps us guide where we want to go.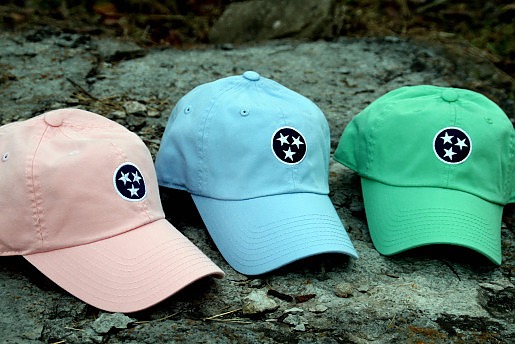 And this is where it all began! If I lived in Tennessee I would so buy this pink hat! Hint Hint Mason-you need to make a pink Louisiana hat!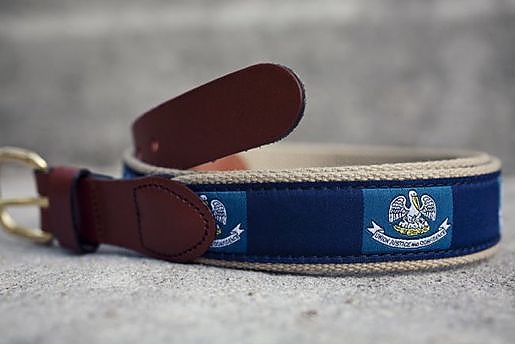 How cute would your man look wearing this belt with his khakis and polo shirt? Just sayin!
#3. Where do ya'll find inspiration?
We make products that we would be proud to wear or display because we are proud of our state. We listen to what people are looking for…products/colors/designs.  If we can help someone identify with where they are from we are doing our job. I like to think/and hear from customers that our products tell something about the person who wears it.  That doesn't make them cool…but moreso says something about where they are from/went to college/spend a great deal of time/ etc.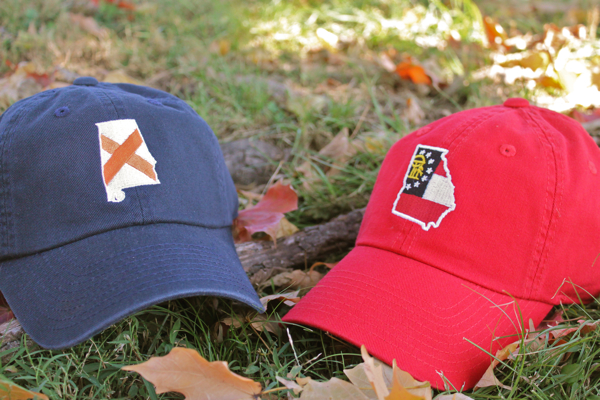 Why wait til Christmas to get your men a gift. This is the perfect hat for our southern gentlemen.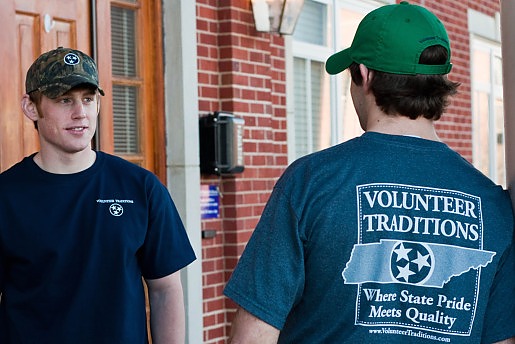 Well made T-shirts to show off your State-Pride!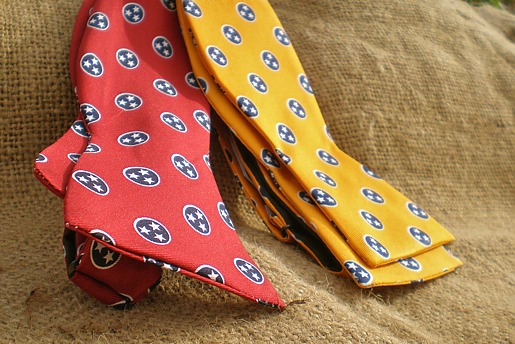 Instead of belle of the ball, think beau of the ball. Your guy will definitely stand out wearing this bow-tie!
#4. What has surprised you the most about the business?
Definitely the passion people have for their state and our products.  I am constantly amazed by the excitement our products bring. I love hearing that most of the time people wearing our clothing are asked  "Are you from Tennessee/Louisiana/etc?" It makes me proud to know that our clothing is helping foster conversations and state pride for each individual.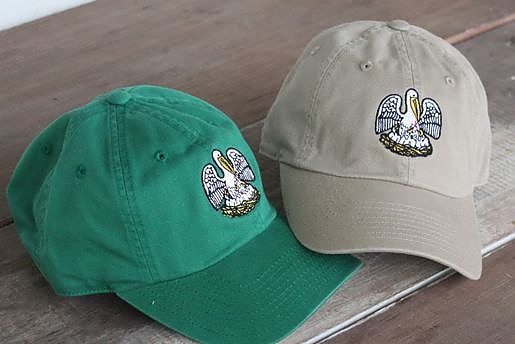 How cute are these? I got Patrick one in purple (because of LSU) but I think I might like the green color just as much!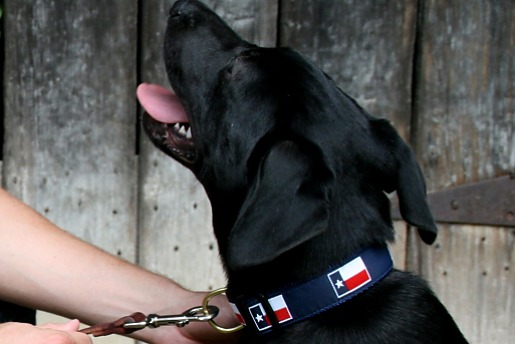 I don't think they have a collar to fit my little 10 pound yorki-chon but maybe I could get a new dog just to buy one of their dog collars? I am sure hubby would go for that! No Problem!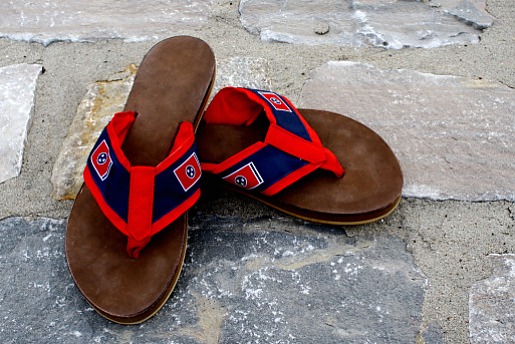 So I am thinking these sandals would look fabulous with Louisiana fabric. Perfect for the spring and any LSU game!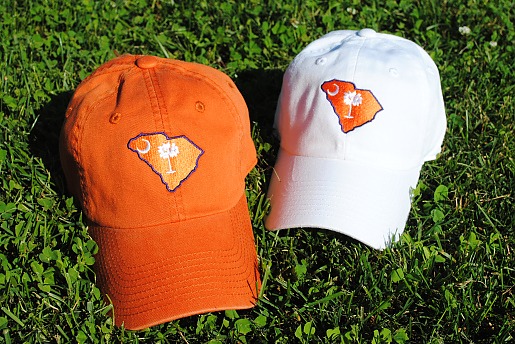 I love the state flag for North Carolina. So unique and fun!
We hope to continue to add more variety of inventory for each state in the future and take this company to a place we are proud to call our own. We pride ourselves in the quality and designs of our products and hope our customers will say the same.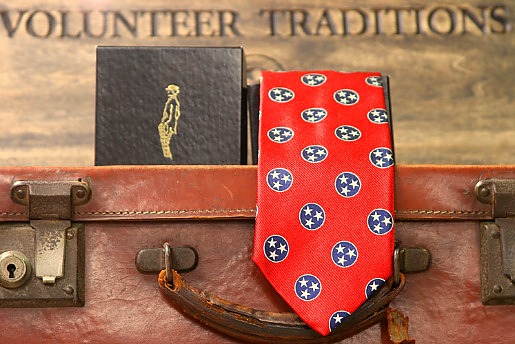 Simply preppy and classic! I love a man in a good tie.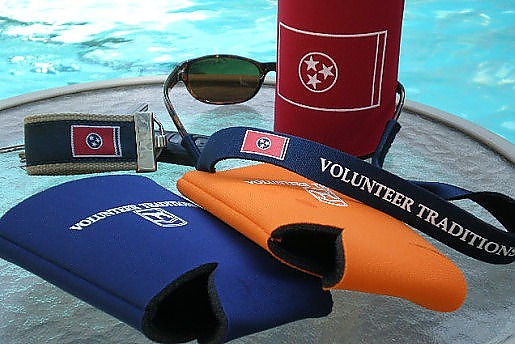 What guy wouldn't love an awesome koozie and sunglass visor straps
Now THREE of you lucky readers could win a HAT, BELT and KOOZIE from your state of choice! All you have to do is follow the rules below. Giveaway ends April 6th at midnight and winner(s) will have 72 hours to respond to my email or I will re-draw.
Giveaway Rules:
1) Follow Kitchen Belleicious
2) Leave a comment and tell me what state your from, even if it isn't a southern state, and why you love it so much
3) Follow Volunteer Traditions on Twitter
4) Like Volunteer Traditions on Facebook
5) Follow Belleicious Kids
6) Fan Belleicious Kids or Kitchen Belleicious on Facebook
7) Blog about the giveaway (3 extra entries)
8) Tweet on the giveaway! (2 extra entries and can be done daily)