What I am about to show you has to be the best piece of salmon I have ever put in my mouth. Thank God for lazy days! If it wasn't for seeing Ina Garten bring out the big guns for her weeknight dinner by making Asian Salmon I would have never thought to do this particular dish. My Wasabi Crusted Asian Salmon is rich with distinct flavors of ginger, coconut and lime and a sweet and spicy twist to the sauce with none other than my trusty old bottle of Tabasco. Healthy and Delicious!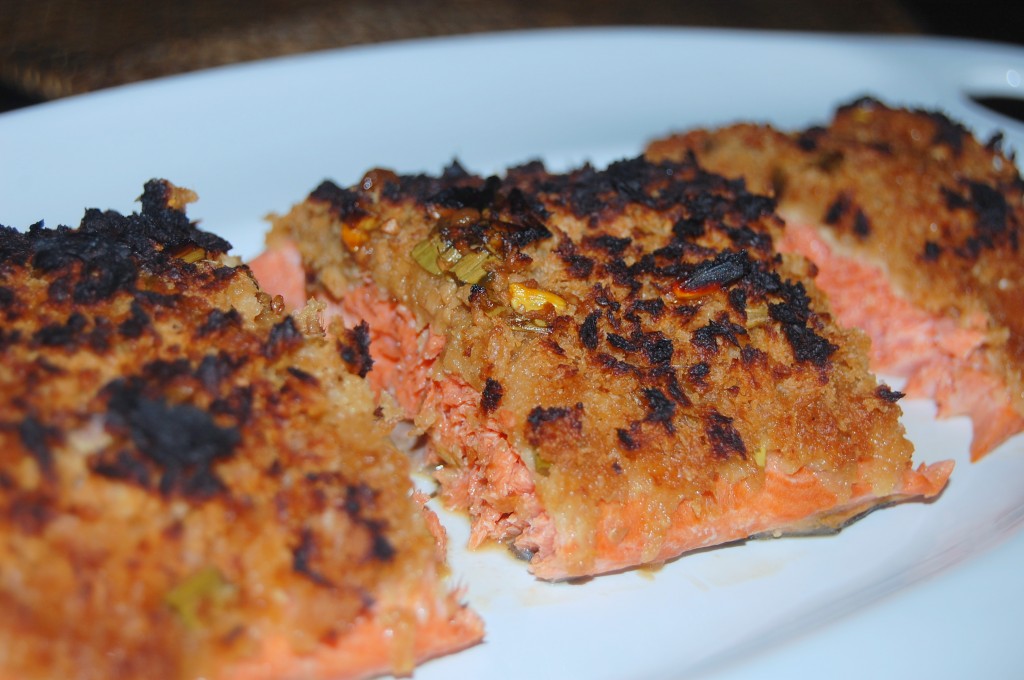 I love the versatility of salmon. It can be steamed, broiled, grilled, baked and even fried (Yes Fried, I had the pleasure of eating fried salmon sticks recently). Out of all the times I have made salmon not once did I even think to coat it in panko. Why? Don't know- but it is genius. I knew after seeing Ina's version of Asian Salmon that I wanted to mirror it in some way but with my own Belleicious twist. Since I was going to be using Asian ingredients I thought let's do a wasabi crust. Wasabi is a Japanese horseradish with a little extra heat. It comes in a variety of ways- all of which are perfect for using in your cooking. One of my favorite things to munch on in fact are dried wasabi peas. (Oh, now I wish I had those peas and I could have ground them up and used those in the crust- Next Time)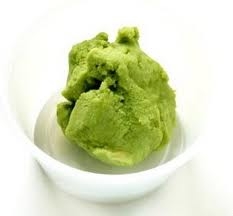 Yes, I am one of the few in my circle of friends who actually eats the wasabi  and ginger slices on the end of your plate at sushi restaurants. Its spicy and cleansing and I love it! Pair wasabi marinated panko crumbs with a Tabasco chili Asian marinade and you have a surprisingly healthy and delicious meal with so many layers of flavor. For those who don't really want to walk on the wild side or rather hot side, by all means feel free to skip the Tabasco in the sauce and just use half of the wasabi. Although I have to say it is mighty good just as is. Oh and leftovers? If you have any- hint. hint. This makes the BEST SALMON CAKES EVER!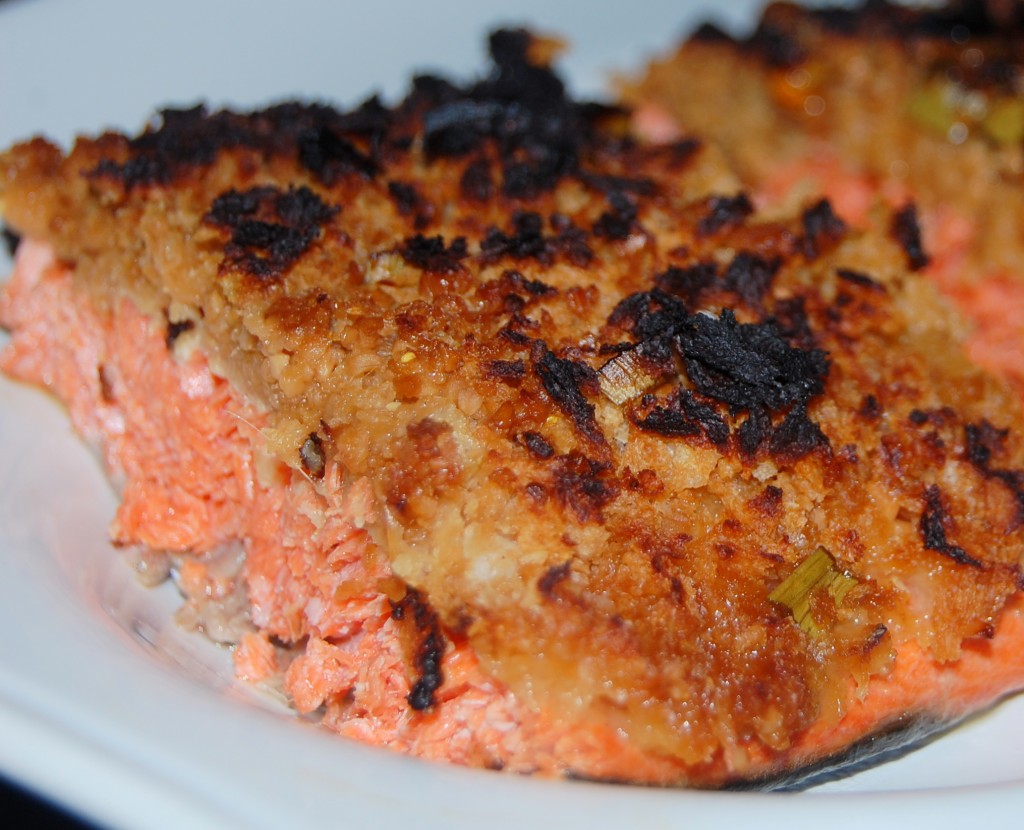 [print_this]
Wasabi Crusted Asian Salmon (adapted from Ina Garten's Asian Salmon)
Ingredients:
2  pounds center-cut salmon fillet
1 cup soy sauce
1/4 cup rice vinegar
Juice of 2 lemons
2 TBSP coconut milk
1 1/2 tsp brown sugar
2 TBSP orange marmalade
1 tablespoon toasted (dark) sesame oil
1 1/2 teaspoons chili powder
1/2 cup chopped green onions
2 tablespoons minced garlic (just use the canned garlic)
2 tablespoons ginger
1 TBSP wasabi powder
1 1/2 cups panko (Japanese bread crumbs)
Directions:
Line a baking pan with aluminum foil and place the salmon in the pan. Mix together all of the ingredients above except for the wasabi powder and panko. Pour 1/2 of the marinade over the salmon. Cover with foil and refrigerate for at least 1 hour.
Meanwhile, toss your panko with the wasabi powder and a dash of salt and pepper. Set aside. Remove Salmon from the refrigerator and sprinkle the wasabi panko mixture evenly over the fillet. Pour the rest of the marinade mixture evenly over the panko.
Roast the salmon for 18 to 20 minutes at 500 degrees. Remove from the oven, wrap tightly with aluminum foil, and allow to rest for 10minutes.
[/print_this]