Go ahead, slap me on the wrist. I realize that girl scout cookies tend to be a weakness for some and I am not helping the cause by sharing my new found LOVE- Homemade Samoas. Blame it on the little girl next door. It's all her fault. If only I hadn't been at home the day she stopped by or if she would have had 3 boxes of Samoas left instead of only 1 then we probably wouldn't be here today.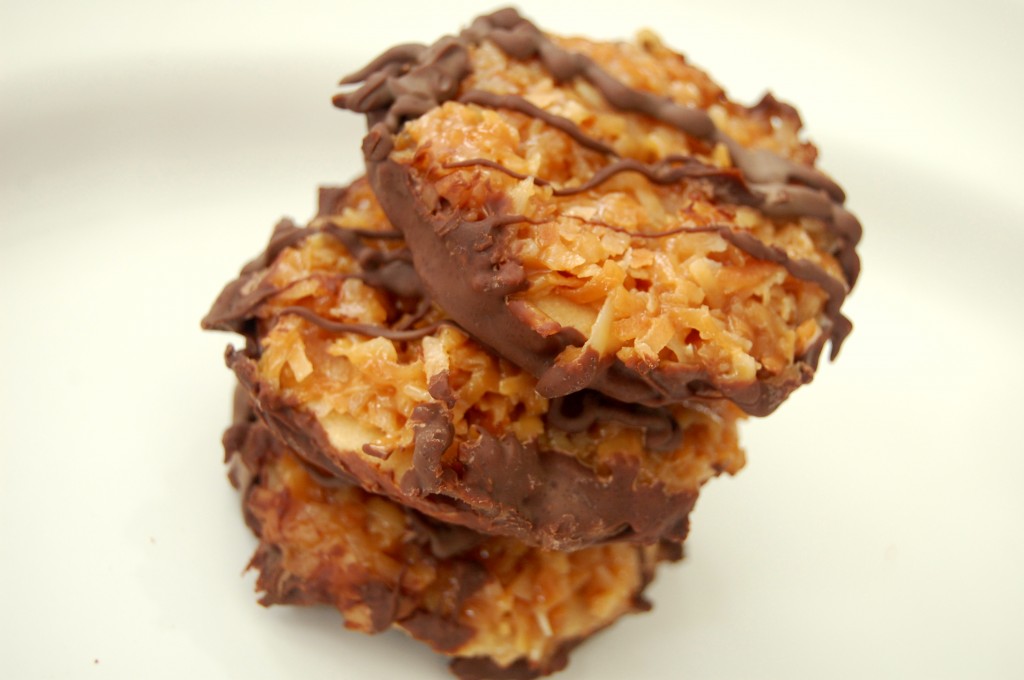 I think we can all agree that 1 lonely sad box of Girl Scout Samoa Cookies is not enough. If your gonna sell cookies little girls, you must always have at all times an ample supply of Samoas. Well, at least if your coming by my house! Besides my all-time favorite dessert ever, Chocolate Chip Cookies, these come in a close second and well, I will go ahead and say it- Hi my name is Jessica and I am a cookie-holic.
Did you know that there is a homemade recipe for almost any girl scout cookie you would want to make just hanging out there in web space? Tagalongs, Samoas, Thin Mints, Lemonades, you name it. I did not know about this grand secret of homemade girl scout cookies so I was thoroughly impressed to find a staggering number of recipes to chose from. After much consideration I opted to use my own shortbread version for the cookie part and baking bites recipe for the coating. A perfect and wonderful combo indeed!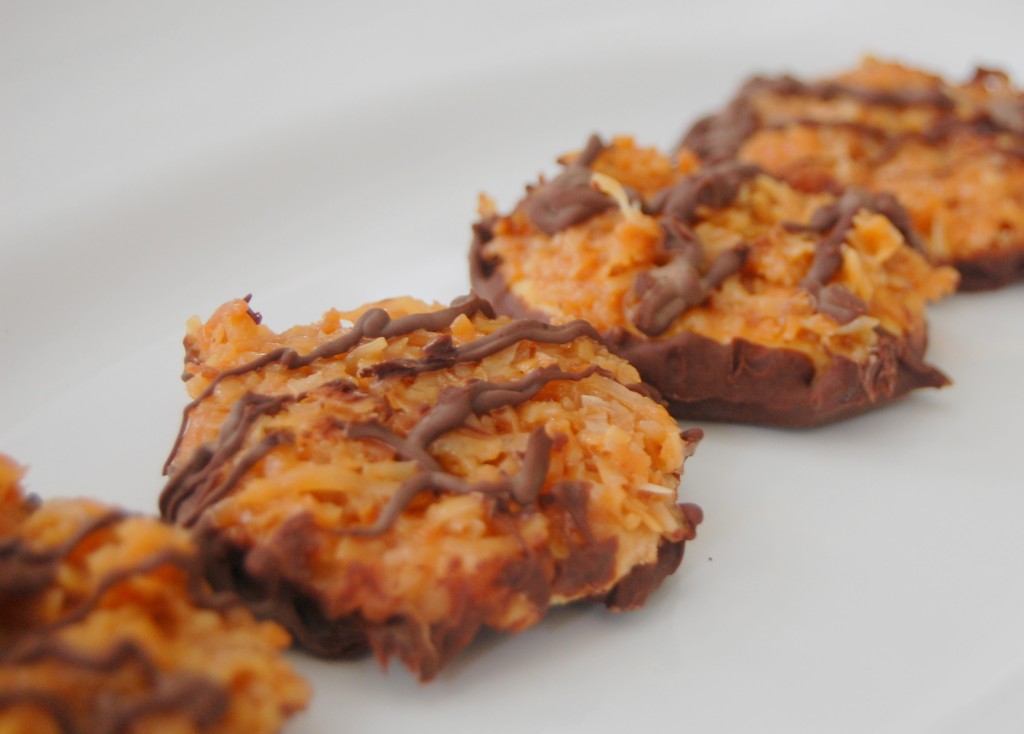 I realize bathing suit season is approaching but you can have a little treat every once in a while. So whip up these cookies and stash them in the freezer for that much needed "happy" at the end of a long day!
P.S. Don't worry if you don't have all the necessary tools. For instance, I used a small round glass bowl (typically used for spices) to cut out my cookies from the dough and then I used the end of my son's medicine dropper to make the small holes in the middle of the cookies!  I know I know, crazy but it worked and yes I throw away the medicine dropper afterwards! LOL!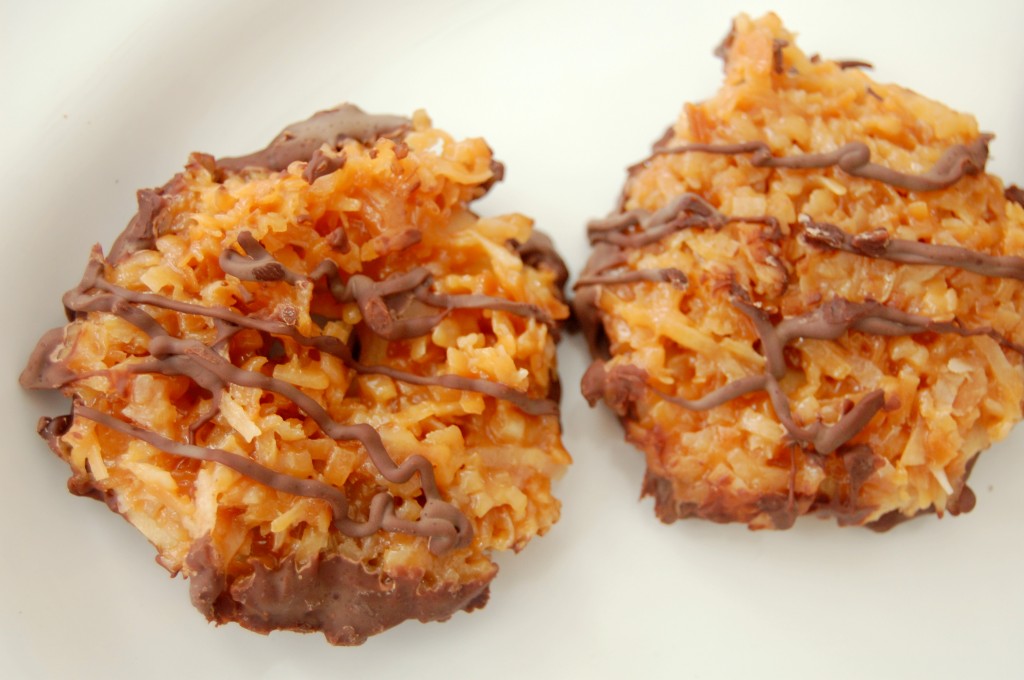 [print_this]
Homemade Girl Scout Samoas 
(topping adapted from Baking Bites)
Ingredients:
Cookie:
3/4 cup butter, softened
1/2 cup sugar
1 large egg
2 cups all purpose flour
1 tsp baking powder
1/2 tsp salt
1/2 tsp vanilla extract
up to 2 tbsp milk
Topping:
3 cups shredded coconut
12-oz good-quality chewy caramels
1/4 tsp salt
3 tbsp milk
8 oz. emisweet chocolate chips
Directions:
In a medium bowl, whisk the flour, salt, and baking powder, set aside. In another medium bowl or the bowl of your stand mixer, cream together the butter and sugar until fluffy and smooth. Add the egg, beat, then the vanilla. Gradually add the flour mixture and mix on low speed until just blended, about 30 seconds. Roll out the dough until 1/2 inch thick. Using a round cookie cutter cut out the cookies and place on a baking sheet. To make the small circle in the middle use a clean top from a tube of toothpaste or do what  I did and I used the end of my son's medicine dropper! (Don't worry I throw it away afterwards).  Bake at 350 for 10 minutes until golden brow. Set aside to cool completely.
Preheat oven to 300. Spread coconut evenly on a parchment-lined baking sheet and toast 20 minutes, stirring every 5 minutes, until coconut is golden.  Set aside. Meanwhile, unwrap the caramels and place in a large microwave-safe bowl with milk and salt. Cook on high for 3-4 minutes, stopping to stir a few times to help the caramel melt. When smooth, fold in toasted coconut with a spatula.
Using the spatula spread topping on cooled cookies (reheat caramel for a few seconds in the microwave if it gets too firm to work with). While topping sets up, melt chocolate in a small bowl. Heat on high in the microwave in 45 second intervals, stirring thoroughly to prevent scorching. Dip the base of each cookie into the chocolate and place on a clean piece of parchment paper. Transfer all remaining chocolate (or melt a bit of additional chocolate, if necessary) into a piping bag or a ziplock bag with the corner snipped off and drizzle finished cookies with chocolate.
Let chocolate set completely before storing in an airtight container.
[/print_this]