Oh I couldn't wait to get typing on this post after trying out the most moist, perfectly crispy and buttery pretzels I have ever put in my mouth. No I didn't grab a pretzel from Aunt Annies or the bread shop. I made my own from a very simple recipe by Alton Brown and it was killer good. In fact, they were so good and so easy that I plan to make little pretzel dogs for my son Grant's birthday party in April.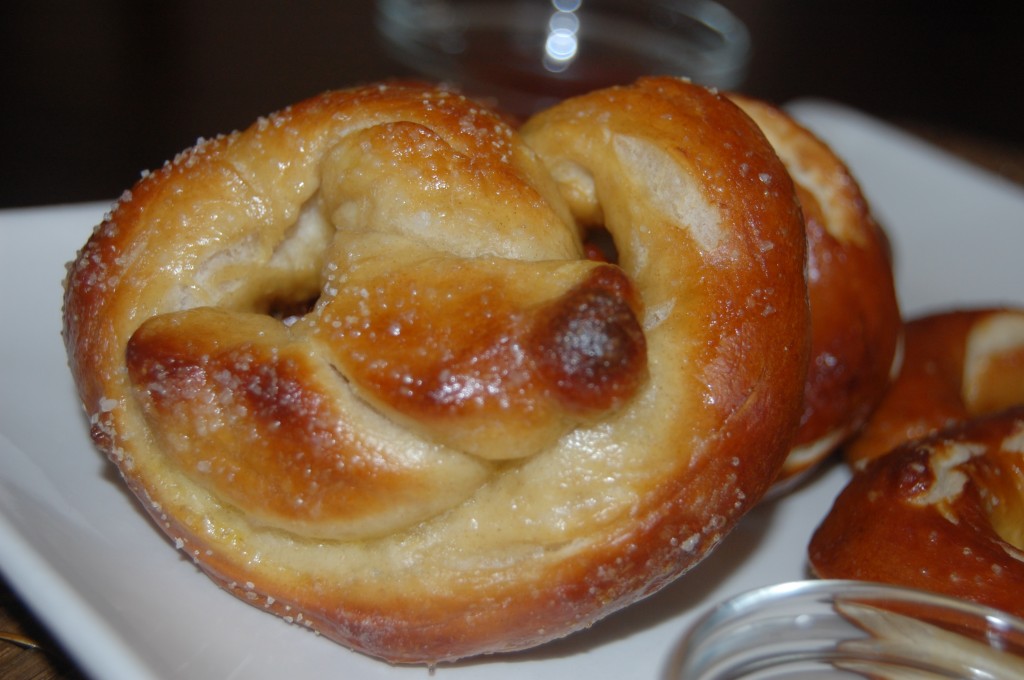 I think I might be addicted. As I am writing this post I already have m my second batch of pretzel dough waiting to rise in the kitchen. This time around I am going to make cheesy jalapeño pretzels rolls instead of the regular twist and cute little pretzels nuggets with cream cheese inside! You know I used to see people making homemade pretzels all the time on blogs and in magazine and I always thought to myself- LIARS! IT CAN"T BE THAT EASY AND TURN OUT THAT GOOD! I stand corrected! I am the first to admit when I am wrong and I was wrong! It really is that easy and everyone who makes them aren't liars. LOL!  Now the confidence to actually get in the kitchen and try homemade pretzels on your own is another issue. An issue that not until this year have I made myself get over and simply suck it up! That makes me think of this quote that I love by Peter T. Mcintyre
"Confidence comes not from always being right but from not fearing to be wrong"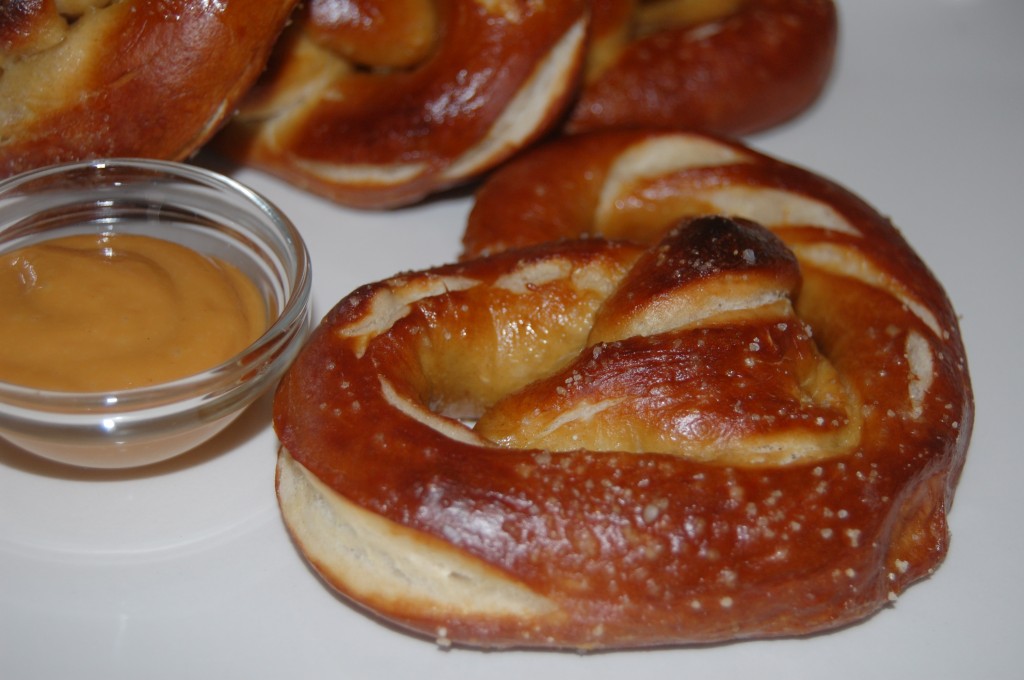 Before we get to the other amazing dishes each of you sent in this month I want to tell you that their are many ways out there to make pretzels. Some recipes call for you to boil the dough before baking, soak the dough before baking, spritze the dough or just plainly pop it in the oven. I am here to attest to the Alton Brown method and that is to boil the pretzel dough first then bake. I tried not doing this the first time around because well, its simply easier to skip an extra step but the pretzels turned out a little chewier and harder than I had wanted. So I went with the extra step of boiling and it made all the difference in the world. The recipe is really so easy- don't be afraid of a little pot of water-so to speak! LOL!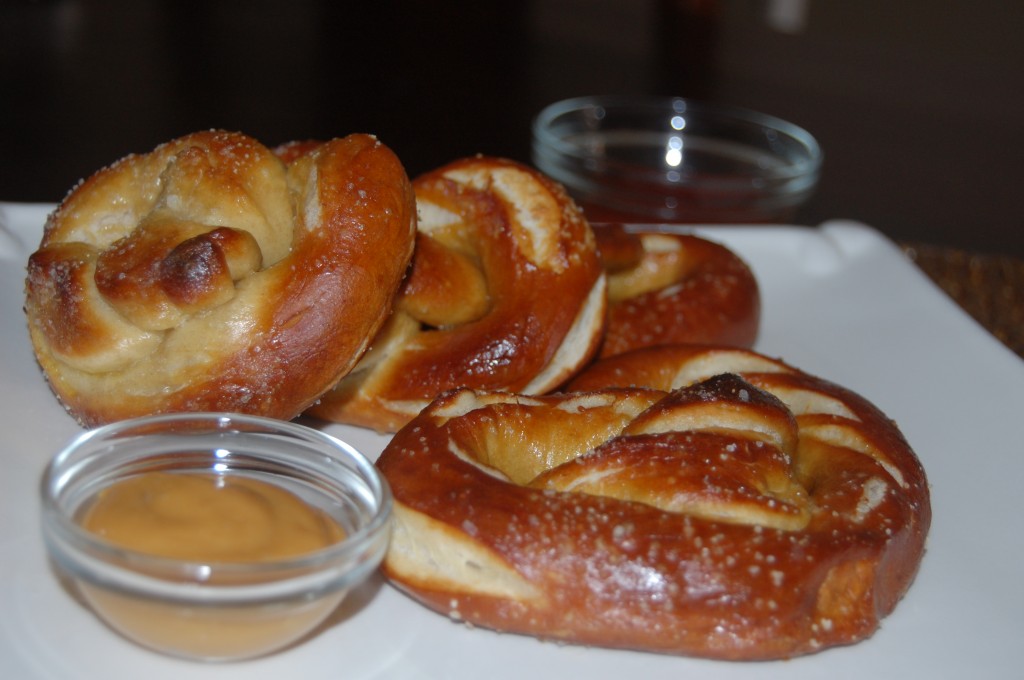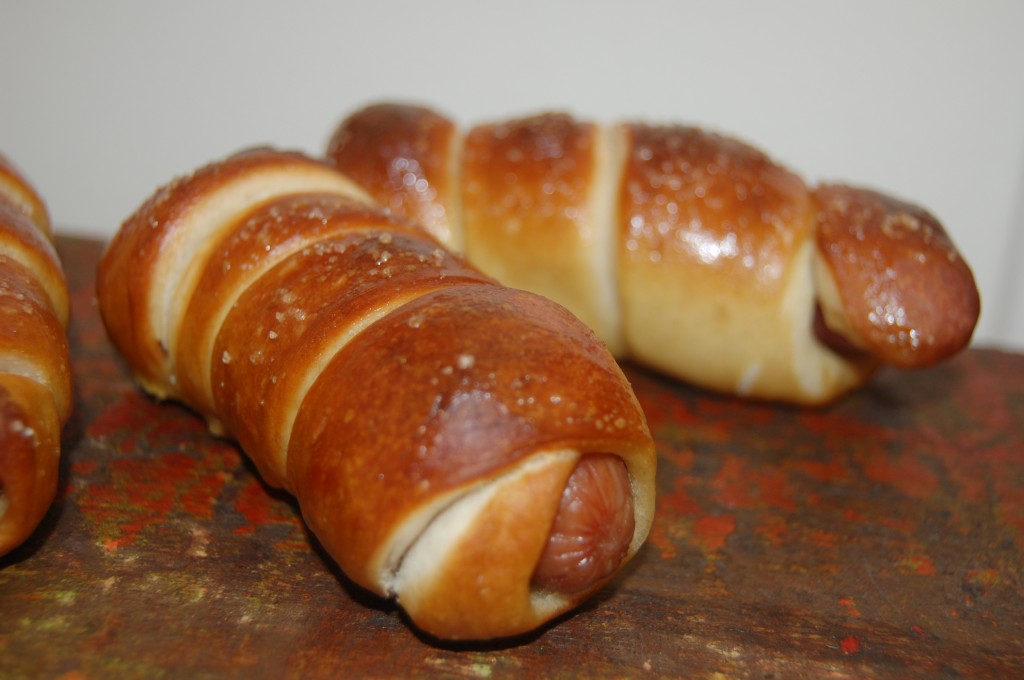 [print_this]
Homemade Pretzels
Adapted from Alton Brown's Homemade Soft Pretzels and A Dash of Sass
Ingredients:
1 1/2 cups warm water
1 tablespoon sugar
2 teaspoons kosher salt
1 package dry rapid rise yeast
4 1/2 cups all-purpose flour
2 tablespoons unsalted butter, melted and cooled
10 cups water
2/3 cup baking soda*
1 large egg yolk, beaten with 1 tablespoon water
Pretzel salt (or kosher salt), for topping
8 hot dogs, cut in half
Directions:
– Combine the warm water, sugar and kosher salt in the bowl of a stand mixer and sprinkle the yeast on top. Let the mixture sit for about 5 minutes, until the yeast is foamy and begins to smell of yeast.
– Add the flour and butter to the yeast mixture. Attach the dough hook to the stand mixer and, on medium-low speed, combine the mixture until the dough pulls away from the sides of the bowl and appears shiny, roughly 4 to 5 minutes.
– Spray a large bowl with non-stick spray (or lightly grease with vegetable oil) and place dough in greased bowl. Cover with plastic wrap. Place bowl in a warm area (near the oven, perhaps) and let dough rise for about 1 hour, or until doubled in size.
– Preheat oven to 450 degrees. Line two cookie sheets with parchment paper. Spray parchment paper with non-stick spray. Set aside.
– In a large pot, bring the 10 cups of water and the baking soda to a roiling boil.
– Place the dough on a greased surface, and divide into 16 equal pieces. Roll each piece into a long rope, roughly 12 inches long. Carefully wrap each piece around a half hot dog. Pinch the ends together to seal the dough. Alternatively, to make regular pretzels, shape the rope into a U shape, cross the ends over each other and fold the twisted ends back onto the bottom of the U. Again, pinch the dough together to form a seal. Place each shaped pretzel on the parchment lined baking sheet.
– Boil the shaped pretzels and pretzel dogs, one at a time, in the baking soda water for 30 seconds each. Using a slotted spatula, remove each pretzel dog from the water and place it on a drying rack to allow any extra baking soda mixture to drip off.
– Place the boiled pretzel dogs back on the parchment lined baking sheets.
– Brush with beaten egg yolk and sprinkle with pretzel or kosher salt.
– Bake until golden brown, roughly 14 to 15 minutes. Transfer pretzel dogs to a cooling rack for a few minutes before serving.
[/print_this]