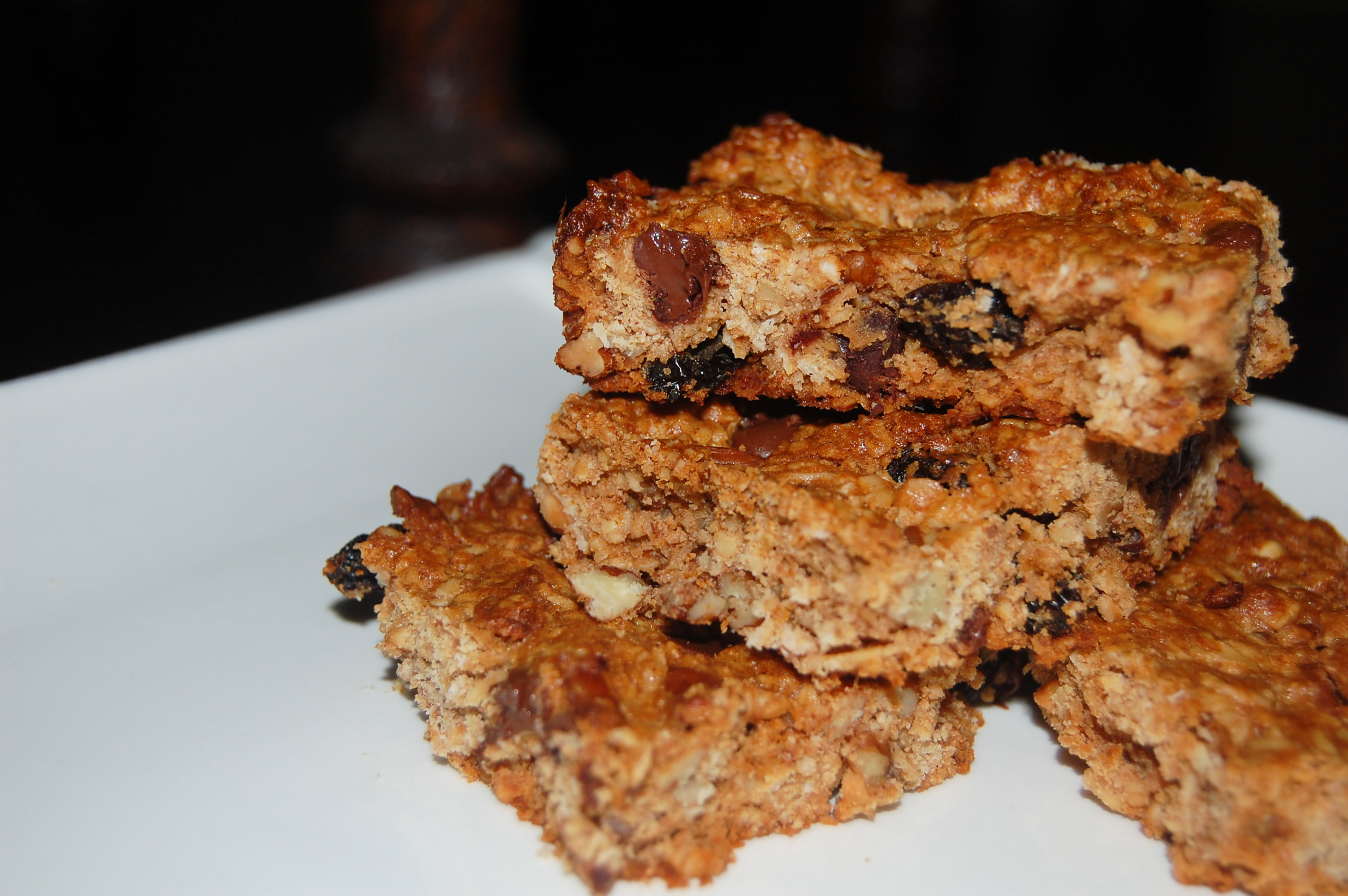 Hey everyone! I am so glad you have joined me here today. Not only do I have the granola bar recipe of the YEAR for you but I have something special I would like to discuss as well.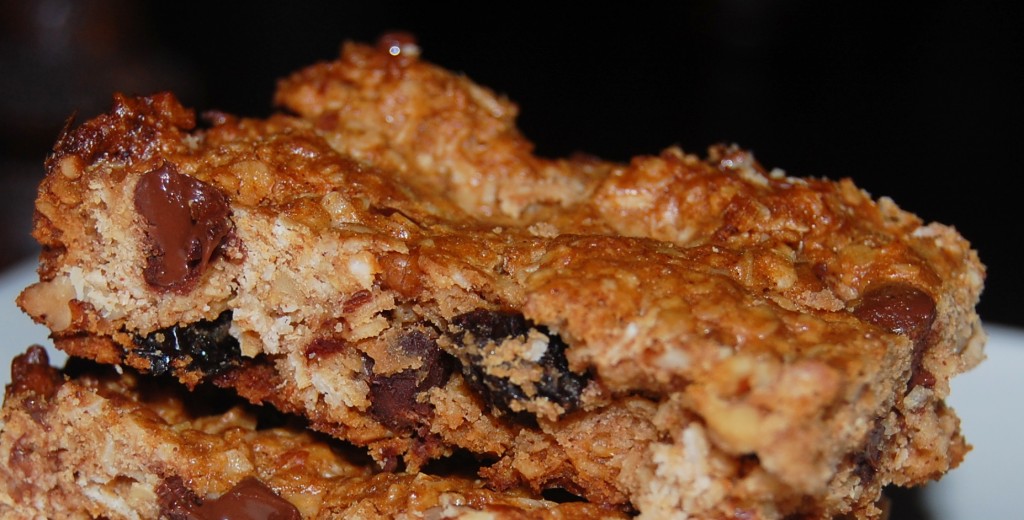 My husband has decided to participate in the MS 150 here in Houston. It is a 150 mile bike ride from Houston, Texas to Austin, Texas that raises money for the National MS Society. I am so proud to call him my husband and it has been a delight to see him become so passionate about a disease that many of our friends have battled with for years.
Now let me just get this out in the open! My husband tends to be a hobby hopper! He cracks me up when he gets an idea in his head of something he wants to do and most of the time I just blow it off because well, maybe you can relate- our husbands tend to NOT stick with a hobby! Let me explain, one year he wanted to get into fishing so we got him the best and I mean best fishing gear one could have and that lasted about 6 months. The next year it was kayaking, the next was golf, then hunting and now biking. So when he approached me with this idea to bike 150 miles to Austin, never-mind the fact he has never biked more than 10 miles before, I just nodded my head and said okay honey.
However, this time around he has gone full throttle and put the pedal to the metal so to speak! LOL! ! He is so DEDICATED to the MS 150 and the excitement in his eyes when he talks about his last ride or how many more miles he is going to do next week is astounding. I am continuing to be amazed at my husband's will power and determination for this cause and I am so proud of him. Every morning he gets up to bike at 5 a.m. before heading into work and just last Sunday he biked 35 miles around our town. Way to go Honey!
So all of this leads me to my Power Granola Bars. Patrick had asked me to make him something he could eat before riding or while he rode that wasn't heavy or packed with sugar. I opted for the handy granola bar but loaded it down with nuts, seeds, chocolate chips and fruit. I liked them so much I even thought about joining the ride but then I snapped out of it-quickly!:)
Grant really wanted to dig into this granola bars himself. I didn't realize this until I turned around from unloading the dishwasher and he had my old kitchen mitts standing at the oven like, "Come on Mom, they are almost ready"! It was so cute!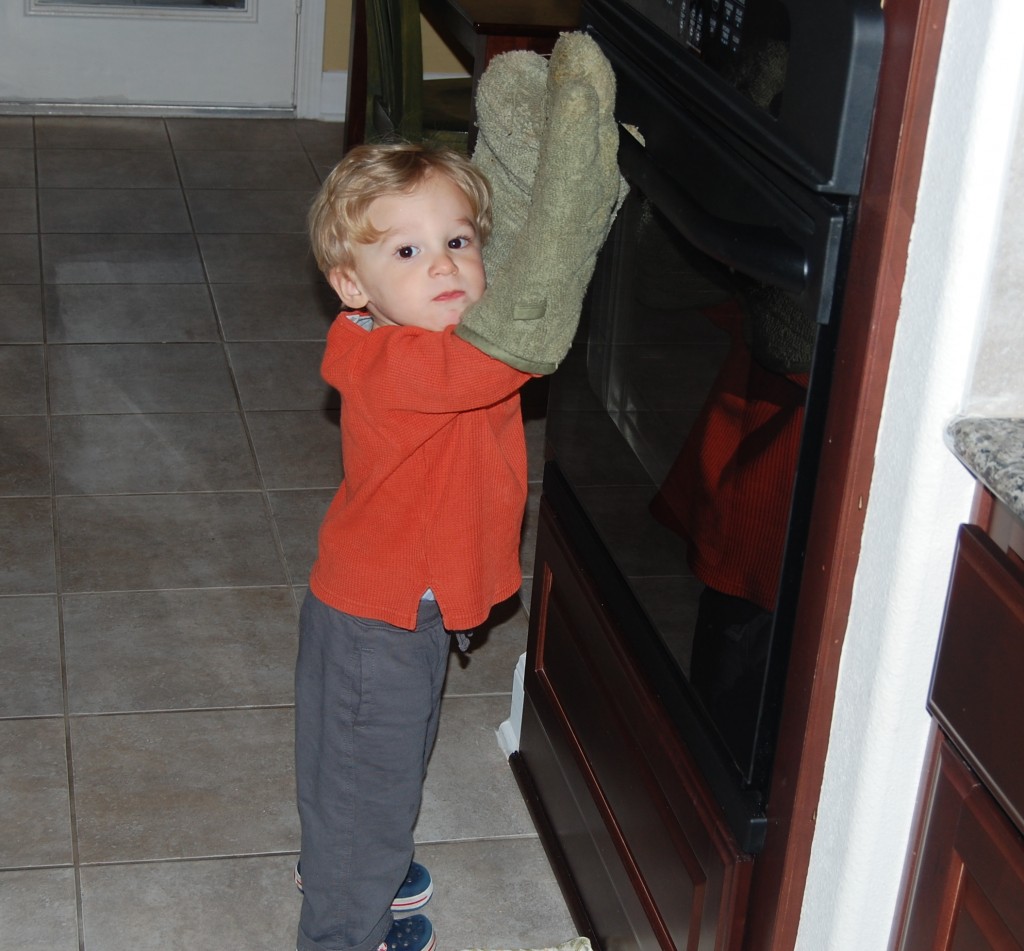 Are they ready yet?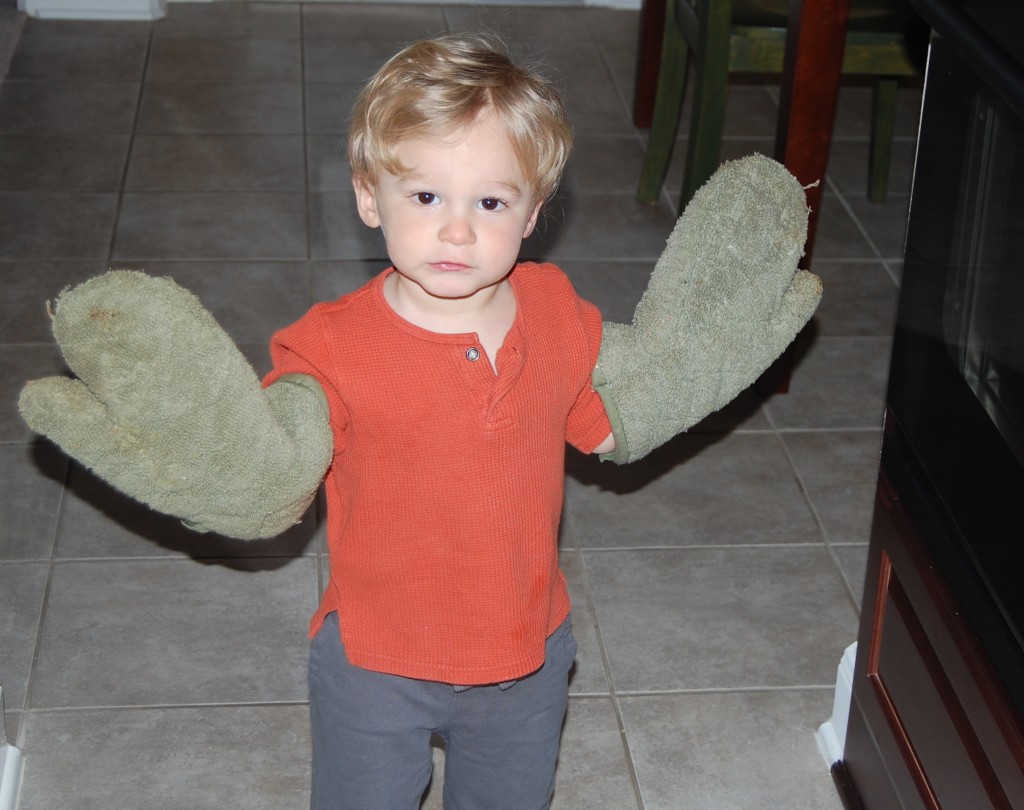 Nope, not quite ready yet Mom!
Multiple sclerosis is a progressive neurological disease that affects people in many different ways. It could be paralysis one day, loss of vision the next or impaired memory the day after that. Living with MS means living with uncertainty. I don't know about you but the thought of living with uncertainty in itself is enough to weigh down someone diagnosed with this disease.
I am not one to ask ya'll for money so I am not going to!  What I am going to say is that the MS 150 bike ride is more than just a bike ride. It is an opportunity for everyone participating in it to raise awareness and funds for the National MS society so that they can in return fund research, advocate change, and help people with MS and their families lead powerful lives. Patrick has to raise a certain amount of money by April 1st and if you would like to donate to the cause please click  HERE and show your support. Just chose the find participant button and my husband's name is Patrick Maher, homestate is Texas.
I hope you all enjoy this wonderful, healthy, figure friendly granola bar that is sure to give you the energy you need to start and finish the day strong! Love you all!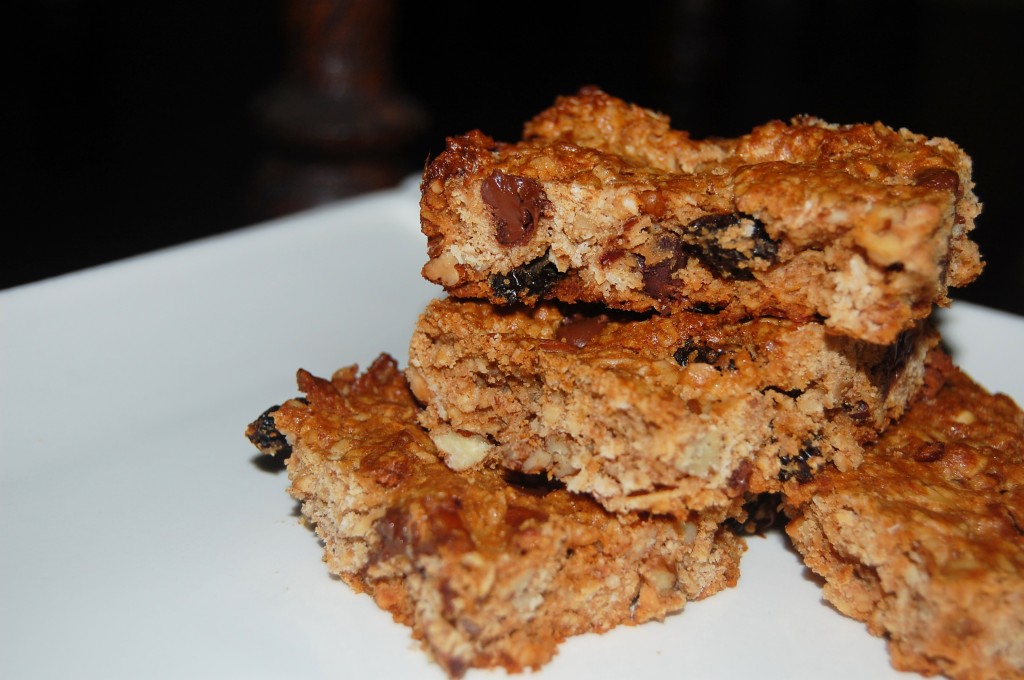 [print_this]
Chewy Power Packed Granola Bars
(adapted from King Arthur)
Ingredients:
1 2/3 cups quick rolled gluten free oats (you may use regular oats if you prefer)
3/4 cup granulated sugar
1/3 cup AP flour
1 tsp salt
1/2 tsp ground cinnamon
1 cup dried cranberries
1/2 cup raisins
1 cup chopped pecans or the nut of your choice
1/4 cup pumpkin seeds or sunflower seeds
4 ounces of semi-sweet chocolate chips
1/3 cup almond butter
1 tsp vanilla extract
1 stick of unsalted melted butter
1/4 cup honey
1 TBSP dark corn syrup
1 TBSP agave nectar
1 tablespoon water
Directions:
Preheat the oven to 350 and line a 8×8 pan with foil. Mix together the dry ingredients (including the nuts and fruit) in one bowl and the wet ingredients in a separate bowl. Slowly incorporate the wet ingredients into the dry and mix well.   (hard I know:)) Pour the mixture into the pan and bake at 350 for 30-40 minutes. Allow to cool in the pan completely before lifting the foil from the pan and cutting the bars.
[/print_this]