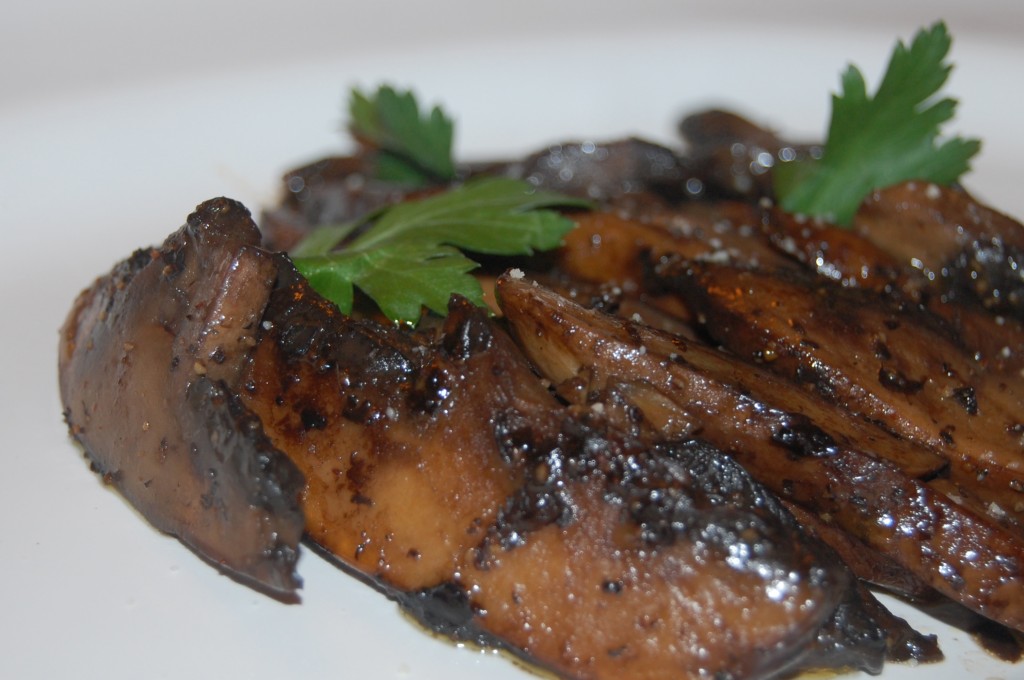 We all have those recipes that we go to when we are in a time crunch or we want to make sure the dish turns out just perfect for our guests. No crossing your fingers hoping it turns out alright. You know what dish I am talking about!  Well one of my go to, must have ingredients on hand at all times dishes, is Sauteed Mushrooms. Mushrooms have to be one of our favorites accompaniments to any meal. They are meaty, fairly easy and cheap and go great on top of steak, chicken, pork, shrimp or just about anything. When cooked in a butter sauce with Worcestershire, balsamic vinegar and garlic, mushrooms are simply insanely decadent.
I first conjured up my little recipe for sauteed mushrooms ever so innocently a few years back when I needed a side dish to pork chops that my husband was grilling outside. He popped his head in the door and said what are we having with the meat? At that time I was sitting my lazy butt on the couch watching TV and flipping through Southern Living. I so effortesly replied, "Oh Honey, I am making some mushrooms doesn't that sounds good?". He liked that idea and I darted to the kitchen to find t hose mushrooms I just knew where in referigerator somewhere. When in doubt, use butter and worchestire- that is where it all began!
I never thought of my mushroom recipe as being an actual recipe but I made them again alongside steak we had a few weekends ago and my husband asked if I had shared this recipe yet. So that got me to thinking and No, I haven't and So here we are! Every time I make these mushrooms people are continually amazed at how incredible they turn out. You would think I had cooked them all day when in reality it only takes me a total of 15-20 minutes.  They are a sophisticated addition to any meal or eaten all by itself with a salad and crusty bread. Don't hold this back from your man any longer!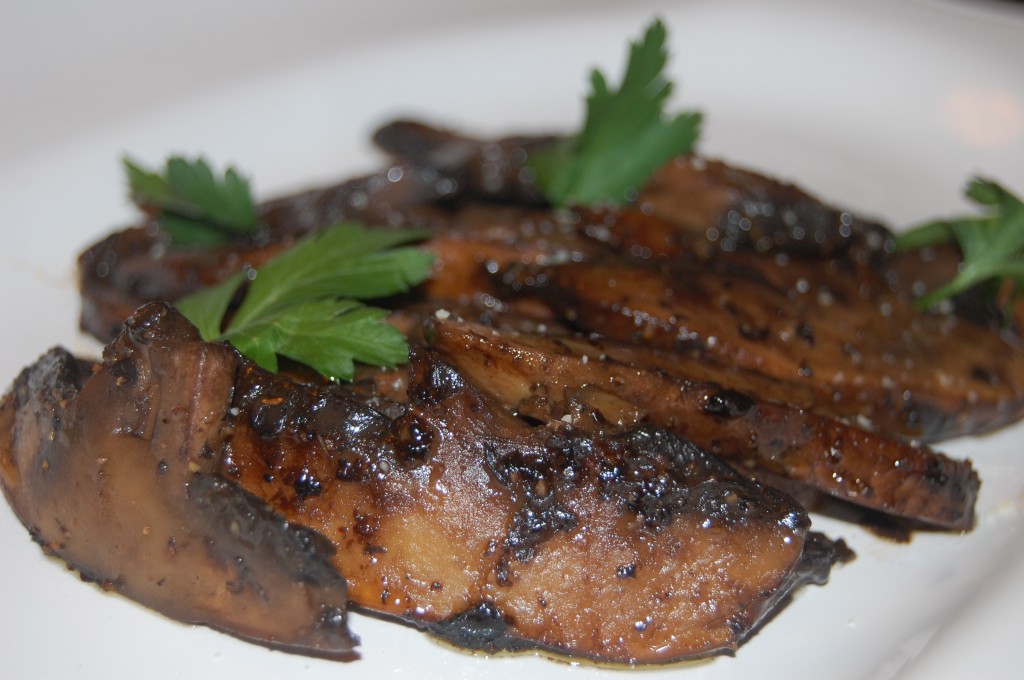 [print_this]
Sauteed Portabella Mushrooms in a Balsamic and Butter Sauce
Ingredients:
1 lb of sliced portabella mushrooms or 2 large portabella mushrooms sliced
1 garlic clove, minced
3 TBSP butter
1 TBSP olive oil
2 TBSP balsamic vinegar
1 TBSP Worcestershire sauce
1/2 tsp salt and pepper each
1/2 tsp cayenne
1/2 tsp paprika
1 tsp parsley, chopped
Directions:
Heat a non-stick skillet over medium heat and pace 2 TBSP of olive oil and 3 TBSP butter. Add the mushrooms and garlic, toss a few times. Allow to cook for approx 8 minutes until the mushrooms have released their juices and are becoming tender. Add the Worcestershire, balsamic vinegar, salt, pepper and 1/2 tsp cayenne pepper and 1/2 tsp paprika. Cover and reduce heat to low. Cook for another 4-5 minutes and remove from heat. Plate and garnish with fresh parsley.
[/print_this]