It's not a secret by now that I love my sweets. My sweet tooth is rather large and lately I have jumped on board, along with the rest of the world, into the cupcake scene. I proud myself in being a great cook but I have never once said I am a great decorator. I am learning though and with the help from Cupcake Swirl I think I can pull off just about any theme or decoration my little heat desires.
Don't be fooled into thinking the cupcake trend has run its course. According to an article published in Cook's Illustrated, "the nostalgic mini treats are a food trend that's here to stay". Cupcakes are small enough to eat by yourself but large enough to satisfy that sweet tooth of yours. Okay- so I might need two cupcakes to satisfy mine but you get the picture. Pulling back the wrapper from these mini treats reminds me of opening a present to see what's inside and each time I eat a cupcake I am transformed into a child swinging outside and licking the icing off my hands.
From Martha Stewart's new cookbook called Martha Stewart's Cupcakes (how in the world did she come up with that name! LOL!) to Food Network's Cupcake Wars and now the trend of having Cupcake trucks, the need and desire for cupcakes is everywhere. You have the new comers like pistachio, mint and margarita lime filled cupcakes to the classics like chocolate and vanilla and of course my new favorite chocolate cranberry cupcakes, wink, wink! The idea of making cupcakes is not only cheap but simple-especially for those of us who like to throw a party. Why spend endless hours making a cake just so that the layers fall apart right before the party begins or attempting your hand at frosting a cake when all you have to do is do a little dollop of frosting on top. Genius, pure Genius!
All of this leads me to Kitchen Belleicious's newest sponsor Cupcake Swirl. These moms are dedicated to providing wonderful selection of the cutest and sweetest liners, toppers and decorations for your cupcakes. Their motto is Sweet, Chic and Unique and the store is just that. Cupcake Swirl's products range from retro-inspired kitchen magnets, aprons, party favor bags and supplies to my personal favorite her cupcake kits. Cupcake Swirl has everything you need to bring out the Inner Betty Crocker in you!
I am so excited to announce that Michelle and Karen from Cupcake Swirl is offering one lucky reader their choice of a cupcake kit. Unless you are Martha Stewart (which if Martha was reading my blog right now I would just roll over and die) believe me when I say you have to see these cupcake kits for yourself to realize just how bad you need them! Below are a few of my favorite items from Cupcake Swirl along with some q&a for our newest sponsor. Sit back and stay a while as we learn more about the Sweet and Chic Michelle and Karen from Cupcake Swirl!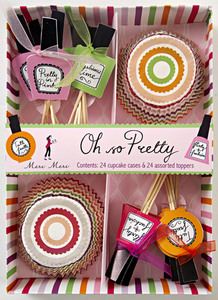 Oh So Pretty Cupcake Kit- Win this in the GIVEAWAY
1) Tell me some basic info about yourself and your business partners? We met at a Grand Opening Grocery Store where she(Karen) was a Bakery Mgr. and I  (Michelle) was the new decorator transferring in from another store. Love at first site-we both have BIG hair!
Cupcake Tote
2) Where do ya'll hope to see your business going? We hope to have the bakery branch out to maybe a second location and keep the website up to date with new unique items & gifts.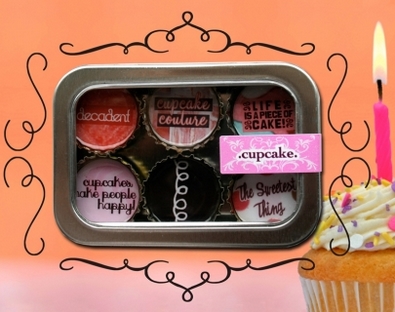 Cupcake Magnets
3) Where do ya'll find inspiration? Trade shows!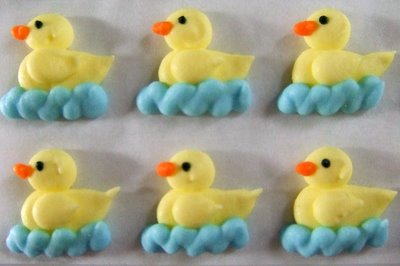 Baby Ducky Decorations
4) What has surprised you the most about the business? Meeting fantastic people like you, across 50 states!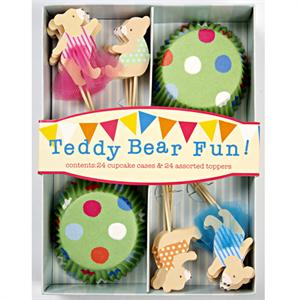 Teddy Bear Cupcake Kit
Wasn't that fun learning about Cupcake Swirl. These two girls are so sweet and I am honored they are joining the Belleicious team. If you want to see upcoming designs or what's going on in the mind of Michelle and Karen be sure to visit their blog.  Below is the prize for winning the giveaway. See below rules on how to enter and Good Luck!
Giveaway: Oh So Pretty Cupcake Kit
Giveaway Rules: Giveaway ends midnight on 3/4/2011. Open to residents of U.S. only.
1) Follow Kitchen Belleicious
2) Follow Cupcake Swirl on Twitter (just click to request to follow since the account is protected)
3) Follow Belleicious Kids
4) Fan Belleicious Kids and or Kitchen Belleicious on Facebook
5) Follow Kitchen Belleicious on twitter
6) Blog about the giveaway