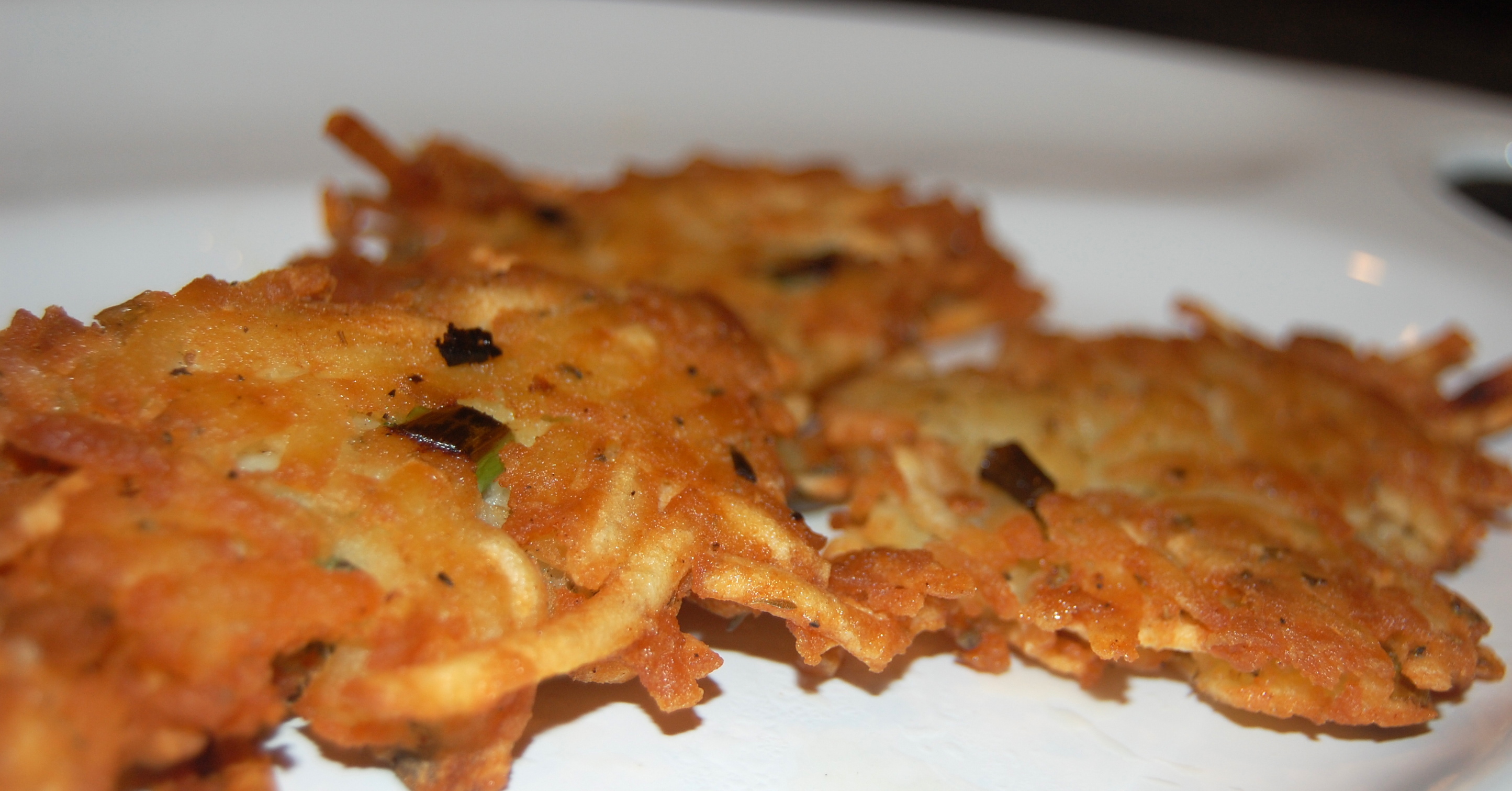 I don't know what has gotten into me lately, but I have been on an international kick of sorts when it comes to dinner. First it was my Lebanese chicken kafta, then my Indian flat-bread ( I have yet to post but will) and now my potato latkes. I am not saying I have had any complaints. The husband loves to have something new for dinner as long as the word casserole isn't used! LOL!
Latkes are basically shallow-fried pancakes of grated potatoes, flour and eggs often flavored with garlic and onions. They are typically associated with Hanukkah and are a staple in many Jewish homes. I have to say the Jews are on to something here with their potato pancakes. What could be better than a moist and crispy potato pancake loaded with flavor and perfect for dipping! You can make them savory or sweet but by all means give the latkes a chance will ya?
I was making my new favorite yogurt marinated chicken tenders last week and I guess I was in a "mood" because the standard mashed potatoes, veggies, salad or all of the above just wasn't doing it for me as an accompaniment to the chicken. Enter- the Potato Latkes. I thought this would be a fun twist to the average potato side dish and plus my little guy should love them as well. Love them he did? He ate all of his and then proceeded to grab at mine!
Shhhh! Don't tell anyone but I made my latkes with frozen hash browns! Yes, I admit it! I was short on time and instead of grating all those potatoes I decided to thaw out my bag of frozen hashbrowns making sure to squeeze out all of the excess liquid. What a fun little gift this was! My tricked definitely worked. The potatoes weren't soggy and held together very nicely along with a bunch of green onions, parsley and garlic. They surprisingly had alot of flavor and cooked up in no time.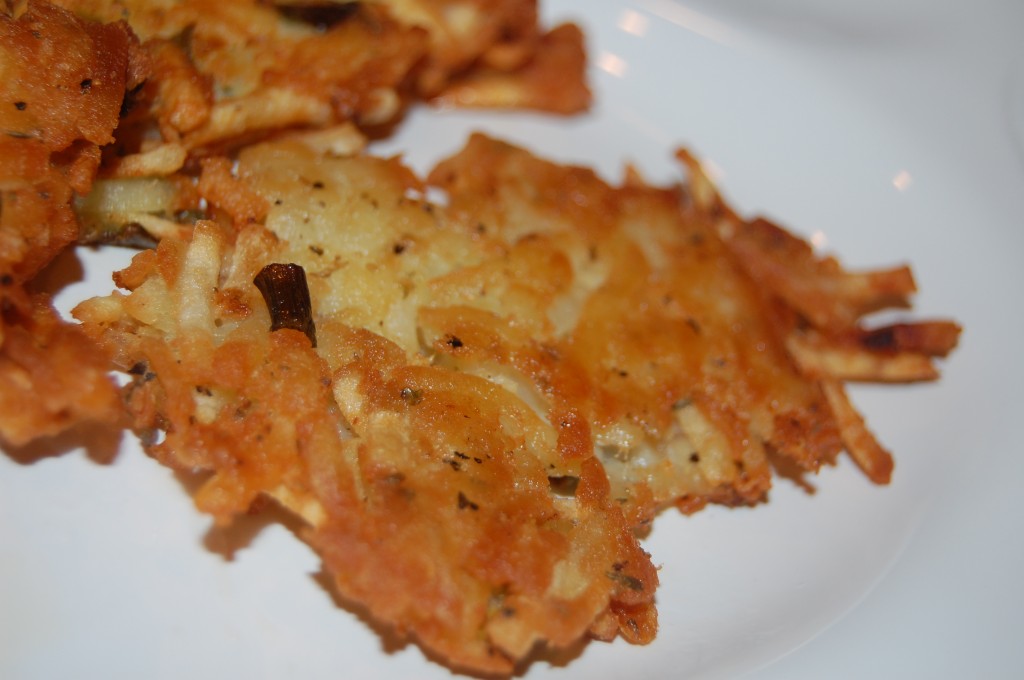 [print_this]
Green Onion Potato Latkes
Ingredients:
1 large bag of frozen hash-browns or approx 3 pounds of yukon gold potatoes
1/2 small onion
juice of 1 lemon
1/4 cup flour
1 tsp salt and pepper each
1 tsp cajun seasoning
1 TBSP parsley
1/2 tsp red pepper flakes
1 tsp dill
1/2 bunch green onions
2 eggs, slight beaten
1/2 stick of butter
1/2 cup corn or vegetable oil
Directions:
1. Either go the simple route and thaw your bag of frozen hash-browns and then drain or be a super star and spend the time grating your potatoes through large holes of a box grater. Either way is fine with me but after you chose your method be sure to toss the grated potatoes with lemon juice.  Now grate your onion and combine it with the potatoes. Spread mixture onto a clean, dry kitchen towel and wring out to squeeze the excess liquid. Place in a large mixing bowl and add the flour.
2. Stir in eggs, green onions, dill, parsley, paprika, Cajun seasoning, red pepper flakes, salt, and pepper.
3. Melt the butter and oil in your skillet of choice, I use my cast iron skillet and drop 4 to 5 (or more depending on the size your going for) loosely packed patties  into oil; press lightly to flatten. Cook 3 to 5 minutes on each side or until golden brown. Drain on paper towels. Sprinkle with additional salt. Repeat procedure with potato mixture adding oil and butter between batches if needed. Serve latkes immediately, or keep warm on a baking sheet in the oven.
[/print_this]
You May Also Like