Seafood
Shrimp and Crab Spring Rolls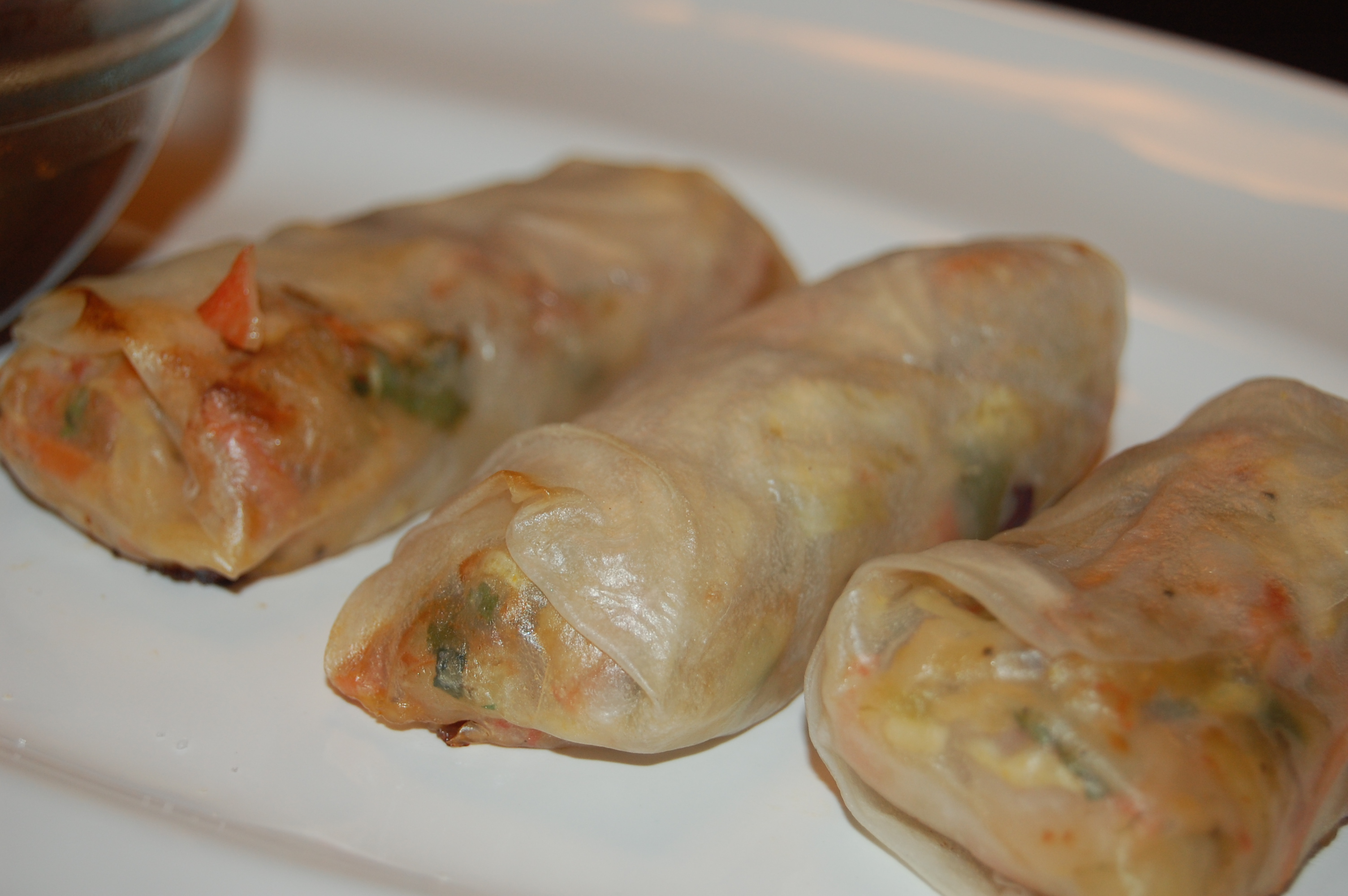 The Chinese New Year is tomorrow February 3rd and since I don't usually post on Thursday's I decided we could fudge a little and have my Chinese New Year post today:) Shall we talk Spring Rolls? A delicious blend of seafood and veggies are tucked away in a delicate little wrapper and then baked until crisp and golden giving you the crunch without the frying!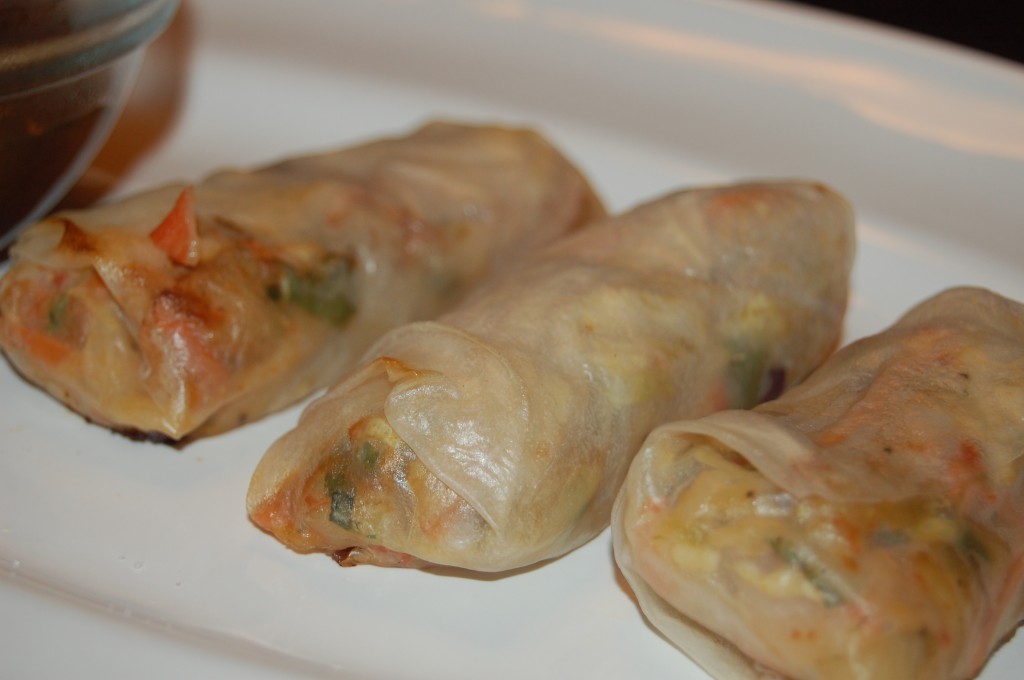 Now don't be fooled by the simple elegance of spring rolls. They are not as hard as most people make them out to be. As long as you have pre-made wrappers and are quick with your hands you are as good as gold! I haven't made spring rolls before and they were a refreshing change from the typical fried egg rolls. They are perfect as an appetizer and with the right stuffing and side dish they can be fit to serve as the star of your main course.
My intention of making these spring rolls was to use up veggies that I needed to either cook with or throw away. I decided that the carrots, zucchini and cabbage slow mix would be perfect paired with zesty marinated shrimp and crab and topped with guacamole. When you think about it spring rolls are really just a miniature little self-contained salad to go. You can use whatever veggies or meat you have on hand and by baking these wonders instead of frying you have a healthy dinner or snack just waiting to happen.
Side note: traditionally spring rolls are steamed but I don't really enjoying steaming anything other than veggies so I decided to go with the trusty old oven. Coat the rolls in egg wash before baking and you have a wonderful tender but crispy outer texture with sheer goodness inside!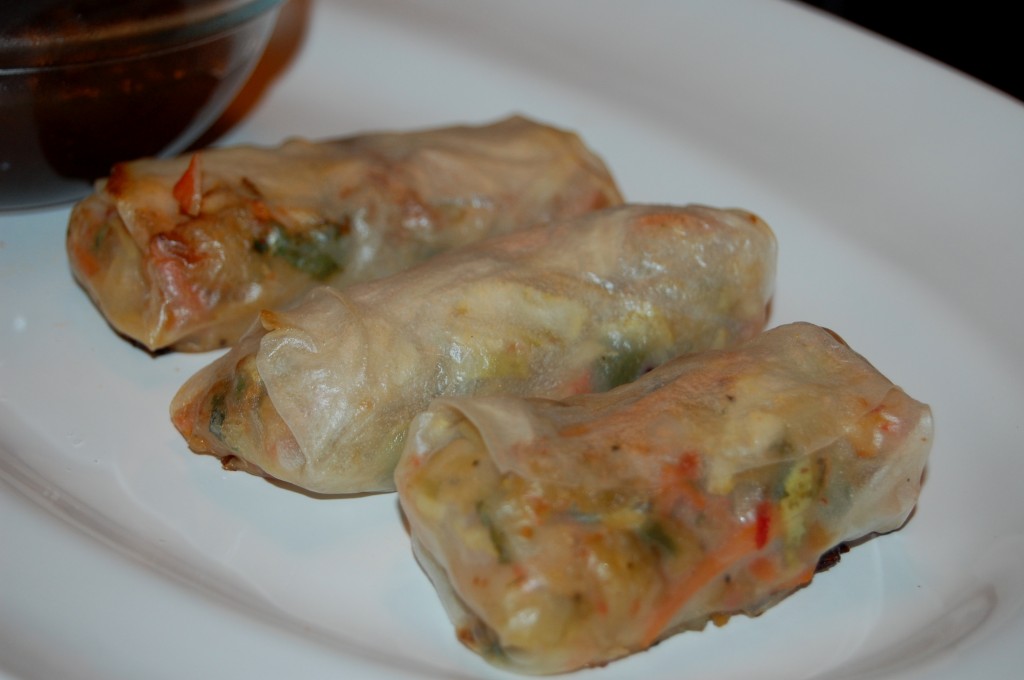 Zesty Shrimp and Crab Spring Rolls
Ingredients:
Marinade Ingredients:
1/2 pound medium shrimp, peeled and deveined
1/2 tsp salt and pepper each
1/2 tsp red pepper flakes
2 TBSP olive oil
Juice of 1 lime
Remaining Ingredients:
1/2 pound fresh lump crab meat
2 cloves garlic, minced
1/2 bag of col-slaw mix
2 TBSP chopped cilantro
1/2 bag of shredded carrot sticks (why do the work yourself when you don't have to!)
6 green onions, thinly sliced
4 tablespoons soy sauce
1/2 tsp oyster sauce
1 tsp ground ginger
1 teaspoon sesame oil
1/2 tsp red pepper flakes
1/2 teaspoon sugar
1/2 teaspoon black pepper  and salt, each
1 egg, slight beaten plus 1 egg yolk mixed with a little water for eggwash
1 package large (8 inch) spring roll wrappers
Directions:
Place the marinade ingredients in a Ziploc bag and toss in the shrimp. Allow to refrigerate for at least 2 hours. After 2 hours, place the shrimp on a baking sheet lined with foil and bake at 400 for 5-6 minutes until the shrimp are cooked, pink and curled. When cool to the touch chop/mince the shrimp into bite size pieces and set aside.
Meanwhile, prepare your veggies and place in a large mixing bowl. Add the crab meat and the rest of the ingredients, including the shrimp. Stir to combine and set aside.
Prepare your baking sheet by spraying it with non-stick cooking spray. Get a deep baking pan out and fill with a little water. Take out your first spring roll wrapper and place it in the water. Allow to sit for at the most 20 seconds. Now, add 2 tablespoons of filling in center of wrapper, diagonally. Fold the two sides on the diagonal over the filling. Fold the last corner over and tuck snugly under filling and roll up. Brush with egg wash and place on the baking sheet. Repeat the process. NOTE: You can do this up to 4 hours in advance and allow the rolls to sit in the refrigerator until its time to cook.
Bake at 425 for 20 minutes turning them over after 10 minutes. Serve with spicy chile sauce or sweet and sour sauce.