Don't you just love the title of this dish? Glamorous! Kinda of reminds me of that song a few years ago by Fergie! LOL! I know what your thinking- "By all means Jessica, why on earth would you call a dish glamorous"? Well first of all, I sometimes get a little crazy naming my dishes because I want to give them a name that says wow and stands out from the crowd and secondly, when I first took a look at the finished product it was so colorful and vibrant and it simply seemed glamorous! What do you think? Am I just losing it or do you see it too?
This was one of those dishes that came together throughout the day based on what I had in the house and the fact that I was by no means going to the store that day! It was a what you see is what you get kind of day. However, like I always say, the best dishes can be the ones you don't prepare for a day ahead. You know, the ones you do by the seat of your pants. I had chicken and I had potatoes so Chicken Hash it was going to be! I threw in some beautiful green peas and red bell peppers for some color and made sure to caramelize my onions and potatoes as this is the key to my perfect hash.
Hash is definitely one of those all encompassing meals that is loaded with flavor but that can also be loaded with just about anything you have in the house! This glamorous chicken is a one pot meal that is certain to please. Do yourself a favor and kept this one on the list for a day where the last thing you want to do is load the kids back in that car and head to the store!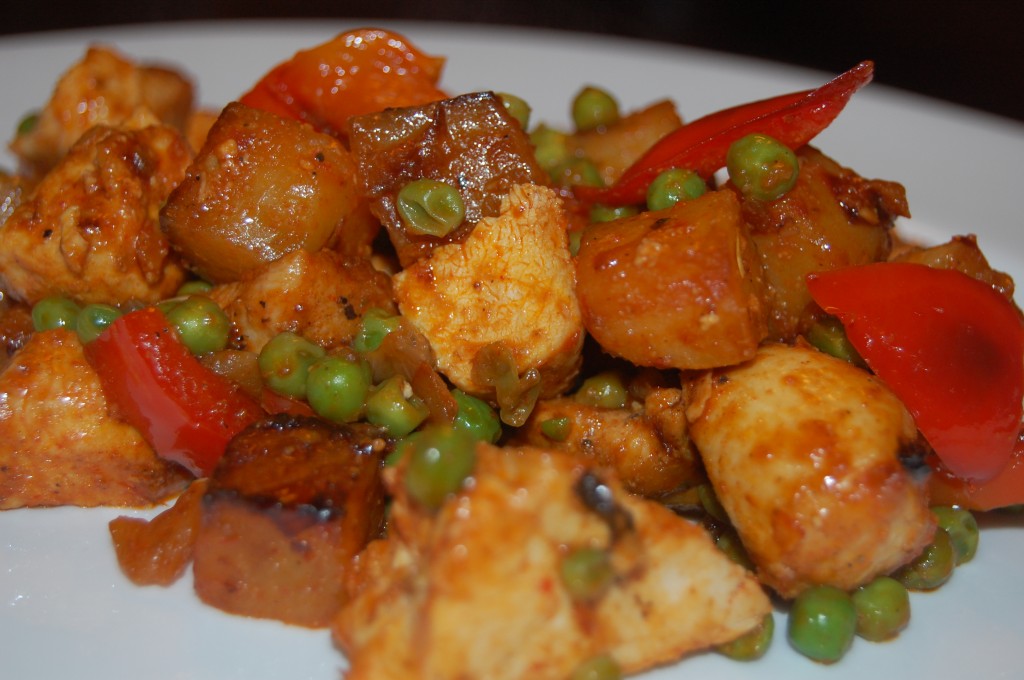 [print_this]
Glamorous Chicken Hash
Marinade Ingredients:
1/2 cup canola oil
Juice of 1 lime
Juice of 1 lemon
2 garlic cloves, minced
1 TBSP chili powder
1 tsp salt and pepper each
1 tsp paprika
1/4 tsp red pepper flakes
1 TBSP cilantro or parsley
3 chicken breasts, cut into strips
Hash:
3-4 baking potatoes, washed and cut into small cubes
3 TBSP butter
1 tsp salt and pepper each
1 tsp paprika
1 tsp Slap your Mama cajun seasoning
1 1/2  TBSP tomato paste
1 bag of steamable frozen peas
1 red bell pepper, sliced into thin strips
1/2 cup onion, chopped
1 clove garlic, minced
Directions:
Place all the marinade ingredients into a ziploc bag and add the chicken cut into strips. Shake well and refrigerate for at least 8 hours (Just do this in the morning when you get up).
Melt the butter in your skillet over medium to high heat. Add the onions and potatoes and cook with the lid on for approximately 10 minutes, stirring every so often. You could also use boiled diced potatoes here and then you would need to cook the onions for a while before adding the potatoes since they are already technically cooked.
Once the potatoes and onions are cooked. Remove from skillet to a plate and then add the garlic and bell pepper to the skillet. Saute for 5-6 minutes until the bell pepper is nice and tender. Add back to the pan the onions and potatoes and now add the chicken, the tomato paste and the remaining seasonings. Stir and turn heat down to low. Meanwhile steam your peas (please tell me your going to use a frozen bag of peas) and once done add to the pan. Stir to mix and serve with a nice side salad.
[/print_this]